Glimpses of Healing and Hope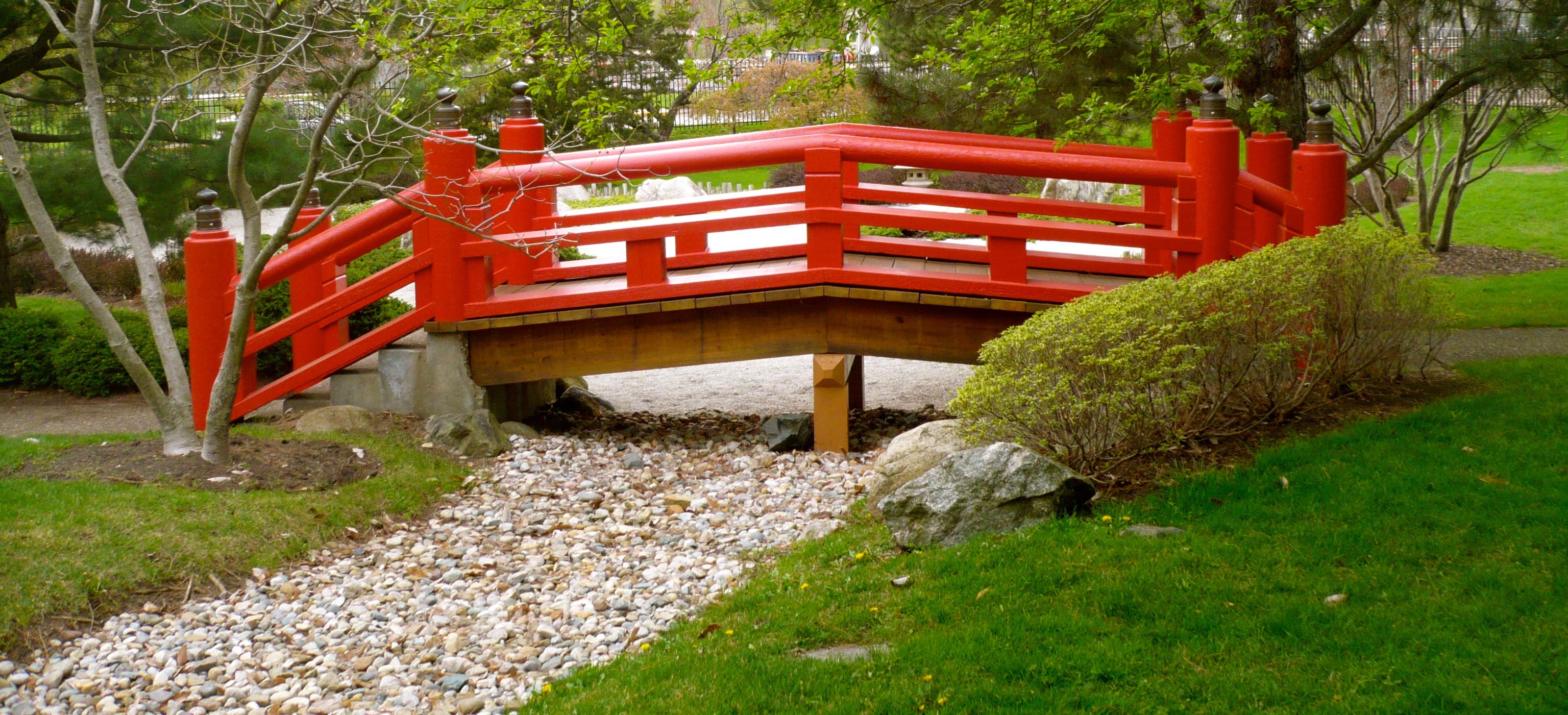 October 3, 2016
By:  Jane Bishop Halteman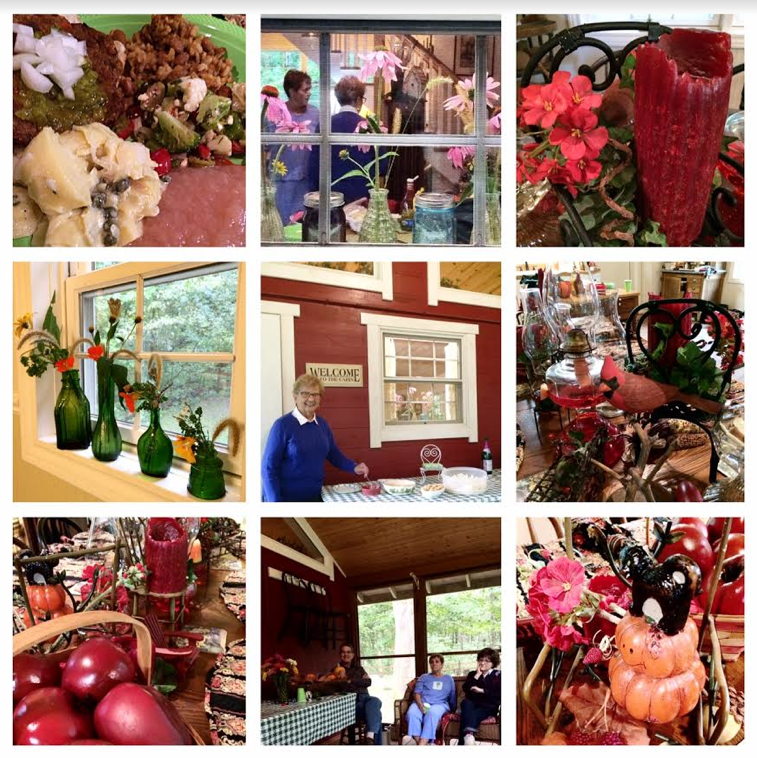 Complete sensory experience:  small group treats five senses to restoration
Reading a Slate article this week about election anxiety (bearing the subhead "Therapists and their patients are struggling to cope amid the national nervous breakdown that is the 2016 election") made me realize that now, more than ever, we all need ways to relax and walk away from the chaos, even if just for a short time. 
How we choose to find rainbows in the midst of the storm probably depends on our personal inclinations and interests.  Here's what came to my attention this week.  From Parker Palmer:  "Every morning—after reading the news from the human world and becoming a bit disheartened—I visit Nature 365 at http://nature365.tv.
"There, I find a brief video that takes me to the Boundary Waters of northern Minnesota—or to the prairie of southwestern Minnesota—unspoiled natural places that I love.
"I watch the video, expertly filmed by one of the world's most celebrated nature photographers. Then I say to myself, 'This, too, is happening in our world today...'
"I come away reminded that there is beauty as well as ugliness in our world, light as well as dark, and I start the day better able to see life steadily and see it whole..."
Lisa Scandrette, a contributing writer to the blog Godspace's September Creative Prayer Theme, offers this in her September 28 post:  "When I begin to feel anxious about the events of life, I take out my knitting. The yarn, warm and soft, glides through my hands, rhythmically making one loop after another. I may not be able to solve my daughter's health puzzle or take away a friend's tragedy, but I can make loop after loop after loop. As I do, my shoulders relax, my breathing slows, my mind slows down. My love and prayers flow from my heart, down my arms, out my knitting needles and into the fabric. Sometimes I need this process over and over and over."
Back in July, Ten Thousand Villages' blog site Mosaic offered a post entitled 3 Simple Ways to Reach Relaxation.  According to the article, "You can create a retreat for yourself in nearly any environment by using any combination of these three techniques for relaxation:  complete sensory experience, mindfulness, embracing even the smallest pleasures."
Suggesting that setting up a location where all five senses—sight, sound, taste, touch, and smell—can be awakened is an easy place to begin, the post recommends creating a complete sensory experience by surrounding one's self with art, subtle sound like wind chimes, an enjoyable drink, the pleasant touch of something nearby, and fragrant growing things.
"Take your senses a step farther and promote each one of them with a mindful activity," the article advises, and finally "put a positive spin on everyday experiences" like setting a table by starting "with a nice tablecloth, even for simple meals…even for takeout."
Our small group potluck picnic Sunday night, the first event since we took a summer break some months ago, felt like a respite from the storm, a reconnecting with people we care about, people who care about us.  (See collage above for sight samples…you can imagine the remainder based on these!)  In the beautiful surroundings created by hostess Marceil, nature-loving host Don shared about the personal restoration the outdoors brings him, then invited us to share how we experience creation as a place of respite.  We named the night sky filled with stars, the daytime sky with cloud formations, water, flowers, trees, birds, and animals as restorative parts of our everyday lives.
This blog post at Voice and Vessel, A Writing Studio, is entitled Four Autumn Rituals to Fire Up Your Creative Spirit.  Intended to help writers center themselves as they enter a new season, I couldn't help but think these pointers also might benefit the rest of us as we seek ways to relax by "recentering creative intentions, trying a new soundtrack, using changing colors to tune attention, falling for some new poetry."
This video of a children's choir singing Shenandoah warmed my heart this week, after I found a link to it in The Mennonite.  Check it out if you are weary, distracted, anxious.  What other prayer practices or spiritual disciplines refresh you when you need a change of pace or scenery?  How do you meet the Divine in the midst of the chaos life brings?
I can quickly lose myself in a painting like this one, Peter Paul Rubens' The Landscape Rainbow, as discussed by Spirituality and Practice here, or walking a labyrinth or sitting with an icon.  May you find a place of rest and relaxation with the Divine as you journey in the coming week.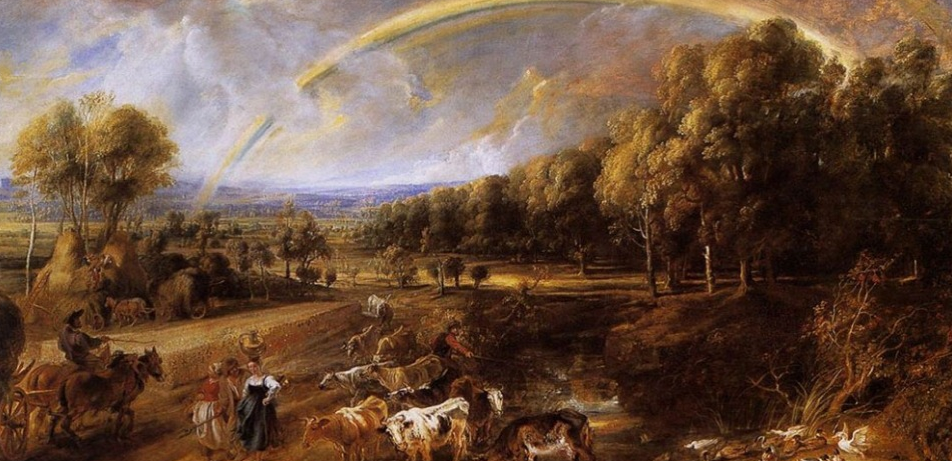 Peter Paul Rubens' The Landscape Rainbow
Add a comment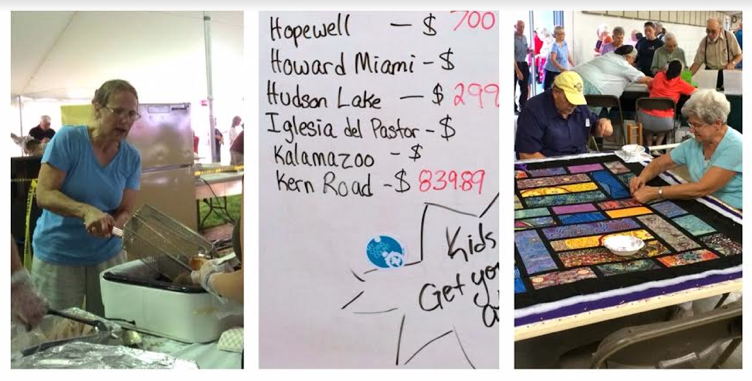 Samosas, My Coins Count, and comforter bash
September 26, 2016
By:  Jane Bishop Halteman
Worship leader Barbara opened the service Sunday with the observation that it had been a full week…we mourned the unexpected death of a long-time member, we celebrated the birth of a baby girl into the lives of a couple among us, and we marveled at our own capacity as KRMCers to prepare, sell, and even help purchase approximately 1,800 samosas at the Michiana Mennonite Relief Sale. 
Since the first event in 1968, proceeds of the Michiana sale, held at the Elkhart County Fairgrounds, have supported the projects and programs of Mennonite Central Committee (MCC), a worldwide relief and service ministry of Anabaptist churches. MCC shares God's love and compassion for all in the name of Christ by responding to basic human needs and working for peace and justice.  Made possible with the help of hundreds of volunteers who contribute time and resources, the Michiana sale is one of 46 relief sale events in the U.S. and Canada that together raise more than $5,000,000 annually, according to the event's website.
Like many other Indiana/Michigan congregations, Kern Road participated in the My Coins Count initiative, which enables children and adults to donate coins during September worship services and education hours for the global water projects of Mennonite Central Committee.  Coins collected are delivered for counting to the relief sale, where totals are announced.  Kern Road contributed $839.89 via My Coins Count.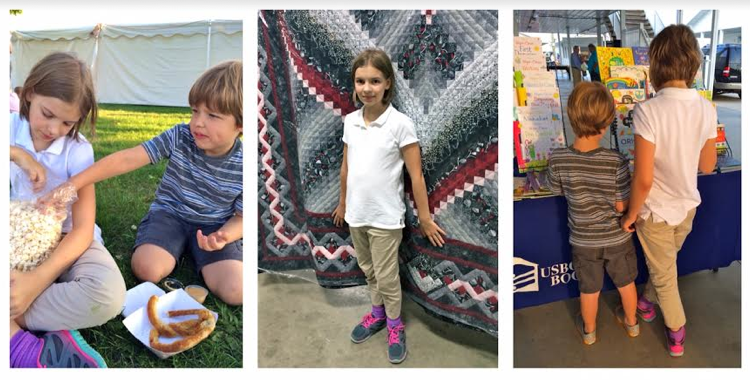 Kettle corn and pretzels, quilts, and Usborne books
We took the grandkids to scout out the relief sale Friday night.  Some of their favorite stops over the years have been the kettle corn table, Ben's soft pretzels, KRMC's samosa booth in the big food tent, and the pie and decorated cookie sales in the arena where the quilts are sold on Saturday morning.  We also did a cursory inspection of the quilts, made some purchases at the Usborne book shop, watched folks tying comforter knots, and found bargain-priced yarn for our granddaughter's ever-growing interest in knitting, which she has pledged to put to good use for future MCC relief sales!
I continue to become aware of new ways individuals and congregations can help raise funds or participate in creating material resources for donation to people in need around the world through MCC.  We learned on our trip to the Michiana event about the second annual MCC Great Lakes Comforter Bash scheduled for 9 a.m. to 5 p.m. Friday and Saturday, October 21-22, at Pleasant View Mennonite Church, 58529 County Road 23, Goshen.  
According to handouts promoting the event, "all ages and skill levels are welcome (women, men, youth groups, friends, and family).  A handmade comforter provides not only warmth but also a tangible message to people that their needs are not forgotten."  Donations of comforter tops and backs (twin size preferred), batting, and knotting thread and supplies are welcome.  Find more information here.
I've had the good fortune recently of helping to work on publicity for a Bryan Moyer Suderman concert in southeastern Pennsylvania which will raise funds to supply relief kits for refugees via MCC.  I'm hoping this all-ages concert fundraiser comes to our part of the world some day soon as another project we might become involved in to help others come to know "that their needs are not forgotten." 
About to celebrate the centennial of its ministry in 2020, MCC's vision and mission page at its website reaffirms "its Christ-led commitment to compassionately serve and learn from vulnerable people around the world. We continue to answer God's call, focusing our work in five strategic areas of service," including "caring for the lives and futures of uprooted and other vulnerable people; providing water, food, and shelter first in times of hunger, disaster, and conflict, then education and ways to earn income; working with churches and communities to prevent violence and promote peace and justice; investing in opportunities for young people to serve in Canada, the U.S., and around the world; serving with humility and in partnership to meet local needs with local solutions."
When needs created by all that's going on in our world today stretch far beyond the assistance we might provide as individuals, MCC offers options by which we can collectively create a dent in that overwhelming chasm.  I am thankful that MCC opportunities combine our separate efforts into useful ways of offering care to a world in need.
Science supports the positive emotional impact of giving and volunteering, according to licensed psychotherapist Terri Cole, who writes in this article that "in grad school, I read studies on the positive emotional impact of volunteerism for the giver. Self-esteem increased and symptoms of depression decreased from becoming an important part of the solution for a person in need. Feel-good hormones like serotonin, oxytocin, endorphins, and dopamine may be released when a person sees a direct positive result from their good deeds. The act of being of service and exchanging positive energy with another human is a psychological and emotional win-win."
How might you pitch in to support far-flung efforts through organizations like MCC?  Alternatively, plenty of opportunities exist on the home front as well to make a difference in the lives of others.  Consider finding a way to contribute in these ways this week.
Add a comment
September 19, 2016
By:  Jane Bishop Halteman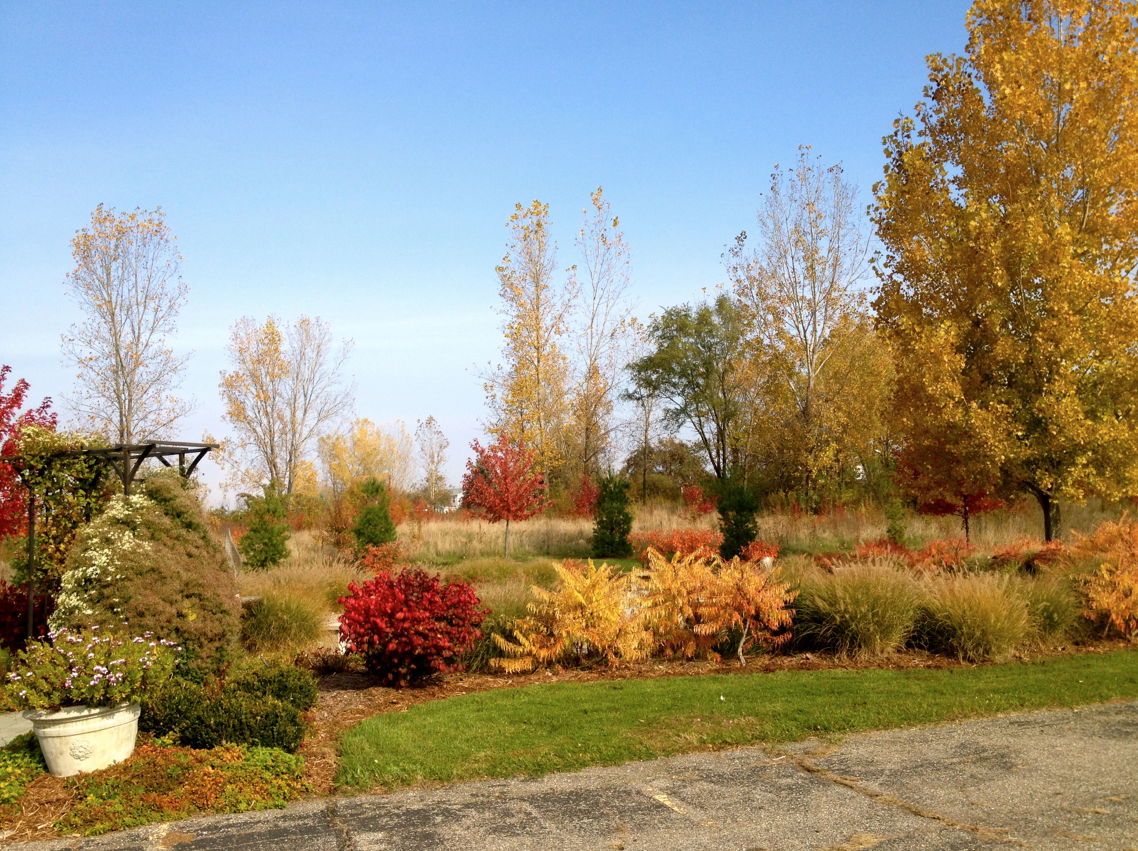 Where do you find space for renewal, "for spiritual survival?"
Carrie Newcomer sang her new song Sanctuary Sunday night at the first of Goshen College's performing arts series for 2016-17.  Earlier last week Parker Palmer showcased the new release in his On Being post, Seeking Sanctuary in Our Own Sacred Spaces, so I already had had a taste of it prior to hearing Carrie perform at GC.  Check out Newcomer's song here. 
Reflecting on her conversation with Palmer about how Sanctuary came into being, Newcomer asked, "What do we do when we are feeling personally or politically heartbroken…these are times to rest and remember what we love to do deeply and truly."  And she reminded her audience that, "even in a particularly difficult political season, the things that always have saved us, courage, hospitality, generosity, good teachers, good parents, are still available within us and between us."  
Palmer, who often collaborates with Newcomer in one way or another, reports that once upon a time the word sanctuary meant only one thing to him:  the place his family worshipped every Sunday when he was a child.  Participation in going to church, he recalls, was not optional.  "Today, after 77 years of life in a world that's both astonishingly beautiful and horrifically cruel, 'sanctuary' is as vital as breathing to me. Sometimes I find it in churches, monasteries, and other sites designated as sacred. But more often I find it in places sacred to my soul: in the natural world, in the company of a trustworthy friend, in solitary or shared silence, in the ambience of a good poem or good music."
Because we live in a culture of violence which regularly "assaults our souls with noise, frenzy, consumerism, tribalism, homophobia, racism," Palmer writes that "sanctuary is wherever I find safe space to regain my bearings, reclaim my soul, heal my wounds, and return to the world as a wounded healer. It's not merely about finding shelter from the storm: it's about spiritual survival. Today, seeking sanctuary is no more optional for me than church attendance was as a child."
Terry Hershey concludes that sanctuary is creating a space for grace in your life.  "As long as my grandmother lived—and in spite of her pain—there was always a place for me on the swing. If I were asked to explain grace, I would paint the picture of my grandmother's swing. There, I never had to deliberate or explain or worry, regardless of the weight I carried. The porch swing—my grandmother's presence—bestowed grace without conditions," Hershey recalls. 
"Everyone has a sanctuary, if only in the mind. Even if we can't say what it is, we know of its power. It is a place where we feel grounded, unhurried, and renewed….A sanctuary is a place that restores us, replenishes us, nourishes us. In this renewal, we are reminded, once again, of what really is important," according to Hershey. 
Rachel Naomi Remen discusses sanctuary from another perspective involving listening in her book Kitchen Table Wisdom:  "Listening is the oldest and perhaps the most powerful tool of healing. It is often through the quality of our listening and not the wisdom of our words that we are able to effect the most profound changes in the people around us. When we listen, we offer with our attention an opportunity for wholeness. Our listening creates sanctuary for the homeless parts within the other person. That which has been denied, unloved, devalued by themselves and by others. That which is hidden."
Friends and pastors and significant others and spiritual directors/companions can help create space for the kind of sanctuary of which Remen speaks.  We all have different notions of what provides personal sanctuary.  Proper food and exercise, spiritual disciplines, and a myriad ways to stay connected to the Divine open the door to sanctuary.  Walking proved to offer sanctuary for this author.
Where do you find sanctuary?  Spending time alone in nature has become one of my favorite sanctuaries.  Here's a YouTube video I created (for use when I can't actually get out in nature) as another personal sanctuary using some of my most-cherished nurturing photos of the seasons.  Spirituality and Practice offers this e-course on sanctuary on demand.
Add a comment
September 12, 2016
By:  Jane Bishop Halteman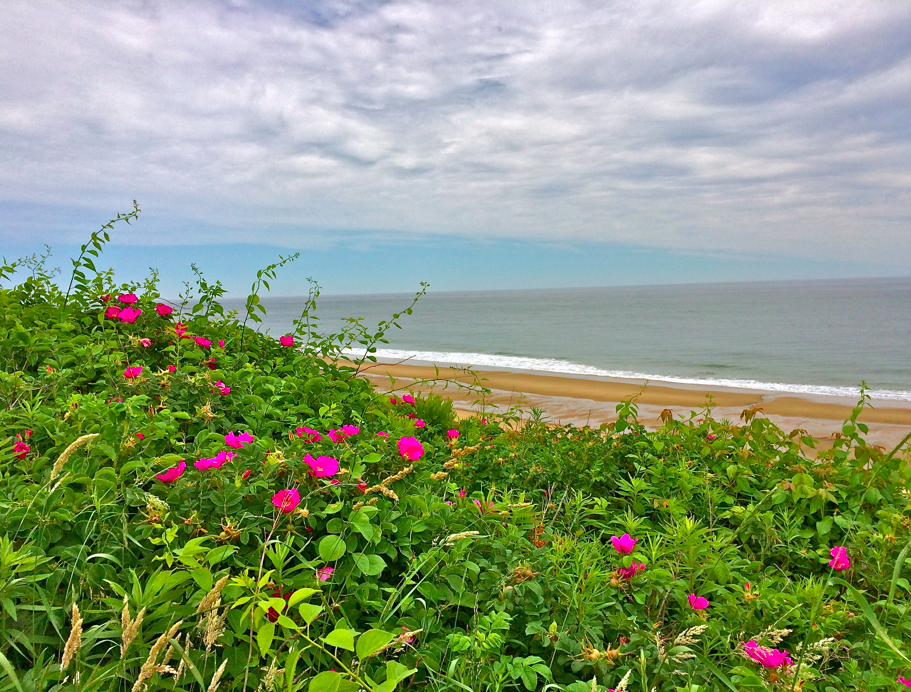 I enjoy reading Terry Hershey's Sabbath Moment blog when it surfaces on my Facebook feed.  Like Glimpses of Healing and Hope, Hershey's posts offer stories "to inspire and feed the soul."  His September 4 post describes two young children who enthusiastically craft a sand castle, only to have it washed away by rising tides.
After some tears, the youngsters surprise a bystander by grabbing each other's hands and running across the sand to build another castle.  "We all have high tides, and waves that take out sand castles in our lives (be they dreams or plans or expectations or even hope).  Observing the children, the bystander realizes that those who endure in life do so with a hand to hold.  The children found solace, renewal, and confidence in the sanctuary of connection—a place where they knew they were safe. And embraced."
Hershey suggests that "as long as I see only the misfortune and inconvenience, the flattened sand castle defines me.  I buy this label, this new version of reality."  On the flip side of the same coin, he proclaims this good news:  "These children were not undone by scarcity (or depletion or sadness). They went about their day as if sufficiency was their reality."
How might we participate in allowing sufficiency to become our reality even when depletion and sadness seem to threaten our very existence?  How can we become part of the support network for others when their sand castles are destroyed at high tide? 
I attended a meeting in eastern PA last week where I observed women, in particular, taking responsibility to become part of a support network for other women.  Women Empowering Women with MEDA (Mennonite Economic Development Association) provides an opportunity for women to learn about issues facing women in developing countries, according to a MEDA press release from March 2016 when the new group's chapters in Souderton and Lancaster, PA, were launched.
"Women in developing countries often face social and economic adversities beyond our comprehension, and yet have an amazing drive to rise above these barriers when given the opportunity to do so. After a recent all-women's trip to a MEDA project in Ethiopia, I noticed a phenomenal connection between the Ethiopian women and those on our trip. We shared a strong bond and there was mutual respect and understanding. The women on the trip have a vision to share these meaningful connections with others," says Ruth Leaman, regional director of resource development at MEDA and coordinator of the two new chapters.  Women Empowering Women with MEDA offers members opportunity to engage with projects in countries around the world, including Ghana, Ethiopia, Ukraine, Nicaragua, and Kenya.
Last week's meeting featured client stories from farmers in Ukraine, "where years of neglect under the former Soviet regime left the agricultural sector struggling."  Working with small farmers to improve their incomes, MEDA's Ukraine Horticulture Development Project helped "farmers learn modern technologies, increase productivity, and deliver premium quality greenhouse crops, berries, and table grapes to markets in which they have a competitive advantage."  The project established lead-farmer networks, developed to bridge the gap between small farmers and agribusinesses. To build small farmer competiveness, lead farmers also mentored small farmers toward improved methods of production.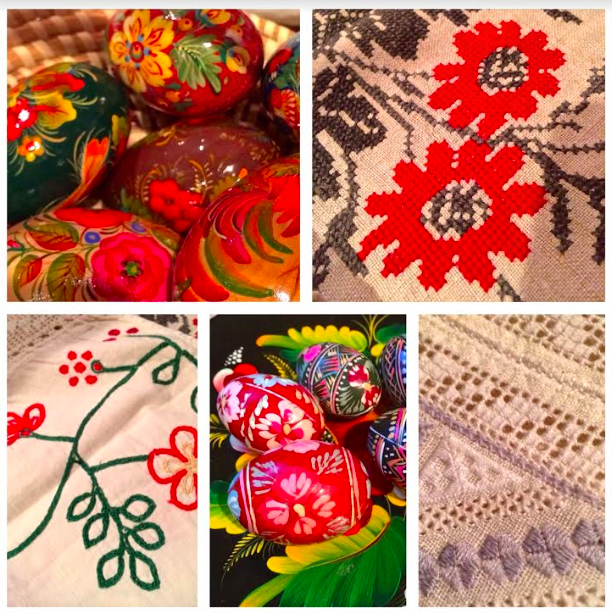 Their beautiful handwork reminds us of our sisters in the Ukraine
The event I attended closed with a prayer, during which the leader suggested we rise from our seats to form a circle.  We were encouraged to join hands and then to lock arms at the wrist and finally at the elbow.  Each instruction brought us closer together and strengthened the physical bond, offering one another connection and embrace in the same way MEDA's projects in the Ukraine support women farmers, and another graphic reminder of sand castles and high tides.  We also were reminded that MEDA's return to the Ukraine to help women farmers as agents of hope represents "a heart-warming circling back to a land that holds warm memories" in spite of persecution of those among us with names like Dyck, Janzen, and Yost.
Parker Palmer's photo of a latticework of supportive hands in this blog post at On Being's website is a powerful visual of connection and embrace.  The post discusses the spiritual odd couple of laughter and silence.  "On the surface, the two may seem to have little in common, but their kinship is soul-deep. Both make us vulnerable by penetrating our illusions and taking us closer to reality, grounding, renewing, and redeeming us as they do."  Read this article for more on how to "bear witness, so no one need suffer alone," another good example of offering connection and embrace as the sand castles of our lives become unmoored by rising tides.
Hershey's Sabbath Moment blog concluded with this mention of Mother Teresa's recent canonization, honoring her for her dedication to the poorest of the poor.  Pope Francis "recognized holiness in a woman who felt so abandoned by God that she was unable to pray and was convinced, despite her ever-present smile, that she was experiencing the tortures of hell.
"And yet, she went about her days as if sufficiency was her reality, even in the midst of flattened sand castles. Mother Teresa not only shared the material poverty of the poor but the spiritual poverty of those who feel unloved, unwanted, uncared for.
  Today St. Teresa of Calcutta reminds us that the people who do make it (the people who endure and carry on), are those with a hand to hold."
Whose hand are you holding?  Who is holding yours?
Add a comment