Glimpses of Healing and Hope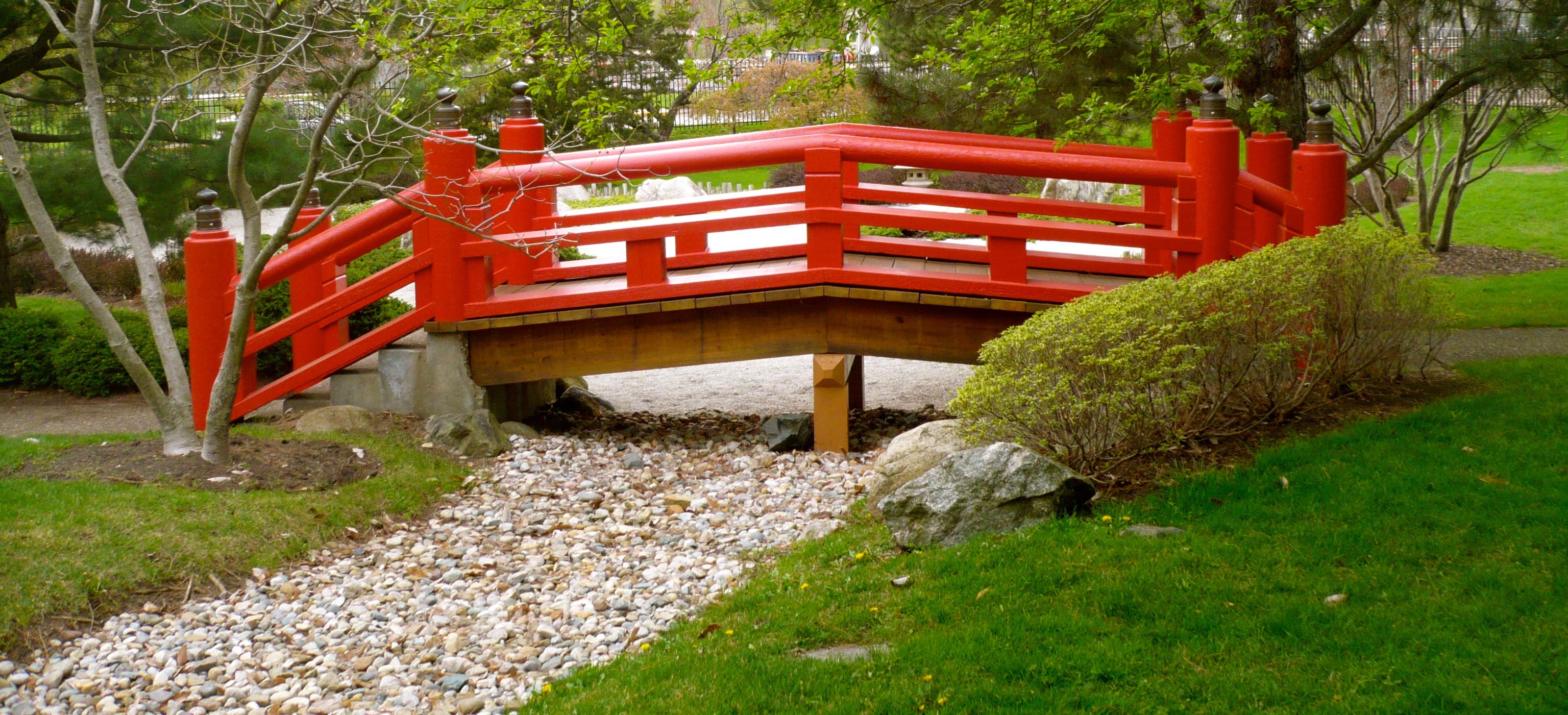 May 23, 2016
by:  Jane Bishop Halteman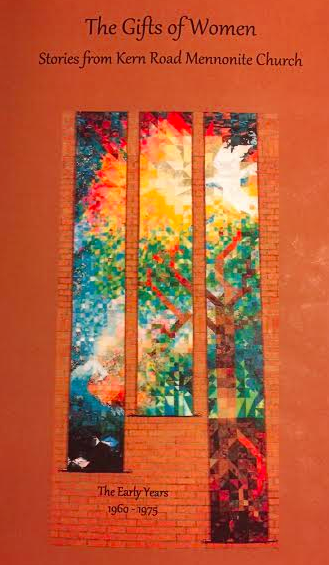 The Gifts of Women, Stories from Kern Road Mennonite Church, records narratives of the lives of 19 women who helped shape the congregation during its early years from 1960 to 1975. 
During KRMC's sharing time on May 8, compilers Pat Frazier and Trudy McManama presented first copies of the book to those women who shared their stories in the book and to representatives of those no longer with us or those unable to be present that day.   
"The women of Kern Road Mennonite Church have been central to the congregation's life and ministry across the years, and here we see why. From childhood to retirement, their stories of strength and struggle, faith and faithfulness inspire the rest of us for the living of these days," says Steven Nolt on the book's back cover.
Janice Yordy Sutter, pastor of preaching and community life at KRMC, is also quoted on the back cover: "These are the stories of amazing women!  Each woman's story is unique, yet each recounts real life challenges, personal perseverance, and a deep abiding Christian faith."
Check out these snippets from some of their stories…
Esther Schmucker, who passed away in October 2015 at the age of 97, was the congregation's oldest member and mother to KRMCer Phil.  Her husband Tobe established South Bend's Hope Rescue Mission while she was busy raising their five sons.  Eventually Mennonite families who arrived in South Bend for jobs "began gathering in one another's homes for fellowship.  As the group began to coalesce, their meetings shifted from home gatherings to regular worship at the mission."
Focusing on Faith and Family is the title of the chapter about Phyllis Troyer.  Soon after their arrival in South Bend, she and husband LeRoy and infant son Terry were invited into the local Mennonite fellowship by Tobe Schmucker.  "When the fellowship evolved into a start-up church, the Troyers were among the 16 charter members."  Already beginning to think beyond their meeting place at Hope Rescue Mission, "the next step was building a church.  In 1961 land was purchased and LeRoy began drawing plans for what was to be Kern Road Chapel, even though his formal training as an architect still lay ahead of him."
As Luella Gerig's husband was completing a four-year surgical residency in Indianapolis, "they were looking to settle in a place that had a Mennonite Church. They learned that a physician in Mishawaka wanted to find someone to come to the area, and at the same time they heard that a church was being started in South Bend." Luella has made many contributions to KRMC, including starting a library of donated books at Kern Road Chapel. 
Mary Jo Miller and husband Lloyd began sharing "their musical gifts with the tiny congregation that gathered for worship at Hope Rescue Mission.  Lloyd led singing and Mary Jo played the piano, roles they continued to fill for many years as Kern Road Mennonite Church grew from this modest beginning." 
Marceil Yoder, whose chapter is entitled Rooted at Kern Road, expected she and Don would attend a local church when they moved to Greencroft Goshen a few years ago, but "they are still faithful attenders at Kern Road.  Their roots there proved too deep and their ties of friendship too strong to leave behind." 
Betty Nissley and husband Homer "contributed to Kern Road in many ways including cleaning the building for several years.  Both served as elders, Betty from 1991 to 1998 after her children were grown."  Their big brick home comfortably housed their own seven children, along with foreign exchange students.  "Whether you were a new arrival to South Bend, a young pastor, a teenager needing a safe place, a young adult from Africa wanting to study English, or a retiree coming back to the area, you were welcome."
Since Eleanor Shoup and husband Owen joined Kern Road in 1964, she "has been an active member.  She fondly recalls bus trips to Chicago with other women and years of teaching Sunday school….After Kern Road acquired a pipe organ, she took organ lessons at Associated Mennonite Biblical Seminaries (AMBS).  She says she finds practicing especially comforting and enjoyable" and still plays for services on occasion.
Iva Rench and her husband, who began attending the church not long before the 1965 Palm Sunday tornadoes swept through the area, "deeply appreciated the way the congregation pitched in to help with the post-tornado cleanup.  That support contributed to their decision to become members," according to Iva's story.
"In the early 1990s Lorna Longenecker began creating visual displays for Sunday worship services….For several years, she volunteered at Ten Thousand Villages, and she still maintains the rotating display" of merchandise near the welcome center.

"One Sunday in the late 60s, Katherine Eggermont remembers being warmly welcomed by Marceil Yoder and responding to that warmth.  The potlucks, with everyone eating together and having a good time, were new to her.  Soon she was teaching Sunday school.  She became a member in 1979."
Norma Jean Neff, who arrived at Kern Road in 1973 when her husband Larry began a job with Goodwill, "was heavily involved with Ten Thousand Villages from its beginning in 1992 under the name Global Gifts."  She began ordering product when the first manager became ill, and she was asked to serve as manager in 1999.  "For the next six years she asked the board to put the manager's salary in a special Jubilee Fund, and every month she chose an artisan group to receive it." 
Phyllis Miller, who began attending Kern Road with husband Joe via their daughters' invitation to Bible school from their teacher Eleanor Shoup, faced a particularly difficult time in August of 2012 when Joe was diagnosed with mesothelioma.  "All the friendships and spiritual resources that they had built up over the years gave them what Phyllis terms 'a tremendous support system.'"  She had begun working as office manager at the church after a long-time manager retired and "was able to continue working until shortly before Joe's death in January 2014.  She says that being of use in the office and having constant contact with pastors Dave and Janice Sutter was a godsend."
Gloria Gibson and her husband Milt became members at Kern Road in 1975, where they quickly felt a connection after visiting other area churches.  "She especially appreciated being with other families whose children were the same age as hers.  She pitched in by teaching Sunday school and helping with the Fellowship Committee."  Now Gloria serves on the congregation's visiting care team.
This story collection of Kern Road women who began attending during the congregation's early years offers many more details of each of their lives.  Contact Pat or Trudy about buying a book for more glimpses of healing and hope at KRMC!
Add a comment
May 16, 2016
by:  Jane Bishop Halteman

The photos above, including the 1596 work by El Greco (left) and Mildorfer's piece from the 1750s (right), feature tongues of fire or brightly colored doves, fabrics, and candles representing most of my past Pentecost experiences
Yesterday was the feast of Pentecost, final day of the season of resurrection, of Eastertide, as we tend to call it at Kern Road, and observance of the descent of the Holy Spirit on the apostles and other followers of Jesus.
"Pentecost, 50 days after Easter Sunday, celebrates the coming of the Holy Spirit and the birth of the church.  As the Holy Spirit fell on the disciples, the barriers of language and culture were broken down, not so that everyone thought and looked the same, but so that everyone understood each other in their own language and culture.  This festival draws us beyond the resurrection to remind us that through the coming of the Holy Spirit we become part of a transnational community from every nation, culture, and social class," Christine Sine wrote some years ago in a Pentecost post at Mustard Seed Associates' Godspace website.
The Spirituality and Practice website suggests that Diana Eck, in her book Encountering God, "describes the dramatic and creative ways Pentecost was celebrated in the Middle Ages. Some churches had 'Holy Spirit holes' in the ceiling to symbolize their openness to God. On Pentecost, doves were released through the holes and bundles of rose petals were dropped from them onto the people gathered inside. Choirboys moved through the congregation making whooshing sounds and playing drums to remind everyone of the rush of the Spirit." 
Jan Richardson's Blessing for Pentecost Day speaks of the grace that scorches us.  She says, "If we didn't know it before, we surely know it now, as the second chapter of Acts unfolds:  this is no tame God who comes to us, no safe and predictable deity. This is the God whose loving sometimes takes the form of scorching.  Before he left, Jesus told his friends he would send them the Advocate, the Comforter. Now we see this Comforter coming as wind, as flame, reminding us that comfort is not always comfortable, for it makes itself known in community, where we find the most searing challenges—and the deepest blessings—we will ever know."
Pentecost celebrations have been more about fire than wind in previous congregations in my past, so it was a somewhat stretching experience to focus during Kern Road's 2016 Pentecost service on the atmosphere as a part of the creation for which we are charged with caring, as we also considered how God's breath was loosened to blow across the face of the earth on that first Pentecost.
Our Pentecost worship service reminded me of retreats I helped lead a few years ago based on Christine Valters Paintner's book entitled Water, Wind, Earth and Fire, in which she suggests in her chapter on wind that "the metaphor of air or wind offers us a variety of ways to understand our experience of God:  as life breath, as inspiration, as enlivener, as directional guide, as powerful force, or as the current that supports flight."
In connection with these categories, retreat participants asked themselves how they experienced the gift of breath and where in life they needed to breathe more deeply; where in life they felt asleep and where they sensed the need to be awakened; how they might lean into the Source that supports and buoys them; how they might embrace the gifts hidden in suffering rather than banishing the suffering; and when they had experienced the current of the Spirit lifting them.
Retreatants practiced 
"getting in 
touch with the
 wind" by 
blowing bubbles, walking 
in the wind, watching birds 
take flight, noticing trees and 
flowers blowing in 
the breeze, considering the power of a windmill, listening to wind chimes, using art supplies to draw representations of the wind, writing poetry or Haiku about the wind.
Memories of that retreat, co-mingled with representations of Pentecost's tongues of fire which always have had a powerful influence on me at this time of year, remind me again that the wind and fire of the Spirit are available to us, though certainly not at our beck and call.  Where have we seen Divine wind and fire at work in our lives or the lives of others?
Add a comment
Hope in liminal spaces
May 9, 2016
by:  Jane Bishop Halteman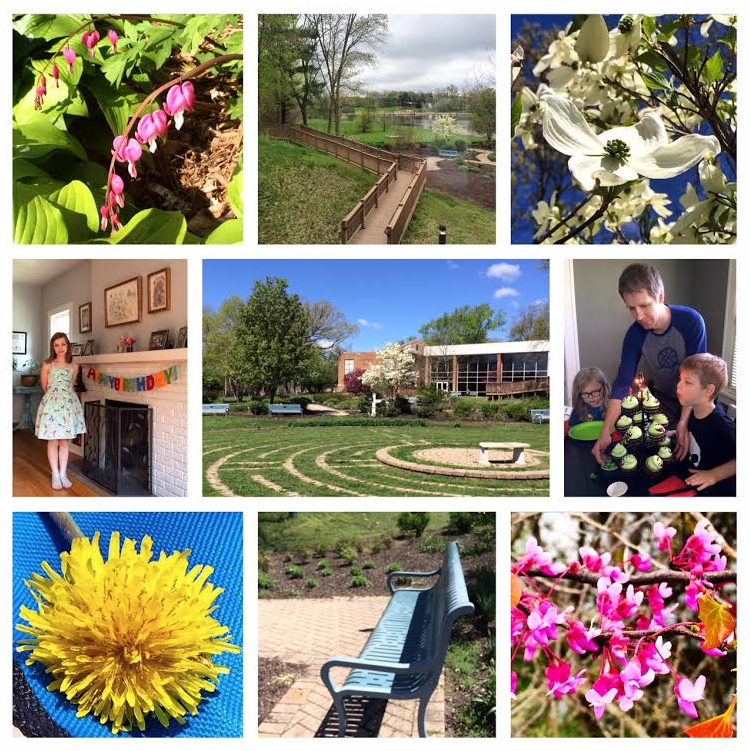 Living into the resurrection sometimes means waiting in liminal spaces, making transitions, understanding only that change will be coming without knowing exactly what, when, or where.
In the last several weeks, I've attended Goshen College's graduation, participated in a spiritual directors' retreat on the theme Abundant Life in Liminal Spaces, experienced my eldest grandchild turn 11 a few weeks after her brother turned 8, and participated in a 70th birthday party as a steady stream of my high school and college classmates move into their eighth decade this year.
Whether it be a birthday, graduation, or some other life milestone, transitions can be difficult.  Leaving your booster carseat behind at 8 or taking on middle school at 11 may seem like fun, but even those transitions don't come without shifts in behavior and some minor stresses.  College graduation is exciting, but there are downsides to entering the adult world; facing into one's eighth decade is no small thing. 
Liminal space is described as the place we find ourselves when we are betwixt and between, when we have left a familiar place for an as-yet-to-be-discerned situation.  A spiritual director colleague described that space at last week's retreat as the place a trapeze artist finds herself when she has let go of one point of connection and is on her way to the next…that split second when, in fact, she is suspended in mid-air, not holding on at all!
Folk-singer, songwriter Carrie Newcomer, a 1980 alum, delivered Goshen College's 118th commencement address Sunday, April 24.  Three KRMC students--Brian Sutter, Sarah Poisson-Osiro, and Jared Nussbaum--were among the graduating seniors, as was a nephew on Jim's side of the family.  Since graduation, the nephew has walked into a liminal space, heading with his van for an unknown job in an unknown place on the west coast. 
I'm not sure if he would call this an adventure or a liminal space, but I imagine it feels liminal to his mother, who had this to say upon his departure:  "'Let it go, my love, my truest, let it sail on silver wings. Life's a twinkling, that's for certain, but it's such a fine thing.' Can't get these lines from Carrie Newcomer out of my head this morning as I'm making coffee for a public program. My son launches today for the West Coast. A 22-year era ends and another begins."
Between the lines, we read the pangs a mother feels as she's waiting with the unknown for the next step of a son's journey.  Newcomer's rendition of that song, found here, promises that "we'll take up where we left off when we all meet again."  In the following stanza, the song goes on to proclaim that "I can't explain it. I couldn't if I tried, how the only things we carry 
are the things we hold inside." 
"Something of a celebrity in Quaker circles," according to On Being with Krista Tippett, the site which lodges the song, "Newcomer is best known for her story-songs that get at the raw and redemptive edges of human reality….A 'prairie mystic,' Newcomer writes and sings about the grittiness of hope and the ease of cynicism."
Newcomer, who grew up in Elkhart, said her mother was raised Catholic and her dad Methodist, though his roots were Mennonite/Amish.  While on Goshen College's Study Service Trimester, she encountered unprogrammed Quaker meetings in Costa Rica and discovered she was drawn to silence.  "My best language has always come out of the silence.  Music approaches the sacred through the wordless avenues of the heart," says Newcomer about her experience of the deep spiritual practice of song-writing. 
In preparation for her Goshen College commencement speech, her first such address, Newcomer said she asked herself, "What can I offer to a roomful of new graduates who are heading out in so many different directions?" and "What is it about my own story that might be of use or service to you?"
After googling what to include in a graduation address, Newcomer reported that "I clicked around for a while, but pretty quickly I stopped because I realized that I didn't want to talk to you about big concepts or abstract ideas. I wanted to focus on small things, human-size ideas that have made a real difference in my life and work, three things that have become important practices and practical guides…be true, be kind, and pay attention."
About being true:  "Being true is not a destination you arrive at and stop. Being true is an unfolding process, you keep checking in with your heart to see if your inner life is in harmony with your outer circumstances."  Upon college graduation, "Music was calling me; songwriting was for me what Parker J. Palmer calls 'the thing I could not, not do.' I had no idea what it would look like. I just knew I had to follow. I had to be true. And after all this time, I'm still following. And, I'm still checking in with my truest heart, and listening closely to what it has to say. I'm still refining my life and work, because of what my true heart tells me. You also have a true heart and a true guide. Breathe deep, and take time to listen—your true heart can be trusted. Keep asking, 'How can I bring more of who I am and what I love into my daily life?'"
As she spoke of being kind, to others as well as to one's own self, Newcomer said, "Try whenever you can to give yourself the same kindness and encouragement you would give a good friend. The practice of kindness is transformative—in our daily interactions with others, but also in how we befriend ourselves."
On paying attention, Newcomer observed:  "Be aware that if you are paying attention you'll see things. It's like you make this deal with the universe. I will be here and I will be present. And because of that you will be a different kind of person. You'll probably gasp at sunsets more often. You might weep at a song or sense something extraordinary in what appears to be absolutely ordinary. You might find yourself standing in the middle of the room grinning at something that no one else saw. You'll become the person in the airport who has an invisible sign on your forehead saying 'I love a good story' and people will sense this and sit next to you and tell you all kinds of marvelous things."
Her closing words were these:  "My dear graduates of 2016, you are the glorious next wave. You are shining like the sun. May you know the perfect danger of a beautiful life well lived."
What better words might be offered than these in whatever change or transition or liminal space life brings?  The 8- and 11- and 70-year-olds can all embrace those words for the next and likely unknown step in their lives.  What part of your life or the life of someone you are close to feels like a liminal space?  What might you offer yourself or another via the vehicles of being true, being kind, and paying attention?  Surely we could call these efforts resurrection living…
You can read Newcomer's entire commencement address here.
Add a comment
Healing and hope in the neighborhood
May 2, 2016
by: Jane Bishop Halteman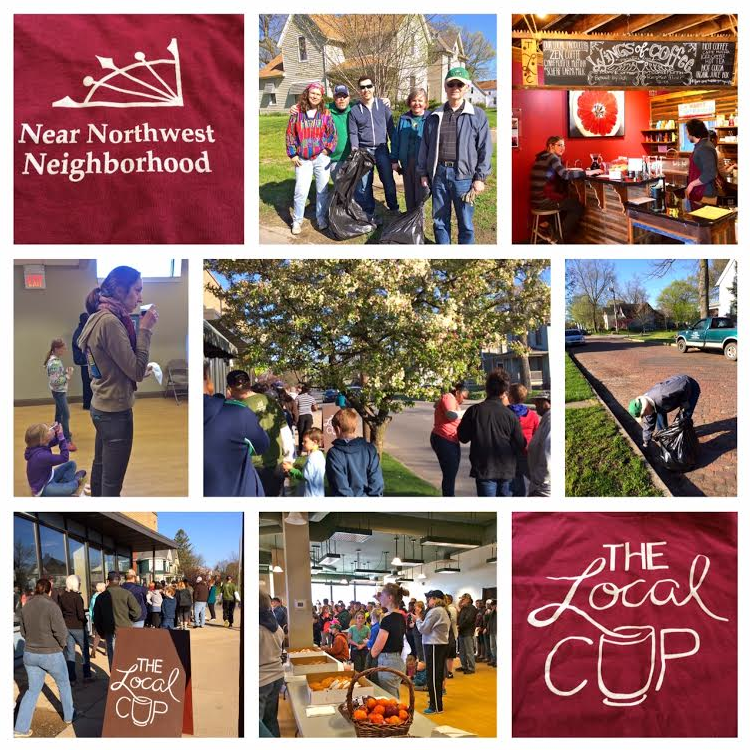 Minutes away from the Notre Dame campus and downtown South Bend, the city's Near Northwest Neighborhood (NNN) is home to more than 25 KRMCers who are part of the congregation's west area group. 
Reportedly one of the most active neighborhood organizations in the city, the NNN "is an organization of citizens dedicated to the preservation and revitalization of the neighborhood. We focus on preserving the neighborhood's beautiful homes and providing affordable housing, while empowering neighbors to become active participants in strengthening this historic, diverse area," the neighborhood website reveals.
Bounded by the St. Joseph River on its northeastern edge, the neighborhood boasts a rich history dating back to the late 1600s with the discovery of the river and the creation of the portage trail, a major trade route used by French explorers and Native Americans, according to the website. 
KRMCer Elaine Schmucker, who arrived in the neighborhood in 1978, explains that home prices were a major part of how she and Phil decided where to settle in South Bend:  "The price was right and we liked all the features of the house. Our jobs at Hope Rescue and Saint Joseph Hospital were close by."
The Schmuckers found their "community of Catholic charismatic people with good values and lots of children" a great place to live.  Their two daughters "always had ready playmates, and many a game of capture the flag was played around this block. One neighbor remains from that group of people; she is a good and valued friend and challenges me in my spiritual life. We have had block parties, progressives, carry-ins; we are friendly and neighborly on this block. It has been a good place to live."
Elaine, who serves as a block captain for the neighborhood's annual adopt-a-block cleanup, says, "Our current neighbors, Bill and Judy, rent their home; Bill wants to buy it because he has such good neighbors!  We talk over the back fence, share and care for each other." 
KRMCer Cathy Stoner loves the neighborhood for these reasons:  "I'm thinking about the concepts of knowing and being known in the neighborhood. I feel like we've prioritized meeting and getting to know our neighbors since moving here 20 years ago. The rewards for this effort have been great."
Cathy, who fixes bikes for folks in the neighborhood and monitors her family's backyard basketball court when it is open to neighborhood kids several times a week, reports that "it's a great feeling to walk around among homes where we know the people and they know us; same goes for the basketball court," where she often provides snacks for the players.
She says she loves "recognizing a couple of kids in every group I pass on the street and being greeted in turn by name. I am aware of the mutual pleasure in recognizing one another every time I encounter someone I know in my neighborhood. And I realize that the intentionality behind this pleasure is key to its enjoyment. In other words, we've been doing the work and now it's paying off in all kinds of ways," she continues.
"The young people who play on our court enjoy a sense of being recognized as good kids their neighbors are glad to know…never mind that they sometimes make me lose my temper, as any kid knows how to do! And I like having my name called out on the street when I see my friends," Cathy reports.
"These relationships make life rich, and I think people visiting or moving into the neighborhood are inspired by the way we all try to know our neighbors. There's plenty more we can do to break down barriers that separate us, but in the meantime, we're off to a good start," according to Cathy.  She and her husband Andre have raised their four children, two of whom remain at home, in the neighborhood. 
NNN sponsors a variety of activities and events, including The Local Cup, a volunteer-run, pay-it-forward coffee shop where KRMCer Barbara Devereaux works as a Sunday afternoon barista.  The Local Cup is open Saturdays from 9 to 12 and Sundays from 2 to 4 at 1009 Portage in the NNN building. Neighbors of all ages gather for coffee, tea, cocoa, home baked goods, and friendly fellowship in this space that describes itself as "building community, gratitude, and generosity in the process of supporting local producers."  The Local Cup will host a grand opening reception Thursday, May 5, from 5 to 7 p.m. Mayor Pete Buttigieg is scheduled to appear at the 5:15 ribbon cutting ceremony.
Some 200 neighbors, including10 KRMCers from the western area group (most of whom live in the NNN), helped Saturday, April 23, with the neighborhood's 14th annual adopt-a-block cleanup.  For the third consecutive year, each block in the neighborhood was adopted, according to a local news report of the event which takes place annually in connection with Earth Day activities.
While city neighborhoods are not likely to describe themselves as living into the resurrection, I have witnessed KRMCers and many other area residents doing that very thing in the Near Northwest Neighborhood!  How does your involvement in your neighborhood reflect resurrection living?  As warmer weather continues to coax neighbors outdoors at this time of year, watch this week for ways you might interact with those who live nearby…maybe an over-the-fence garden chat, an invitation to tea in the backyard, or a friendly exchange with dog-walkers passing by your front yard.
Add a comment