Glimpses of Healing and Hope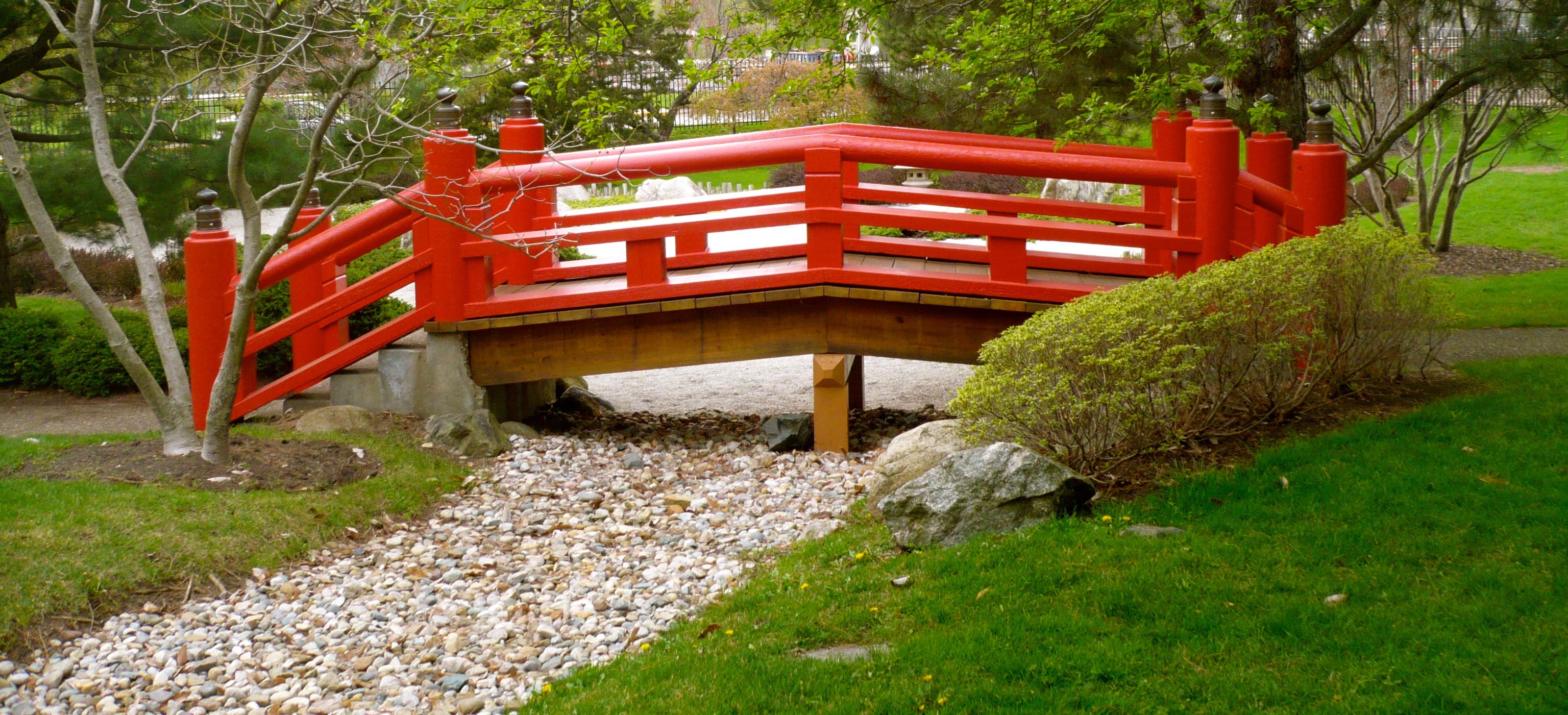 July 25, 2016
by:  Jane Bishop Halteman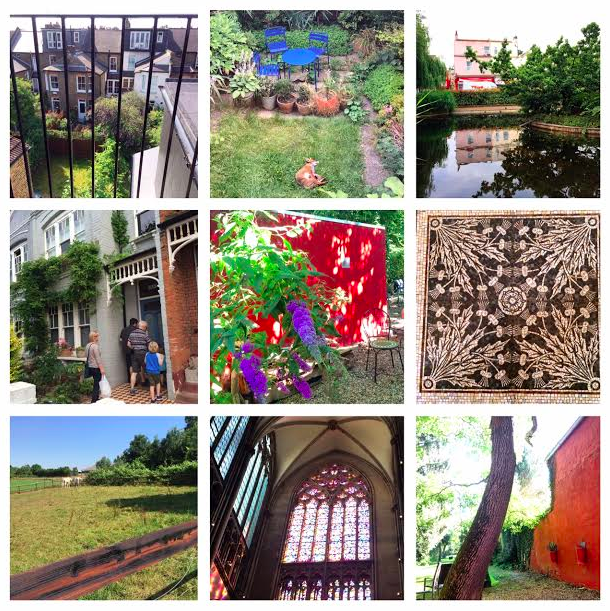 Photos from left to right and top to bottom:  London rooftops, back yard fox, pond reflections; London Airbnb, Bocholtz sun-dappling, Cologne cathedral floor tile;
Bocholtz morning light with horses, Cologne cathedral interior, Bocholtz barn 
As I was peering out our Airbnb bedroom window on arrival at our London site Thursday afternoon, the first thing that caught my attention was a fox sleeping in the back lawn.  To my unacquainted eyes, the creature at first appeared doggish, but I couldn't imagine that the homeowners would have left their dog behind in our care, especially during a very hot week on a continent unprepared for such high temperatures. 
Eventually we came to realize the animal was a fox and were surprised to discover she did not seem the least bit perturbed by our presence.   When we clattered around in the nearby kitchen, in fact, she looked at us lazily and returned to slumber, blending in seamlessly with our environs...she, seemingly out of her typical habitat, and we, for sure, out of ours.
Between naps she sauntered through a hole in the yard's fence to the next door yard and who knows where beyond.  The next evening, on an outing to a nearby cricket field with the grandkids and our daughter-in-law, we met a neighbor woman walking four dogs.  She mentioned that the foxes would likely show up at dusk, slinking around the edges of the field and blending in and out of the neighborhood effortlessly, making themselves quite at home in their nearby den, a mom and a dad and several kits who had apparently settled into the city over the years, though definitely not their natural habitat.
I found myself looking for the fox frequently...would she return for another break from the daily routine?  How did she manage to snooze lazily so close to us clambering around inside a house with which we were unfamiliar, stirring through kitchen drawers to find utensils and pots and pans, hoping to unearth the spice drawer and fresh recycling and garbage bags?  In spite of us, the creature seemed to come and go as she pleased with no thought to us or concern that our being so close just inside might affect her. 
After a great stay in Amsterdam (which you may have read about in last week's post), we moved on to Bocholtz, a quiet town in the Dutch province of Limburg, not far from the borders of Germany and Belgium.  Our converted ancient barn, just adjacent to our Airbnb host's home, offered spaces of dappled outdoor sunlight inviting lots of photo opportunities.  An hour's jaunt took us to the great Roman Catholic cathedral in Cologne, where work on the Gothic edifice began in 1248 and took more than 600 years to complete.  Steeped in European history and savoring the beauty of the massive structure and its contents, we found it tough to juxtapose our cultured days with the nightly antics taking place back home in Cleveland.  (Reading Nancy's blog post helped keep me calm and centered.) 
We traveled the Chunnel train from Brussels to St. Pancras, Central London railway station, before eagerly exploring our seven-level London rowhouse.  With only six to eight stairs between floors, the living room was situated at street level, with four levels of bedrooms above, and a kitchen level and basement below.  We had heard from Meg the morning of their arrival in London that her back had seized up after a day in Dublin, but we were not prepared for the fact that she would make it to her room and not leave it for more than two days except for painful trips to the bathroom.  Unexpectedly, she was thrown into the physically and emotionally uncomfortable position of severe pain in a country not her own.  Bit by bit she and we realized she would need to give up attending the Oxford conference she had come for, the sightseeing excursions with family to the London Eye and Tower of London.  Worst of all, she began to fear it would be impossible to return home with her family because the pain might preclude travel.
In the midst of it all, though, she managed to secure a doctor willing to make house calls at no charge on Saturday.  "Of course you don't pay. This is the National Health Service and you're our guest," he told her and then he apologized for the fact that 100 pills were going to cost £8.50.  The next day she contacted a sympathetic soul at British Airways who agreed, pending a doctor's signature, to move her family from a London to Dublin flight Wednesday coupled with a Dublin/Charlotte/O'Hare flight to a London/O'Hare flight Thursday, giving her an extra day to recover and result in just one cab and one direct flight, rather than three flights, a train, a bus, and a cab, she told her Facebook friends.  
Political shenanigans and physical crises aside, I looked to the fox for her ability to remain at peace in the sunny back yard even with the turmoil of 10 of us barging into her space unexpectedly.  The encouraging words of friends and family kept us afloat so far from home...I especially appreciated the energy worker and other wise women in my life who lifted us above what seemed like impending doom and these words from one, who said, "Stay well, Mother Jane."  I was grateful for Matt's navigational skills throughout the trip, Susan's gifts with food preparation and management, Jeff's attention to keeping the kids entertained, Jim's ability to mend the broken stuff...all the pieces that offered a semblance of normalcy even when life wasn't.  And I loved Matt's stab at flying higher than the storm with these photoshopped efforts to include Meg and me in the trip to the Tower of London!  
Where have you seen the hand of the Divine in the unexpected storms of life?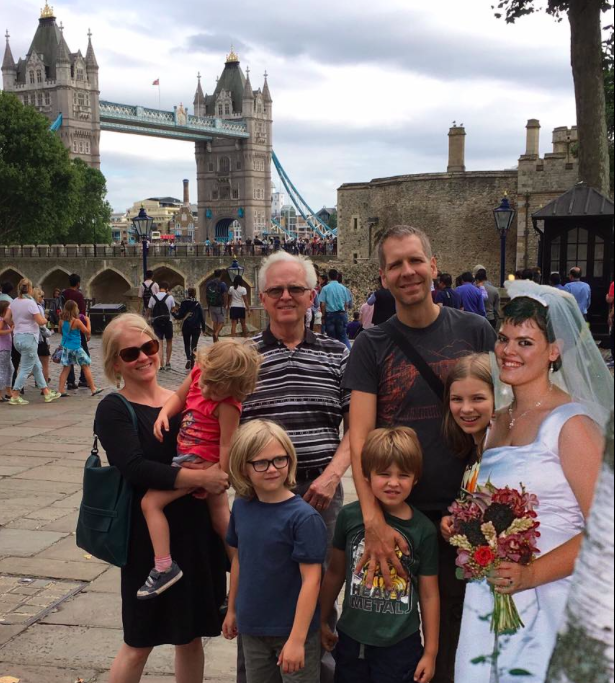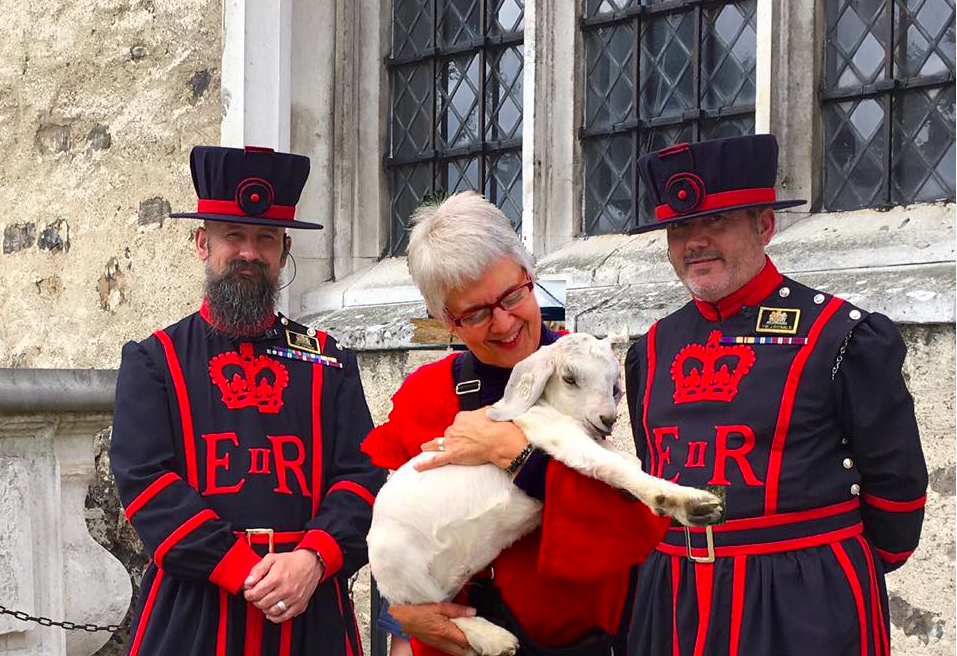 Add a comment
July 18, 2016
by:  Jane Bishop Halteman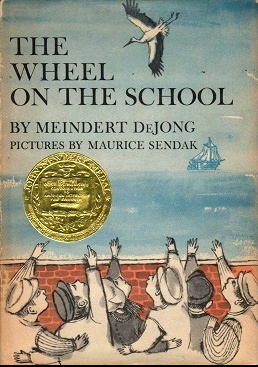 One of my earliest memories of learning about The Netherlands and its inhabitants dates back to my childhood acquaintance with Meindert DeJong's 1955 Newbury Prize-winning book, The Wheel on the School.  I had forgotten that Maurice Sendak, whose Where the Wild Things Are I have since read many times to children and grandchildren, illustrated the book that I found so appealing in my childhood. 
I loved the story of Lina, one of six school children in the small fishing village of Shora. Wikipedia says this about the book:  "When Lina writes an essay for school asking why there are no storks in their village, the teacher encourages the class to find out for themselves. They discover that the roofs on the village's homes are pitched so steeply that the storks cannot find space to nest on the sharp ridges."  The children discover that "placing a wagon wheel on each roof ridge would give storks a place to nest. The task of finding a wagon wheel in the tiny village proves difficult, and the children meet several interesting personalities during their search."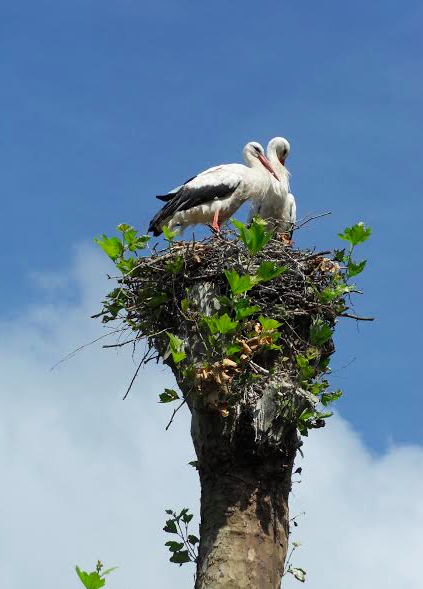 I hadn't given the book much thought in years, until it came to mind this week as a Friesian friend showed us around her hometown of Beetsterzwaag, driving us by several storks' nests, though the occupants were not on the premises when we visited.  (See her photo above.)
Our regular jaunts to The Netherlands started in 1981, when we began accompanying Jim's econ students on European trips every other summer.  The excursions included six weeks on campus in the Dutch province of Friesland, where we spent long, leisurely days (the sun never disappeared until 10:30 at night and returned by 4 in the morning), with cows (including one our three-year-old Megan named Burnt Marshmallow) and sheep grazing contentedly in nearby fields, and back-way bike rides between small villages beckoning regularly.  We learned about hazelnoot and sprinkles, frites, and stroopwafels in a time when no one gave a thought to where the next act of terrorism might occur.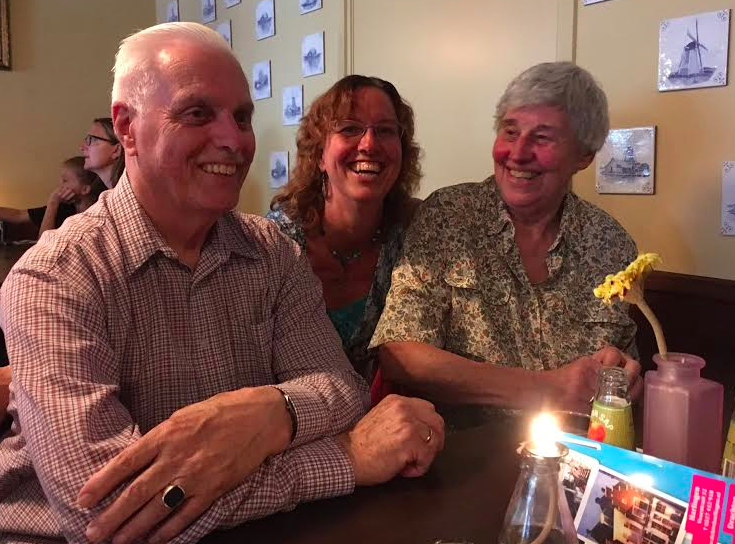 Hester and her parents, July 2016
On our first trip we met Hester, a young teen at the time, and her parents at the Mennonite church in Drachten.  She was eager to practice her English skills with our students, who were a few years older than she was, and came often to visit us on campus.  She ultimately spent six months with my folks in eastern PA as a Mennonite Central Committee trainee in 1985-86.
Our family has known the kindness of Dutch folks many times over through Hester and her family, and we discovered that kindness to be for real again on this trip as a gentleman, who observed us struggling with directions on the street, offered, "Perhaps I can help you?" while we deliberated about which way to turn to find a vegan bakery we discovered on the internet. 
The second day, a passing pedestrian volunteered assistance with finding our way as we walked to the Rijks Museum.  That evening as daughter-in-law Susan and I took a tram across town to a restaurant serving a vegan rice table, we asked another commuter waiting with us when the tramlines shut down for the night.  He kindly told us and offered alternate bus routes if we stayed out past midnight.  When we got off at the Dam, as he did, he flagged us down and offered his list of bus numbers that would get us home if need be.
These three interactions with kind strangers, the day of and after the slaughter in Nice, France, remind me that lots of good things continue to happen in our world on the micro level.  How often does word of the good news, which may seem all too insignificant, reach the world at large?    
How might we be more intentional about mindfully sharing these stories of pleasant surprises that come to pass in our lives, in spite of the fact that much currently seems wrong with the world in which we live?  Consider a time when you have been assisted by a stranger when you needed help…a time when you have offered help to a stranger in need.  And if not a stranger, then when have you reached out to the neighbor in need, the friend in need?  When have you been part of bringing glimpses of healing and hope to another?  When has another offered you healing and hope?  I have found it useful to remind myself frequently of the many ways I see the Divine through the acts of others.
Even after all these years of exposure, I love the Dutch accent and detect it easily wherever I go; I love the red roof tiles visible from the air as one descends over Amsterdam.  I love the thatched roofs still in existence in Friesland, and the Rijks and Van Gogh Museums remain favorites no matter where I go.  Vincent has been an artist I have appreciated for a very long time.  His production of artwork that has survived the test of time in spite of the daily struggles he endured is an inspiration.
On yet another visit this last week to the art museum named for him, I learned that following one of his hospitalizations he said he "felt like a broken pitcher that could never be mended."  Even after emotional illness had taken its toll, he noted that "painting and drawing gave structure to his days and ensured that he did not fall prey to the loneliness plaguing other patients" in the asylum to which he had himself committed.  
Could it be that loving The Wheel on the School all those years ago is where the warm spot in my heart for The Netherlands and its people took root?  That the journey started for me as a pre-teen when I read a Newbury award-winning book?  A journey that not only took me to The Netherlands many times over the years and toward a deep appreciation of Van Gogh and his paintings, but one that also brought me a son-in-law of Dutch heritage and found my own son involved in teaching at a Christian Reformed school with Dutch roots? 
It's been fun to recognize more of these links and connections as they unfold on this trip; what's unfolding for you?
Add a comment
July 11, 2016
by:  Jane Bishop Halteman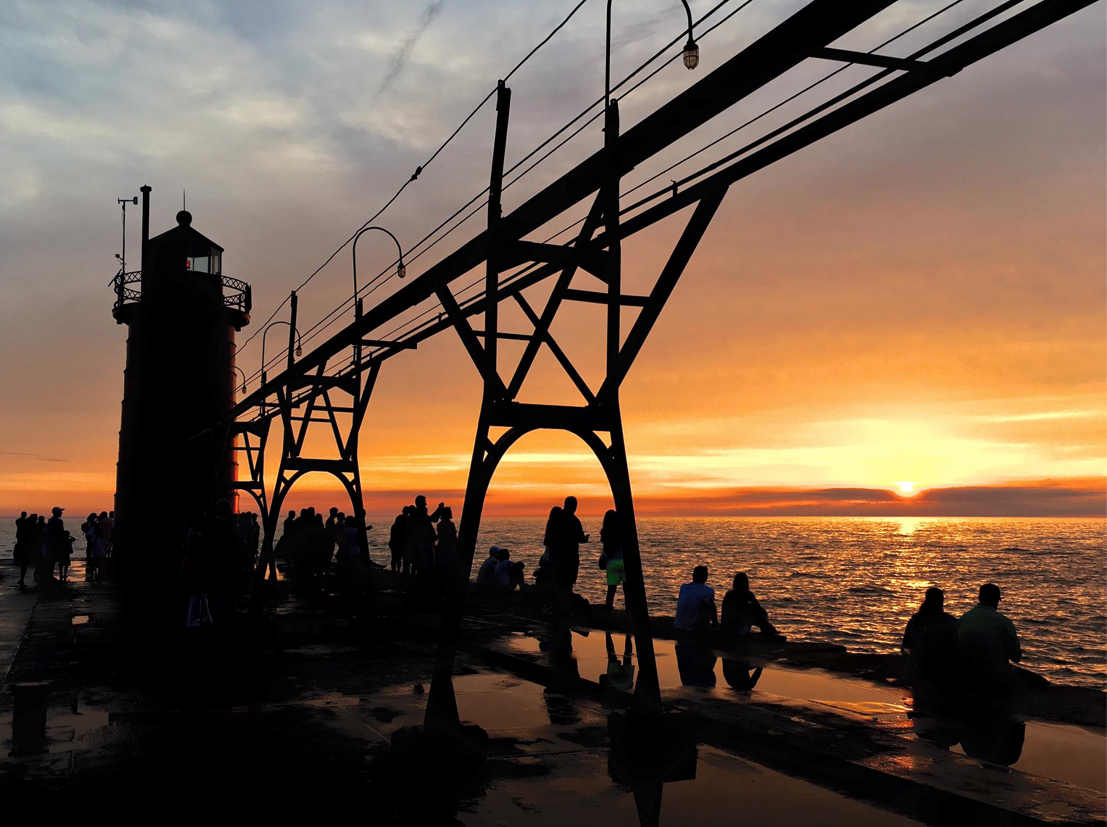 Photo by Cheryl Lynn Cain, used with permission
A handful of people from KRMC and a sprinkling of visitors who came with friends gathered Friday night for a service of lament, ably led by Deanna and Amy, after a horrific week of too many shootings.  Searching for ways we might respond in the wake of hard-hitting countrywide trauma, Karla spoke up, inviting each of us to take the gift with which we've been endowed and use it to make a difference in the aftermath of violence.
I am a gatherer and repackager of resources, so my first inclination was to begin combing the internet for ways to lament, to mourn collectively, to stand in solidarity.  I found this Modern Psalm of Loss written by author Ann Weems in response to the death of her 21-year-old son in 1982.  Crying out about the unspeakable pain, Weems begged God to bring her "out of this land of weeping."  The poem helped me identify with her pain and the pain of others suffering as a result of the current shootings in Baton Rouge, St. Paul, and Dallas.
Soon after that initial search, my Facebook feed came alive with material…writers and organizations I follow began responding with links to relevant readings and poetry, heartwarming stories, and revelations of their own fears and self-soothing techniques.  A friend posted the beautiful sunset photo above, which she took in South Haven, MI.  I found myself looking at it long and hard, as a space of peace and beauty, a refuge from the storm, a respite from the intensity of the past few days.  "Just what my wracked brain needs at the end of this horrific week," I told her.  She replied: "Which is exactly why I made homemade veggie pizza last night. Peace."  
Another Facebook friend, Cathleen Falsani Posley, former religion writer for the Chicago Sun Times, where I first got to know her work, and a classmate of kids I knew back in Wheaton, wrote this last Friday on Facebook about the son she and her husband adopted from Malawi some years ago:  "I didn't sleep last night. I don't want him to leave the house. I don't want him to drive the car. If money were no option, I'd pack a bag and take him somewhere else as soon as humanly possible. Irrational? Maybe, but I don't care. I'm his mother and momma bear instinct isn't an intellectual exercise. I want to protect my child. And in this moment, out there sure as hell doesn't feel safe."
Facebook friend Rose reposted this entry from Natasha Howell (with 'feeling hopeful' emoticon):  "So this morning I went into a convenience store to get a protein bar.  As I walked through the door, I noticed that there were two white police officers (one about my age, the other several years older) talking to the clerk (an older white woman) behind the counter about the shootings that have gone on in the past few days.  They all looked at me and fell silent.  I went about my business to get what I was looking for; as I turned back up the aisle to pay, the oldest officer was standing at the top of the aisle watching me.  As I got closer he asked me how I was doing.  I replied, 'Okay, and you?'  He looked at me with a strange look and asked me, 'How are you really doing?'  I looked at him and said, 'I'm tired!'  His reply was, 'Me, too.'  Then he said, 'I guess it's not easy being either of us right now, is it?'  I said, 'No, it's not.' Then he hugged me and I cried.  I had never seen that man before in my life.  I have no idea why he was moved to talk to me.  What I do know is that he and I shared a moment this morning that was absolutely beautiful.  No judgments, no justifications, just two people sharing a moment."
Is it possible that, in the midst of this collective national trauma, some of us are actually taking more time to be civil to one another, to pay attention to each other wherever we may find ourselves?   Why else did I have a cordial conversation with the woman waiting for her Italian street food at the South Bend Farmers' Market as I was waiting, too, only to confess to her in the parking lot a few minutes later that I couldn't find my car?  Why else did the motorcyclist in the lane next to me nod as we waited side by side at a stoplight on the way to church Sunday morning?  Driving home from the market Saturday I spotted The Grateful Green Food Truck and friends Amy and Patti also ordering their lunches from the truck, located that particular day at The Local Cup, a favorite coffee spot in the Near Northwest Neighborhood.  In the frame of mind I found myself over the weekend, it was good to discover friends patronizing businesses I respect and admire and good to share a moment with The Grateful Green Truck owner as we connected over the rampage of violence that left us all stunned.   
Facebook friend Nina reposted Dan Rather's words of hope and encouragement, including actions we might take in response to violence:  "I choose today to embrace Martin Luther King's hopeful vision and ask you to do the same. Stating this publicly is only a start. What we need is engagement, work, to turn back the tides of chaos. It can be as simple an act as voting, or a more sustained effort, like joining and supporting groups that are doing the real lifting, in the trenches, to build a more peaceful and equitable world. What is not acceptable is to ignore the realities and challenges we face. 
"Perhaps it is best to end with a quote from the Nobel Peace Prize speech of the late Elie Wiesel," Rather continues. 'We must take sides. Neutrality helps the oppressor, never the victim. Silence encourages the tormentor, never the tormented. Sometimes we must interfere. When human lives are endangered, when human dignity is in jeopardy, national borders and sensitivities become irrelevant. Wherever men and women are persecuted because of their race, religion, or political views, that place must—at that moment—become the center of the universe.'"
This Jan Richardson piece entitled Blessing in a Time of Violence offers solace under circumstances such as these.  Many thanks to Facebook friend Betty for posting this YouTube video of Melanie DeMore singing I am sending you light to heal you, to hold you.  Pass on the love and care, the healing and holding, as you go about your business this week.  
Add a comment
July 4, 2016
by:  Jane Bishop Halteman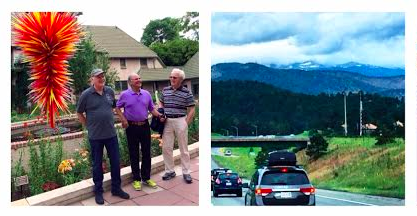 Jim and my brothers at Denver Botanic Gardens; driving to the mountains
I've traveled in and out of Denver a number of times, both as a meeting planner decades ago and to visit my brothers' families over the years, so I'm not a stranger to spending short periods of time at mile-high altitudes. 
During a trip to visit family in Colorado this last week, I began noticing the change in the atmosphere as we made our way between Denver and higher altitudes in Cordillera.  A little more breathless than usual on the stairs and feeling more intensely the ups and downs of the walking path on the par-three golf course, I began to research more carefully how to navigate the switch between altitudes.
 An article entitled Ten Non-medicated Ways to Cope with Altitude suggested that hydrating, eating regularly, slowing one's pace, and acclimatizing go a long way toward preventing or overcoming altitude sickness.  As I read through the recommendations to keep altitude illness at bay, I couldn't help but notice similarities to healthy practices for the ascents and descents in life. 
Consider the ways you are aware of life's ups and downs as holy ground as you examine these four directives to ensure you are breathing well in high altitudes.  What likenesses and differences do you see between good spiritual practices and managing a change in altitude well?
Stay thoroughly hydrated:
"Always stay thoroughly hydrated on any hike, but particularly those involving travel above 7,000 feet elevation….Drink before you get thirsty, as thirst usually occurs only after you are already dehydrated. This means try to drink at least six to eight ounces every 30 to 45 minutes on hot summer days when you are going uphill carrying a heavy pack."
A second source offers this about the importance of adequate hydration: 
Staying hydrated is "the best way to help your body adjust to high altitude. Generally the low humidity at altitude keeps the air dry, so you should drink twice as much water as you would at home.  Also keep in mind that you want to add water to your body, not deplete it. At least initially, avoid caffeine and alcohol."
Eat regularly:
"Whether you feel like it or not, you must keep eating. Your body works hard to go uphill and carry extra weight; if you are traveling at altitude the stresses on your body are even greater and you probably will feel less interested in food. Be sure to test snack and meal food ahead of time at sea level and only take with you whatever is palatable and satisfying down low, minus spicy or hard-to-chew foods. Include carbohydrate solutions to add to your beverages….Have some hard candy, jelly beans, lemon drops handy so you have ready access to your main fuel source: carbohydrates."
Slow your pace:
"In order to enable you to continue steadily, listen carefully to your body and be sure to start out a little slower than you normally go to warm up well and hit your stride. If you try to push it to keep up with the fastest member of your party you may not make it to your goal. In the case of altitude climbing, the tortoise usually outpaces the hare in the long run, but the key is to go at a slow and steady pace."
 Acclimatize:
"This isn't just a technical term mountain climbers throw around to sound cool. Adjusting to higher altitude can take a few days.  If you have the time, consider spending a night or two at an intermediate altitude.  If that's not an option, plan calmer activities the first 24 to 48 hours of your trip."
Another source suggests that "foods rich in potassium are great for acclimating. Some good staples to eat include broccoli, bananas, avocado, cantaloupe, celery, greens, bran, chocolate, granola, dates, dried fruit, potatos, and tomatoes.  Do your body a favor and decrease salt intake.  Additionally, complex carbohydrates are great for stabilizing your blood sugar and maintaining energy. Eat plenty of whole grains, pasta, fruits, and vegetables."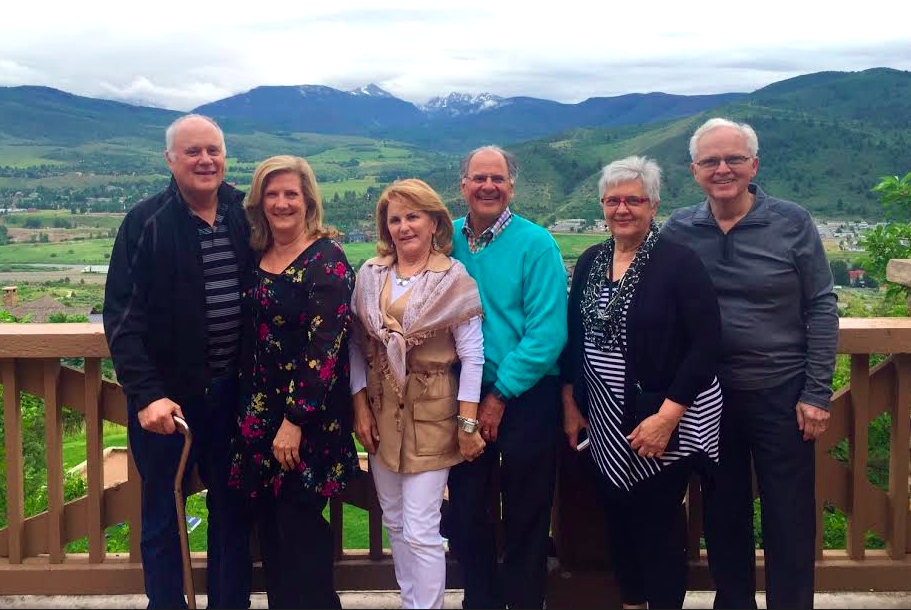 This last week's experience in the Rocky Mountains reminds me of the Sherpa guides from Tibet and Nepal, "famous for the remarkable assistance they provide to Himalayan mountaineering expeditions.  These mountain guides are hardy, experienced, and skilled.  They know the joys and dangers of the ascent and descent.  They have come to an understanding of the terrain, its beauty, and its risks.  They know where there are hazardous and slippery paths.  They watch out for the signs of altitude sickness in the climbers.  They walk beside the explorer and help to carry the load and share the burden.  Sherpas are keenly aware that they tread on sacred ground:  the mountain is a holy place, not to be 'conquered,' but to be approached with awe and respect." (From Andrew D. Mayes' Learning the Language of the Soul:  A Spiritual Lexicon)
With what do you hydrate your spiritual life?  What do you feed upon to enhance the journey?  How do you slow your pace in order to pay attention to what's most important? Have you found ways to acclimate to new goals and practices?  Who has functioned for you as a Sherpa?  For whom have you offered the loving care a Sherpa makes available to a climber?  
Add a comment