Glimpses of Healing and Hope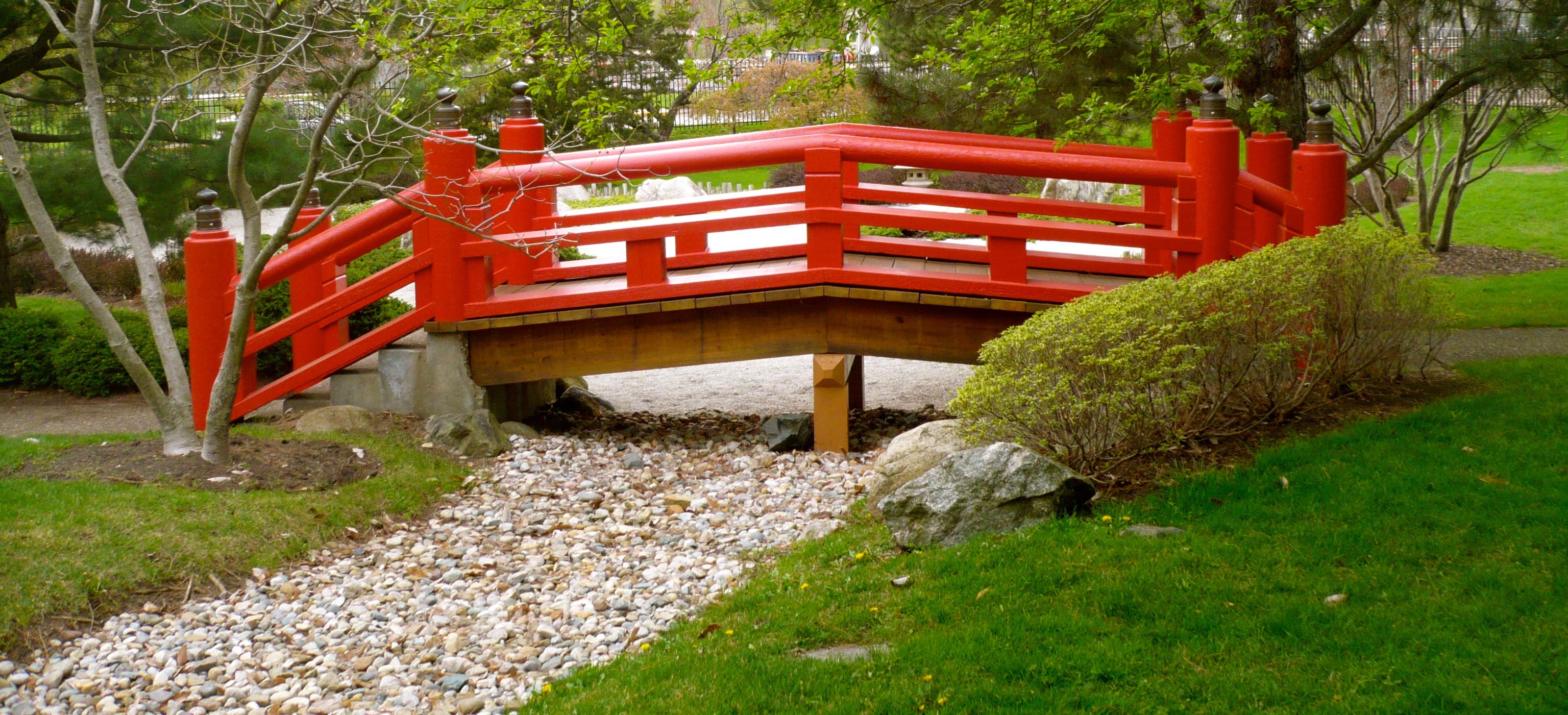 August 8, 2016
by:  Jane Bishop Halteman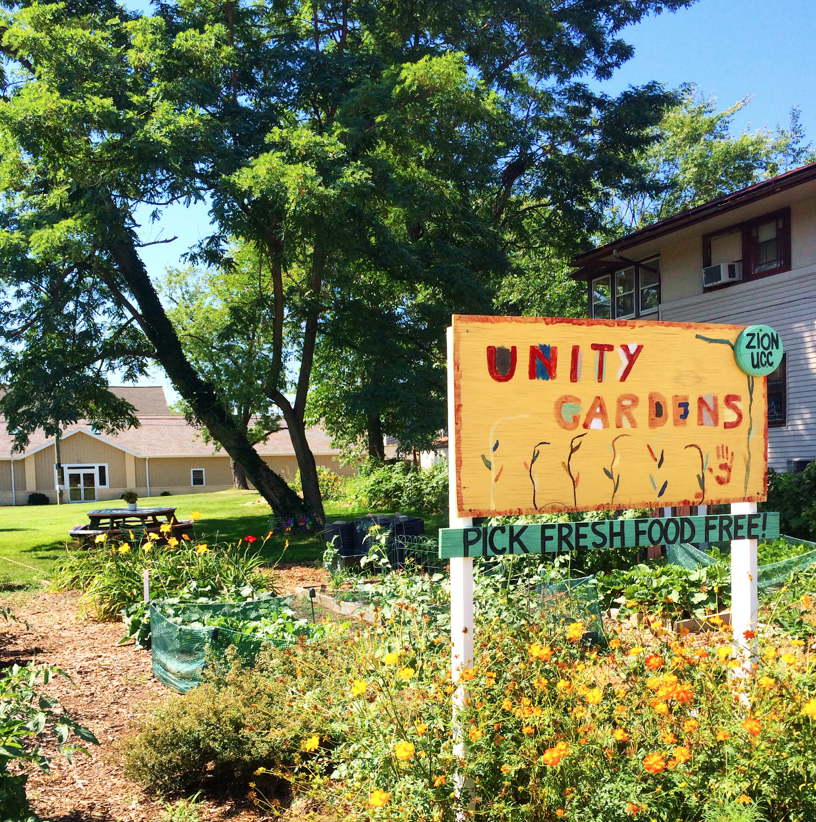 Seeing this Unity Garden in South Bend last week made my heart sing!
Is it possible that the difficult election cycle in which we find ourselves is taking a toll on Americans in unexpected ways?  I find drivers a bit more aggressive, people crankier with each other in public places, and, in general, I observe more intolerance with one another than usual. 

Perhaps I wouldn't be noticing if we hadn't just returned from two weeks in Europe, where we found strangers quite respectful of each other and of us as we traveled many modes of over-crowded public transportation and visited sites brimming with hoards of people, where it would have been easy to get in each other's way and lose patience with the masses.

I've been intent this last week on noticing the happy things, the encouraging things that go on around me to help dispel the destructive chatter everywhere.  When the world gets nasty, how can we fill our eyes and ears with good things to counteract the overload of negativity?

How do we neutralize the violence and pain we are sure to absorb when we watch the news, interact with social media, read the local newspaper?  How do we digest well what we see and hear, at least to stay in the know and offer care where possible, but at the same time pay attention to our own wellbeing? 

I'm still thinking about silence as a remedy, if you read last week's post, but also intrigued this week with curiosity about how to balance with good input the assault from the fire hose of bewildering information just waiting to drown us with pummeling force.

I am grateful that my Facebook friends continue to offer positive posts.  Mary shared this version of Hallelujah, and Rose's "The Earth Has Lungs.  Watch them Breathe" cheered me up as I thought of the amazing ways in which our world operates without our knowing or understanding. 

I'm taking time during August to participate in Susannah Conway's August Break 2016, in which she offers a daily photo prompt and urges participants to post on Instagram and a private Facebook page.  She suggests that her followers "pause, look around you, and shoot what you see. Live inside each moment. Pay attention to what's there. If it's the summer where you are, it's a lovely way to be present to the moments that will be gone before you know it. If it's the winter, what better way to liven up your day than with a creative project to play with?" 

And I have favorite poets and authors to whom I turn when the world looks bleak.  For me it's Jan Richardson or Parker Palmer or Krista Tippett or Mary Oliver or David Whyte.  You probably have your own list of favorites whose writings cheer you when you need cheering.  David Whyte's post on memory this week suggested this upbeat thought:  "Memory is an invitation to the source of our life, to a fuller participation in the now, to a future about to happen, but ultimately to a frontier identity that holds them all at once. Memory makes the now fully inhabitable."

John O'Donohue stirs great excitement in me with his comments in The Question Holds the Lantern.  "Once you start to awaken, no one can ever claim you again for the old patterns. Now you realize how precious your time here is. You are no longer willing to squander your essence on undertakings that do not nourish your true self; your patience grows thin with tired talk and dead language. You see through the rosters of expectation which promise you safety and the confirmation of your outer identity. Now you are impatient for growth, willing to put yourself in the way of change. You want your work to become an expression of your gift. You want your relationship to voyage beyond the pallid frontiers to where the danger of transformation dwells. You want your God to be wild and to call you to where your destiny awaits."

Yes, surely, I don't have to wear myself out further with election news.  My high school and college classmates are turning 70 this year and I've enjoyed watching how they are embracing the decade.  The four grandchildren continue to advance in years, and it's fun to watch them preparing for the start of a new school year as a sixth grader, third graders, and three-year-old pre-schooler.  I was mesmerized last week by Zion UCC's Unity Garden (in photo above) offering free food for the taking and excited to consider volunteering some marketing assistance at Just Goods. 

Finally, I unearthed Jan Richardson's A Blessing Called Sanctuary, a personal gift for me which showed itself just in time to use in words for worship Sunday at Kern Road.  Truly sacred, inspired thoughts about turning the personal sanctuaries we have found on the journey into sanctuaries for others.  Yes, that, too, will help cure what's wrong with this election year.

As I was wrapping up this entry Sunday night, former suburban Chicago neighbor Sue posted a Chicago Tribune article by Mary Schmich that closed with this sentiment: "This country has a great ability to self-correct. It veers off course then lumbers forward toward something better. As hard as it is to believe on days when the news is dark with the terrible things people do and say, we live in a world that is safer and fairer than the one I was born into."

We can only hope Mary is right; in the meantime, let's try making it a spiritual discipline this week to fill our minds with the good, the positive, the encouraging, the helpful, the useful, the informative.  And pass those things on to folks around us…
Add a comment
August 1, 2016
by:  Jane Bishop Halteman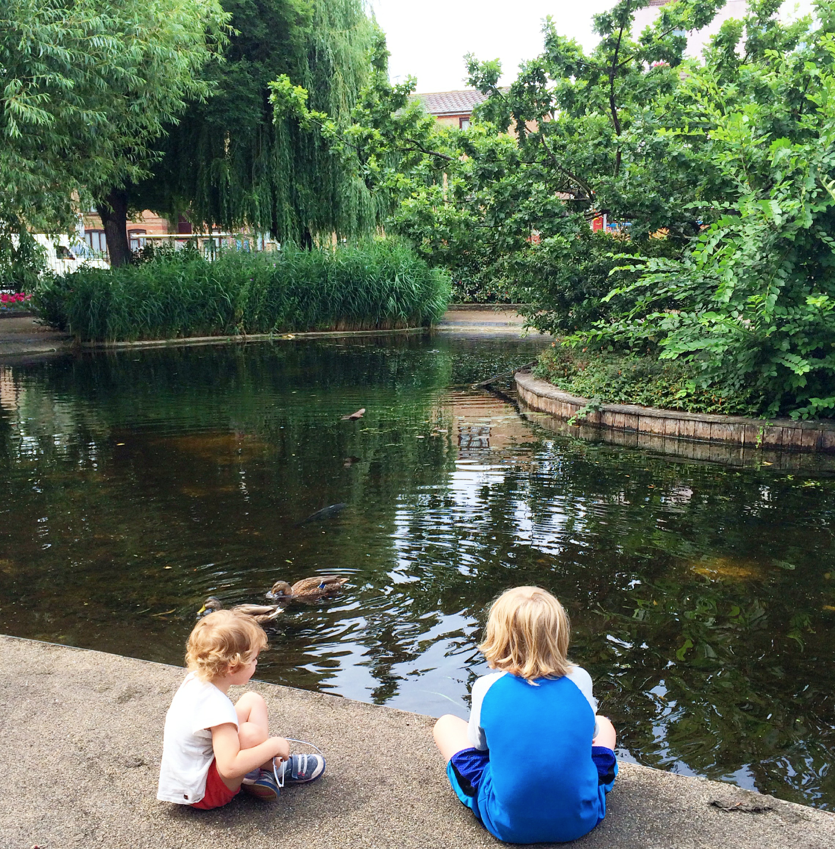 Quiet in the city at Clapton Pond 
One of Parker J. Palmer's comments in a Facebook post this last week caught my attention:  "In this noisy season of political frenzy, it's hard to remember 'the sound of silence.' But it's exactly at such times that we need the grounding and wisdom that can come from keeping still for a while." 
This link will take you to Palmer's post, which includes Pablo Neruda's poem about silence, And now we will count to twelve…, which Palmer says he reads several times a day "to help me reclaim my right mind and my true heart."
In spite of the noisiness of our lives, silence can be found in nooks and crannies if we are willing to make time and space to notice.  We discovered the pleasant pond in the photo above in London just this side of a very busy street where automobiles, trucks, double-decker buses, police cars, and ambulances zigzagged their way through the congestion—anything but a silent setting, but we managed, for a moment, to secure a measure of quiet in the beauty of that slightly sheltered space named Clapton Pond.  
Wherever we went on our two-week family excursion to The Netherlands, Germany, and England, crowds of people and horrendous traffic assaulted our senses as we shared highways and canals, trams, buses, planes and trains (including the Chunnel), railroad stations, airports, and the underground with the locals and many vacationers like ourselves who also were visiting museums, cathedrals, and other historical points of interest, along with eating and shopping.  The night sounds of parties and a nearby restaurant continued past our bedtime in Amsterdam.  Noises of different varieties broke the silence in Bocholtz, where soft neighborhood voices carried in the rural night air and roosters woke us during pre-dawn hours. 
Silence has been called the way into the deep well of inner wisdom.  In the words of Thomas Merton, "Silence has many dimensions. It can be a regression and an escape, a loss of self, or it can be presence, awareness, unification, self-discovery. Negative silence blurs and confuses our identity, and we lapse into daydreams or diffuse anxieties. Positive silence pulls us together and makes us realize who we are, who we might be, and the distance between these two." 
Gunilla Norris, in her book Sharing Silence, Meditation Practice and Mindful Living, suggests that "when we make a place for silence, we make room for ourselves. This is simple. And it is radical. A room set apart for silence becomes a sanctuary—a place for breath, for refreshment, for challenge, and for healing.
"Silent spaces invite us to go to the inner room—the room inside ourselves. By making room for silence, we resist the forces of the world which tell us to live an advertised life of surface appearances, instead of a discovered life—a life lived in contact with our senses, our feelings, our deepest thoughts and values," Norris observes.
Frederic and Mary Ann Brussat have gathered a host of helpful ways to practice silence (and other spiritual disciplines) at their Spirituality and Practice website.  They say this about silence:  "Our world contrasts sharply with the inner world of silence. We are bombarded daily with the noise of crowded residences, workplaces, and entertainment sites. The clamorous voices of the media are always trying to get our attention. We live amidst the seemingly relentless roar of our machines, our tools, and our toys.
"Very few places today are soundproof. The norm is noisy verging on chaotic. The Tower of Babel still stands in our midst, a grim reminder that our various expressions can divide and even conquer us. When this world feels overwhelming and chaos seems to be getting the best of us, silence is a powerful antidote. This practice increases our capacity for contemplation. It enables us to focus our attention on deep matters of the heart. It is where we can commune with things greater than the cacophony all around us," the Brussats say.
"How can you find this inner quietude, tranquility, and calm? You must make room for it—literally. Find a space of physical silence where you can sit quietly, away from distracting demands, voices, and sounds. Go there every day. It is the gateway to your interior silence."  Where might you find a place to inhabit the silence in the midst of chaos?  Perhaps a space in your own home, your office, a park you pass every day, your back yard?
I have long loved a story from Sue Monk Kidd's When the Heart Waits about sitting in silence with an injured bird, so you can imagine my delight at finding that passage in video format among the Brussats' resources on silence.  Check out this link to hear the reading and decide for yourself what value you may find as you reach toward the Divine by incorporating silence into our noisy world.  Borrowing phrases from Neruda's poem, what will the earth teach us when we allow silence to interrupt the noise in our lives?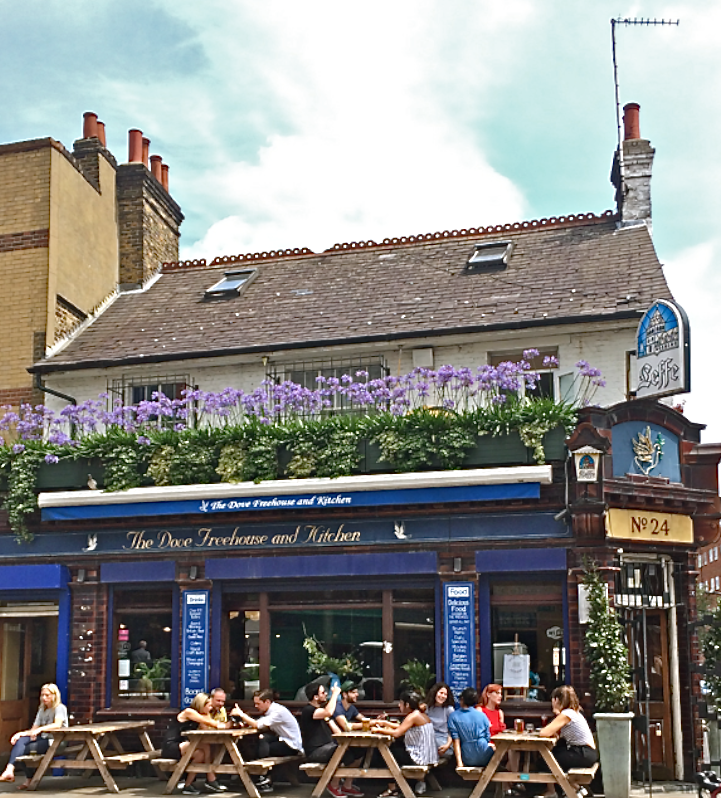 This unexpected rooftop garden provided a mini space of silence 
in the midst of a Hackney neighborhood crowd in Greater London
Add a comment
July 25, 2016
by:  Jane Bishop Halteman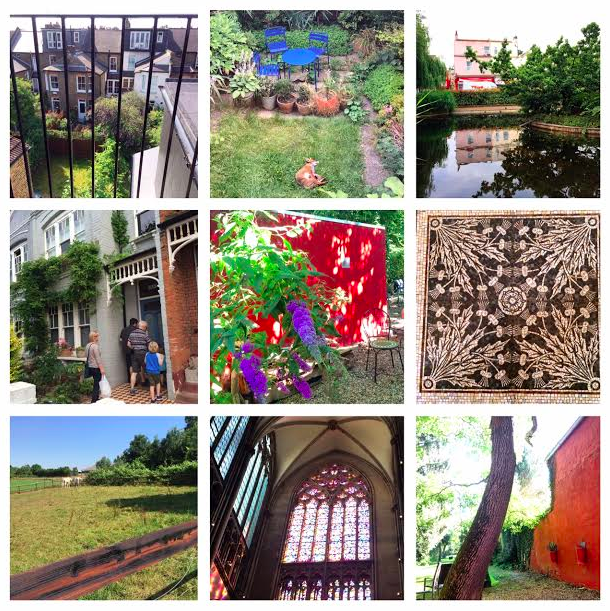 Photos from left to right and top to bottom:  London rooftops, back yard fox, pond reflections; London Airbnb, Bocholtz sun-dappling, Cologne cathedral floor tile;
Bocholtz morning light with horses, Cologne cathedral interior, Bocholtz barn 
As I was peering out our Airbnb bedroom window on arrival at our London site Thursday afternoon, the first thing that caught my attention was a fox sleeping in the back lawn.  To my unacquainted eyes, the creature at first appeared doggish, but I couldn't imagine that the homeowners would have left their dog behind in our care, especially during a very hot week on a continent unprepared for such high temperatures. 
Eventually we came to realize the animal was a fox and were surprised to discover she did not seem the least bit perturbed by our presence.   When we clattered around in the nearby kitchen, in fact, she looked at us lazily and returned to slumber, blending in seamlessly with our environs...she, seemingly out of her typical habitat, and we, for sure, out of ours.
Between naps she sauntered through a hole in the yard's fence to the next door yard and who knows where beyond.  The next evening, on an outing to a nearby cricket field with the grandkids and our daughter-in-law, we met a neighbor woman walking four dogs.  She mentioned that the foxes would likely show up at dusk, slinking around the edges of the field and blending in and out of the neighborhood effortlessly, making themselves quite at home in their nearby den, a mom and a dad and several kits who had apparently settled into the city over the years, though definitely not their natural habitat.
I found myself looking for the fox frequently...would she return for another break from the daily routine?  How did she manage to snooze lazily so close to us clambering around inside a house with which we were unfamiliar, stirring through kitchen drawers to find utensils and pots and pans, hoping to unearth the spice drawer and fresh recycling and garbage bags?  In spite of us, the creature seemed to come and go as she pleased with no thought to us or concern that our being so close just inside might affect her. 
After a great stay in Amsterdam (which you may have read about in last week's post), we moved on to Bocholtz, a quiet town in the Dutch province of Limburg, not far from the borders of Germany and Belgium.  Our converted ancient barn, just adjacent to our Airbnb host's home, offered spaces of dappled outdoor sunlight inviting lots of photo opportunities.  An hour's jaunt took us to the great Roman Catholic cathedral in Cologne, where work on the Gothic edifice began in 1248 and took more than 600 years to complete.  Steeped in European history and savoring the beauty of the massive structure and its contents, we found it tough to juxtapose our cultured days with the nightly antics taking place back home in Cleveland.  (Reading Nancy's blog post helped keep me calm and centered.) 
We traveled the Chunnel train from Brussels to St. Pancras, Central London railway station, before eagerly exploring our seven-level London rowhouse.  With only six to eight stairs between floors, the living room was situated at street level, with four levels of bedrooms above, and a kitchen level and basement below.  We had heard from Meg the morning of their arrival in London that her back had seized up after a day in Dublin, but we were not prepared for the fact that she would make it to her room and not leave it for more than two days except for painful trips to the bathroom.  Unexpectedly, she was thrown into the physically and emotionally uncomfortable position of severe pain in a country not her own.  Bit by bit she and we realized she would need to give up attending the Oxford conference she had come for, the sightseeing excursions with family to the London Eye and Tower of London.  Worst of all, she began to fear it would be impossible to return home with her family because the pain might preclude travel.
In the midst of it all, though, she managed to secure a doctor willing to make house calls at no charge on Saturday.  "Of course you don't pay. This is the National Health Service and you're our guest," he told her and then he apologized for the fact that 100 pills were going to cost £8.50.  The next day she contacted a sympathetic soul at British Airways who agreed, pending a doctor's signature, to move her family from a London to Dublin flight Wednesday coupled with a Dublin/Charlotte/O'Hare flight to a London/O'Hare flight Thursday, giving her an extra day to recover and result in just one cab and one direct flight, rather than three flights, a train, a bus, and a cab, she told her Facebook friends.  
Political shenanigans and physical crises aside, I looked to the fox for her ability to remain at peace in the sunny back yard even with the turmoil of 10 of us barging into her space unexpectedly.  The encouraging words of friends and family kept us afloat so far from home...I especially appreciated the energy worker and other wise women in my life who lifted us above what seemed like impending doom and these words from one, who said, "Stay well, Mother Jane."  I was grateful for Matt's navigational skills throughout the trip, Susan's gifts with food preparation and management, Jeff's attention to keeping the kids entertained, Jim's ability to mend the broken stuff...all the pieces that offered a semblance of normalcy even when life wasn't.  And I loved Matt's stab at flying higher than the storm with these photoshopped efforts to include Meg and me in the trip to the Tower of London!  
Where have you seen the hand of the Divine in the unexpected storms of life?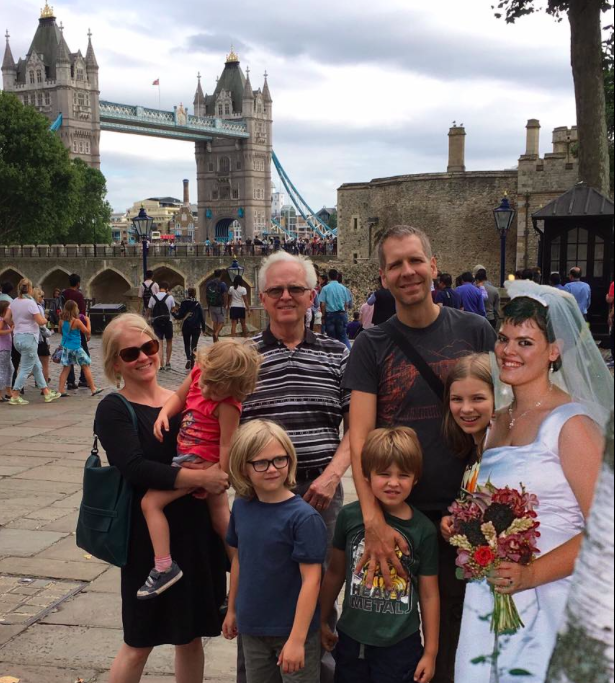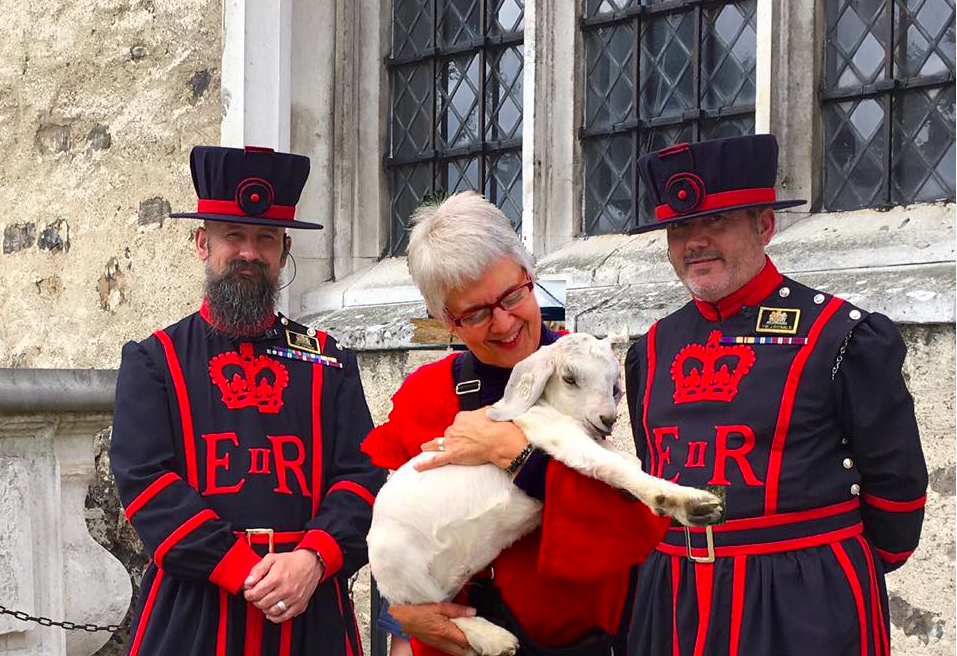 Add a comment
July 18, 2016
by:  Jane Bishop Halteman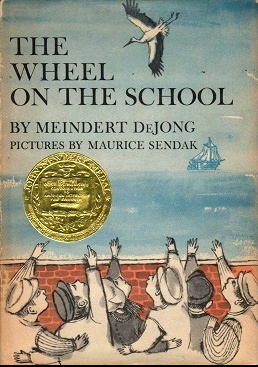 One of my earliest memories of learning about The Netherlands and its inhabitants dates back to my childhood acquaintance with Meindert DeJong's 1955 Newbury Prize-winning book, The Wheel on the School.  I had forgotten that Maurice Sendak, whose Where the Wild Things Are I have since read many times to children and grandchildren, illustrated the book that I found so appealing in my childhood. 
I loved the story of Lina, one of six school children in the small fishing village of Shora. Wikipedia says this about the book:  "When Lina writes an essay for school asking why there are no storks in their village, the teacher encourages the class to find out for themselves. They discover that the roofs on the village's homes are pitched so steeply that the storks cannot find space to nest on the sharp ridges."  The children discover that "placing a wagon wheel on each roof ridge would give storks a place to nest. The task of finding a wagon wheel in the tiny village proves difficult, and the children meet several interesting personalities during their search."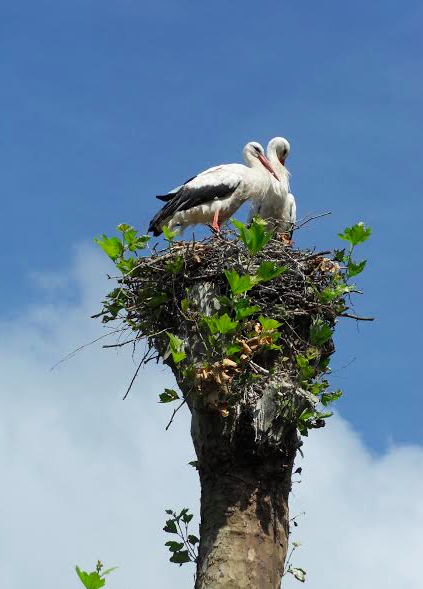 I hadn't given the book much thought in years, until it came to mind this week as a Friesian friend showed us around her hometown of Beetsterzwaag, driving us by several storks' nests, though the occupants were not on the premises when we visited.  (See her photo above.)
Our regular jaunts to The Netherlands started in 1981, when we began accompanying Jim's econ students on European trips every other summer.  The excursions included six weeks on campus in the Dutch province of Friesland, where we spent long, leisurely days (the sun never disappeared until 10:30 at night and returned by 4 in the morning), with cows (including one our three-year-old Megan named Burnt Marshmallow) and sheep grazing contentedly in nearby fields, and back-way bike rides between small villages beckoning regularly.  We learned about hazelnoot and sprinkles, frites, and stroopwafels in a time when no one gave a thought to where the next act of terrorism might occur.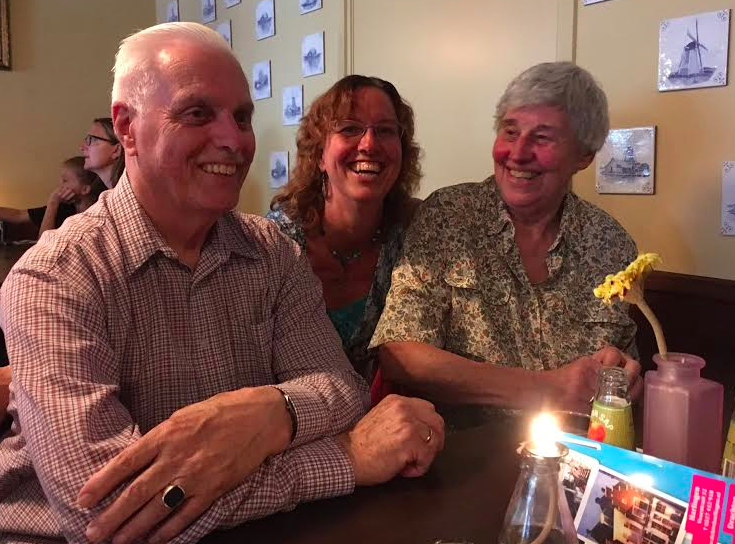 Hester and her parents, July 2016
On our first trip we met Hester, a young teen at the time, and her parents at the Mennonite church in Drachten.  She was eager to practice her English skills with our students, who were a few years older than she was, and came often to visit us on campus.  She ultimately spent six months with my folks in eastern PA as a Mennonite Central Committee trainee in 1985-86.
Our family has known the kindness of Dutch folks many times over through Hester and her family, and we discovered that kindness to be for real again on this trip as a gentleman, who observed us struggling with directions on the street, offered, "Perhaps I can help you?" while we deliberated about which way to turn to find a vegan bakery we discovered on the internet. 
The second day, a passing pedestrian volunteered assistance with finding our way as we walked to the Rijks Museum.  That evening as daughter-in-law Susan and I took a tram across town to a restaurant serving a vegan rice table, we asked another commuter waiting with us when the tramlines shut down for the night.  He kindly told us and offered alternate bus routes if we stayed out past midnight.  When we got off at the Dam, as he did, he flagged us down and offered his list of bus numbers that would get us home if need be.
These three interactions with kind strangers, the day of and after the slaughter in Nice, France, remind me that lots of good things continue to happen in our world on the micro level.  How often does word of the good news, which may seem all too insignificant, reach the world at large?    
How might we be more intentional about mindfully sharing these stories of pleasant surprises that come to pass in our lives, in spite of the fact that much currently seems wrong with the world in which we live?  Consider a time when you have been assisted by a stranger when you needed help…a time when you have offered help to a stranger in need.  And if not a stranger, then when have you reached out to the neighbor in need, the friend in need?  When have you been part of bringing glimpses of healing and hope to another?  When has another offered you healing and hope?  I have found it useful to remind myself frequently of the many ways I see the Divine through the acts of others.
Even after all these years of exposure, I love the Dutch accent and detect it easily wherever I go; I love the red roof tiles visible from the air as one descends over Amsterdam.  I love the thatched roofs still in existence in Friesland, and the Rijks and Van Gogh Museums remain favorites no matter where I go.  Vincent has been an artist I have appreciated for a very long time.  His production of artwork that has survived the test of time in spite of the daily struggles he endured is an inspiration.
On yet another visit this last week to the art museum named for him, I learned that following one of his hospitalizations he said he "felt like a broken pitcher that could never be mended."  Even after emotional illness had taken its toll, he noted that "painting and drawing gave structure to his days and ensured that he did not fall prey to the loneliness plaguing other patients" in the asylum to which he had himself committed.  
Could it be that loving The Wheel on the School all those years ago is where the warm spot in my heart for The Netherlands and its people took root?  That the journey started for me as a pre-teen when I read a Newbury award-winning book?  A journey that not only took me to The Netherlands many times over the years and toward a deep appreciation of Van Gogh and his paintings, but one that also brought me a son-in-law of Dutch heritage and found my own son involved in teaching at a Christian Reformed school with Dutch roots? 
It's been fun to recognize more of these links and connections as they unfold on this trip; what's unfolding for you?
Add a comment