Glimpses of Healing and Hope
June 5, 2017
By Jane Bishop Halteman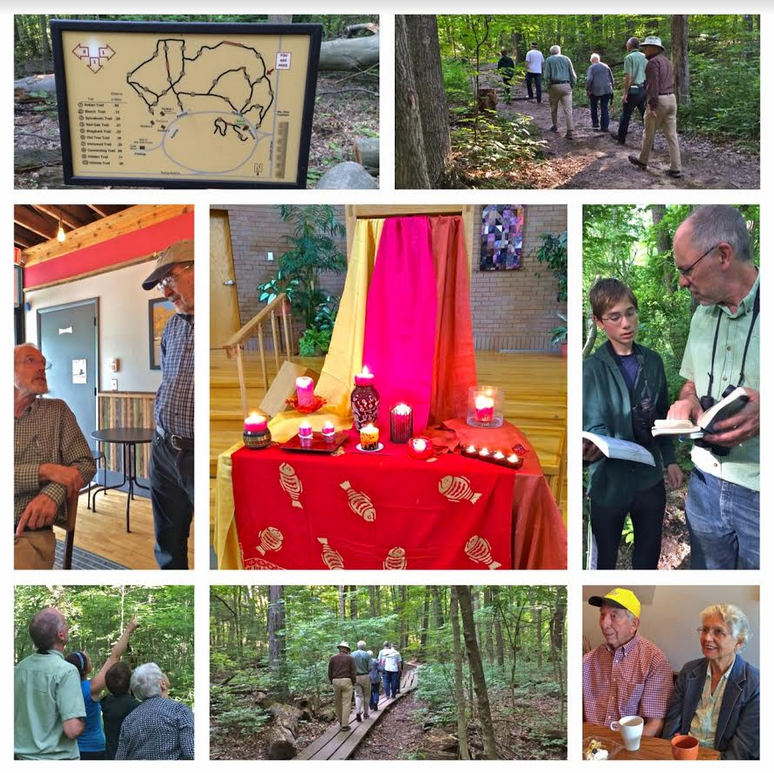 Area group exercises Pentecost living
Marty led us a mile and a half into and out of the woods Saturday on a western area group bird hike at Rum Village Park.  We were not a huge group…eight of us, including Marty's parents and a friend.  Maybe not such a successful turn-out if numbers are your measuring stick.
But participant numbers did not count on this trip, which fell on the morning of the Sunburst Races (billed as "one of the premier regional running events in the Midwest"), near the end of the Best. Week. Ever. in South Bend (meaning folks may have been tuckered out by the unceasing activity in our town), and just a few hours before a Catholic Worker/Near Northwest Neighborhood wedding to which a number of our area group families were invited as guests.
Precise numbers of birds spotted did count for Marty's report to ebird.org (Cornell Lab of Ornithology).  His list revealed that, on our hour and a half walk, we saw 2 Mourning Doves, 3 Red-bellied Woodpeckers, 2 Downy Woodpeckers, 1 Eastern Wood-Pewee, 5 Empidonax (a genus, rather than a species, meaning Marty couldn't quite pinpoint which of 15 species might have flown into view, though I heard him mention the Least Flycatcher on our hike), 2 Red-eyed Vireos, 2 Blue Jays, 2 White-breasted Nuthatches, 1 Wood Thrush, 6 American Robins, 2 Chipping Sparrows, 5 Northern Cardinals, 1 Common Grackle, 4 Brown-headed Cowbirds, and 1 American Goldfinch.
In an interview with philosopher Sam Keen, Spirituality & Practice website founder Frederic Brussat asks Keen about birders as mystics.  Keen responds:  "Birders are instinctively reverential and thankful for all the multicolored angels that appear out of the void—free, no hidden charges. Birders know how to wait, be silent, and adore—essential spiritual disciplines."
Kevin Kummer's essay on Birdwatching and Prayer lists four spiritual disciplines he has learned from birding that he says have enriched his life.  Suggesting that both bird watching and prayer have to do with seeing, Kummer notes that "when I do slow down enough to see with my eyes and actually observe the world around me, I am awed by what I see….Unless I consciously choose to alter my pace and pay attention, I miss much of what is all around me in the physical world."
Kummer also notes that "I find that my ears, when alert, are the best tools I have for locating a bird in the first place. A call, the rustle of leaves, or the whirr of wings gets my attention and turns my eyes in the right direction. Seeing and hearing work together. In contemplative prayer, to hear requires not only slowing down and paying attention, but also stillness."
Thirdly Kummer relates that guides and guidebooks have mentored his birding acumen even as authors like C. S. Lewis, Annie Dillard, and Eugene Peterson have been spiritual mentors to him. "I have lived amidst birds my whole life—as we all have—but  it wasn't until I got hold of a guide book that I learned to recognize, identify, and get to know particular birds. I had to be mentored in seeing. Learning what to look for and how to look was not automatic and I gained a great deal by learning from those who were more experienced than I but whose wonder and love of birds I shared."
Kummer's fourth discipline relating to both prayer and bird-watching is taking notes and making records.  "I have discovered that a notebook and pen are tremendous aides to seeing, hearing, reflecting, writing, and praying….The act of recording, describing, reflecting, and savoring what I see deepens the impression made on me by a bird or the Spirit."
We are grateful to Marty, who will start high school in the fall, for mentoring us by sharing his enthusiastic love of birding, which began just over a year ago, according to his father, on a family birding excursion.  Marty taught us by example that seeing, listening, and record-keeping are important for would-be birders as well as persons of faith.  He reminded us in advance of our hike that binoculars are key and demonstrated the importance of guidebooks, showing us, too, the pouch he created inside his sweatshirt to carry his guidebook!  His knowledge of bird identification, bird calls, bird behaviors and habitats amazes me.
Our morning together concluded at the Near Northwest Neighborhood's Local Cup, a pay-it-forward coffee shop, where four more of our area group members joined us, including Homer and Betty, who were celebrating their 61st anniversary that very day; they took time earlier that morning to cheer on son Jim, who ran the half marathon.  Jim arrived eventually (it was good to congratulate both him and his parents), and Turfena popped in to say hello from her home nearby.
We all enjoyed meeting a retired Episcopalian priest who visited the coffee shop.  He shared that he's about to make a "very public announcement in agreement with the Paris Accord by installing solar panels" on his house. Vic, who spearheaded KRMC's recent solar installation project, made a quick connection and they will be in touch.
As I listened to Lane's Pentecost sermon on Sunday and his proclamation that "Pentecost makes the newly birthed church a place of connection from God to people and people to God," it struck me that our neighborly coffee shop connections, Marty's mentoring, and the disciplines we began to exercise in birding are most certainly a part of Pentecost living. 
If you are a bird-watcher or are considering getting more involved in birding as hobby or spiritual discipline, you might enjoy this film review of Birders: The Central Park Effect at the Spirituality & Practice website.  The review states that "filmmaker Jeffrey Kimball has done a remarkable job, giving us insights into (birders') passion and pleasure in what we recognize as spiritual practices: questing, paying attention, seeking beauty, and being truly present..."