Glimpses of Healing and Hope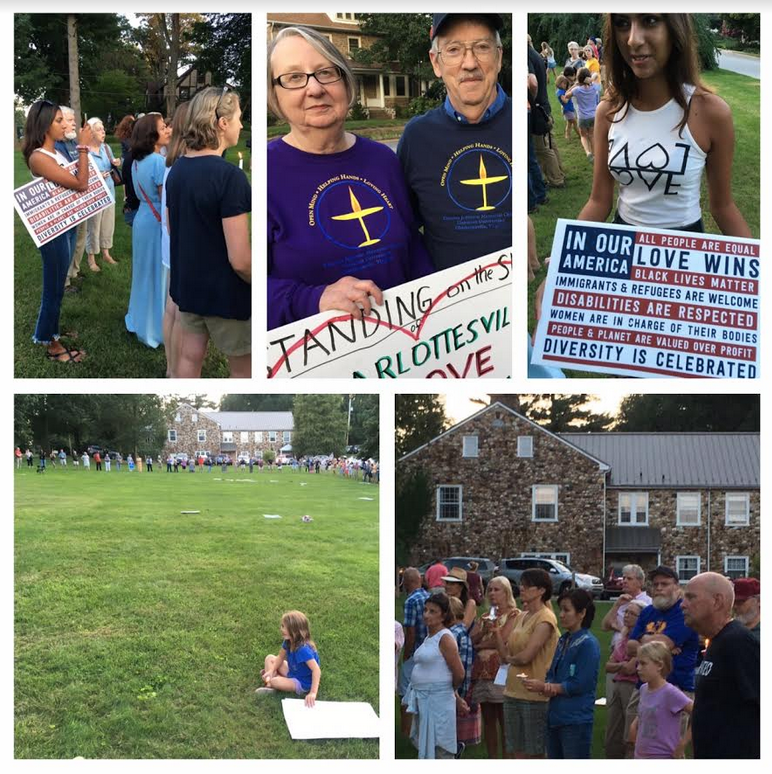 Two hundred people walked from downtown Kennett Square to the Kennett Square Meetinghouse in southeastern Pennsylvania Sunday in one of many (at least 682, according to Vox) vigils organized overnight to Stand with Charlottesville (photos by Sue Davison)
August 14, 2017
By Jane Bishop Halteman
My brain barely can take in the jumble of information flowing out of Charlottesville as I make the 11-hour drive from Pennsylvania to Indiana on Saturday.  The airwaves are full of new reports and the headlines change hour by hour, though I'm not keeping track of breaking news on Facebook and Twitter because I'm on the road.
When I arrive home, I read John Pavlovitz's Yes, This Is Racism column and take to heart his comment that "It's necessary to condemn it so that we do not become complicit..."  By Sunday evening his piece has been shared more than 25,000 times on Facebook.
About the horrors in Charlottesville, Pavlovitz says, "This is our national History being forged in real-time, and to use words lacking clarity now would be to risk allowing the ugliness off the hook or to create ambiguity that excuses it. And yes, there are all sorts of other ways that racism and privilege live and thrive; ways that are far less obvious or brazen than tiki-torch wielding marches. There are systemic illnesses and structural defects and national blind spots that we need to speak to and keep pushing back against, and we will. But in moments that are this clear, when the malignancy is so fully on display—we'd better have the guts to say it."
Another Facebook friend offers a post entitled Excuses, Excuses in which an Evangelical Lutheran Church of America pastor states this: "I know that we don't want to be complicit.  I know that we really, really want to say #notallwhite people.  I know that we want to be one of the good white people.  Today, that will be hard. Today, what we can do is admit how we've been part of the system, part of the silence.  Today, we have to admit that for some reason, 2,000 people think that it is ok to dehumanize others in this way. Where haven't you spoken up?  Where in your body are you afraid to speak up? Can you imagine living with this kind of hate that gets communicated to you in subtle and not so subtle ways every day of your life? Can you imagine knowing that your child might die because of the color of their skin?"  
Sunday morning I repost another Facebook friend's message:  "We MUST NOT TURN AWAY. In our churches, in our schools, in our boardrooms, in our classrooms, we must face every vehicle of supremacy, in every form...the way some benefit, the way others don't, if we are to ever be "We the people," if we are ever to be faithful to the sacred image in every human being. If we are ever to be free."  You can read her message in its entirety here. 
HuffPost contributor Susan Thistlethwait, professor of theology and president emerita at Chicago Theological Seminary, says, "We must call white supremacy by its right name and destroy it."  She adds in this article that "the time for thinking oneself innocent just because you didn't give a Nazi salute in Charlottesville is over."
Where are our glimpses of healing and hope during this week that hopped, skipped, and jumped from chatter about the threat of nuclear war between North Korea and the United States (see The Mennonite's response to that threat here) to violence perpetrated by Americans against other Americans?  What are our stories of beginning to make things right? How will we in our Kern Road congregation respond?
Since this weekend's violence in Charlottesville, I have noticed the hashtag #silenceisviolence showing up here and there.  May we not fall into the silence trap. Here's a story from my Quaker friend Sue's Facebook feed that gives me hope about standing against the kind of violence Charlottesville saw this weekend. And here's a late-breaking response from Brian McLaren. 
Perhaps some of us will choose to be part of South Bend's Charlottesville's Solidarity Vigil tonight (Monday) at 7 p.m. at the Jon R. Hunt Plaza in front of the Morris Performing Arts Center. Indivisible Indiana District 2 will host the event. The Southern Poverty Law Center urges that we "Do something. In the face of hatred, apathy will be interpreted as acceptance. If we don't act, hate persists. Reach out to your community, speak up against hatred, pressure your leaders to take a stand."