Glimpses of Healing and Hope
May 23, 2016
by:  Jane Bishop Halteman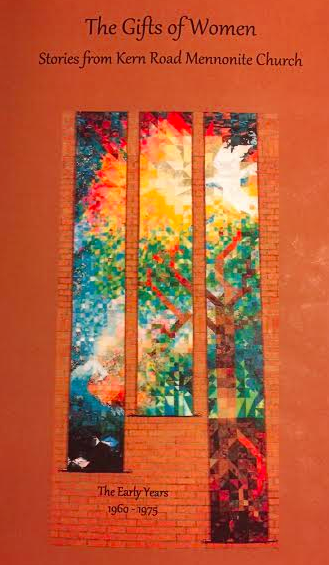 The Gifts of Women, Stories from Kern Road Mennonite Church, records narratives of the lives of 19 women who helped shape the congregation during its early years from 1960 to 1975. 
During KRMC's sharing time on May 8, compilers Pat Frazier and Trudy McManama presented first copies of the book to those women who shared their stories in the book and to representatives of those no longer with us or those unable to be present that day.   
"The women of Kern Road Mennonite Church have been central to the congregation's life and ministry across the years, and here we see why. From childhood to retirement, their stories of strength and struggle, faith and faithfulness inspire the rest of us for the living of these days," says Steven Nolt on the book's back cover.
Janice Yordy Sutter, pastor of preaching and community life at KRMC, is also quoted on the back cover: "These are the stories of amazing women!  Each woman's story is unique, yet each recounts real life challenges, personal perseverance, and a deep abiding Christian faith."
Check out these snippets from some of their stories…
Esther Schmucker, who passed away in October 2015 at the age of 97, was the congregation's oldest member and mother to KRMCer Phil.  Her husband Tobe established South Bend's Hope Rescue Mission while she was busy raising their five sons.  Eventually Mennonite families who arrived in South Bend for jobs "began gathering in one another's homes for fellowship.  As the group began to coalesce, their meetings shifted from home gatherings to regular worship at the mission."
Focusing on Faith and Family is the title of the chapter about Phyllis Troyer.  Soon after their arrival in South Bend, she and husband LeRoy and infant son Terry were invited into the local Mennonite fellowship by Tobe Schmucker.  "When the fellowship evolved into a start-up church, the Troyers were among the 16 charter members."  Already beginning to think beyond their meeting place at Hope Rescue Mission, "the next step was building a church.  In 1961 land was purchased and LeRoy began drawing plans for what was to be Kern Road Chapel, even though his formal training as an architect still lay ahead of him."
As Luella Gerig's husband was completing a four-year surgical residency in Indianapolis, "they were looking to settle in a place that had a Mennonite Church. They learned that a physician in Mishawaka wanted to find someone to come to the area, and at the same time they heard that a church was being started in South Bend." Luella has made many contributions to KRMC, including starting a library of donated books at Kern Road Chapel. 
Mary Jo Miller and husband Lloyd began sharing "their musical gifts with the tiny congregation that gathered for worship at Hope Rescue Mission.  Lloyd led singing and Mary Jo played the piano, roles they continued to fill for many years as Kern Road Mennonite Church grew from this modest beginning." 
Marceil Yoder, whose chapter is entitled Rooted at Kern Road, expected she and Don would attend a local church when they moved to Greencroft Goshen a few years ago, but "they are still faithful attenders at Kern Road.  Their roots there proved too deep and their ties of friendship too strong to leave behind." 
Betty Nissley and husband Homer "contributed to Kern Road in many ways including cleaning the building for several years.  Both served as elders, Betty from 1991 to 1998 after her children were grown."  Their big brick home comfortably housed their own seven children, along with foreign exchange students.  "Whether you were a new arrival to South Bend, a young pastor, a teenager needing a safe place, a young adult from Africa wanting to study English, or a retiree coming back to the area, you were welcome."
Since Eleanor Shoup and husband Owen joined Kern Road in 1964, she "has been an active member.  She fondly recalls bus trips to Chicago with other women and years of teaching Sunday school….After Kern Road acquired a pipe organ, she took organ lessons at Associated Mennonite Biblical Seminaries (AMBS).  She says she finds practicing especially comforting and enjoyable" and still plays for services on occasion.
Iva Rench and her husband, who began attending the church not long before the 1965 Palm Sunday tornadoes swept through the area, "deeply appreciated the way the congregation pitched in to help with the post-tornado cleanup.  That support contributed to their decision to become members," according to Iva's story.
"In the early 1990s Lorna Longenecker began creating visual displays for Sunday worship services….For several years, she volunteered at Ten Thousand Villages, and she still maintains the rotating display" of merchandise near the welcome center.

"One Sunday in the late 60s, Katherine Eggermont remembers being warmly welcomed by Marceil Yoder and responding to that warmth.  The potlucks, with everyone eating together and having a good time, were new to her.  Soon she was teaching Sunday school.  She became a member in 1979."
Norma Jean Neff, who arrived at Kern Road in 1973 when her husband Larry began a job with Goodwill, "was heavily involved with Ten Thousand Villages from its beginning in 1992 under the name Global Gifts."  She began ordering product when the first manager became ill, and she was asked to serve as manager in 1999.  "For the next six years she asked the board to put the manager's salary in a special Jubilee Fund, and every month she chose an artisan group to receive it." 
Phyllis Miller, who began attending Kern Road with husband Joe via their daughters' invitation to Bible school from their teacher Eleanor Shoup, faced a particularly difficult time in August of 2012 when Joe was diagnosed with mesothelioma.  "All the friendships and spiritual resources that they had built up over the years gave them what Phyllis terms 'a tremendous support system.'"  She had begun working as office manager at the church after a long-time manager retired and "was able to continue working until shortly before Joe's death in January 2014.  She says that being of use in the office and having constant contact with pastors Dave and Janice Sutter was a godsend."
Gloria Gibson and her husband Milt became members at Kern Road in 1975, where they quickly felt a connection after visiting other area churches.  "She especially appreciated being with other families whose children were the same age as hers.  She pitched in by teaching Sunday school and helping with the Fellowship Committee."  Now Gloria serves on the congregation's visiting care team.
This story collection of Kern Road women who began attending during the congregation's early years offers many more details of each of their lives.  Contact Pat or Trudy about buying a book for more glimpses of healing and hope at KRMC!