Glimpses of Healing and Hope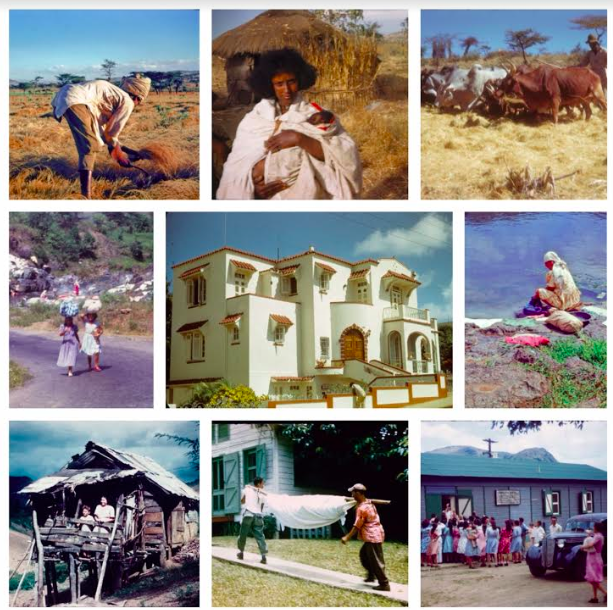 A selection of Tom's photos reclaimed from missionary slides taken in the 1940s-50s in Ethiopia (top row) and Puerto Rico
August 7, 2017
By Jane Bishop Halteman
Editor's note:  Many thanks to KRMCer Tom who prepared precisely written notes to share his story about this project of reclamation and preservation.  You can find his full telling here.  I have condensed the complete version to become this week's Glimpses of Healing and Hope blog post.  Viewed through the eyes of one visiting 93- and 96-year-old parents this week, I know how important it is to reclaim and preserve old memories. 
Nearly a dozen years ago Tom began scanning his missionary parents' slides depicting their experiences in Nazareth, Ethiopia, between 1948 and 1950 and Puerto Rico for six years between 1952 and 1961.
By the time the family moved to Elkhart after their second return from Puerto Rico, Tom's dad had accumulated approximately 500 slides, random selections of which he would project from time to time for the family before his children began college, got married, and had their own children.
When Tom realized the nieces and nephews were growing up with no visual impressions of their parents' and grandparents' missionary experiences, he bought a scanner, which he expected to sell on Ebay eventually, and made DVDs of the old slides for each child.  Influenced then, he speculates now, by his job as a Notre Dame employee in the Hesburgh Library's department responsible for online information, he put about 100 slides on Flickr.
"Something totally unexpected happened" as a result of lodging the slides on Flickr, Tom says. "I started getting comments saying how great the photos were, how glad people were to see them. One email, from an archivist at the Luis Muñoz Marín Foundation in San Juan, caught my attention: 'You have very nice images that would greatly contribute to our collection. The quality of your material exceeds what is commonly available.'"
Tom remembers that he soon began checking in with other Goshen area missionaries who had spent time in Puerto Rico.  Deciding not to sell the scanner after all, he contacted the other missionaries, many of whom agreed to let him scan their slides. As he observed the growing interest in the color mid-20th century photos to which he had access, Tom realized he had "stumbled onto something significant."  
He recalls that "once I had called all the people I knew who had been missionaries in Puerto Rico, I had to find another way to get slides to scan. I discovered that many slide collections contained group photos, some of which had names written on the cardboard slide mounts. I was able to find phone numbers on the internet for some of the people in those group photos. I did lots of cold calling and am grateful that so many people mailed their slides to someone they didn't know."
As a librarian, Tom says he "thought of the project in terms of the basic functions of a library:
·     identify the information that should be in the library (selection)
·     obtain materials with that information (acquisition)
·     organize the information and provide access to it (cataloging)
·     ensure availability of the materials over time (preservation)
I found myself doing all of that in the photo project."
Tom explains why he chose the mid-1960s as the cutoff point as he selected photos for scanning and preserving. "Before the mid-1960s, one could see glimpses of a pre-modern world in the photos—farmers plowing with oxen, women doing laundry in rivers, thatched huts. Very few people in those places had cameras then, especially outside the big cities, so photos taken in the interior at that time are relatively rare. After the mid-1960s one starts to see superhighways and McDonalds, and many more people had cameras. This of course varies by country—Puerto Rico modernized much sooner than the Congo, for example," he notes.
You will get a better idea of the content of the photos in the collage above by visiting this link where Tom shared these pictures and a few more to give blog readers an idea of the kinds of memories this project has reclaimed and preserved. (You can see viewer responses by tapping each photo and scrolling down.)  
Tom's public Flickr account, where he uploads fewer than 10% of the slides he scans, attracts viewers from all over the world, in some cases Tom says, viewers who "have been able to provide much more information about the photos than I could. One viewer provided names and histories of members of Emperor Haile Selassie's court seen in a photo of the Emperor at a public event. Another viewer provided the serial number, place, and date of manufacture of a steam-powered train shown in a photo, its owners and years of sale, and where and when it was scrapped."  
One appreciative viewer said:  "I just stumbled upon your Flickr collection of old photos from Puerto Rico; I had to catch my breath.  I have clicked on just a few, but I can't begin to tell you how deeply moved I am by them. It is as if the Puerto Rico of my childhood has come to life. It's impossible to begin to thank you." The site now typically logs between 2,000 and 5,000 views daily. Recently total views reached 13,000,000.  
Tom has received requests to use the photos in textbooks, magazine articles, books, TV shows, and exhibits, he reports. "In one instance, photos from the collection were used as part of a case on land use argued in the Puerto Rico Supreme Court. In another, someone told me they worked with Puerto Ricans with Alzheimers, using the photos from the collection to bring back memories of their childhood. Both were uses of the photos I would never have anticipated," he said.
"As I approach 12 years of scanning, I'm grateful that a series of seemingly random life experiences and mostly uninformed choices on my part have given me a project that I enjoy, that benefits others, that has let me connect with people around the world," Tom says about the project. 
Worshiping in their retirement community congregation yesterday with my parents, both in wheelchairs for the first time in my experience, I couldn't help but think back to the growing up years they provided for me and my brothers so long ago.  Hearing music like Ivory Palaces and Count Your Many Blessings, (though the congregation of my childhood did not clap along to the latter), I recalled the vigor and vibrancy of their young parenting era, chronicled so well in photos and slides my dad began taking as far back as his and mom's courtship.
I have scanned many of those old prints and preserved them in videos which bring happy moments of recollection or new learning as we celebrate a steady stream of family birthdays and anniversaries every year, as newcomers join the family and look back with us so that we might all move forward together in productive ways.
How have you attempted to reclaim and preserve parts of the past that make today and tomorrow more accessible for yourself and others?  Much gratitude to Tom for today's story and the quiet reminder that chronicling life for ourselves and generations to come is a fruitful endeavor!