Glimpses of Healing and Hope
June 19, 2017
By:  Jane Bishop Halteman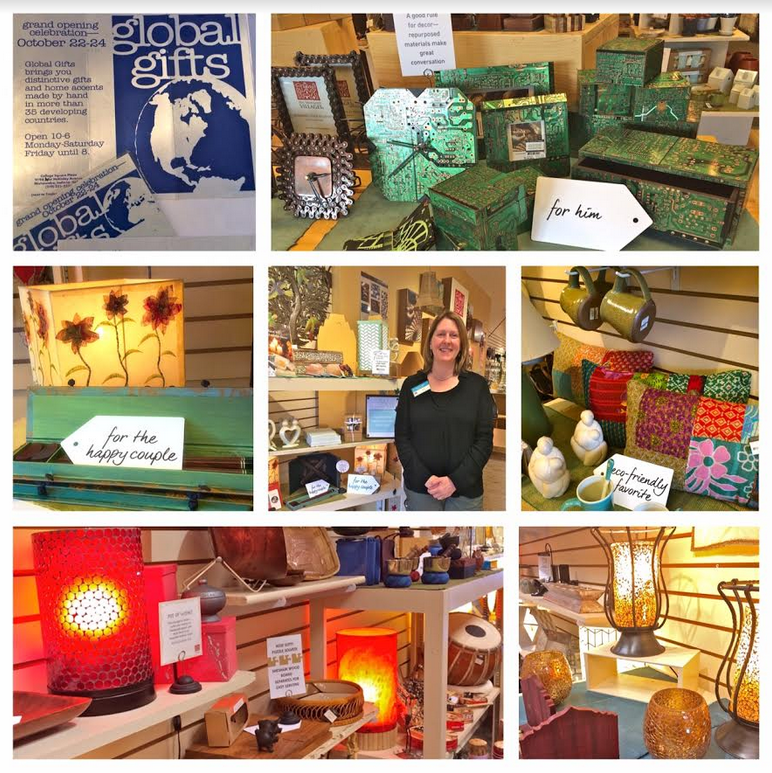 New manager Kelly surrounded by Ten Thousand Villages merchandise…a brochure in upper left announces the store's opening as Global Gifts 25 years ago
Ten Thousand Villages, a fair trade shop located at 214 W. Cleveland Rd., Granger, is in the midst of observing its 25th year in Michiana.  Back on April 10, the store welcomed new manager, Kelly Tooker, another reason to celebrate during this milestone anniversary year.
Kern Road Mennonite Church launched the store in 1992 as Global Gifts at a Mishawaka location, buying its inventory from Mennonite Central Committee's SELFHELP Crafts, a fair trade enterprise which changed its name to Ten Thousand Villages in 1996.  According to the mission statement of Villages' headquarters, "We create opportunities for artisans in developing countries to earn income by bringing their products and stories to our markets through long-term, fair trading relationships."
Born and raised in the Pacific Northwest, Kelly arrived in Indiana in the fall of 2011 when her husband Bob's career brought the family here.  She is no stranger to Ten Thousand Villages and its merchandise, having been a customer of the Portland, OR, store in the early 90s.  Some of her Haitian cut metal wall art from back then has traveled across the country with her and is now on display in their fourth house and third state, according to Kelly.     
Kelly and her husband also celebrated their 25th anniversary this year. Kelly is a master gardener, has completed organics certification, and observes permaculture practices in her home garden.  Before her move to Indiana, she worked in environmental services and taught natural resources and conservation at the high school level.
She has more than 15 years of experience in retail management, most recently as the garden center manager at Lowe's, and non-profit experience, most recently with Wellfield Botanic Gardens. She also has small business ownership experience, and managerial experience that includes work with volunteers. 
Kelly finds the store's location a good one, with its proximity to University Park Mall and good foot traffic at Centennial Place, the shopping center where Villages is located.  Nearby medical facilities regularly bring in patients from a distance, who stop in at the store before or after their appointments to further augment traffic, she said. 
She looks at the potential of local college students as both shoppers and volunteers, and hopes to establish campus ambassadors at Saint Mary's, Indiana University South Bend, Bethel, Notre Dame, and Holy Cross. Current interest in yoga and meditation also brings customers to Ten Thousand Villages. 
Kelly emphasized that "Villages stores complete the fair trade cycle by providing a marketplace." She asks that you 'like' our Ten Thousand Villages Mishawaka Facebook page to help expand organic growth and exposure, and invites you to help with the fair trade vision by making grassroots referrals to family and friends about the store, its merchandise, and its mission, by volunteering in the store, by assisting with marketing, education, and community outreach, and by helping with off-site sales in the tradition of Edna Ruth Byler, the woman behind the Ten Thousand Villages fair trade concept, who began selling Puerto Rican and West Bank needlework from the trunk of her car in 1946.
Starting today, the Mishawaka store's Monday Facebook post will feature some aspect of its past history, drawn from photos, clippings, and other memorabilia saved in scrapbooks over the years by KRMCer Luella.
"I truly believe that we are in this together. We must be the change we wish to see in the world and in our local communities," Kelly said in one of her early e-mail communications with board members and volunteers.  Speaking as the store's behind-the-scenes Facebook presence, I find Kelly an accessible, inspiring manager/encourager who takes great delight in equipping volunteers to do their jobs.
If you would like to volunteer with the Mishawaka Villages team, contact Kelly by phone (574.277.4900) or e-mail (This email address is being protected from spambots. You need JavaScript enabled to view it.). 
To learn more about how fair trade improves lives and strengthens communities, see Villages' description of its impact here. And this delightful Mrs. Green's World podcast offers good listening about the "guilt-free shopping" available at Ten Thousand Villages stores, including more about Edna Ruth Byler.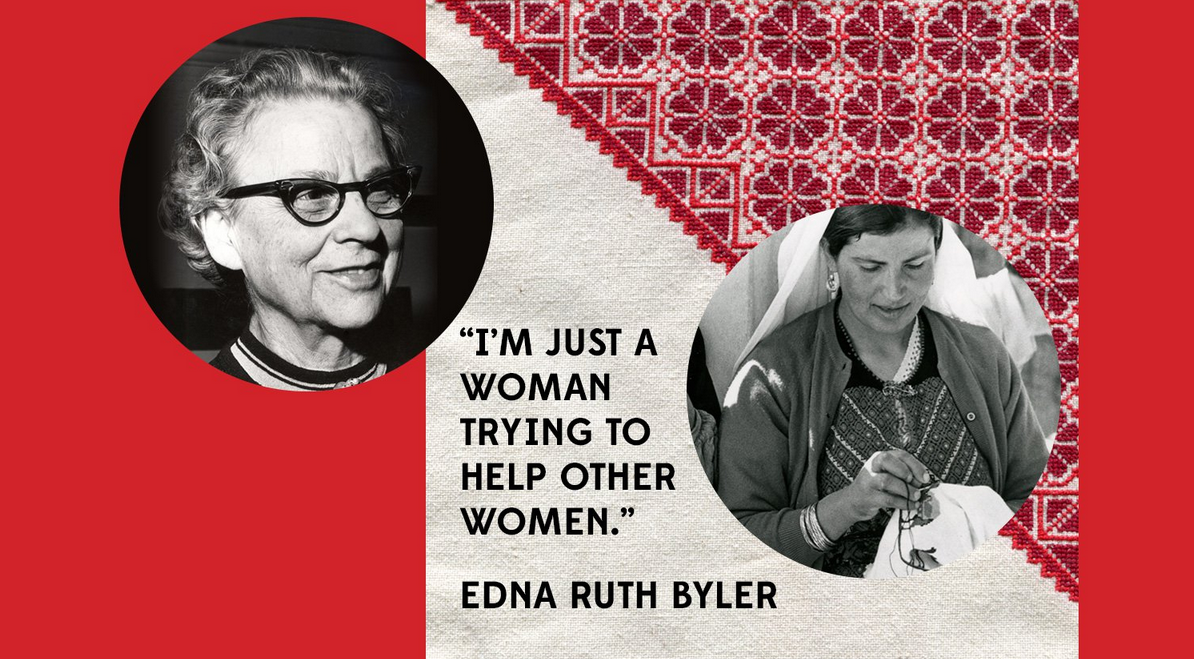 Ten Thousand Villages' image created by headquarters in conjunction with the organization's observance of 70 years in 2016