Glimpses of Healing and Hope
February 27, 2017
By:  Jane Bishop Halteman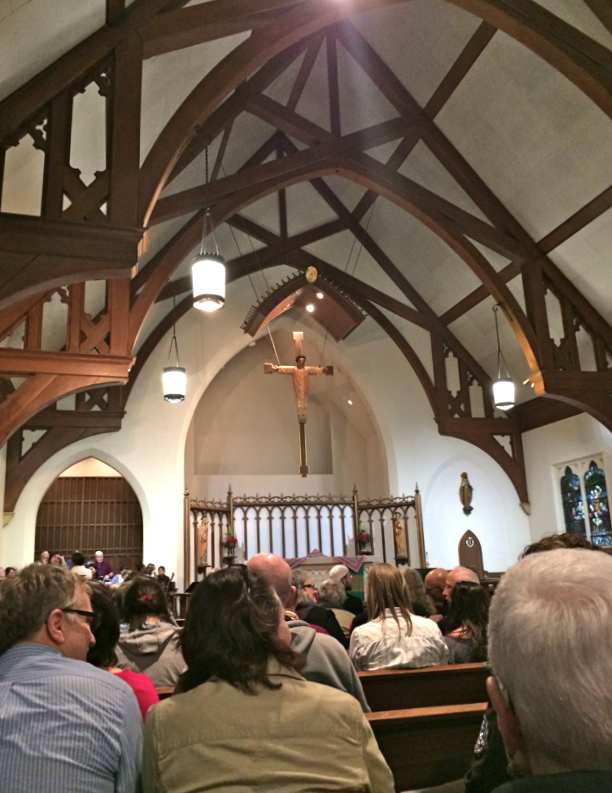 Interfaith prayer service for compassion and justice for migrants, immigrants, and refugees 
Every year about this time, we encounter the "what are you doing for Lent?" question.  As a long-time advocate of "adding in" opportunity to create more space for God in our lives as opposed to "giving up" during Lent, I liked what I read last week in this blogpost by a spiritual director friend of mine.
June's post explains that "the word 'Lent' comes from Old English, meaning 'spring' or 'lengthen' as in the lengthening of the days.  This is not the image of a spring of pleasant warmth but an image of change—of transformation, of conversion.  In the lengthening brightness from Ash Wednesday to Holy Thursday—our Lenten spring—we are called to offer our brokenness to God. In offering our own brokenness we can then offer the world's brokenness to God."
Several other readings caught my attention as well.  This one speaks of 19 things to give up for Lent that aren't chocolate.  The list includes fear, the need to please, envy, impatience, a sense of entitlement.  I expect giving up the tendency toward any of these habits would help create space for the Divine to carry on with the work of personal transformation. 
Back in 2015 Pope Francis suggested that "even more than candy or alcohol, we (might) fast from indifference towards others" as he spoke of the approaching season of Lent and what people might consider giving up:  "Describing this phenomenon he calls the globalization of indifference, Francis writes that 'whenever our interior life becomes caught up in its own interests and concerns, there is no longer room for others, no place for the poor. God's voice is no longer heard, the quiet joy of his love is no longer felt, and the desire to do good fades.' He continues that, 'We end up being incapable of feeling compassion at the outcry of the poor, weeping for other people's pain, and feeling a need to help them, as though all this were someone else's responsibility and not our own.'"
I often look to Parker Palmer for wisdom; he rarely disappoints.  This past week, just in time for us to put into practice our Lenten disciplines, he offered a Naomi Shihab Nye poem entitled Shoulders to urge all of us toward helping the marginalized:  "Whatever one's politics may be, people of good will must not forget that many of our fellow citizens and their children are feeling increasingly vulnerable, insecure, and threatened."
Speaking of Hispanic and Muslim children, African American children, and Jewish children who have been made fearful in recent weeks for one reason or another, Palmer urges us "for at least a moment, not to turn this into a debate between those who voted for X and those who voted for Y. Too often, that kind of talk gives us a cheap excuse for ignoring the suffering of our brothers and sisters and their children….Let's do whatever we can to befriend and defend the victims of ignorance, hatred, and anger."
Actions to befriend and defend took center stage in South Bend this past week as approximately 300 persons gathered Monday night at The Episcopal Cathedral of St. James for an interfaith prayer service for compassion and justice for migrants, immigrants, and refugees.  As he welcomed the crowd, our mayor spoke of the example of "unity through diversity" that participants represented.  "All of us need to have a sense of home," he said.  "My hope is that greater South Bend will continue to call out hope for all."  Another of my favorite take-aways from this invigorating evening together:  "Teach us to rejoice in the diversity; transform us all into your holy body. Teach us to give thanks for what we have by sharing it with those in need."
Kern Road took befriending and defending to another level Sunday (February 26) as our Global Partnership and Immigration Committees hosted a fundraiser potluck to help those among us attempting to bring family members to safety, whether they be orphaned grandnephews from Kenya or our Mexican friend's daughter, who is seeking asylum in our country.  See details on the Kenyan story in this 2016 Glimpses of Healing and Hope post.
Here's an abbreviated version of what KRMCer Sarah said in a Facebook post about the fundraiser:  "Today, as I stood and counted the people at church (in my usher capacity), it made me smile to see the diversity. We have been speaking about Holy Spirit the last several weeks, and I have pondered how welcoming the people of Kern Road are. Our God works in mysterious ways and has led people to Kern Road who had never even heard about Mennonites. I watched the joy on our new friends' faces as we introduced ourselves.  I am proud that our church family is standing by the values of our mission statement and walking alongside the refugees and immigrants of this time."
For more on Lent and Ash Wednesday, follow this link to last year's Glimpses of Healing and Hope reflections on Peter Bruegel the Elder's painting of The Fight Between Carnival and Lent.  If you are looking to involve yourself in a Lenten study, consider these Spirituality & Practice e-courses on The Transformation of Suffering:  A Lenten Journey or Becoming Truly Human.  Kern Road's Ash Wednesday service will begin at 7 p.m. in the chapel.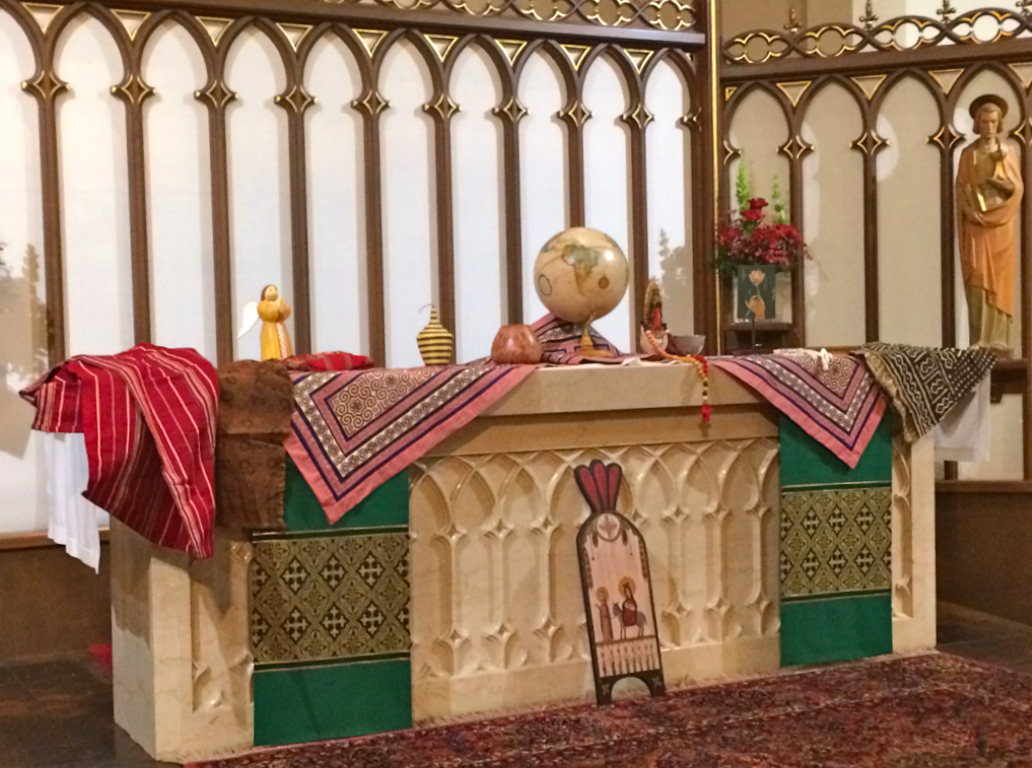 Artifacts representing participants' unity through diversity at The Episcopal Cathedral of St. James