Glimpses of Healing and Hope
March 27, 2017
By: Jane Bishop Halteman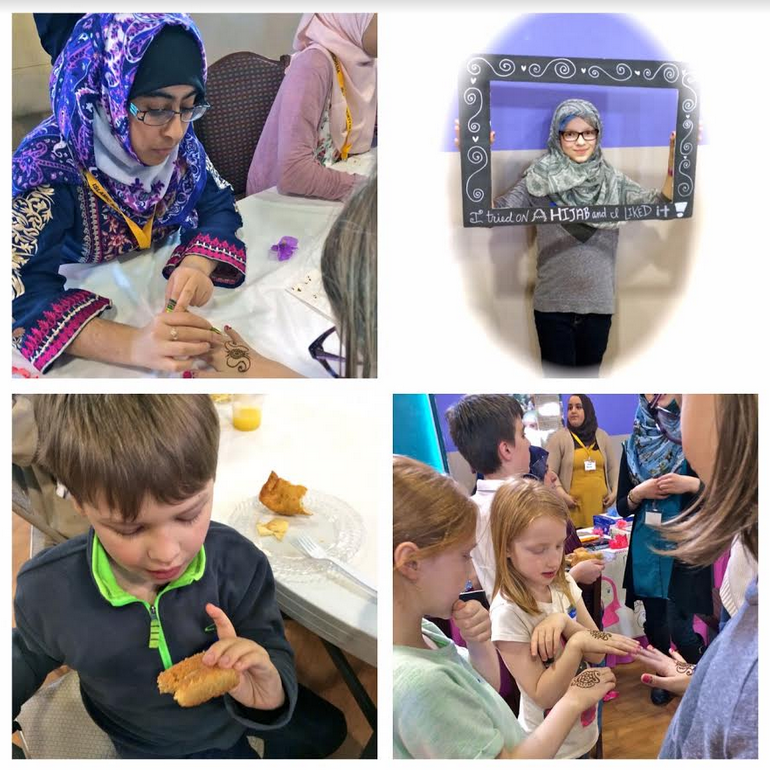 KRMC kids visit henna and hijab booths and sample amazing Mediterranean food! 
We arrived with grandchildren in tow at the Islamic Society of Michiana's (ISM) mosque open house Saturday about 15 minutes after the announced starting time.  The large parking lot already was packed and lines snaked out the door as visitors were greeted warmly both inside and outside the facility. 
Lingering a while in the outdoor kids' play area where we met another KRMC family, we eventually made our way to the front entrance of the community center, located next door to the mosque.  After signing in and receiving nametags, we visited the kids' corner, where a listening center and coloring crafts were offered.  A volunteer stationed there told us that the huge crowd, some of whom began to gather an hour before the announced starting time, was a wonderful surprise.
We had signed up in advance via an Eventbrite.com registration option attached to the mosque's invitation, but it seemed some attendees had not.  Wondering how many participated in the 2-5 p.m. event, I inquired at the ISM Facebook page about numbers after our return home Saturday.   I learned Sunday by early evening that, while officials continue to calculate attendance, best estimates put participants at close to 1,000!  
We also visited the henna and hijab booths and enjoyed sampling a lovely array of Mediterranean cuisine including potato samosas, spinach pie, hummus and pita, falafel, baklava…delightful dishes we were first introduced to back in the 80s by the family of a Palestinian friend and more recently have enjoyed in regular treks to local eateries like Aladdin's and Elia's. All of this, and more including Q and A opportunities with Imam Sirajuddin and others, a men's booth, observation of prayers, and tours, were offered with a generous, hospitable spirit at no charge.
According to the invitation which appealed to "neighbors of all backgrounds" to attend, "Mosque open houses and solidarity events across the country have drawn hundreds of people in recent weeks. There is a growing interest in getting answers and clearing misconceptions. This open house will help our neighbors and people of curiosity to educate, dispel myths, and remove fear of the unknown. It will provide an opportunity for the general community to get acquainted with their Muslim neighbors, learn about Islam and its various cultures."
The ISM, located at 3310 Hepler St., identifies itself as a non-profit religious organization, striving "to provide Michiana Muslims with spiritual, educational, and social activities. Our goal is to help area Muslims to maintain their Muslim identity, to live up to the ideals of Islam, to love God, and serve their community and country."
Participants were offered an evaluation form, a hallmark of most well-planned events, seeking feedback on the suitability of the open house time, snacks, presentations, and overall experience.  Another question asked if attendees might return for a future mosque open house.  KRMCers, if you missed the opportunity this past weekend, make sure you attend a future open house should one be scheduled!
One excited ISM Facebook follower reported after her visit to the "know your neighbor" open house:  "Got a henna tattoo, tried on a scarf, received calligraphy of my name translated into Arabic, had a tour, and talked to some really great people. When is the next open house?!"  Another said, "An amazingly happy time of fellowship with our neighbors!"  One of my Facebook friends responded positively to the "laughter, food, conversation, hospitality, and respect. This is the country, the America, that I want to live in."
And an enthused Instagram user shared this about her family's visit: "Learning about what makes our neighbors special and unique…love that they opened themselves up to us and answered our sometimes ignorant questions with kindness and warm hospitality.  #solidarity #equality #dispellingassumptions #loveothers"
Totally on target, enthused Instragram user!  What a fantastic way for our Muslim neighbors to reach out to welcome us during a time when our country's political climate has been less than welcoming to them.  
For more local coverage of the story, check out these links from the South Bend Tribune, WSBT, and ABC57.
What else might we be doing to become acquainted with our neighbors during our season of Lent?  "Exchange hospitality," says Michael Howes in a Mennonite USA article back in 2015.  "Both Mennonites and Muslims are big on interwoven families. We both put energy into maintaining a countercultural faith position, and transmitting that to the next generation. And we both love to eat, filling plates with a rainbow of foods." Finding common ground is a great place to begin.
As yard signs like the one below continue to proliferate across our South Bend community, we are pleased to give credit for their origin to our Mennonite brothers and sisters in Virginia!  This Glimpses of Healing and Hope entry offers more information on how these signs, which are available locally at Just Goods, came into being.