Glimpses of Healing and Hope
January 8, 2018
By Jane Bishop Halteman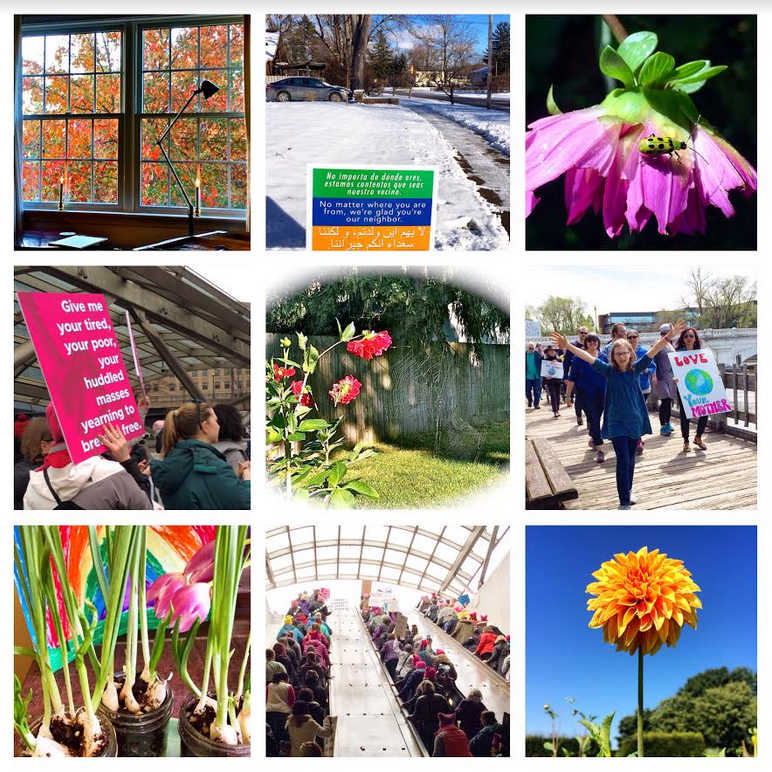 The year in review: resisting, welcoming, refueling
Congregational area groups met Sunday during formation hour after worship to renew acquaintances with others who live nearby in the church family. Pastor Janice's sermon on what fuels hope in the new year served as a launch pad for our sharing New Year's intentions, hopes, dreams, plans, as we wondered together where 2018 might take us as individuals and a congregation, in our city, our state, our country, and our world.
A few of us agreed that we name objectives at the start of the new year (not unlike resolutions), but most claimed not to participate in resolution-setting; several offered that they become aware at the start of a new year of finding a guiding word or re-upping exercise targets and revamping eating habits. Some, who have lived in their houses a long time, mentioned sorting and clearing as priorities, while others, who have just purchased homes in the neighborhood, said they are organizing contents they brought with them. 
As one who documents and reports, I tend to look back on activities of the last year (or in this blog post the congregation's past year) to see how what lies behind may project ahead to the coming year. The nine photos at the top of this entry highlight Glimpses of Healing and Hope posts from the last year, some from my own life, but most with a connection to life at Kern Road. The photos depict not only the year's challenges, but some of my favorite pictures from 2017 exemplifying how nature renews and offers hope in the midst of chaos.  
I was surprised to find as I created our Christmas video greeting back in December how much of our family's activism in the last year took root in Kern Road reminders and announcements: participation in the Women's March on Washington with my sister-in-law and a number of Kern Road women (see that story as told here and here), planting a We're Glad You're Our Neighbor sign in our front yard (see story here), participating in South Bend's "No Ban No Wall Rally" (photo in KRMC women's story mentioned above), taking the local grandkids to the Islamic Society of Michiana's mosque open house (see story here), attending the moderated town hall on the Affordable Care Act (see mention here), joining the local Solidarity with Charlottesville event, and more recently finding opportunities to get involved in resisting the ICE detention center being considered by Elkhart County Planning Commissioners. Thanks to KRMCers Mark and Danile for keeping us updated on how to stay involved with these ongoing challenges and opportunities.
Photos of the Metro escalator at L'Enfant Plaza, Washington, DC, and the words familiarized by our Statue of Liberty brought back these memories: "We will not soon forget the women, men, and children who gathered from all across the country, who spent time and money to assemble peacefully on behalf of justice and equity for all. They marched for many reasons as illustrated by the array of signs they carried:  to stop white silence, to manage global warming, to unite against hate, to promise we will never go back, to announce love always wins, to declare themselves proud to be Muslims, to assert that our grandkids need a stable climate, to affirm that Black lives matter, to proclaim that our daughters are still watching, to acknowledge that we're glad you're our neighbor, to suggest we make diversity great again, to remind us that when others go low we go high.
Dishing up a serving of beauty posted in mid-September reflects on John O'Donohue's comments: "All through your life, the most precious experiences seem to vanish. Transience turns everything to air. You look behind and see no sign even of a yesterday that was so intense. Yet in truth, nothing ever disappears, nothing is lost. Everything that happens to us in the world passes into us. It all becomes part of the inner temple of the soul and it can never be lost. This is the art of the soul: to harvest your deeper life from all the seasons of your experience…" Reminders from authors like O'Donohue keep us hopeful and alive to what's yet to come if/when the present threatens to swamp us. In the words of Pastor Janice as she prayed her congregation into the new year on Sunday: "Make us wise to your ways." Same goes for taking note of the flowers of the field and the birds of the air... 
'Death is disorienting…transitioning from this life to the next' (featuring the bright fall colors outside my friend's cozy living room window where I spent the nights while my dad was dying) offers a bird's-eye view of what it was like for my mom and me to wait with my dad for his passage from this life to the next, a scenario not unlike that of a number of KRMCers who suffered loss this last year…loss of family and friends, health, relationships, jobs, dreams. One of Parker Palmer's most recent Facebook posts speaks of the disorientation of loss: "Finding meaning in hard experience is one of the most vital challenges we face….Who hasn't known heartbreak? There's the child who suffers from bullying, the young adult who suffers from unrequited love, the man or woman in midlife who sees a marriage or a career fail, the elder who endures the deaths of loved ones, the citizen who sees democracy's values under assault." See the poem he quotes here by Gregory Orr about beauty coming from loss. 
If you are familiar with the Netflix production of The Crown, you will recognize the sense of loss portrayed in the moment when Winston Churchill announces his retirement to Queen Elizabeth and walks away from his last audience with her. Yes, doors will open, doors will close in 2018. We can only imagine the surprises the new year will bring (including the hope of 50 degrees mentioned as likely this Thursday in Sunday's nightly news after our recent cold and snow)! May we be wise to the ways of the Divine as we enter the unknowns of 2018. 
And if you need a dose of hope right now, check out Oprah's acceptance speech of the Cecil B. de Mille award at last night's Golden Globes.  I didn't watch, but a couple of Facebook friends suggested that I should have...