Usual Sunday Morning Schedule
Worship service 10:00 a.m.
Coffee/GAP time for kids 10:45 a.m. (This does not reflect our current gatherings with COVID-19 guidelines in place)
Formation Hour (what many churches call "Sunday School" for all ages) 11:00 a.m. (This does not reflect our current gatherings with COVID-19 guidelines in place)
We regularly have fellowship meals—watch for announcements & join us.
Worship services

Everyone is invited to fully join in our worship services—singing, reading Scripture, listening to the sermon, sharing prayer concerns, and more. 
Our dress code casual. You will see people in jeans, T-shirts, sweaters, shorts, and skirts. No one wears the plain dress of Amish and more conservative Mennonite groups that you may have seen in other Indiana counties or photographs. Come join us in whatever outfit suits you.
Most services have a similar order, though each service varies in music style, sermon content, sharing time, special components, and theme.
Each service begins with an invitation to gather together in worship. This is usually followed by a time of singing and praising God, where you may hear folk, four-part á cappella hymns, instrumental, jazz, chorale, gospel, contemporary, spirituals, international, and Taizé music.
Next, we focus on hearing God's Word to us, through scripture readings, stories or dramas, and a sermon, delivered by one of our pastors or sometimes guest speakers. Our response to God's Word most often includes singing, congregational prayers and sharing, and offering our gifts of money.
The offering is free-will. As a visitor, there is no expectation for you to give, but we invite any person who wants to give generously to do so out of their response to God's grace in their lives. Electronic giving is also an option.
Children age 4 to 2nd grade are  sometimes dismissed early in the worship service to participate in Young Children in Worship. Watch for the shepherd banner and follow the leader for this child-oriented worship time that introduces children to worship in a setting that is meaningful to them.
Childcare is available for children through age 3 in our nursery.
Communion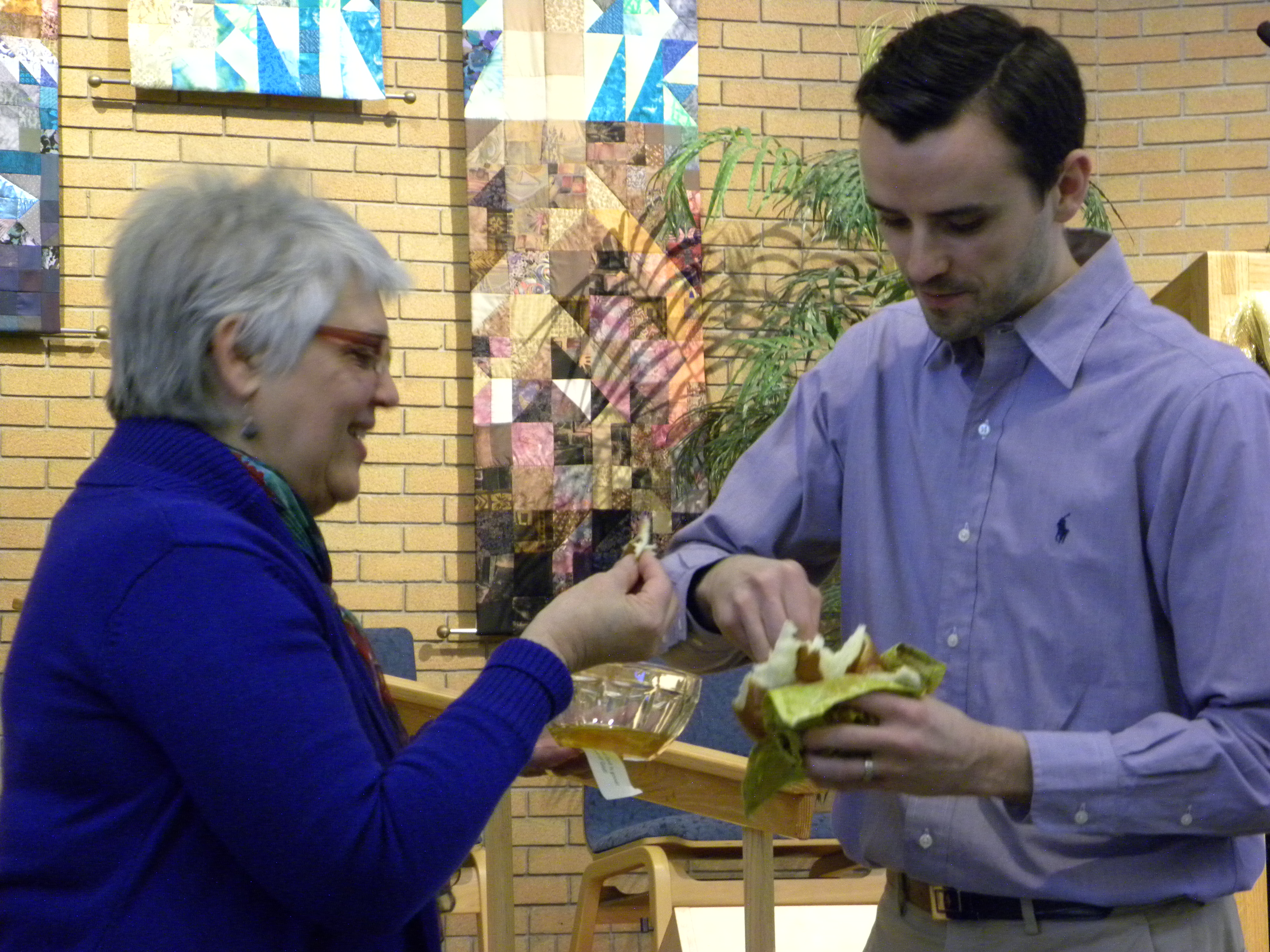 We share communion once a month, usually on the first Sunday of the month.
All who have publicly proclaimed their desire to follow Jesus may come to receive the bread and cup at one of the tables.
A gluten-free option is available at the table closest to the library.
Anyone, including children, may come to the Welcome area to receive bread and a blessing.
If you prefer, raise your hand to be served at your seat.
Coffee/GAP time
After the worship service and before the Education Hour begins at 11:00, we invite you to join us in the foyer for coffee (or tea). Meet a member of our leadership team for conversation in the foyer near the main entrance—we'd like to get acquainted with you! During this time, children attend GAP, a less structured time to stretch and have fun. GAP stands for Games, Activities, and Praise. Parents can find GAP for ages 4 to 5th grade in the chapel at the west end of the building. GAP leaders take children to Sunday school as needed at 11:00.
Education/Formation Hour (Sunday School)
At 11 a.m., you are invited to participate in our "second hour" every Sunday from September to June. During this hour, we provide experiences intended to help all ages to become more fully formed into the likeness of Christ. Children attend Sunday school and adults choose from a variety of classes or occasionally attend geographically-based Area Groups.
Adult education options are listed in the printed worship bulletin, and you can usually find a more detailed description of each class at the Welcome Counter. All classes seek to be biblically grounded. We typically offer topics in the following areas: Bible Study, Inward Journey, Outward Journey, and Our Beliefs and Practices.
For help with finding a class, please stop by the Welcome Counter or simply ask someone who is seated near you. Note that children's classes typically dismiss at 12 noon, while adult classes may run a few minutes longer.
Child care
During the worship service, child care is available for ages 0-3 in the nursery. Child care is also available during Sunday school for ages 0, 1, and most two-year-olds. Children who turn 2 by September 1 attend Sunday school.
Accessibility
A hearing assistance system, large-print hymnals, and a handicap-accessible building help make our services available to all. If you require special assistance of any kind, please alert an usher or a greeter at the door, or contact the church office at 574-291-0924.