Glimpses of Healing and Hope
September 4, 2017
By Jane Bishop Halteman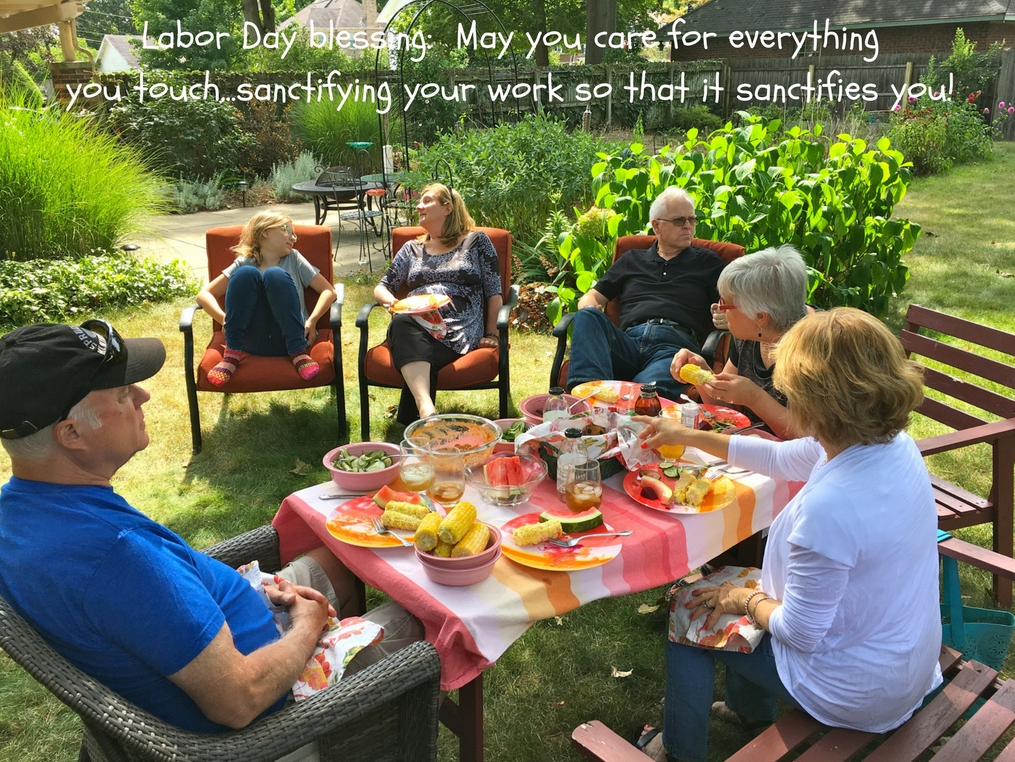 Photo by Tom Bishop
Today is Labor Day and I am sorely tempted to observe the day by taking a break from the "work" of writing a blog post for publication on this particular Monday morning. 
Pastor Janice provided plenty of fodder, however, for today's Labor Day post by inviting Eunice, Loren, Julie, and Gail to share during worship a bit about how they see their work as an opportunity for service.  Eunice spoke of offering care to nursing home residents and asked us to imagine how it might feel to be living in a facility with people we don't know, fed and clothed by strangers.
Loren and Julie told of their work with CommunityWide Federal Credit Union, which became more than volunteer work for Loren when he developed sight issues some 45 years ago.  The organization assisted many who had no family or church support, Loren said, adding that the credit union's mission was "to serve members' best interests in a variety of ways." Julie noted that a reward of the job for her has been an awareness of representing the face of God to the credit union's clientele.
Gail, a recently retired long-time academic advisor and counselor at Ivy Tech Community College, said her work typically involved walking with young people who were first generation college students. "Those we serve end up being blessings," she said, telling the story of a student who offered gratitude for long-ago assistance on the final day of Gail's work as an academic advisor. "Serving and blessing are reciprocal," she concluded.
I love Joan Chittister's beautiful concept of a spirituality of work: "A spirituality of work is based on a heightened sense of sacramentality, of the idea that everything that is, is holy and that our hands consecrate it to the service of God. When we grow radishes in a small container in a city apartment, we participate in creation. When we sweep the street in front of a house, we bring new order to the universe. When we repair what has been broken or paint what is old or give away what we have earned that is above and beyond our own sustenance, we stoop down and scoop up the earth and breathe into it new life again. When we compost garbage and recycle cans, when we clean a room and put coasters under glasses, when we care for everything we touch and touch it reverently, we become the creators of a new universe. Then we sanctify our work and our work sanctifies us."
Chittister continues her musings about work by acknowledging that "a spirituality of work immerses me in the search for human community. I begin to see that everything I do, everything, has some effect on someone somewhere. I begin to see my life tied up in theirs. I begin to see that the starving starve because someone is not working hard enough to feed them. And so I do. It becomes obvious, then, that the poor are poor because someone is not intent on the just distribution of goods of the earth. And so I am. I begin to realize that work is the lifelong process of personal sanctification that is satisfied only for the globe. I finally come to know that my work is God's work, unfinished by God because God meant it to be finished by me."
In 2012 The Washington Post ran an article by Bill Haley entitled Labor Day a time for reflection on the value and spiritual meaning of work.  Haley offers an example which helps us understand the dignity within many jobs which help others succeed through the "provision of food, shelter, clothing, medical care, education, a just society, effective government, religious freedom, the possibility of meaningful work, access to the arts, freedom and other things required for a society where individuals can flourish, where others can live into God's design for them."
Haley uses this illustration to make his point about the dignity involved in working so that others may flourish..."A lot of different sorts of jobs are required to get food on the table: obviously farmers, but also truckers, grocers, butchers, railroad and transport workers, immigrant laborers, workers in food processing plants, policy makers, journalists covering food issues, and many more. There are the people who package it, people who try to provide food for those who do not have enough food, people who work at the food banks. There are the cooks and chefs, and moms and dads who prepare and provide food for their kids. This is just one example of how God uses people to take care of the needs of others through their work, paid and unpaid, so that others can flourish. For any of these professions, a good and deep answer to the ubiquitous question 'What do you do?' would be 'I help feed people.'" 
Matthew Fox in The Reinvention of Work writes: "Good living and good working go together. Life and livelihood ought not to be separated but to flow from the same source….Spirit means life, and both life and livelihood are about living in depth, living with meaning, purpose, joy, and a sense of contributing to the greater community. A spirituality of work is about bringing life and livelihood back together again. And Spirit with them."
Paul and Ruth from our own congregation have made seven trips to Mennonite Disaster Service (MDS) sites like present-day Houston to assist in cleanup and recovery work following a major storm. Their work typically involved food preparation for other volunteers. Houston opportunities for volunteer work will most certainly be coming our way soon. You can stay abreast of volunteer options in Houston by checking MDS' Facebook page. 
Consider on your Labor Day break today how your work, your hobby, your volunteerism empowers others to flourish as they "live into God's design for them." Repackaging the words of Chittister into a blessing, "May you care for everything you touch, sanctifying your work so that it sanctifies you."