Glimpses of Healing and Hope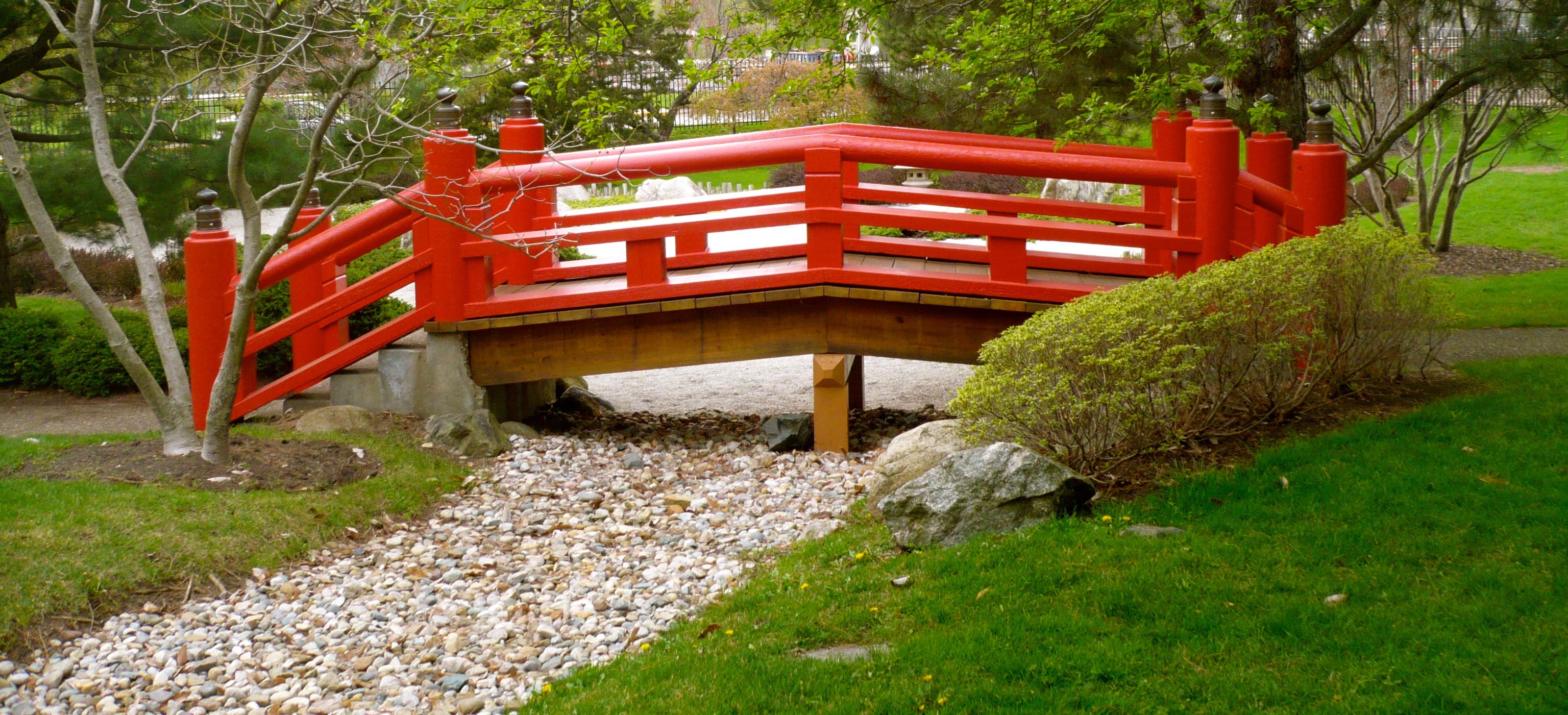 Bringing healing and hope to orphaned boys
April 18, 2016
by: Jane Bishop Halteman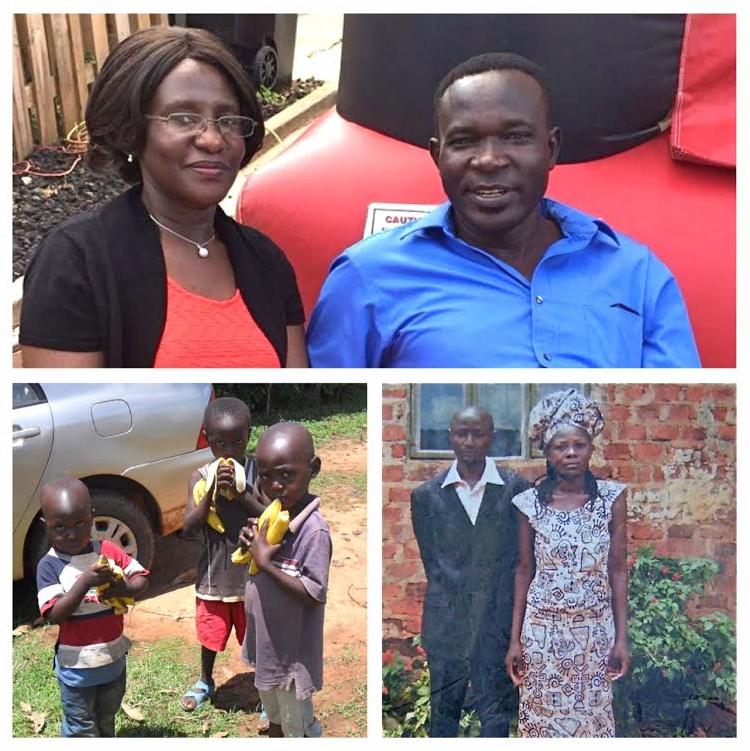 Eunice and Leonard, top photo; orphaned brothers, Peter and Castro, left and right in lower left photo; orphaned boys' parents, Peter and Francisca Dorine, lower right photo
"I will feel like I have abandoned them if I can't get them here," says Leonard Amuok of his nephew Peter's orphaned children.  "So many relatives are struggling, and I would love to bring other relatives' children, too, Leonard continues, but finances limit what his family can do to help.
Leonard, presently on KRMC's church board, and his wife Eunice Oduor and their four children came from Kenya to the United States in 2004 upon winning the green card lottery.  They settled at Kern Road via some Mennonite connections from back home, where family members still live in rural communities, at some distance from the nearest big city, Kisumu, Kenya's third largest city and principle city of western Kenya.
According to Wikipedia, The Immigration Act of 1990 established the Diversity Visa program, also known as the green card lottery, making 55,000 immigrant visas available in an annual lottery, starting in 1995. The lottery aims to diversify the immigrant population in the United States by selecting applicants largely from countries with low rates of immigration to the United States in the previous five years.
Leonard's brother's 30-year-old son Peter died in 2012 while working at a construction site in Uganda.  Peter didn't have proper safety equipment, according to Leonard, and was killed instantly in a fall.  Peter and his wife, Francisca Dorine, then six months pregnant with their second child, also had a two-year-old son, Castro, at the time.
When he traveled to Kenya for nephew Peter's funeral back in 2012, Leonard noticed that Francisca Dorine had a swelling on her neck, which he suggested she should have checked by a physician.  Eventually she began taking medication for a goiter, and Leonard mentioned the possibility of surgery if necessary. 
She gave birth to the couple's second son, Peter, and seemed to be managing as well as could be expected by selling vegetables to make a small living, with occasional contributions from Leonard and Eunice, who also had funded the elder Peter's high school education.  Francisca Dorine died quite unexpectedly at home in October of 2015, leaving behind their two sons.
Upon hearing of her sudden passing, "I immediately thought:  what will happen to the kids?" Leonard recalls.  Because family members are already providing for adult children and in some cases grandchildren as well, Leonard and Eunice did not believe chances were good that relatives in Kenya could find a way to take in the orphaned children permanently.  "So many people are idle with no options for work," he noted, adding that those who might go off to try to make a day's wages could potentially come back with $10 or $20.
Leonard and Eunice began to consider bringing the children to the United States, when they realized that "if the children go to relatives still in Kenya, there would be no guarantee that our donations to help would actually assist with the children's support" due to so many other financial needs.
Following Francisca Dorine's death, Leonard spent six weeks in Kenya.  In order to begin the process of bringing the children out of their home country, he needed to file for death certificates for the children's parents and birth certificates for the children, none of which had been processed at that point in time.   
Because his nephew died in Uganda on the job rather than in his home country, acquiring that death certificate was particularly difficult.  Leonard found application offices constantly filled with people.  "I don't believe in bribery, but you can't avoid it.  There is no other way but to grease palms."  And after all the requisite forms had been signed, there were the tedious waits for ancient typewriters to crank out official documents, Leonard reports. 
Having acquired those four documents, Leonard and Eunice will ask for legal custody of the orphaned boys, now nearly six years old and four years old.  They expect to retain a lawyer in order to prepare for the Children's Services' presentation to the Kenyan High Court to verify and certify that they reside abroad, that they are related to the children, and that the children are, indeed, orphans. 
On the United States side, says Leonard, it will cost $1,900 to file Department of Homeland Security forms to begin background checks for himself and Eunice in addition to their three young adult children Celia, Wendy, and Brian; son Castro passed away in April of 2014.  Home studies will follow in preparation for receiving the boys.   
"I would love to see them here in six months," says Leonard, but he knows that timeline is not probable.  Hopeful that perhaps they will arrive within a year, he says he is concerned that the children are currently with different family members separated by 20 miles.  As plans and financial needs become more clear, we at KRMC will be watching for ways to help this family live out their resurrection dream to bring glimpses of healing and hope into these young boys' lives.
"Through the grace of God, perhaps all these obstacles I'm seeing may disappear," says Leonard optimistically!  The family welcomes prayers and logistical support as the process continues.  
Add a comment
When spring fails to deliver
by: Jane Bishop Halteman
April 11, 2016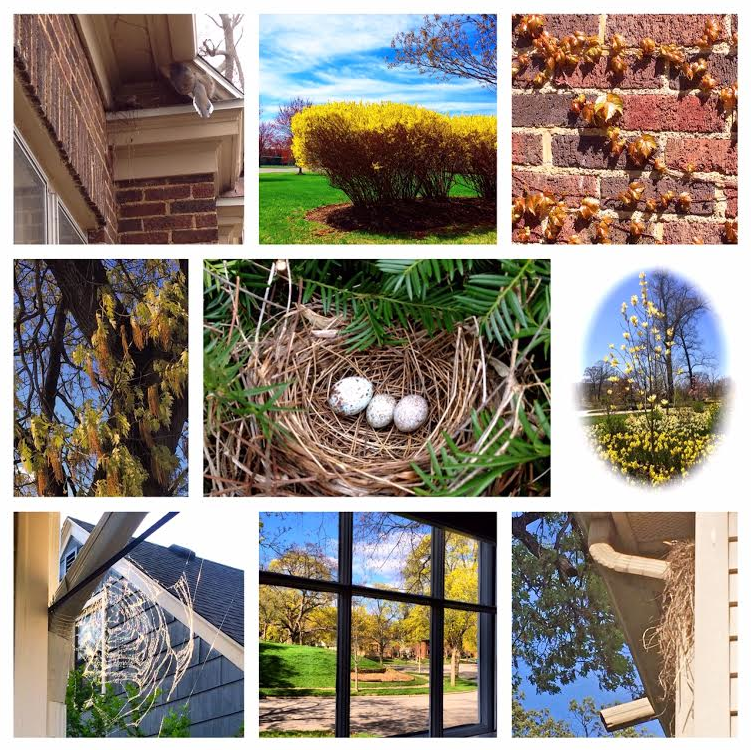 Three nest fails (top left, center, bottom right) surrounded by early signs of spring
Spring is the season of resurrection, but some signs of spring in the world around us culminate in disastrous outcomes that fail to reveal what we expect of Easter. 
The last two years brought three failed birds' nests to our yard.  In 2014 a pair of mourning doves built a nest in our front eaves, but the nest slid off its perch and we found it on the ground one morning. 
Soon after that failure, cardinals constructed a nest in a low shrub outside the sunroom window where we could observe undetected, but one morning we discovered the eggs missing from the nest.  Alerted to the fact that one of the eggs did not match the rest, I learned that cowbirds steal space for their eggs in other species' nests. 
Our cardinal family had, indeed, been victimized by a cowbird.  We were advised to remove the cowbird egg from the nest.  One internet source I read indicated that "cowbirds may 'punish' egg-rejectors by destroying the eggs or entire nest."  Did our intrusion lead to the eventual nest failure? 
With our grim 2014 history, I was elated last spring to discover that a robin had built a sloppy nest in a small niche created by our backyard guttering at the second-story level. By the time I noticed the nest, the mother bird was already sitting on it, and, though I had missed the building frenzy, I felt hopeful that this nest might survive long enough to produce young robins.
Only two days into nest-watching, however, I was disappointed yet again one morning to find this third nest on the ground with no sign of eggs anywhere.  Perhaps they were yet to be laid or maybe a raccoon got to them, a friend suggested.
Trying to understand our 100% failure rate, I began scouring the internet and was surprised to discover that robins "can produce up to three successful broods in one year. On average, two clutches are raised with less than half being successful. Only a quarter of those that do fledge survive to November. From that point on, about half of the birds alive in any year will make it to the next."
Typically the season bounces back and forth between winter and summer with at least a few casualties as chilly temperatures and late snow showers snuff out magnolia blossoms or fruit tree buds perhaps forced out prematurely by too-warm-too-soon temps.  Last year I found our tender new greenery chomped to the ground or stomped to bits overnight by hungry intruders.  
Caught in the midst of these kinds of seasonal "failures" and losses or severe weather in our own lives, how do we respond when resurrection seems momentarily to slip out of sight?  What learnings might take place even in the midst of disappointment?
Even as failed nests, frozen blooms, and nibbled stems and leaves are unhappy experiences for some of us, I found it interesting to learn recently that the advent of a mourning dove in one's life "signals a time to go within, a time to release emotional discord and the memories of past trauma."  I was intrigued to receive the appearance of these mourning doves as signs of resurrection, because, as one author I read pointed out, though its melancholy call has earned this bird its name, "beyond its sorrowful song is a message of life, hope, renewal, and peace."
Along with the disappointments of spring, we savor earlier sunrises and longer evenings, the reappearance of morning birdsong, the variety of growing things that come to life in our yards and flower beds, the successful nest-building, and the many creatures that reappear from their winter hiding places.
Parker Palmer's Spring is Mud and Miracle speaks eloquently about the many resurrections born of spring.  What Palmer observes is so true:  "Spring begins tentatively, but it advances with a tenacity that never fails to touch me. The smallest and most tender shoots insist on having their way, pressing up through ground that looked, only a few weeks earlier, as if it would never grow anything again. The crocuses and snowdrops don't bloom for long. But their mere appearance, however brief, is always a harbinger of hope—and from those small beginnings, hope grows at a geometric rate. The days get longer, the winds get warmer, and the world grows green again."
Parker goes on to say, "From autumn's profligate seeding to the great spring give-away, nature teaches a steady lesson. If we want to save our lives, we must spend them with abandon. When we're obsessed with bottom lines and productivity, with efficiency of time and motion, with the rational relation of means and ends, with projecting reasonable goals and making a beeline toward them, it's unlikely we will ever know the fullness of spring in our own lives."
What will the fullness of living into Easter look like in each of our lives this resurrection season?  In the words of Jan Richardson, what are we being asked "to carry from the Easter garden to proclaim in the world, in the way that only we can proclaim it and live it out?"  Where will the Easter path take us?
Author Macrina Wiederkehr suggests we ponder questions like these as we await, and ultimately experience, the arrival of spring in nature and in our own lives:  "How are we, like the buds of the earth, opening to God and to others?  What secrets buried deep in the soil of our souls are being revealed to us?  How is the gospel of springtime unfolding for us?  What is the great blossoming in us?"
Wiederkehr notes that, as the vibrancy of life is about to pulse through nature at this time of year, it is also a good thing to "enjoy what is emerging from within, to savor the taste of hope, to trust in what the future promises.  It is the time to believe in growth and to give oneself to it wholeheartedly."
Add a comment
April 4, 2016
by: Jane Bishop Halteman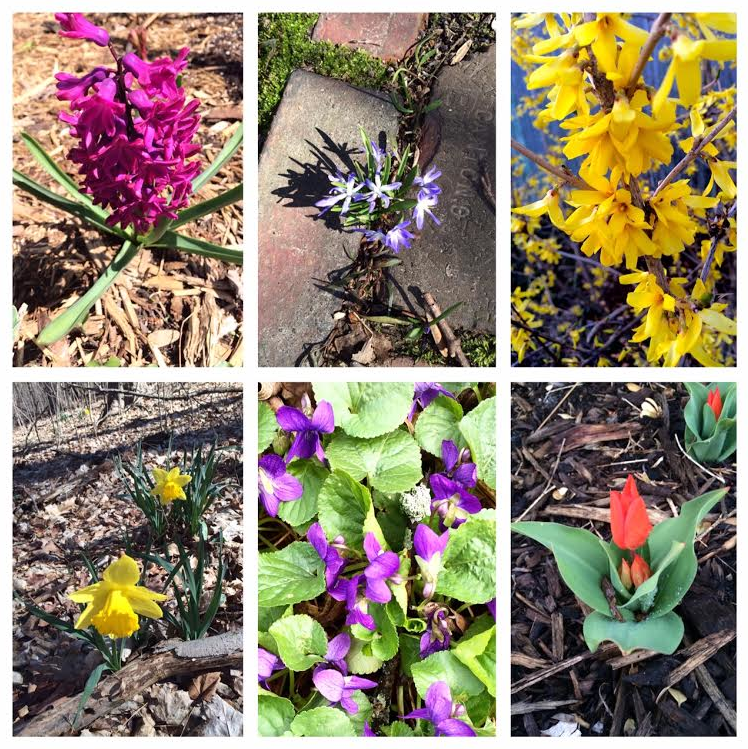 Loren brought good news during Easter Sunday worship when he shared an e-mail recently received from his brother and sister-in-law, who are on a two-month assignment in Nigeria with the Church of the Brethren.  They are offering presence in crisis and working with internally displaced persons in a city where Boko Haram has commandeered villages, targeted pastors, killed thousands, and caused many more to flee their homes, Loren explained.
"When Boko Haram took over various villages that are key to the church, many of the buildings were bombed or burned.  It was anticipated that buildings in Garkida, where my brother lived for five years, would have been burned as well."  Upon visiting Garkida, Loren's brother was surprised to learn that the Muslims of Garkida told Boko Haram that Christians and Muslims get along together in that place and that, if they burned the church, they would also be burning the mosque.  Surprisingly, many of the buildings were saved. 
"My prayer requests are two," Loren said:  "First, that we celebrate the community and support which exists among the Christians and Muslims in Garkida and second, that we pray for our (so-called) enemies and for the poor conditions that lead people to become violent and destructive."
A story of the existence of community and support among the Christians and Muslims in Garkida was a piece of resurrection news so appropriate for our congregation to hear at our Easter Sunday service.
That news came before last week's Glimpses of Healing and Hope blog entry, which posted the following day on Monday morning.  A quick response to the piece, entitled Living into the Resurrection, arrived from a Michigan pastor who said,  "Our church has taken the theme Practicing Resurrection for this Easter season, so we will be walking along with you. I pondered yesterday what it would mean if we would become 'radicalized cells' of the Ever Rising Body of Christ—radicalized by love and forgiveness and passionate hope. I wonder..."
Can we imagine with that pastor what radicalized cells operating in our own church and community might look like if love, forgiveness, and passionate hope ran rampant among us?  Where in our denomination or congregation, our towns, our neighborhoods, our workplaces, our families might we live into resurrection and new life by confronting, even in small ways, the signs of death and dying, hate and wrath, injustice and corruption often evident around us?
We are fortunate already to have "cells" of people among us who regularly offer support and encouragement to the marginalized and encourage all of us to do the same; those who urge us toward greener living by steering us toward installation of solar panels and other ways of caring for our earth; those who model thoughtful eating habits that take into consideration the environment, personal health, and animal welfare; those who demonstrate a variety of ways to live and share together in Christian community.
Many of us, raised in the more-with-less culture, practice our favorite schemes to simplify and extend.  If you haven't already tried some of these, you might experiment with fresh ways to implement resurrection living by beginning a new effort to repurpose, compost, upcycle, grow your own, reduce waste (or even consider zero waste), buy local, regrow from scraps, choose not to use plastic or disposables, select plug-ins over batteries. 
Once I began looking/listening more carefully for examples of resurrection living, I found hopeful green shoots in lots of places.  During my weekly drive to Grand Rapids, I heard an NPR story on why Utah will continue to embrace refugees even though that stance is now unpopular in many states. 
Upon arrival at my destination, I discovered a story from The Mennonite about how a Colorado church made a commitment to share its little-used fellowship hall and classrooms with community groups who needed meeting space.  Soon a local arts group began holding monthly gatherings in the space, an organization offering services to senior citizens set up an office, and a large church with no permanent building began using study space and the kitchen for various outreach programs.
This link about recycling plastic in new ways appeared in my feed from another friend's Facebook page.   A pastor in a neighboring state told me about an ambitious worship/education series currently under way in her congregation which has led to a vigorous new mid-week meeting of enthusiastic group leaders who are willing to travel many miles for the extra get-together.       
Signs of new life are, indeed, all around us.  Green sprouts of renewal, like the mini iris shoots my granddaughter spotted with great glee in a flowerbed last week, continue to spike their way through the warming earth, through our community, just waiting for someone to notice and share the good news.  Make it a habit to be aware this week of the sights and sounds of the earth as it rouses in our part of the world after weeks of winter.  What are the comparable rousings you notice at KRMC?  Share with us here at Glimpses of Healing and Hope the resurrection sightings that come your way. 
As if to prove that the above paragraph is no joke, this story was waiting on my Facebook feed after I thought I had wrapped up the post.  Read it, even if just to confirm that, "If you keep your eyes open, you can find people doing good things all over the globe."
Add a comment
March 28, 2016
by: Jane Bishop Halteman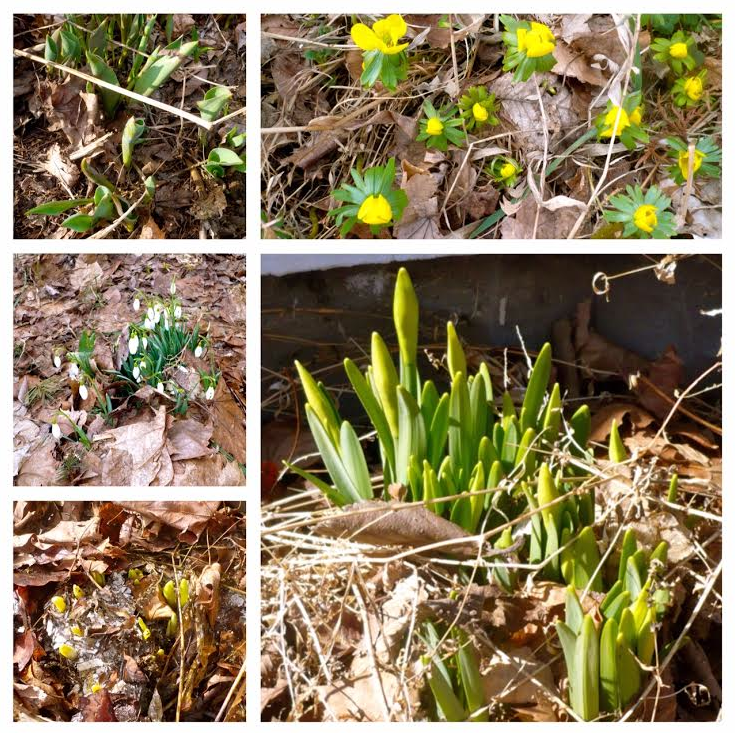 Watching a Chopped champion accept his $10,000 award last week, I was excited to hear him say, on being asked how he would use his cash prize, "The first thing that comes to mind is this question:  Who can I offer assistance?  Whose lives can I help change?"
I know nothing about this man except that he is a successful enough chef to have been invited to compete on a Chopped episode during which he outcooked three other chefs on the Food Network show.  His exemplary desire to share his winnings with those who have less, however, speaks to me of resurrection living!
During this season of Eastertide, which thankfully stretches all the way to Pentecost beyond the single day we call Easter, I think back a number of years to the first time I became acquainted with author Megan McKenna on the Spirituality and Practice website. Her book Not Counting Women and Children, Neglected Stories from the Bible describes the practice of resurrection living like this:  "Every time I bring hope into a situation, every time I bring joy that shatters despair, every time I forgive others and give them back dignity and the possibility of a future with me and others in the community, every time I listen to others and affirm them and their life, every time I speak the truth, every time I confront injustice," I am practicing resurrection living.
Frederic and Mary Ann Brussat have posted at their website an excellent page entitled Easter:  Resurrection as Spiritual Practice.   Check the site for the many ways they suggest to practice resurrection living; here is a sampling of their recommendations about living into resurrection.
·         Paying full attention to whatever you are doing helps you recognize the constant renewal of life all around you. 
·         Cultivating the art of making connections dismantles the walls of separation so that new life can spring up out of the rubble.
·         Walking the path of beauty allows you to notice radiance in people, places, and growing things—all signs of rebirth. 
·         Leaving the past to God's mercy and the future to God's discretion permits you to live in the present moment, the only time when God brings forth new life, as you affirm your belief in resurrection.
·         Working for justice, peace, equality sets the stage for resurrection.  When you feed the hungry and stand up for the oppressed, you are a life-giver.
·         Staying open to all people and situations affirms your believe that all things can be made new.
·         Welcoming large and small changes signals your receptivity to transformation and resurrection.
And here's another approach to thinking about resurrection living as Thich Nhat Hanh reminds us, "You are just like a firework going off in every moment. The firework diffuses its beauty around itself. With your thoughts, words, and actions you can diffuse your beauty. That beauty and goodness go into your friends, your children, grandchildren, and into the world. It is not lost and you go into the future in that way."
In the wake of the March 22 Brussels attack and other recent violence, either publicized or unpublicized, I was drawn to a Sojourners post by Eric Barreto, who says this about resurrection living, even in the wake of terror:  "As we grieve Jesus' unjust death and celebrate his resurrection, as we grieve the unconscionable loss of life and the hope that God promises, may despair and praise together point us to those whom God calls our sisters and brothers, our kin.  In the space between Palm Sunday and Good Friday, between the acclaiming of Jesus as a king and his execution as a threat to the political order, may we discover a resurrection power that overwhelms our instincts to shelter ourselves, our fear of the stranger, our hopelessness in a broken world."
How do you respond to Barreto's thought that "resurrection is for today.  Imagine, then, if our reaction to these attacks would not be fear and self-interested protection. Imagine if we didn't close our borders. Imagine if we didn't view our Muslim neighbors with suspicion. Imagine if we didn't give into our basest instincts to build bigger weapons. Imagine if we lived the resurrected life together."
What experiences from your own faith journey come to mind as you ponder new things God is doing around you?  How have you made resurrection a spiritual practice in daily life?  How have you experienced new ways of seeing and being?  If the idea of living into the resurrection in these ways is new for you, what appeals to you as a practice you might implement this Eastertide?
Going forward, I'd love to hear your resurrection stories so that I might retell them in a future Glimpses of Healing and Hope blog post between now and Pentecost.
Add a comment