Glimpses of Healing and Hope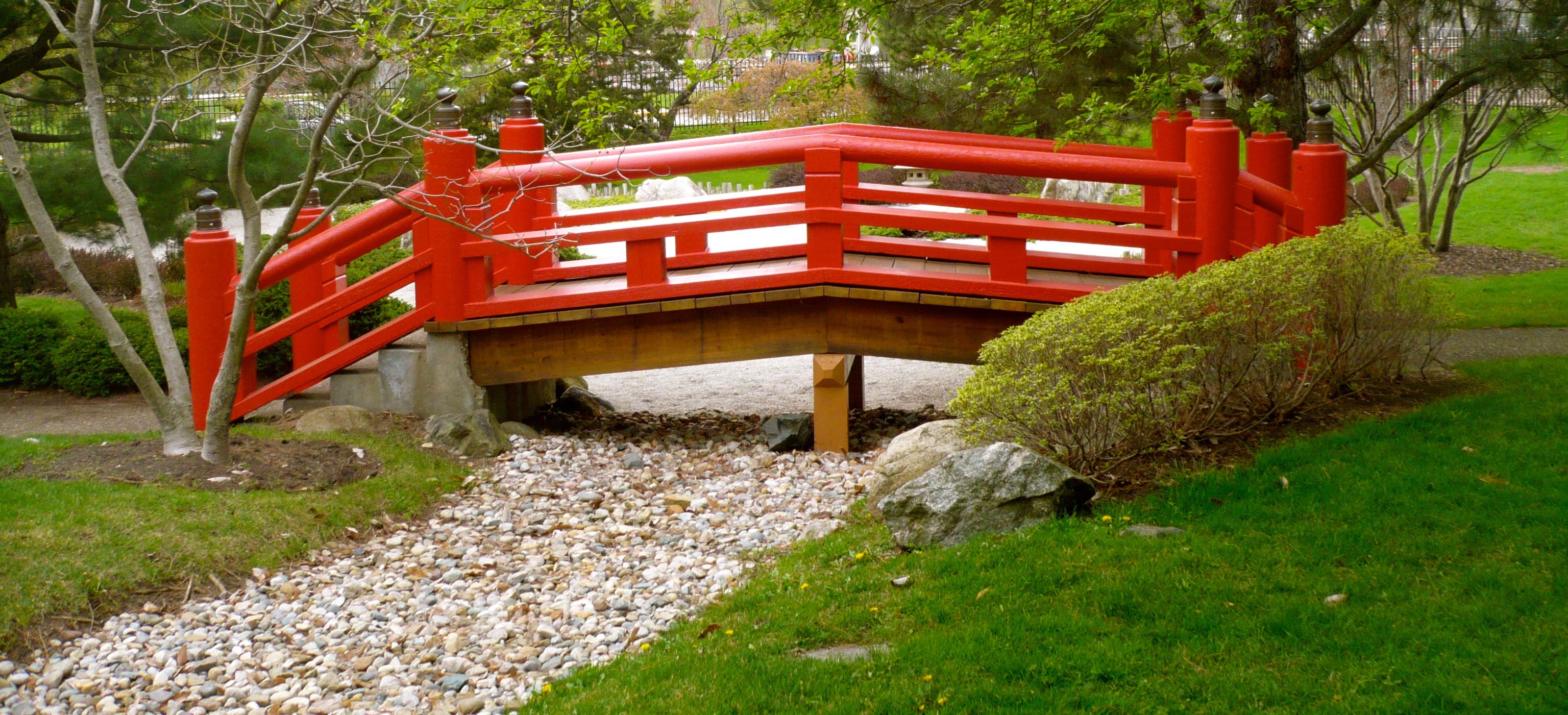 January 23, 2017
By:  Jane Bishop Halteman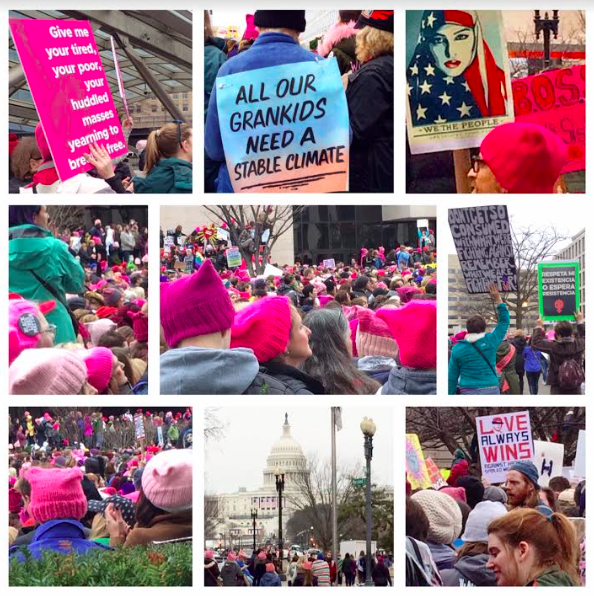 I was hopeful I would have stories to tell you about Mennonites singing at the Women's March on Washington, but, truth be told, my sister-in-law and I, who traveled together by train from Philadelphia to DC Friday afternoon and arrived home Sunday evening, never saw another Mennonite as far as we know!
The Associated Press estimated a crowd of approximately 500,000 and "a Metro official said that more than a million rail trips were taken Saturday, the second-highest day in its history after Barack Obama's first inauguration in 2009," according to The New York Times, so it's not surprising that we ran across no familiar faces, including the other women from Kern Road, whom I expect will log reports on their experiences for next week's post.
The two of us will not soon forget the massive, jostling, but very orderly crowds, Saturday's overcrowded Metro, our restroom run back to the hotel (because the mobs obscured any view of the temporary facilities), the fact that we could find no place but our hotel to eat after the march.  
We will not soon forget the passion of speakers Gloria Steinem, Michael Moore, Ashley Judd, and many more.  We will not soon forget the young family we met making signs in our hotel Friday night as they prepared to march with their disabled daughter on behalf of all those with disabilities.  We will not soon forget those in wheelchairs and strollers, using knee rollers and walkers, pushing baby carriages and grocery carts. 
We will not soon forget the silver-haired Japanese woman we talked to as we left Union Station Sunday afternoon.  She told us that, at her age, she did not expect to be marching again for the rights of the marginalized, something she's been doing since the 60s.  The Japanese are not prone to confrontation, she told us, but they have marched for two causes over the years: this one and against nuclear war. 
We will not soon forget the women, men, and children who gathered from all across the country, who spent time and money to assemble peacefully on behalf of "justice and equity for all."  They marched for many reasons as illustrated by the array of signs they carried:  to stop white silence, to manage global warming, to unite against hate, to promise we will never go back, to announce love always wins, to declare themselves proud to be Muslims, to assert that our grandkids need a stable climate, to affirm that Black lives matter, to proclaim that our daughters are still watching, to acknowledge that we're glad you're our neighbor, to suggest we make diversity great again, to remind us that when others go low we go high.
We will not soon forget the compassionate marchers who assisted us as we climbed through a thick hedge when we needed to escape the masses, the immediate attention others gave the woman who dropped to the ground as we were passing, the accommodation offered those walking the opposite direction of the majority, the easy conversations we struck up with sister/brother participants in restaurants and on the Metro.  For whatever reason any of us chose to participate, it seemed we felt a solidarity with this enormous throng of fellow Americans.
March co-founders Breanna Butler and Evvie Harmon called the response overwhelming, pointing out that the movement has become global as nearly 200 cities were signed on to participate in Saturday's march.  Here's how the founders envisioned the march's impact:  "In the spirit of democracy and honoring the champions of human rights, dignity, and justice who have come before us, we join in diversity to show our presence in numbers too great to ignore. The Women's March on Washington will send a bold message to our new administration on their first day in office, and to the world that women's rights are human rights. We stand together, recognizing that defending the most marginalized among us is defending all of us.
"We support the advocacy and resistance movements that reflect our multiple and intersecting identities. We call on all defenders of human rights to join us. This march is the first step towards unifying our communities, grounded in new relationships, to create change from the grassroots level up. We will not rest until women have parity and equity at all levels of leadership in society. We work peacefully while recognizing there is no true peace without justice and equity for all." 
As people of faith, how do we respond to these needs and concerns, Sojourners asks?  "We respond the way Jesus did."  Check out this link for recommendations about not sitting out this one.  The Mennonite published this opinion piece about why the author planned to participate in Saturday's event:  "The Women's March on Washington is a reclamation of voice. This unification of women is about creating solidarity: showing up and speaking up. We are marching because we have endured in silence for too long. We are marching because we cannot be complacent, instead, we must displace ourselves from comfort. We are marching because in the coming years, we must be the church: we must be present in suffering, we must be raw in our grief, and we must actively seek the upside-down kingdom," says Hanna Heishman.
How will we at Kern Road "be present in suffering, raw in our grief, and actively seeking the upside-down kingdom?"  Now is the time to begin to prepare for these undertakings.  I look forward to sharing next week KRMC women's responses to their march experiences.
For a more comprehensive picture of women's marches here at home and around the world, see this series of photos.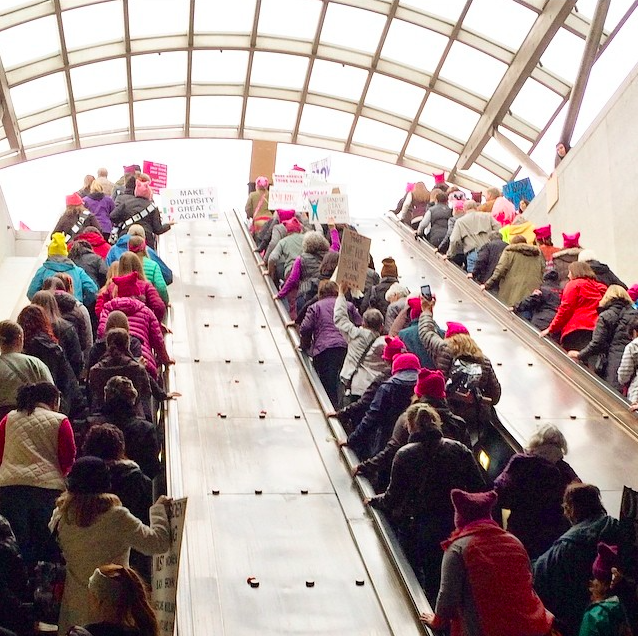 Onward and upward as the work continues (Metro escalator at L'Enfant Plaza, Washington DC)
Add a comment
January 16, 2017
By:  Jane Bishop Halteman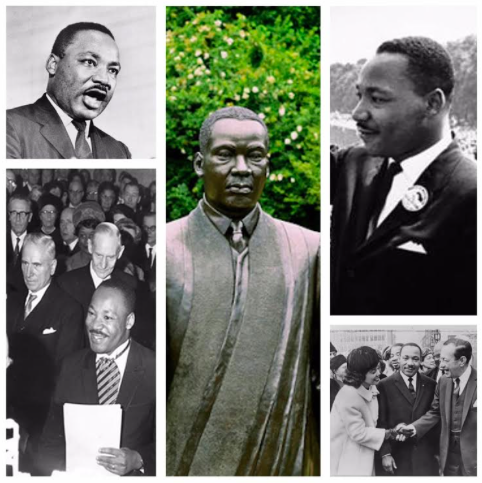 Today is Martin Luther King (MLK) Day; last year I wrote this blog post which appeared 12 months ago here at Glimpses of Healing and Hope.  Now, a year later, we find ourselves just days away from a presidential transition, which many of us fear threatens to marginalize further the already anxious minorities living in our country.
"What are we to do with the discomfort we feel in these circumstances," reporter Chuck Todd asked civil rights leader Rep. John Lewis of Georgia late last week as the country approached another MLK Day.  Noting that we have to organize and continue to speak out, Lewis said, "It is painful to see our country come to where it is today" and reported he shares our out-going president's concern about the state of our democracy.  "Mobiize…you cannot sit on the sidelines," Lewis warned.  "You've got to be engaged.  We must continue to come together, be hopeful, optimistic."
Adding that the "scars and stains of racism are still deeply embedded in American society," Lewis admonished that "we cannot sweep them under some rug.  We must not be silent."
Given the present distress in the nation, Lewis acknowledged that it will be an out-of-the-ordinary MLK Day celebration.  What would Martin Luther King say to address the present dissention in the nation? host Todd asked.  He would say, "Never give up, never become bitter, " Lewis responded. 
According to a Los Angeles Times article, "Lewis was the youngest speaker at the 1963 March on Washington, by then already a central figure in the efforts of African Americans to secure civil rights. For years, he was repeatedly arrested and beaten at Southern protests.
"In 1965, during the celebrated 'Bloody Sunday' march at the Edmund Pettus bridge in Selma, AL, Lewis was clubbed so severely that he suffered a skull fracture. He recovered and led other protests, and 30 years ago he was elected to Congress," the Times reported.
In 2011, President Obama awarded Lewis the Presidential Medal of Freedom, the nation's highest civilian honor, the Times said.  
As a reminder to the new administration that we hope justice will prevail on all fronts, a number of women from KRMC plan to walk in the Washington DC Women's March this coming Saturday, the day following the inauguration.  Brenda says this about why she is participating:  "I am attending the march with my 'mothers, sisters, daughters.' Literally my sister is flying from Seattle and my daughter is taking the bus from Durham, NC. I am marching because this is not politics as usual. This is not left leaning vs. right leaning. The incoming administration has promised and said things that are abhorrent and frightening. 
"As a mother, I want my daughter to know the rhetoric (we've heard in the run-up to the election) about women and minorities is not acceptable," Brenda adds.  "As a social worker I want the president-elect to know that mocking disabled people happens all the time but should never come from the most powerful person in this country. As a health care worker I want the POTUS to recognize that hundreds of people in my town alone have access to health and mental health care because of the Affordable Care Act (ACA).
"As a citizen of this beautiful complicated world, I support all efforts to sustain it. I forcefully support the press, whether you agree with them or not, as an essential arm of democracy. I want to remind us that we are ALL immigrants in this land. And I want to exercise my right to protest peacefully for all the people the Jesus of the gospel embraced," Brenda concludes.
Danile, who will be traveling with Brenda, explains why she is going to the march:  "Benjamin Franklin, when asked after the constitutional convention,  'Well, doctor, is it a monarchy or a republic?' answered, 'A republic, if you can keep it.'  I am going to Washington DC for the Women's March because I want to say, 'We are here to keep our republic.'  Any degree of democratic rule is difficult to put into place, and it is a tragedy to continue to allow this country, however flawed, to move backward on human rights, the chance for a decent life, community welfare, hospitality, and so many things that seem threatened.  I want Donald Trump to see how many people care about keeping the Republic."
To follow what's going on at the march, check out the Facebook page of Mennonites at the Women's March on Washington.  Look for more here next week from Danile, Brenda, myself, and Becky and Janna and daughters, who reportedly also will participate.  We would all appreciate your remembering us in this endeavor.  For more information about the DC march and other  "sister" marches around the country which will take place on Saturday, read this Huffington Post article.
Add a comment
January 8, 2017
By:  Jane Bishop Halteman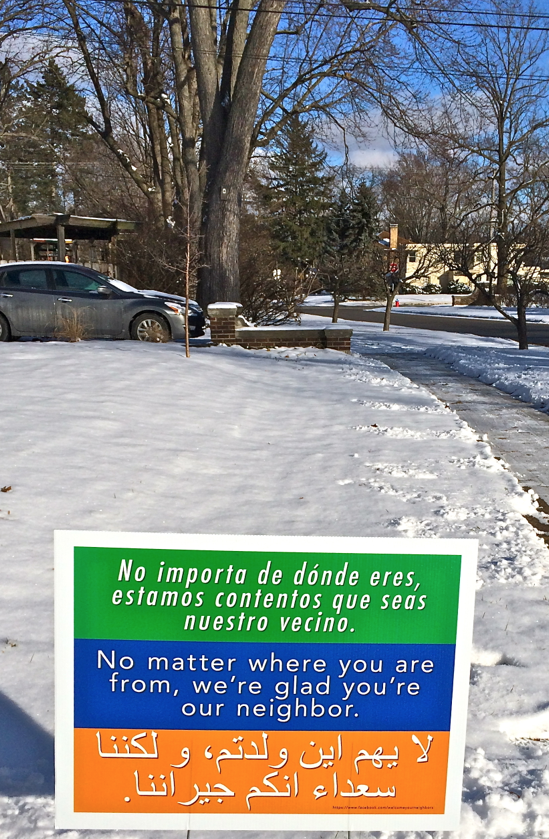 The sign pictured above, now available for $10 at Kern Road Mennonite Church ($9 covers printing charge and $1 goes to our KRMC Immigration Ministry), began as a black and white, hand-lettered version at Immanuel Mennonite Church (IMC) in Harrisonburg, VA, according to a story written by Steve Carpenter which appeared in The Mennonite back in September 2016.
"When the Democratic and Republican primaries were just beginning," Carpenter reported, "my congregation decided to put up a sign proclaiming our shared value of welcoming foreigners….It reads, 'No matter where you are from, we're glad you're our neighbor' in three languages: English, Spanish and Arabic. IMC's neighbors speak many languages, but primarily one of these three. Pastor Matthew Bucher said, 'I hope that the sign is a marker to the community. And, I hope that folks leaving IMC after a service are reminded of who we are to be.'" 
The story proliferated quickly with a variety of local details but the same basic content featuring folks eager to welcome their neighbors despite widespread political rhetoric to the contrary…this one at Lancaster Online mentions friends our Ten Thousand Villages' volunteers will know from their connections with the Bunyaad Rug Room.  
An NPR story which aired December 9 reported that the sign carries a "message of tolerance and welcome" and this Petworth neighborhood blog in the Washington DC area shared with readers how to get their own signs.
This story in the Huffington Post calls the sign "a sign of the times" and explains "why this welcoming sign is popping up in yards across the country." The Huffington Post article further explained that "a PDF of the sign is available to print for free on the (founding) church's website. The church has also started a Facebook page called "Welcome Your Neighbors" where you can contact others who have made the sign and place orders."  Mennonite World Review's article about the sign, published December 27, reveals the sign's migration to Canada and our own nearby Goshen.
We at KRMC are grateful to Barbara for taking the initiative to make signs available to us in South Bend and, through us, to others beyond our town who see our signs and want to share them in their own neighborhoods.  Our pastors reminded us during yesterday's worship service that "light came into the world in the midst of dark times."  These signs are just one of the places I see the light spreading around us…where else do you see warmth and light and welcome?
It was a lovely serendipity, another burst of light, this weekend to find this link when a friend posted a four-part harmony version of My Soul Cries Out from Laurelville's Music and Worship Hymn Sing 2017.  The words of the chorus voice this promise:  "My heart shall sing of the day you bring.  Let the fires of your justice burn.  Wipe away all tears, for the dawn draws near, and the world is about to turn!"  May we participate in the world's turning.
Add a comment
January 2, 2017
By:  Jane Bishop Halteman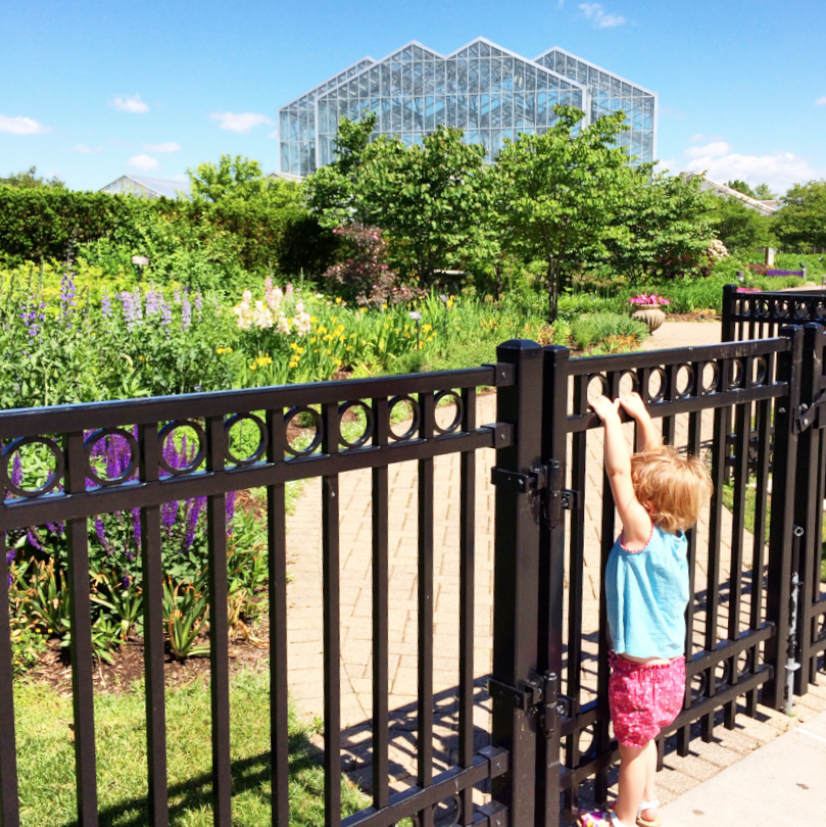 I look to two of my favorite go-to writers for inspiration as 2016 draws to a close and we move into 2017.   
Speaking of Howard Thurman's "growing edge" of life, Parker J. Palmer says this:  "I'm heading into 2017 aspiring to look at life thru the eyes of a child. Buddhists call it 'beginner's mind'—a corrective to the cynicism that comes when we let hard realities darken our vision and diminish our imagination. It's a way of looking at the world that doesn't deny the darkness, but makes fresh starts possible in everything—from our personal to our political lives."
This link will take you to more from Parker Palmer about how he will engage the new year, as well as the rest of Howard Thurman's explanation of "the growing edge" of life.
Singer/songwriter Carrie Newcomer, who has a close connection to Palmer and says she has clarified her own way forward in the new year by paying attention to his work, writes that she has made "a decision to open my heart and awareness to who and what will be most marginalized and affected during the next legislative year—including immigrants, women, persons of color, the LGBTQ community, healthcare, arts and public media, protecting our besieged natural environment. 
This can be overwhelming—so I will try every day to breathe, focus on what I love, and be gentle with myself—and yet stay engaged with the world around me."
John Pavlovitz's On Learning to Love Offensively gives me great hope to carry on in the new year with the challenges it promises to bring.  He says, "More and more, I simply live to be the antidote to the things I find hurtful or damaging in the world, rather than arguing with those I believe are being hurtful or damaging. There are certainly times to identify dangers and to call out injustice, but those pale in comparison to the countless moments that simply require personal goodness."  (See the rest of his compelling post here.)
Indeed, it is often the little things we do, perhaps without forethought, that make a difference. A few days ago another Facebook acquaintance posted a lovely sentiment about how much she enjoys seeing decorated holiday trees from outside.  That reminded me of a story I hadn't thought about in a long time.  One Christmas long ago, very unexpectedly and for no particular reason, I placed a small pre-lit tree, hung with all our angel ornaments, in an upstairs bedroom window where I thought of it as being just for us as we passed through the nearby hallway…definitely not a spot for public consumption. I learned later that the next-door neighbor's master bedroom faced out toward that tree…it was the holiday season her husband learned he had cancer and the tree had become a source of comfort to them every night as they retired to their bedroom. She was quite taken to learn a few weeks into the season that the tree was laden with angels, which she said she felt were placed there especially for them! 
My friend posted this surprising response when I shared the above anecdote in her tree thread: "What a beautiful story, Jane. The gift you didn't know you were giving turned out to be laden with meaning. God at work in us... incarnation."  
The picture at the top of this blog post features our youngest granddaughter looking onto the grounds from outside the gates of the Frederik Meijer Gardens and Sculpture Park in Grand Rapids. One recipient of our end-of-year video, which included this photo, said, "The slide that hit me the most was one of your granddaughter holding the bars of a gate with a big house beyond.  It symbolized so many things for me….the picture is haunting."  I hadn't thought of the photo in the way it struck that viewer, but it wasn't hard to catch her meaning.  As we stand on the threshold of a new year with many unknowns, where does this photo take you?
The nine photos posted as one at the conclusion of this entry represent good memories from 2016.  To select these nine, I focused largely on spaces that were sanctuary for me in a year of upheaval around the world and in our own country. 
Within that crazy, noisy world, I found quiet spots of beauty and respite, gifts from the Divine that offered balance in chaos for me (from left to right and top to bottom): with local grandkids on a carousel in St. Joe, MI; with Michigan grandkids at Clapton Pond in London; on the Saint Mary's campus with high school friends; admiring the front porch sanctuary of long-time friends in Lansdale, PA; with a KRMC friend taking in the beauty of her mom's barn in Everett, PA; viewing with golf foursome women the glorious waterfront in Douglas, MI; enjoying my own backyard in South Bend; inhaling warmth through the window with small group friends at Grandpa's Woods in Goshen, and appreciating the glory of a sunset overlooking my high school's memorial garden in Lansdale, PA.   
What offers balance in chaos for you?  What sustained you in 2016?  Where will you look for respite in 2017 as you go about doing the things that need to be tended to in today's world?  Pastor Janice invited us in her first sermon of 2017 to watch for the hand of God in the coming days, weeks, year.  (And, to be sure, many of the good things happening in our world were eclipsed by this past year's calamities. See the evidence in this link, unearthed by another friend, about some of the good news of which you may not be aware.) 
May we walk confidently into the new year to the tune of these thoughts from the Hispanic creed in our Sing the Journey hymnal supplement:  "We believe in the reign of God—the day of the Great Fiesta when all the colors of creation will form a harmonious rainbow, when all people will join in joyful banquet, when all tongues of the universe will sing the same song.  And because we believe, we commit ourselves to believe for those who do not believe, to love for those who do not love, to dream for those who do not dream, until the day when hope becomes reality."
The Dominican Sisters of Grand Rapids offer this blessing for the first day of the new year; I trust it will guide our way in 2017:  "May the God of Newness be with you, freshening you with renewed energy and awakening you with new perspectives on old visions. May you be free enough to let go of what is stale and used up and to embrace what is new and full of promise. May God's grace be with you as you wrap yourself in what is right, if unfamiliar. May you look upon your life and your ministry with the eyes of God, ever new and ever transforming. May the God of Newness be with you."—©Maxine Shonk, OP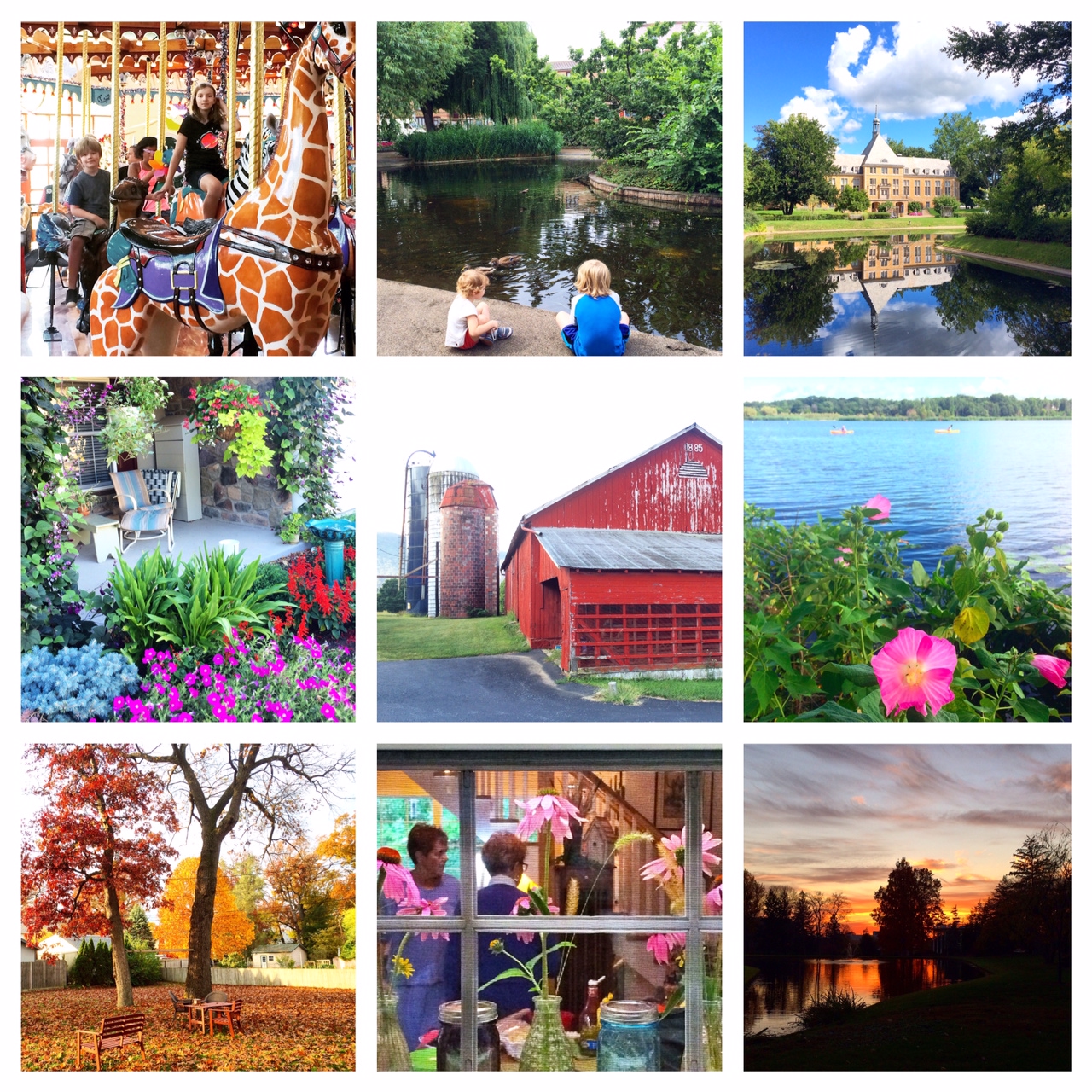 Add a comment