Glimpses of Healing and Hope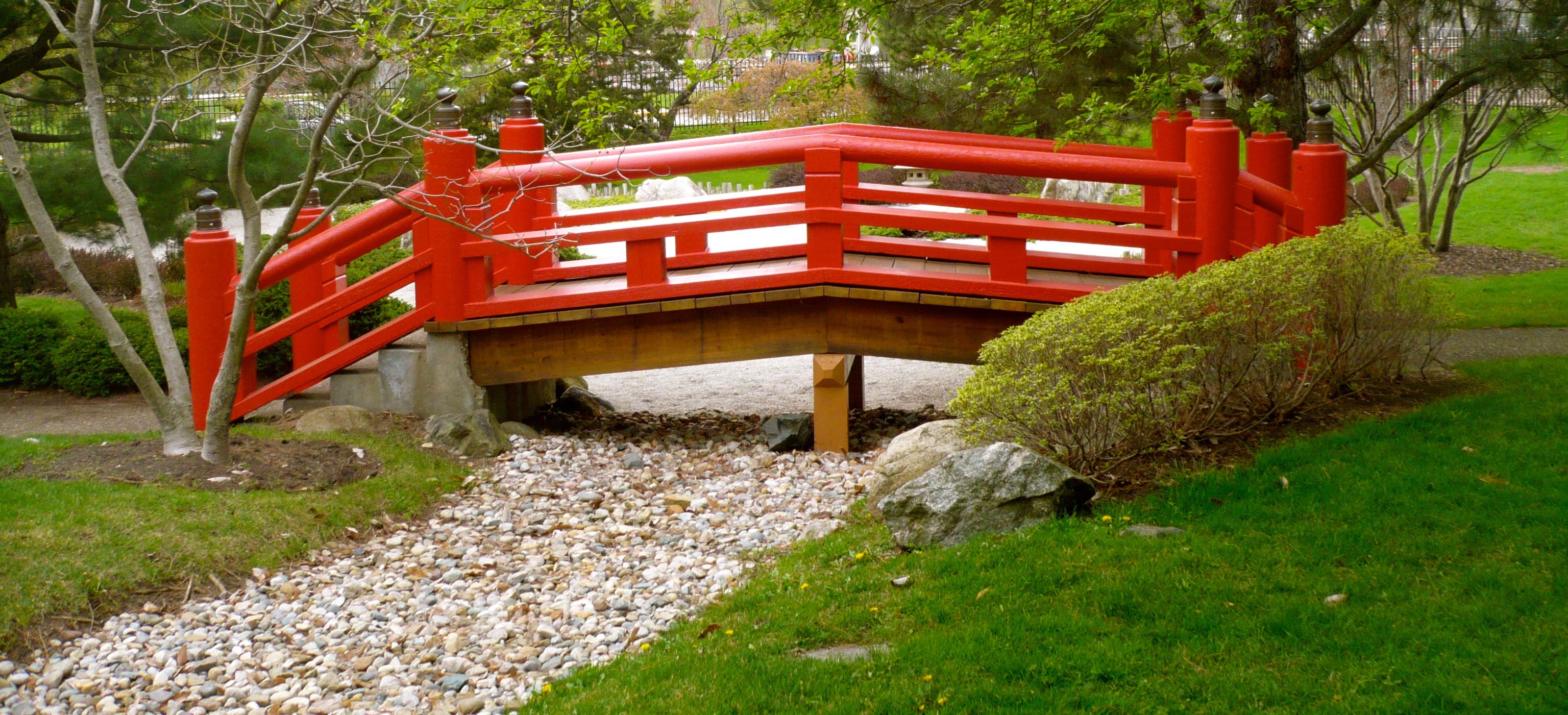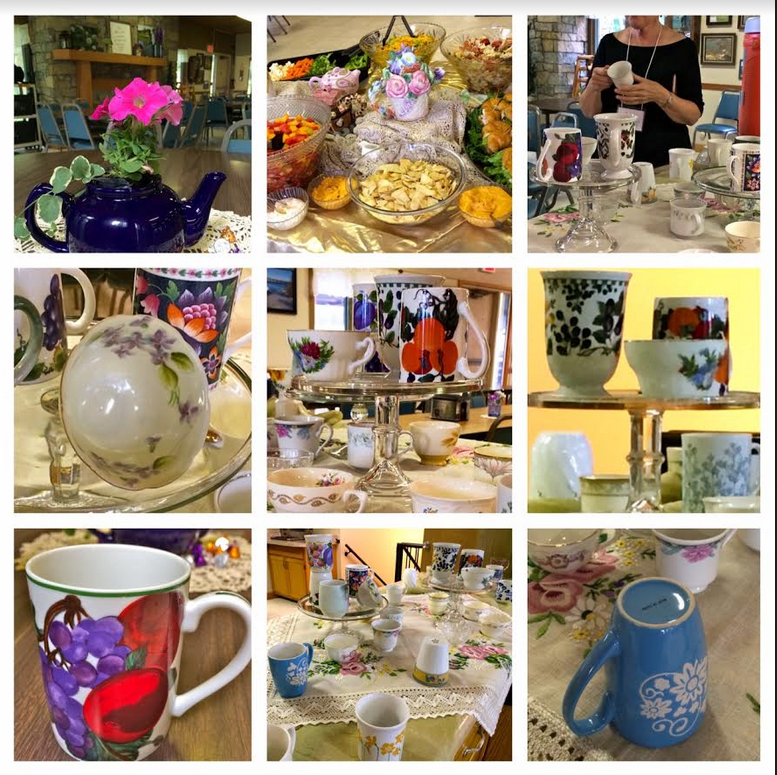 June 26, 2017
By: Jane Bishop Halteman
Indiana-Michigan Mennonite Conference annual sessions took place June 15-17 at Amigo Centre in Sturgis, MI.  My long-time good friend Frances offered a meditation at the women's tea Friday, bringing back fond memories of more than 20 years ago when the two of us attended summer worship courses at Anabaptist Mennonite Biblical Seminary (AMBS) and subsequently were invited by our suburban Chicago congregation to lead weekly evening worship in a contemplative prayer setting.
The bond of our friendship grew as we fashioned themes, calls to worship, and prayers, crafted visuals, developed handouts, and invited readers and song leaders to join us in bringing the 30-minute services to a small group of faithful worshippers. 
Frances once remarked to the church's office administrator, who observed our sometimes time-consuming set-ups, that getting ready for Wednesday prayer was for us as engaging as playing house is for young children.  With the enthusiasm of kids working diligently at being grown-ups, we engaged wholeheartedly with each other and our subject matter to create space for quiet reflection and new awareness of the Divine in our midst.   
In preparation for her conference presentation based on Joyce Rupp's book entitled The Cup of Our Life, Frances collected from a variety of thrift stores 45 unique teacups, some bright, some pastel, some stylized, some delicately floral, some mugs, some closer to actual teacups. As participants filled their plates and found a seat, they also chose a cup to use for personal reflection as Frances shared.
During her after-lunch presentation, she asked us to consider why we selected the cup in front of us. Did we find the color or style appealing? Did the cup remind us of something? What about the cup connected to our lives? My mug, painted with brightly colored, realistically sketched fruits still on the vine with leaves and tendrils apparent, brought to mind the importance of authentic connections and taproot nourishment, so germane to generative living.  Not until I sat with my mug at home, however, did that realization surface.   
Reminding us that "these are very ordinary cups," Frances asked what about these simple cups might lead us to reflect on the cup of our lives?  "Could the cup be a reminder of spiritual thirst?  Our need to fill, drink, empty, wash…?"
Urging her listeners to think of the cup as an image of their own uniqueness, Frances quoted author Rupp as saying, "Too often people want someone else's spirituality rather than their own. I've discovered that the more I am conscious and accepting of God's love for me, the more I can accept myself and the unique way that my spiritual path unfolds. God created each one of us out of love. We are one-of-a-kind, unique, meant to be a light of love in transforming our world."
Like the mugs and teacups we chose, our lives are sometimes marred by bumps, scratches, cracks, and chips, Frances pointed out, suggesting that rather than seeing these imperfections as flaws, we might view them as opportunities to nurture "understanding and compassion," thus enabling change and growth.
Quoting author Rupp once again, Frances suggested that "wholeness implies a process, a gradual coming together into a oneness in which all the parts are integrated, but not necessarily perfect. Wholeness or holiness takes a lifetime of ups and downs. It can never be accomplished apart from divine help and guidance or without the interaction of our lives with others."
Back in the winter of 2007, I led an adult formation class based on The Cup of Our Life, gathering the chapter-by-chapter overviews below from the Rupp book for the class syllabus; ten years later, I find these snippets helpful to ponder anew and am grateful to Frances for bringing this book to mind once again.
The Cup of Life: What would it be like if we believed we were a love song of the Divine?  How would it change our presence with others?  While healthy spirituality requires a deep belief in our own loveableness, this belief is not always easy to accept.  May we find ways to see ourselves as songs of love, cups full of goodness, bringing life to others.
The Open Cup: As we ponder our openness, what brave steps might we take toward emptying those things that perhaps keep our spiritual cups from being filled?  How might uncluttering and making space for listening help prepare us to receive and trust?
The Chipped Cup: How might we look at personal flaws, not to criticize, but to see what they can tell us about our relationship with the Divine and with others.  How can we befriend parts of our personality we are reluctant to accept?   
The Broken Cup: Brokenness can be an instrument for change.  Pain received rightly has the power to transform.  What would happen if we met our frustrations, pains, and heartaches as we would meet a visitor having something to teach us?  What might we learn from those pieces of our lives that are still wanting and incomplete? 
The Cup of Compassion: Sometimes compassion asks us to simply 'be' with someone.  At other times, compassion asks us to 'do' something, to give of our time, to speak out for justice, to go the extra mile.  And sometimes compassion asks us to receive graciously from another who has need of our receptivity and our vulnerability.  
The Blessing Cup: Each of us can be a blessing.  When we bless, it is the deep and vast goodness of the Divine in us that blesses another.  When we bless, we touch another with something of the Divine.  How have you been blessed by the smiles, loving looks, stories and affirmations, concern and care of others?   
Add a comment
June 19, 2017
By:  Jane Bishop Halteman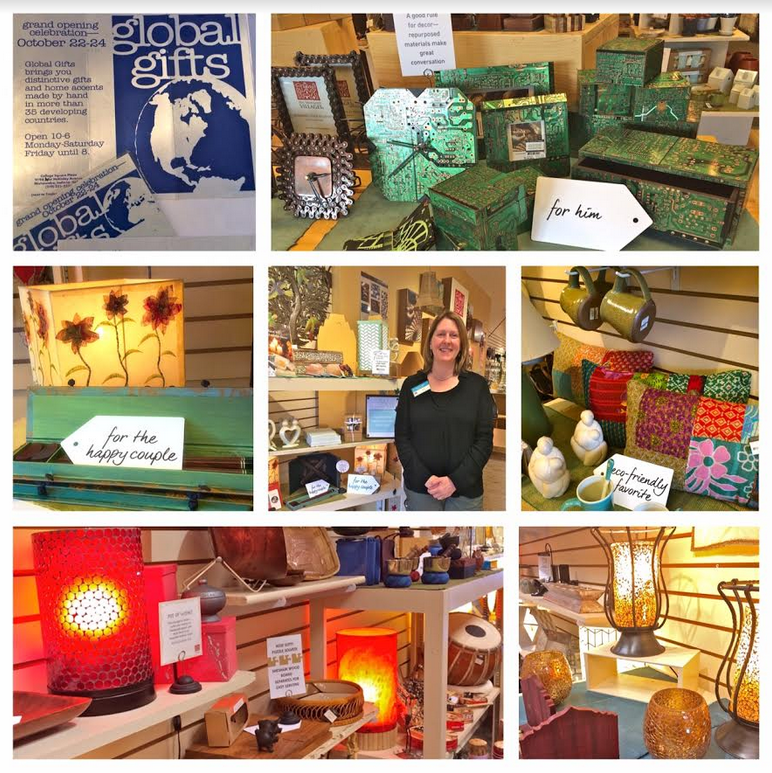 New manager Kelly surrounded by Ten Thousand Villages merchandise…a brochure in upper left announces the store's opening as Global Gifts 25 years ago
Ten Thousand Villages, a fair trade shop located at 214 W. Cleveland Rd., Granger, is in the midst of observing its 25th year in Michiana.  Back on April 10, the store welcomed new manager, Kelly Tooker, another reason to celebrate during this milestone anniversary year.
Kern Road Mennonite Church launched the store in 1992 as Global Gifts at a Mishawaka location, buying its inventory from Mennonite Central Committee's SELFHELP Crafts, a fair trade enterprise which changed its name to Ten Thousand Villages in 1996.  According to the mission statement of Villages' headquarters, "We create opportunities for artisans in developing countries to earn income by bringing their products and stories to our markets through long-term, fair trading relationships."
Born and raised in the Pacific Northwest, Kelly arrived in Indiana in the fall of 2011 when her husband Bob's career brought the family here.  She is no stranger to Ten Thousand Villages and its merchandise, having been a customer of the Portland, OR, store in the early 90s.  Some of her Haitian cut metal wall art from back then has traveled across the country with her and is now on display in their fourth house and third state, according to Kelly.     
Kelly and her husband also celebrated their 25th anniversary this year. Kelly is a master gardener, has completed organics certification, and observes permaculture practices in her home garden.  Before her move to Indiana, she worked in environmental services and taught natural resources and conservation at the high school level.
She has more than 15 years of experience in retail management, most recently as the garden center manager at Lowe's, and non-profit experience, most recently with Wellfield Botanic Gardens. She also has small business ownership experience, and managerial experience that includes work with volunteers. 
Kelly finds the store's location a good one, with its proximity to University Park Mall and good foot traffic at Centennial Place, the shopping center where Villages is located.  Nearby medical facilities regularly bring in patients from a distance, who stop in at the store before or after their appointments to further augment traffic, she said. 
She looks at the potential of local college students as both shoppers and volunteers, and hopes to establish campus ambassadors at Saint Mary's, Indiana University South Bend, Bethel, Notre Dame, and Holy Cross. Current interest in yoga and meditation also brings customers to Ten Thousand Villages. 
Kelly emphasized that "Villages stores complete the fair trade cycle by providing a marketplace." She asks that you 'like' our Ten Thousand Villages Mishawaka Facebook page to help expand organic growth and exposure, and invites you to help with the fair trade vision by making grassroots referrals to family and friends about the store, its merchandise, and its mission, by volunteering in the store, by assisting with marketing, education, and community outreach, and by helping with off-site sales in the tradition of Edna Ruth Byler, the woman behind the Ten Thousand Villages fair trade concept, who began selling Puerto Rican and West Bank needlework from the trunk of her car in 1946.
Starting today, the Mishawaka store's Monday Facebook post will feature some aspect of its past history, drawn from photos, clippings, and other memorabilia saved in scrapbooks over the years by KRMCer Luella.
"I truly believe that we are in this together. We must be the change we wish to see in the world and in our local communities," Kelly said in one of her early e-mail communications with board members and volunteers.  Speaking as the store's behind-the-scenes Facebook presence, I find Kelly an accessible, inspiring manager/encourager who takes great delight in equipping volunteers to do their jobs.
If you would like to volunteer with the Mishawaka Villages team, contact Kelly by phone (574.277.4900) or e-mail (This email address is being protected from spambots. You need JavaScript enabled to view it.). 
To learn more about how fair trade improves lives and strengthens communities, see Villages' description of its impact here. And this delightful Mrs. Green's World podcast offers good listening about the "guilt-free shopping" available at Ten Thousand Villages stores, including more about Edna Ruth Byler.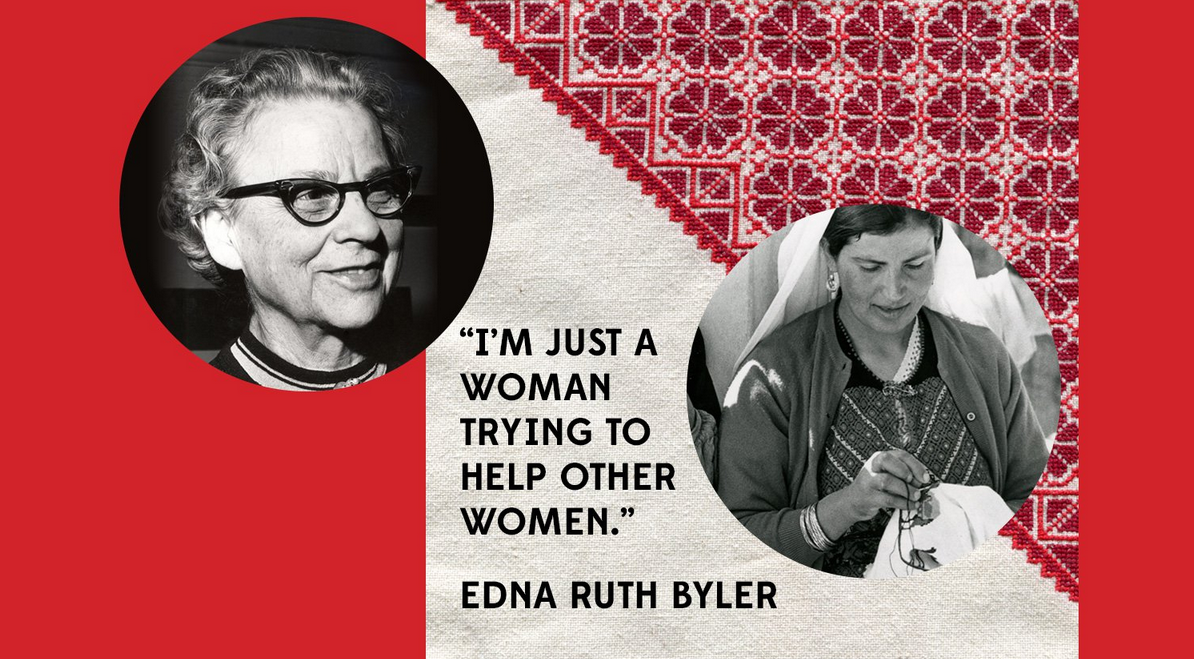 Ten Thousand Villages' image created by headquarters in conjunction with the organization's observance of 70 years in 2016
Add a comment
June 12, 2017
By Jane Bishop Halteman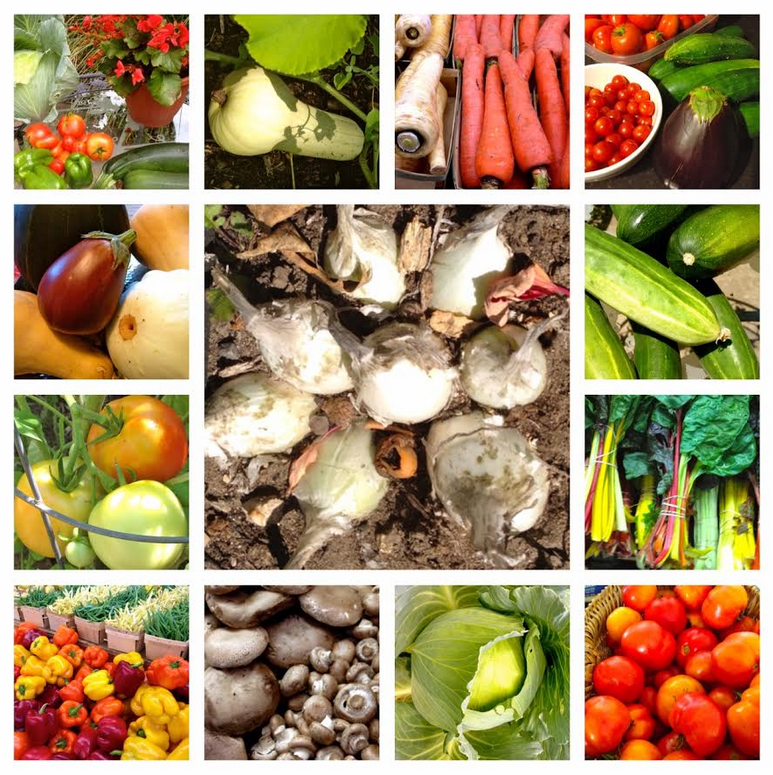 Soil is the source of life
Wendell Berry, in his book The Unsettling of America:  Culture and Agriculture, says that "the soil is the great connector of lives, the source and destination of all. It is the healer and restorer and resurrector, by which disease passes into health, age into youth, death into life. Without proper care for it we can have no community, because without proper care for it we can have no life."
Last week I came across this statement in the Mennonite World Review from Isaac Villegas who said the announcement that the US would be pulling out of its commitment to the Paris climate accord drove him to seek guidance from the Confession of Faith in a Mennonite Perspective:  "'As stewards of God's earth,' the Confession states in Article 21, 'we are called to care for the earth and to bring rest and renewal to the land and everything that lives on it.' Our vocation is to care for the Earth, to renew the soil, to allow for rhythms of restfulness for flora and fauna. We look after the well-being of God's creation, the work of God's hands."
Yesterday at Kern Road, in the first of a four-part Season of Creation worship series, Danile brought samples of forest, woodland, and farmed field soils and talked about how soil is the source of life and not unlike the Spirit in its vitality. The parable of the growing seed, from Mark 4:26-29, recounts the story of which she spoke in this way (The Message):  "Then Jesus said, 'God's kingdom is like seed thrown on a field by a man who then goes to bed and forgets about it. The seed sprouts and grows—he has no idea how it happens. The earth does it all without his help: first a green stem of grass, then a bud, then the ripened grain. When the grain is fully formed, he reaps—harvest time!'"
Indeed, a precious commodity, our earth and its soil, according to Danile, who suggested that the parable speaks of abundance as its farmer sows seed and waits, then trusts to a mysterious process, that process stimulated by rain and sun and good soil, soil made rich by earth worm castings and microbes trading nutrients for carbon created by plant roots.
Collaboration and mutual nourishment, she reminded us, are hallmarks of how soil is formed and how the Divine works among us.  Janice suggested in her follow-up musings that the parable prods us to think of soil as partner, co-creator with God.  "The soil is an agent with God…paying attention to the soil is paying attention to God's work" in the world.
In Dirt, the Ecstatic Skin of the Earth, William Bryant Logan speaks of the beauty of dirt.  "It is the nature of soil to build aggregates: plates or blocks or chunks, full of air and water channels. Gardeners in fact know their soils first and foremost by the size of the particles and the kinds of aggregates they build. Where organic decay and inorganic erosion meet, the conditions exist for a fertile soil, because the two in combination make a tortuous, knotty structure that offers roots the optimum mixture of mineral nutrients, organic nutrients, air, and water."
Several years ago author Fred Bahnson wrote of his experiences with Catholic, Protestant, Pentecostal, and Jewish faith communities as he explored "the connection between feeding the spirit and feeding the body." His book, entitled Soil and Sacrament:  A Spiritual Memoir of Food and Faith, suggests that "the garden is our oldest metaphor. In Genesis God creates the first Adam from the adamah, and tells him to 'till and keep' it, the fertile soil on which all life depends. Human from humus. That's our first etymological clue as to the inextricable bond we share with the soil. Our ecological problems are a result of having forgotten who we are—soil people, inspired by the breath of God."
According to Bahnson, "Each of these communities produced some of their own food, making them less dependent than most of us on a centralized, oil-addicted food system that is already showing signs of collapse. That simple act of growing food gave them something most of us don't possess: agency. They had regained a measure of freedom from anxiety. But there was also something more mysterious at work in these places. A merciful Presence brooding over the bent world. The answer to our hunger for more than just bread." 
Bahnson goes on to say that "many of those I've come to meet view soil as a sacrament: a physical manifestation of God's presence, a channel of Divine grace. They know soil is a portal that joins us to the world to come even while rooting us more deeply in this one."  (See more from Bahnson here in this fascinating excerpt from the prologue of his book.)  
I heard Danile and Janice sharing that sentiment in their Sunday sermon as well. Have you experienced soil as portal that not only joins us to the world to come but simultaneously roots us more deeply in this one? 
Add a comment
June 5, 2017
By Jane Bishop Halteman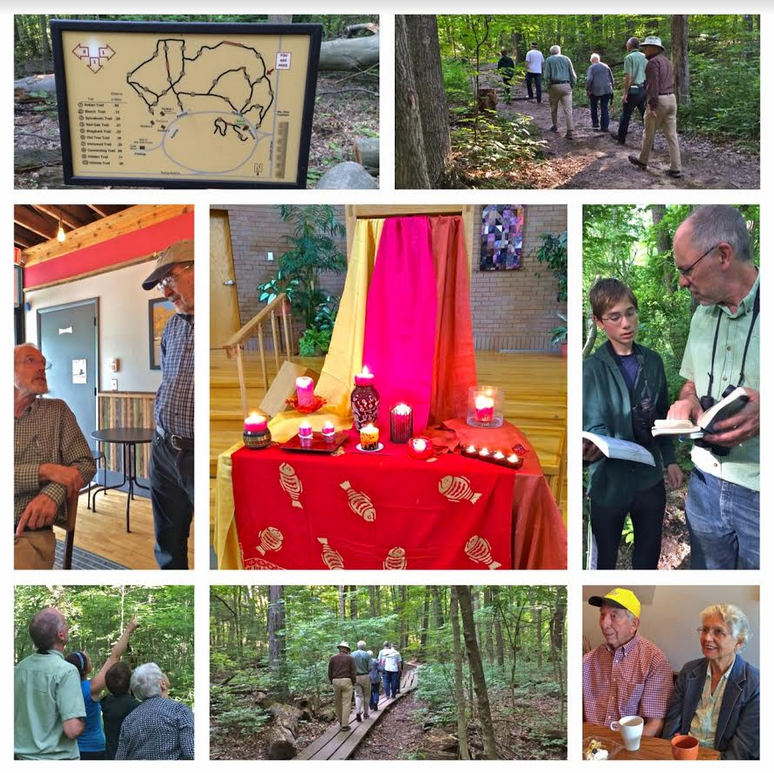 Area group exercises Pentecost living
Marty led us a mile and a half into and out of the woods Saturday on a western area group bird hike at Rum Village Park.  We were not a huge group…eight of us, including Marty's parents and a friend.  Maybe not such a successful turn-out if numbers are your measuring stick.
But participant numbers did not count on this trip, which fell on the morning of the Sunburst Races (billed as "one of the premier regional running events in the Midwest"), near the end of the Best. Week. Ever. in South Bend (meaning folks may have been tuckered out by the unceasing activity in our town), and just a few hours before a Catholic Worker/Near Northwest Neighborhood wedding to which a number of our area group families were invited as guests.
Precise numbers of birds spotted did count for Marty's report to ebird.org (Cornell Lab of Ornithology).  His list revealed that, on our hour and a half walk, we saw 2 Mourning Doves, 3 Red-bellied Woodpeckers, 2 Downy Woodpeckers, 1 Eastern Wood-Pewee, 5 Empidonax (a genus, rather than a species, meaning Marty couldn't quite pinpoint which of 15 species might have flown into view, though I heard him mention the Least Flycatcher on our hike), 2 Red-eyed Vireos, 2 Blue Jays, 2 White-breasted Nuthatches, 1 Wood Thrush, 6 American Robins, 2 Chipping Sparrows, 5 Northern Cardinals, 1 Common Grackle, 4 Brown-headed Cowbirds, and 1 American Goldfinch.
In an interview with philosopher Sam Keen, Spirituality & Practice website founder Frederic Brussat asks Keen about birders as mystics.  Keen responds:  "Birders are instinctively reverential and thankful for all the multicolored angels that appear out of the void—free, no hidden charges. Birders know how to wait, be silent, and adore—essential spiritual disciplines."
Kevin Kummer's essay on Birdwatching and Prayer lists four spiritual disciplines he has learned from birding that he says have enriched his life.  Suggesting that both bird watching and prayer have to do with seeing, Kummer notes that "when I do slow down enough to see with my eyes and actually observe the world around me, I am awed by what I see….Unless I consciously choose to alter my pace and pay attention, I miss much of what is all around me in the physical world."
Kummer also notes that "I find that my ears, when alert, are the best tools I have for locating a bird in the first place. A call, the rustle of leaves, or the whirr of wings gets my attention and turns my eyes in the right direction. Seeing and hearing work together. In contemplative prayer, to hear requires not only slowing down and paying attention, but also stillness."
Thirdly Kummer relates that guides and guidebooks have mentored his birding acumen even as authors like C. S. Lewis, Annie Dillard, and Eugene Peterson have been spiritual mentors to him. "I have lived amidst birds my whole life—as we all have—but  it wasn't until I got hold of a guide book that I learned to recognize, identify, and get to know particular birds. I had to be mentored in seeing. Learning what to look for and how to look was not automatic and I gained a great deal by learning from those who were more experienced than I but whose wonder and love of birds I shared."
Kummer's fourth discipline relating to both prayer and bird-watching is taking notes and making records.  "I have discovered that a notebook and pen are tremendous aides to seeing, hearing, reflecting, writing, and praying….The act of recording, describing, reflecting, and savoring what I see deepens the impression made on me by a bird or the Spirit."
We are grateful to Marty, who will start high school in the fall, for mentoring us by sharing his enthusiastic love of birding, which began just over a year ago, according to his father, on a family birding excursion.  Marty taught us by example that seeing, listening, and record-keeping are important for would-be birders as well as persons of faith.  He reminded us in advance of our hike that binoculars are key and demonstrated the importance of guidebooks, showing us, too, the pouch he created inside his sweatshirt to carry his guidebook!  His knowledge of bird identification, bird calls, bird behaviors and habitats amazes me.
Our morning together concluded at the Near Northwest Neighborhood's Local Cup, a pay-it-forward coffee shop, where four more of our area group members joined us, including Homer and Betty, who were celebrating their 61st anniversary that very day; they took time earlier that morning to cheer on son Jim, who ran the half marathon.  Jim arrived eventually (it was good to congratulate both him and his parents), and Turfena popped in to say hello from her home nearby.
We all enjoyed meeting a retired Episcopalian priest who visited the coffee shop.  He shared that he's about to make a "very public announcement in agreement with the Paris Accord by installing solar panels" on his house. Vic, who spearheaded KRMC's recent solar installation project, made a quick connection and they will be in touch.
As I listened to Lane's Pentecost sermon on Sunday and his proclamation that "Pentecost makes the newly birthed church a place of connection from God to people and people to God," it struck me that our neighborly coffee shop connections, Marty's mentoring, and the disciplines we began to exercise in birding are most certainly a part of Pentecost living. 
If you are a bird-watcher or are considering getting more involved in birding as hobby or spiritual discipline, you might enjoy this film review of Birders: The Central Park Effect at the Spirituality & Practice website.  The review states that "filmmaker Jeffrey Kimball has done a remarkable job, giving us insights into (birders') passion and pleasure in what we recognize as spiritual practices: questing, paying attention, seeking beauty, and being truly present..." 
Add a comment