Glimpses of Healing and Hope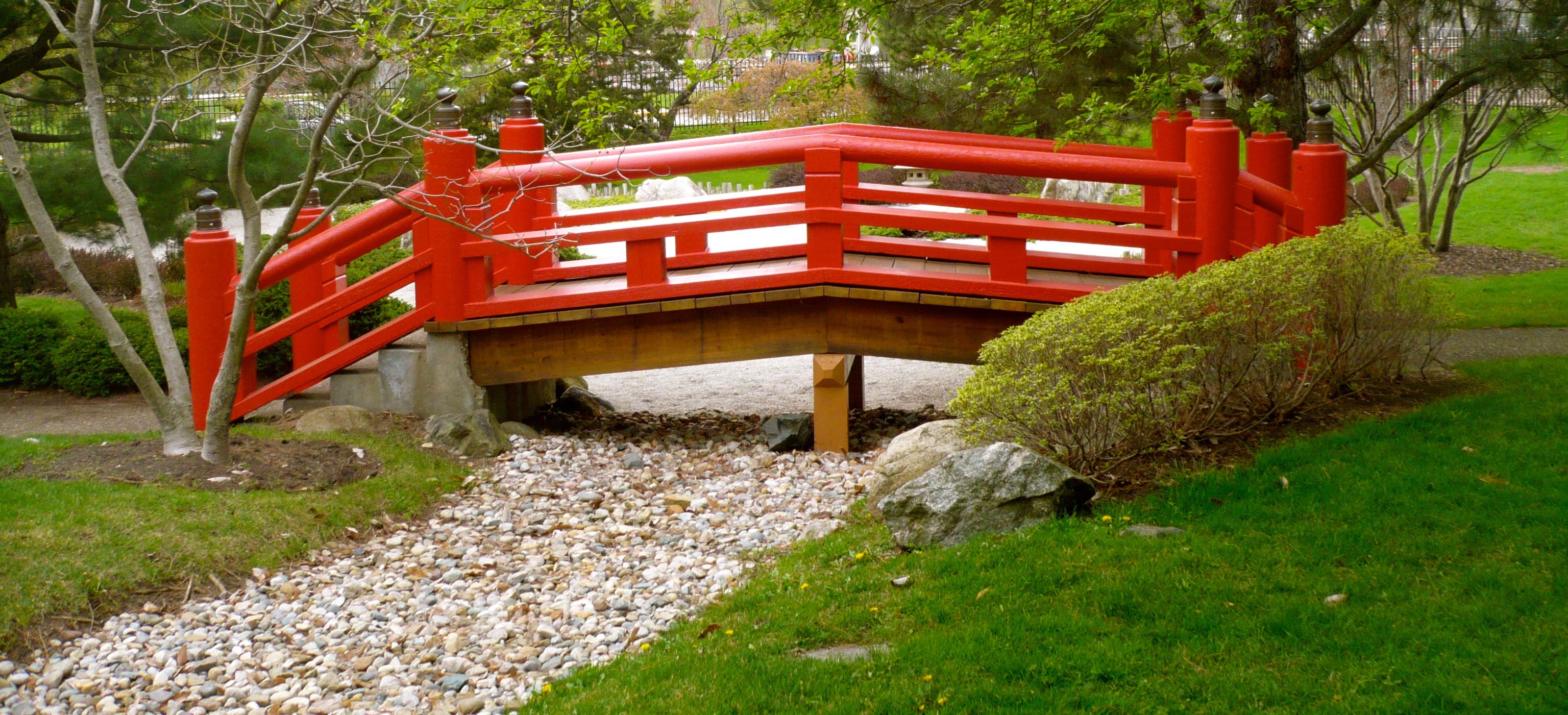 June 27, 2016
by:  Jane Bishop Halteman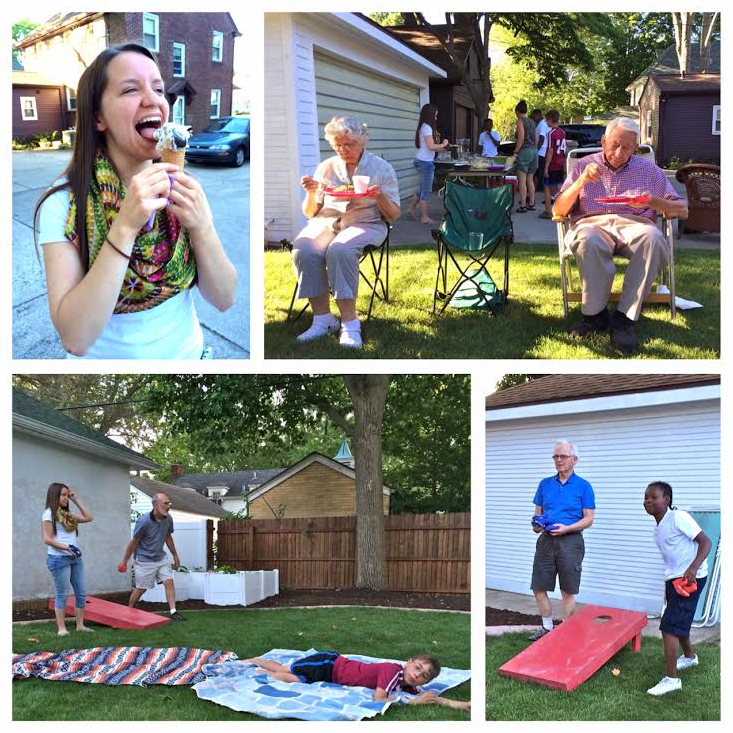 Food, fun, fellowship at western area group yard party 
KRMC's western area group, which enjoys food, fun, and fellowship and tries to make time for a quarterly get-together, frolicked Friday evening around rousing games of cornhole (find out more about this yard sport at this Wikipedia location) and picnic food at a yard party hosted by Carl and Carolyn.
We invited Monica, our summer Ministry Inquiry intern from Goshen College, to join us to get acquainted, and discovered what a fine cornhole player she is.  She and Dionta ruled most of the evening, only to be edged out finally by Cathy and Jim.  Monica, by the way, preached an amazing sermon in three parts Sunday morning on Jesus' compassion for a grieving woman.  If you missed it, check out this link to the audio of her sermon.

Focus on food
A lovely array of main dish salads and dips with veggies and pita was perfect for a pleasant evening meal, along with Betty's ice cream whoopie pies for dessert.  Sprawled around the yard in comfy lawn chairs (some with cup holders for Carolyn's infused strawberry/lime water), we learned about Homer's novel learning device from the Amish community (he'd love to show it to you and tell you about it!) and heard from our hosts, who are relative newcomers to this country and Kern Road, about their former life in Canada.  Marty, who demonstrated his skill at climbing trees and the garage roof, shared that he has spotted 43 varieties of birds in South Bend.  His life list continues to grow.  The ambient sounds of music piped from a loud speaker system in the back yard and neighbors partying down the street offered a relaxing backdrop as we learned more about each other during our few hours together.    
Back in the winter months, our area group held a traveling dinner which progressed to four homes for appetizers, followed by salads, main dishes, and finally desserts.  Some of us helped with the Near Northwest Neighborhood's cleanup in April.  And others of us attended the May house warming/blessing for the Ahuatl family.  (See this link for a blog post about the family if you haven't already read it.)
Area groups, by which KRMCers are divided into subsets according to where they live, are tasked with building relationships.  Aside from fellowship with each other, groups facilitate support during times of illness or transition, celebration of significant events, and welcoming newcomers.
Your area group leaders would love to hear from you about the kinds of activities you would enjoy in your neighborhoods.  Don't hesitate to share with each other how area group activities have helped create bonds with your fellow KRMCers and how you have come to see the Divine in one another!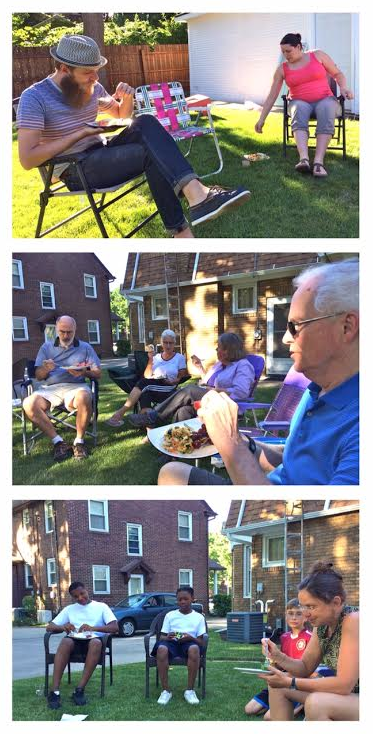 Yes, we ate well
Add a comment
June 20, 2016
by:  Jane Bishop Halteman

What does a restorative getaway look like for you?  How do you find renewal from routine?  Where do you seek respite from your ordinary schedule or practice?  How do you make space to live into a new season of life?
At 40, three Goshen College friends and I made a getaway trip to San Antonio.  We did Chicago at 60 and at least two more getaway excursions between 60 and last week, when we went to Columbiana, OH, to prepare to embrace 70.  One of us already has celebrated that birthday; for three of us, it continues to loom.
Our home base at Das Dutch Village Inn, located not far from Youngstown, gave us access to nearby farm-to-table meals, beautiful gardens, the exquisitely remodeled oldest brick building in Ohio, and back-to-our-roots roadside markets, where we picked up home baked goods and seasonal fruits and produce to take home with us on the final day. 

In the midst of full-fledged fun and fellowship, we sandwiched in time to catch up with each other by listening well, exchanging gifts, relaxing with Zentangle and collage projects, visiting specialty shops for trip mementoes or stocking stuffers, having a dish of Handel's Homemade Ice Cream (with exotic flavors like salty caramel truffle).  Because Orlando happened the day before our trip, instead of isolating ourselves from the pain and wall-to-wall coverage, we absorbed a bit of night-time TV in an effort to help shoulder some of the hurt so many were thrown into unexpectedly that week.
We took in Mill Creek Park Fellows Riverside Gardens' beautiful plantings and many-splendored gift shop on our first full day away, and, following a delicious lunch of locally sourced ingredients, we retired to a shady spot by a water feature to try our hands at Zentangle.  The one of us experienced in Zentangle patiently tutored the other three.   
Described in a 2014 Psychology Today article as "creative aimlessness," Zentangle is compared by author Cathy Malchiodi to meditative walking.  "If we stay focused on the future, we lose the joy of our steps in the here and now.  The same is true of the process of tangling.  If we get caught up in judgment and deliberation, we are not in the here and now.  But if we simply enjoy the creative process, we can enjoy every single moment of it and that is ultimately what any creative expression offers us.  Zentangle teaches us not to rush and to take good care of ourselves in the present moment—after all, the present moment is all there is." 

On our second trip to the gardens (gratefully received by all, but necessitated because one of us left behind purchases from the day before), we planted ourselves at a table in the beautiful garden library to select from a calendar stash photos descriptive of our present status in life or something for which we might continue to hope.
The following evening we created our collages in a comfortable lounge area outside our second floor suite, following a daytime outing to the restored Courthouse Inn and Restaurant in nearby Lisbon.  Now designated the oldest brick building in Ohio, this location may have been visited by Lewis and Clark, who started their expedition on the nearby Ohio River four years after the inn was constructed in 1802.  Learn more about this beautifully restored spot in this video, where Salem, OH, native and jewelry designer Renee Lewis discusses her vision for the project. 

According to salemnews.net, Lewis spent more than a decade painstakingly restoring the three-story Hamilton Building. "Over the past 212 years it has been a hotel, dry goods store, drug store, and law offices for various attorneys. Lewis took on the project initially to preserve the historic structure as a tribute to her mother, hoping it would inspire other property owners in Lisbon to do likewise."
Our collages revealed that, while we have come to know ourselves well at our stage of life, we continue to long to be true to ourselves, and to find what may still be waiting to be birthed in us.

Safely home again after this four-day retreat from business-as-usual, the time together left us pondering what might come next as we step into our 70s.  What a synchronicity, then, to be offered this quote Saturday night as the opening thought in a meeting hosted by Biff and Margie with some KRMCers, Catholic Worker friends, and a few others with whom we've been journeying this year:   
"Entering our later decades calls us to look more deeply and more truthfully than we perhaps ever have at what we are doing with these lives of ours.  We are face to face with our last chance to experience our lives more fully and more freely, to experience life so much more able to love and give and forgive.  Many of us have lived much of our lives as a dress rehearsal, without the sharp mindfulness of opening night.  How kind and wise it would be to live these last years in presence, authenticity, and radically simple sanity.  If we have any desire to ripen into spiritual maturity—into the abiding experience of the sacred, of all that lies beyond this small self—now is the time." 
Kathleen Dowling Singh wrote those words in The Grace in Aging.  They seem relevant to me, particularly in light of last week's trip.  Whatever your age, how are you making now the time?
Add a comment
June 13, 2016
by:  Jane Bishop Halteman

Dirk Willems rescues his pursuer in a famous Martyr's Mirror illustration
Local, regional, and worldwide Mennonite representatives participated Saturday at Century Center in South Bend during the closing worship service of the Indiana-Kentucky Synod of the Evangelical Lutheran Church in America as that body took steps to extend the hand of fellowship to area Anabaptists.
Just prior to closing worship, an unrehearsed choir including eight Kern Road representatives along with approximately 20 more persons from seven other Goshen/Elkhart area congregations sang unaccompanied four-part harmony hymns as their contribution to a meeting of the 500-delegate session explaining the background of the Lutheran-Mennonite dialogue which dates back to 1980.
A timeline on the Lutheran World Federation's (LWF) website points out several milestones in the recent dialogue history:  in 2008 the LWF Council agreed to explore whether Lutherans might apologize for their ancestors' actions against Anabaptists during reformation times, followed in 2010 by LWF's 11th assembly in Stuttgart asking Mennonites for forgiveness and committing itself to look at ways of implementing a reconciliation process. 
Healing Memories:  Reconciling in Christ, published in 2010 by The Lutheran World Federation and Mennonite World Conference (MWC), reported that, at the MWC assembly in Paraguay in July 2009, LWF general secretary Ishmael Noko, who grew up in present-day Zimbabwe as the child of an Anabaptist mother, "received an emotional standing ovation as he described Lutheran sorrow and regret at their history and their intention to seek forgiveness:  'We take these steps as we Lutherans are approaching a milestone anniversary; in 2017, we will observe 500 years of Reformation. It is important we bring to this observance not only celebration of the fresh insights into the gospel which arose from this movement but also a spirit of honesty and repentance, a commitment to the continuing reformation of our tradition and of the whole Church. It is in this spirit that we hope to move forward on this issue of the heritage of our condemnations.'"
Larry Miller, then MWC general secretary, "also received warm thanks and a standing ovation in October 2009, as the Lutheran World Federation Council voted unanimously to recommend that the 2010 assembly ask forgiveness 'of God and of our Mennonite brothers and sisters' for the wrongs of the persecution and its legacies 'up until the present day.'"
Miller said, "We receive your commitment to rightly remember this shared history, and your vulnerability in taking steps to heal the fractured body of Christ in which we live together, as a gift from God.  We are aware of the difficulty of the task. We are dealing with holy histories, yours and ours. We are dealing with our most basic self-understandings, yours and ours. For you, the witness of the Augsburg Confession is foundational and authoritative, an essential shaper of your identity. For us, the witness of the Anabaptist martyrs is a living and vital story, retold in our global community of churches to build group identity."  
Miller's comments also included these questions to the Lutherans and to the Mennonites:  "How can you distance yourself from the condemnations and their consequences while still honoring your history and strengthening your identity? How can we distance ourselves from use of the martyr tradition which perpetuates a sense of victimization and marginalization—and your reaching out for forgiveness pushes us to do precisely that—how can we thus distance ourselves while still honoring our history and strengthening our identity?" 
As she shared some of this history with the delegate session Saturday, Kathryn Johnson, named director in 2015 of Ecumenical and Inter-Religious Relations for the denomination, referenced the 16th century Dirk Willems story (illustration posted above) in which Dutch Anabaptist Willems rescued his pursuer from falling through melting ice.  Having been imprisoned for his religious stance, Willems escaped but was rearrested after pulling the guard to safety.  He was burned at the stake four days later.  Lutherans had forgotten their role in that sort of religious persecution, Johnson said, until talks between them and Mennonites began. 
Mennonites participating at the local event Saturday included Nelson Kraybill, lead pastor at Prairie Street Mennonite Church in Elkhart and current Mennonite World Conference president, and Andre Gingerich Stoner, KRMCer who is employed by Mennonite Church USA as director of holistic witness and interchurch relations. Other singers involved with Kern Road included Lane Miller, Monica Miller, Christine Regier, Cathy Stoner, Mark Smucker, Jim and Jane Halteman.
Kraybill presented a basin and towel to Bishop William Gafkjen of the ELCA, and Stoner, who indicated that "Mennonites are deeply moved by the seriousness with which Lutherans took this action," confessed that "we have been tempted to tell the best of our story and the worst of yours.  We are sorry for that."
He continued, "We have asked Mennonite educators to examine the stories they tell about Lutherans.  This exercise, this work can and is changing us, both Lutherans and Mennonites, freeing us to be more of who God intends us to be.  We cling to our martyr stories; we have sometimes told them as that's what they did to us, rather than as this is what it means to follow Jesus.  We remain wounded if we don't do the hard work of healing."
Observing that "the story of trauma still runs deep in our veins," Stoner said, "The unhealed trauma still keeps us bound in ways we don't understand.  We want to let this new reality shape us, free us, unbind us" as we walk into a new chapter in our relationship with Lutherans.
Add a comment
June 6, 2016
by:  Jane Bishop Halteman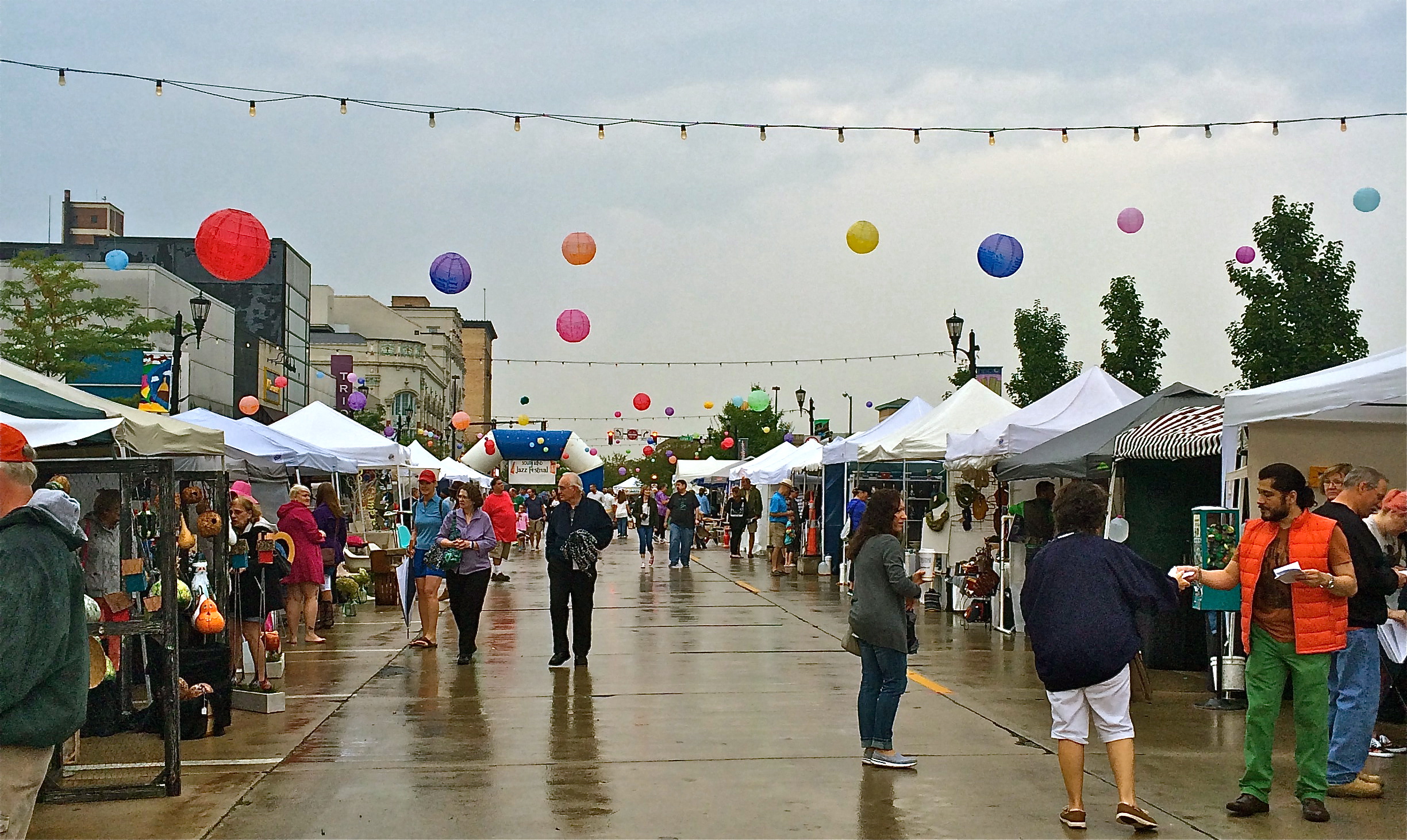 Even though summer doesn't actually begin for several more weeks, Memorial Day appears to open the season unofficially.  We've already had a taste of summer in South Bend this last week and the beauty of the season has manifested itself by providing things to do, people to see, places to go.   Why not grab a small group member, area group friends, someone you know well, someone you'd like to get to know better, or a newcomer and take in some of these local simple pleasures of the season!
Here are five things I love about summer in South Bend: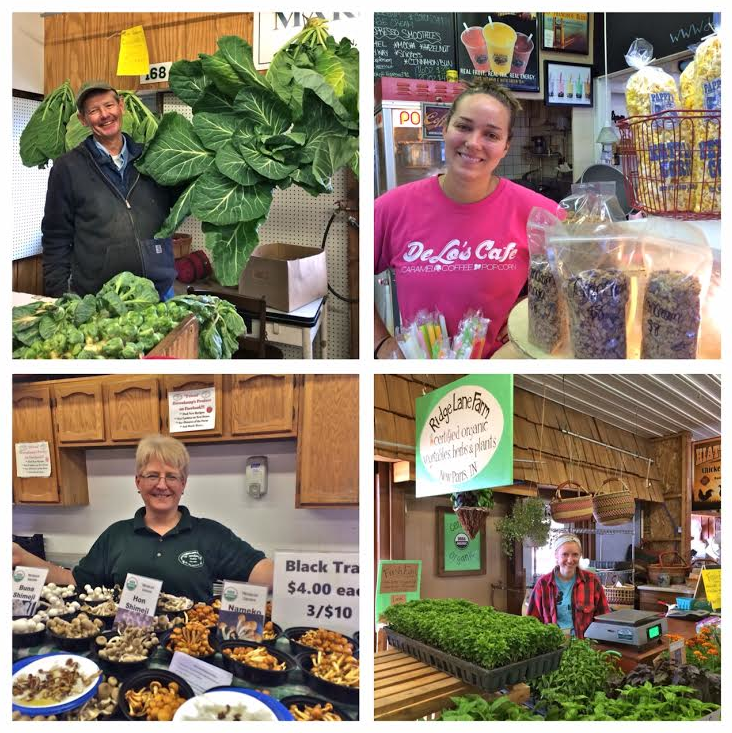 Visiting the South Bend Farmers' Market has delighted me since before I moved to town five years ago.  I appreciate the fact that it is open year-round, but the abundance of growing things fresh from the garden in late spring and summer is a sight to behold.  Packed with the vibrant energy of lots of people if you go late enough on Saturday morning, I also find it relaxing to roam leisurely the 96 stalls located in two houses on days that are less crowded (Tuesday, Thursday, Friday from 7 to 3 during the summer months), when I am able to take time to talk to my farmer/vendor friends, some of whom now call me by name. 
That's not only witness to how often I visit the market, but a testament as well to how important customers are to regular vendors.  As its webpage states, the market "is a place that allows you to form a personal relationship with the people who produce your food.  This vital connection strengthens the community by preserving a food industry based on family-owned farms and small-scale businesses."
The market is my go-to place for bananas at Johnson's Produce, maple syrup and weekly bouquets in season from two Lemler stalls, vegetable starts for our garden from The Glenn Vite Farm, as well as the vegetables from a number of stalls that we eat all summer long (and beyond) because we don't grow them ourselves.
I often stop for coffee from Ashley at DeLo's Cafe.  She remembers my preferences (except when I occasionally switch from hot to cold or change flavors) and recommends new things to try when I'm ready for a change.  I like learning how the weather is treating farmers Curt and Mark at Hetler Farms, where I buy beets and carrots all winter and supplement our own produce in the summer months.  Elaine of Hovenkamp's Produce makes my day with delectable mushrooms, scads of recipes, and a cheery presence on Saturdays.  Rachel at Ridge Lane Farm always has the organic potatoes I need for summer salads.   
Spending time at downtown festivals and seasonal events is a good choice if you don't mind crowds and go prepared for the elements.  The Leaper Park Art Fair is just around the corner June 18 and 19, going on as usual for the 49th year but with some traffic challenges this summer due to downtown road construction nearby.  (See info on how to avoid traveling issues here.) Art Beat is another fun Saturday event (August 20 this year), and Downtown South Bend Architectural Walking Tours look like a good bet for $2.  This season's remaining tours will take place on June 3, July 1, August 5, and September 2, according to this website, which offers reservation information.  If you've never done a First Fridays in South Bend, you might want to wander downtown for these special occasions, hosted from 5 to 9 every first Friday of the month.  More on those events can be found here.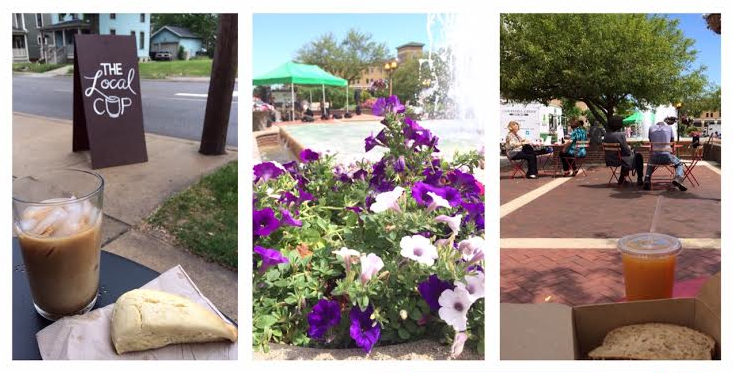 Lunching at Fridays by the Fountain or Red Table Plaza Concert Series is a fun way to go if you can be downtown over the noon hour.  The fountain series is a special treat for me because our daughter-in-law helped launch it 15 years ago while employed at the Morris Performing Arts Center.  The 2016 series began this past Friday and will continue through August 26.  This site offers details.  Mondays, Tuesdays, Wednesdays, and Thursdays through September, weather permitting, local musicians will play from 11:45 to 1:15 during the Red Table Plaza series at Studebaker Plaza on the southwest corner of Jefferson and Michigan.  Check this site for musician line-up and restaurants offering grab-and-go menu options for these events.  It was a pleasant surprise to find The Grateful Green Food Truck at this past week's event.  (If you are not already acquainted, check here to stay in touch with the truck's location from day to day.) And it's always fun this time of year to hang out with friends and neighbors at your local small business, like the Near Northwest Neighborhood's Local Cup.

Retreating by the Saint Joe River has been a favorite pastime of mine since our move to South Bend.  Find your own preferred spot close to home or on the other side of town, near a river walk feature or bike path, or visible from the outdoor veranda of your favorite local restaurant.  Don't forget to take time to view the River Lights, which come on half an hour before sunset and remain interactive (see this website for more information) until midnight.  Seitz Park, Colfax Bridge, Island Park, and Pier Park are reportedly the best spots for viewing the River Lights installation.  "Color splashes from two interactive light sculptures on either side of the river, amplifying the majestic cascade of water, joined with a third sculpture highlighting the exquisite 'Keeper of the Fire' statue, and symbolically uniting the two sides of the river," the website reports.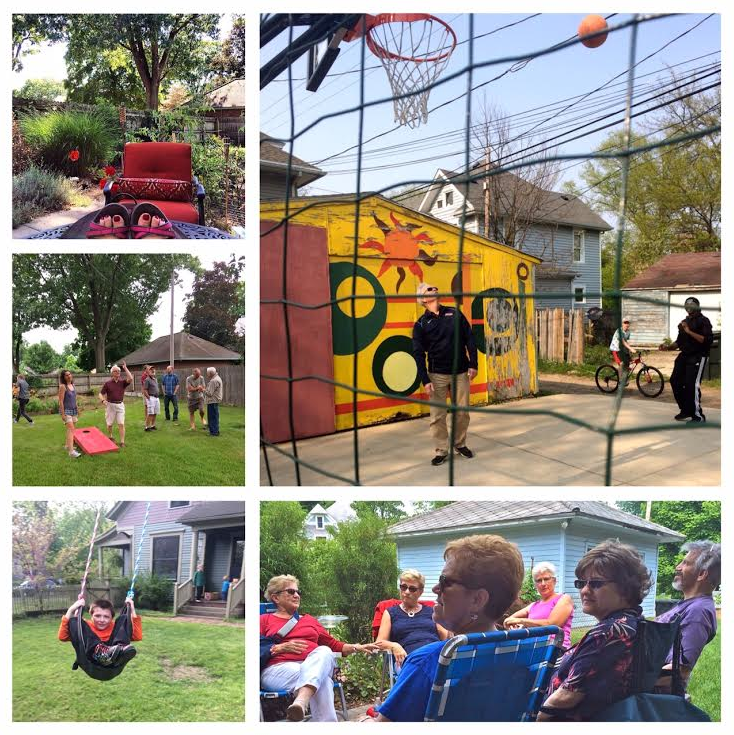 Enjoying back yard gatherings and personal solitude are highlights of the summer for me.  I love it when birthday parties, small group potlucks, even area group gatherings take place in our own yards.  We can enjoy the beauty of nature together, play outdoor games, and do messy art projects with the kids.  And it's great to find a quiet space at home to have a solitary morning coffee while watching birds build their nests or bees buzz their way through the garden.  Jenny Wren was singing the morning I caught the first rays of sunshine last week with coffee cup in hand.
This list of summer fun in the Bend is by no means exhaustive.  Branches of the St. Joseph County Public Library are a good place to spend lazy summer days, to find a change of scenery, to take the kids or grandkids to check out a new book or video.  You can't go wrong with free concerts on Sundays from 4 to 7 at the East Race/Seitz Park series or the Potawatomie Park series which typically is scheduled for Sunday evenings.  Google to find out who is performing and exact times.
Take time to notice where you see the hand of the Divine as you interact with others in these summer settings.  How do you observe your hunger and thirst for authentic spiritual vitality being filled by life's simple pleasures? 
Add a comment