Glimpses of Healing and Hope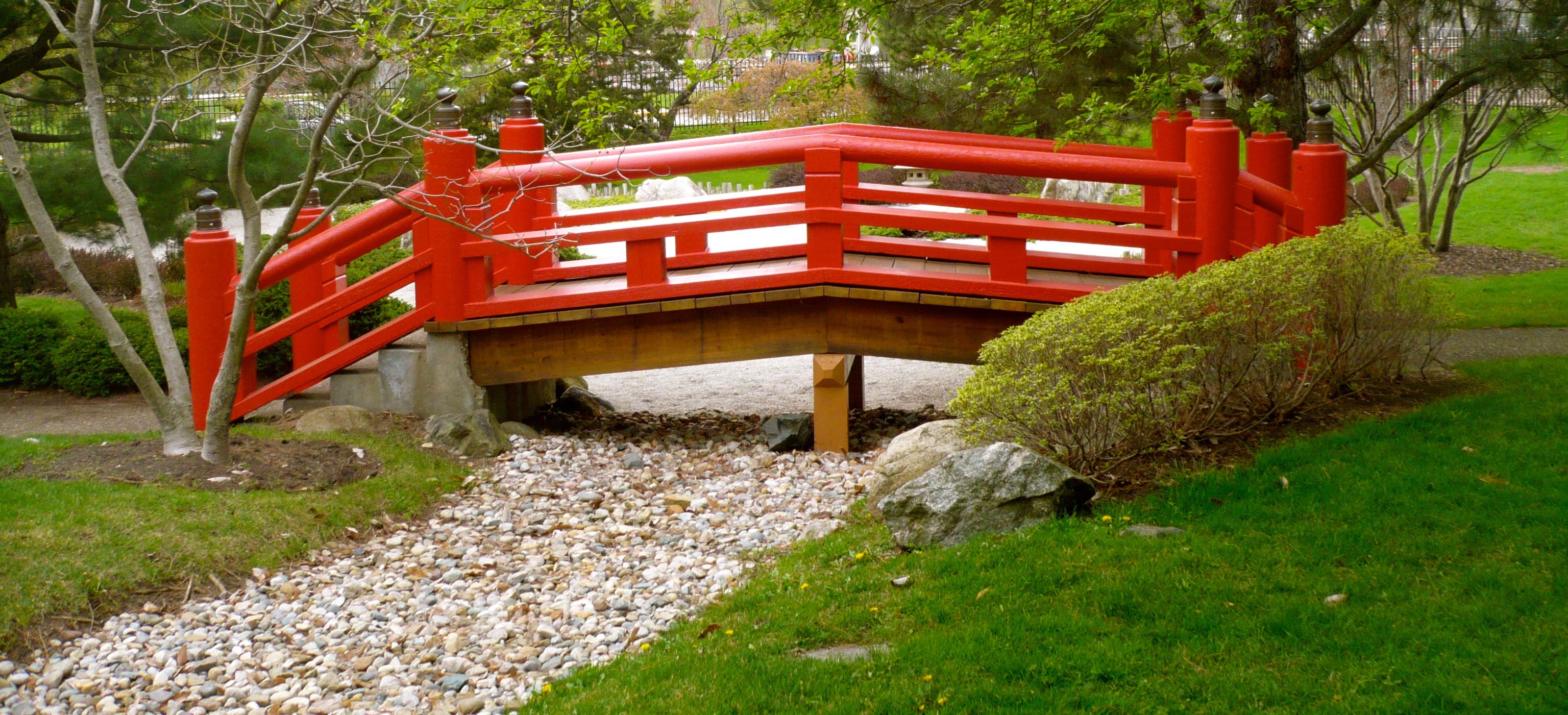 June 12, 2017
By Jane Bishop Halteman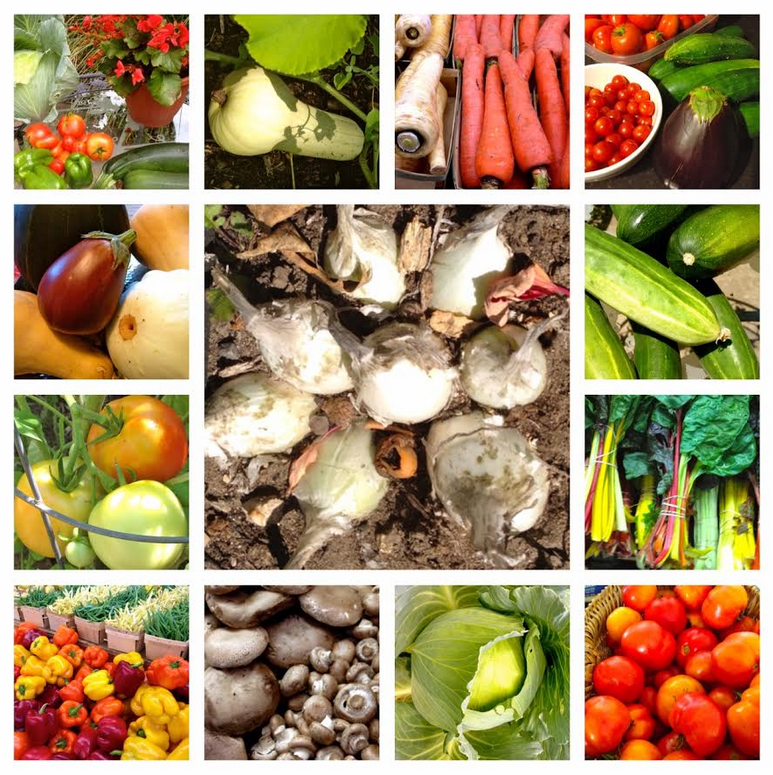 Soil is the source of life
Wendell Berry, in his book The Unsettling of America:  Culture and Agriculture, says that "the soil is the great connector of lives, the source and destination of all. It is the healer and restorer and resurrector, by which disease passes into health, age into youth, death into life. Without proper care for it we can have no community, because without proper care for it we can have no life."
Last week I came across this statement in the Mennonite World Review from Isaac Villegas who said the announcement that the US would be pulling out of its commitment to the Paris climate accord drove him to seek guidance from the Confession of Faith in a Mennonite Perspective:  "'As stewards of God's earth,' the Confession states in Article 21, 'we are called to care for the earth and to bring rest and renewal to the land and everything that lives on it.' Our vocation is to care for the Earth, to renew the soil, to allow for rhythms of restfulness for flora and fauna. We look after the well-being of God's creation, the work of God's hands."
Yesterday at Kern Road, in the first of a four-part Season of Creation worship series, Danile brought samples of forest, woodland, and farmed field soils and talked about how soil is the source of life and not unlike the Spirit in its vitality. The parable of the growing seed, from Mark 4:26-29, recounts the story of which she spoke in this way (The Message):  "Then Jesus said, 'God's kingdom is like seed thrown on a field by a man who then goes to bed and forgets about it. The seed sprouts and grows—he has no idea how it happens. The earth does it all without his help: first a green stem of grass, then a bud, then the ripened grain. When the grain is fully formed, he reaps—harvest time!'"
Indeed, a precious commodity, our earth and its soil, according to Danile, who suggested that the parable speaks of abundance as its farmer sows seed and waits, then trusts to a mysterious process, that process stimulated by rain and sun and good soil, soil made rich by earth worm castings and microbes trading nutrients for carbon created by plant roots.
Collaboration and mutual nourishment, she reminded us, are hallmarks of how soil is formed and how the Divine works among us.  Janice suggested in her follow-up musings that the parable prods us to think of soil as partner, co-creator with God.  "The soil is an agent with God…paying attention to the soil is paying attention to God's work" in the world.
In Dirt, the Ecstatic Skin of the Earth, William Bryant Logan speaks of the beauty of dirt.  "It is the nature of soil to build aggregates: plates or blocks or chunks, full of air and water channels. Gardeners in fact know their soils first and foremost by the size of the particles and the kinds of aggregates they build. Where organic decay and inorganic erosion meet, the conditions exist for a fertile soil, because the two in combination make a tortuous, knotty structure that offers roots the optimum mixture of mineral nutrients, organic nutrients, air, and water."
Several years ago author Fred Bahnson wrote of his experiences with Catholic, Protestant, Pentecostal, and Jewish faith communities as he explored "the connection between feeding the spirit and feeding the body." His book, entitled Soil and Sacrament:  A Spiritual Memoir of Food and Faith, suggests that "the garden is our oldest metaphor. In Genesis God creates the first Adam from the adamah, and tells him to 'till and keep' it, the fertile soil on which all life depends. Human from humus. That's our first etymological clue as to the inextricable bond we share with the soil. Our ecological problems are a result of having forgotten who we are—soil people, inspired by the breath of God."
According to Bahnson, "Each of these communities produced some of their own food, making them less dependent than most of us on a centralized, oil-addicted food system that is already showing signs of collapse. That simple act of growing food gave them something most of us don't possess: agency. They had regained a measure of freedom from anxiety. But there was also something more mysterious at work in these places. A merciful Presence brooding over the bent world. The answer to our hunger for more than just bread." 
Bahnson goes on to say that "many of those I've come to meet view soil as a sacrament: a physical manifestation of God's presence, a channel of Divine grace. They know soil is a portal that joins us to the world to come even while rooting us more deeply in this one."  (See more from Bahnson here in this fascinating excerpt from the prologue of his book.)  
I heard Danile and Janice sharing that sentiment in their Sunday sermon as well. Have you experienced soil as portal that not only joins us to the world to come but simultaneously roots us more deeply in this one? 
Add a comment
June 5, 2017
By Jane Bishop Halteman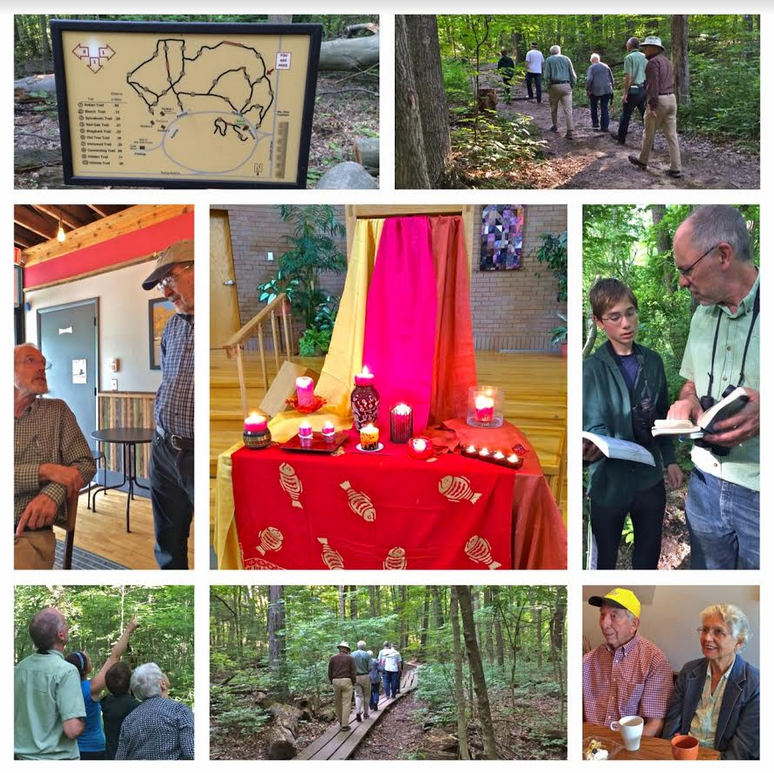 Area group exercises Pentecost living
Marty led us a mile and a half into and out of the woods Saturday on a western area group bird hike at Rum Village Park.  We were not a huge group…eight of us, including Marty's parents and a friend.  Maybe not such a successful turn-out if numbers are your measuring stick.
But participant numbers did not count on this trip, which fell on the morning of the Sunburst Races (billed as "one of the premier regional running events in the Midwest"), near the end of the Best. Week. Ever. in South Bend (meaning folks may have been tuckered out by the unceasing activity in our town), and just a few hours before a Catholic Worker/Near Northwest Neighborhood wedding to which a number of our area group families were invited as guests.
Precise numbers of birds spotted did count for Marty's report to ebird.org (Cornell Lab of Ornithology).  His list revealed that, on our hour and a half walk, we saw 2 Mourning Doves, 3 Red-bellied Woodpeckers, 2 Downy Woodpeckers, 1 Eastern Wood-Pewee, 5 Empidonax (a genus, rather than a species, meaning Marty couldn't quite pinpoint which of 15 species might have flown into view, though I heard him mention the Least Flycatcher on our hike), 2 Red-eyed Vireos, 2 Blue Jays, 2 White-breasted Nuthatches, 1 Wood Thrush, 6 American Robins, 2 Chipping Sparrows, 5 Northern Cardinals, 1 Common Grackle, 4 Brown-headed Cowbirds, and 1 American Goldfinch.
In an interview with philosopher Sam Keen, Spirituality & Practice website founder Frederic Brussat asks Keen about birders as mystics.  Keen responds:  "Birders are instinctively reverential and thankful for all the multicolored angels that appear out of the void—free, no hidden charges. Birders know how to wait, be silent, and adore—essential spiritual disciplines."
Kevin Kummer's essay on Birdwatching and Prayer lists four spiritual disciplines he has learned from birding that he says have enriched his life.  Suggesting that both bird watching and prayer have to do with seeing, Kummer notes that "when I do slow down enough to see with my eyes and actually observe the world around me, I am awed by what I see….Unless I consciously choose to alter my pace and pay attention, I miss much of what is all around me in the physical world."
Kummer also notes that "I find that my ears, when alert, are the best tools I have for locating a bird in the first place. A call, the rustle of leaves, or the whirr of wings gets my attention and turns my eyes in the right direction. Seeing and hearing work together. In contemplative prayer, to hear requires not only slowing down and paying attention, but also stillness."
Thirdly Kummer relates that guides and guidebooks have mentored his birding acumen even as authors like C. S. Lewis, Annie Dillard, and Eugene Peterson have been spiritual mentors to him. "I have lived amidst birds my whole life—as we all have—but  it wasn't until I got hold of a guide book that I learned to recognize, identify, and get to know particular birds. I had to be mentored in seeing. Learning what to look for and how to look was not automatic and I gained a great deal by learning from those who were more experienced than I but whose wonder and love of birds I shared."
Kummer's fourth discipline relating to both prayer and bird-watching is taking notes and making records.  "I have discovered that a notebook and pen are tremendous aides to seeing, hearing, reflecting, writing, and praying….The act of recording, describing, reflecting, and savoring what I see deepens the impression made on me by a bird or the Spirit."
We are grateful to Marty, who will start high school in the fall, for mentoring us by sharing his enthusiastic love of birding, which began just over a year ago, according to his father, on a family birding excursion.  Marty taught us by example that seeing, listening, and record-keeping are important for would-be birders as well as persons of faith.  He reminded us in advance of our hike that binoculars are key and demonstrated the importance of guidebooks, showing us, too, the pouch he created inside his sweatshirt to carry his guidebook!  His knowledge of bird identification, bird calls, bird behaviors and habitats amazes me.
Our morning together concluded at the Near Northwest Neighborhood's Local Cup, a pay-it-forward coffee shop, where four more of our area group members joined us, including Homer and Betty, who were celebrating their 61st anniversary that very day; they took time earlier that morning to cheer on son Jim, who ran the half marathon.  Jim arrived eventually (it was good to congratulate both him and his parents), and Turfena popped in to say hello from her home nearby.
We all enjoyed meeting a retired Episcopalian priest who visited the coffee shop.  He shared that he's about to make a "very public announcement in agreement with the Paris Accord by installing solar panels" on his house. Vic, who spearheaded KRMC's recent solar installation project, made a quick connection and they will be in touch.
As I listened to Lane's Pentecost sermon on Sunday and his proclamation that "Pentecost makes the newly birthed church a place of connection from God to people and people to God," it struck me that our neighborly coffee shop connections, Marty's mentoring, and the disciplines we began to exercise in birding are most certainly a part of Pentecost living. 
If you are a bird-watcher or are considering getting more involved in birding as hobby or spiritual discipline, you might enjoy this film review of Birders: The Central Park Effect at the Spirituality & Practice website.  The review states that "filmmaker Jeffrey Kimball has done a remarkable job, giving us insights into (birders') passion and pleasure in what we recognize as spiritual practices: questing, paying attention, seeking beauty, and being truly present..." 
Add a comment
May 29, 2017
By Jane Bishop Halteman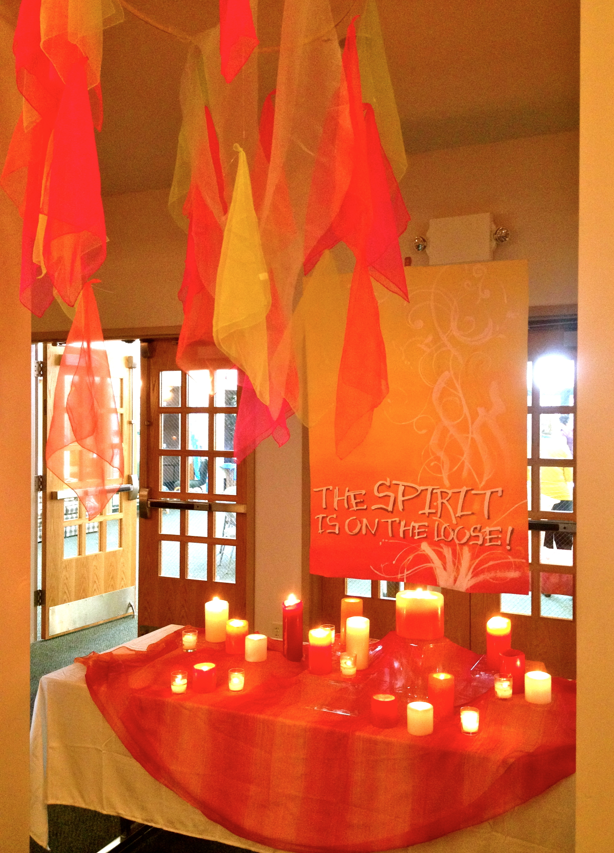 Pentecost worship visual created at Creekside Church of the Brethren, Elkhart, IN
Next Sunday we will observe Pentecost, which falls on the seventh Sunday after Easter and marks, on the liturgical calendar, the coming of the Holy Spirit and the birthday of the church. The annual festival also invites us as individuals to notice Divine movement in our individual lives and calls us to share stories of the Spirit on the loose.
For the disciples, now missing the physical presence of Jesus who had ascended 10 days earlier according to Biblical tradition, the descent of the Holy Spirit was a reminder that Jesus would always be with them; the wind and fire of the Spirit bolstered their courage to carry on the Kingdom work Jesus had begun.
Some years ago in a post at Mustard Seed Associates' Godspace website, Christine Sine said this about Pentecost:  "As the Holy Spirit fell on the disciples, the barriers of language and culture were broken down, not so that everyone thought and looked the same, but so that everyone understood each other in their own language and culture. This festival draws us beyond the resurrection to remind us that through the coming of the Holy Spirit we become part of a transnational community from every nation, culture, and social class."
Joan Chittister, in her Essential Writings, adds this about the Spirit: "The Spirit of God moves us to new heights of understanding, to new types of witness, to new dimensions of life needed in the here and now. The static dies under the impulse of the Spirit of a creating God. We do not live in the past. We are not blind beggars on a dark road groping our separate ways toward God. There is a magnet in each of us, a gift for God that repels deceit and impels us toward good. The gifts are mutual, mitered to fit into one another for strength and surety."
Pastor Janice's sermon yesterday, based on verses 15-23 of Ephesians 1, seemed the perfect lead-up to next week's Pentecost worship service as she spoke of how one's personal sense of being the beloved child of God nourishes deep faith.
She compared developing faith to the escalating nature of a fireworks display, referencing South Bend's Best. Week. Ever. fireworks event coming Friday (see Best. Week. Ever. schedule here). The first lone firework catches our attention, and ultimately the show crescendos to a grand finale as excitement builds. In similar fashion, she said, "Something comes into our lives like that first firework; the fireworks of God's love continue to go off, (though) sometimes with long pauses between," she acknowledged.
Based on the example set by my first spiritual director, I often have found myself asking a new directee whether or not she identifies as the beloved daughter of God. I recall journaling in bewilderment about that moment when my spiritual director asked me that question. Months, maybe even years later, the significance began to dawn on me, but initially, I found the question difficult to hear, imagining it presumptuous or perhaps even impertinent to claim myself beloved by the Divine.
In the words of Sarah Brock, writing for Episcopal Café, "It's one thing to speak God's love, another to know it, and entirely different to feel it deep in your soul. I have rarely set aside time and space to just be loved. Whether that love comes to us in a kind gesture from a neighbor, a hug at just the right moment, or in the silence of a holy place, it's always there embedded in our souls, flooding into our awareness, sometimes when we least expect it."
Pentecost, it seems to me, ritualizes the raining down of Divine love as the aggressive imagery of wind and fire promises not to desert us. The Ephesians passage from yesterday's sermon, Janice said, reveals a high view of the church, the conduit by which the Divine message reaches others, "how love and mercy and grace get showered on the world. Fireworks are meant to be displayed in a crowd so we can ooh and aah with others!"
In the wake of tragedies like this past week's Manchester suicide bombing, this article on How social ties make us resilient to trauma further reminds me that "as we struggle to find words to express our shock and sympathy for those who were harmed, we should not forget the healing power of building connections to each other."
And this Parker Palmer post offers, in the spirit of Pentecost, a Rilke poem urging "us to live life to the fullest, fearing no danger, and 'flaring up like flame'" so that we might "take life-giving risks as opportunity arises—life-giving not only for me but also for others. When I feel afraid to live that way, I turn to the poem's final line, which reminds me that I can always find the comfort of companionship on the way."
In what ways have you glimpsed the infinite, abundant companionship/love of the Divine and others on the journey?  Have you taken stock of what might be impeding your view?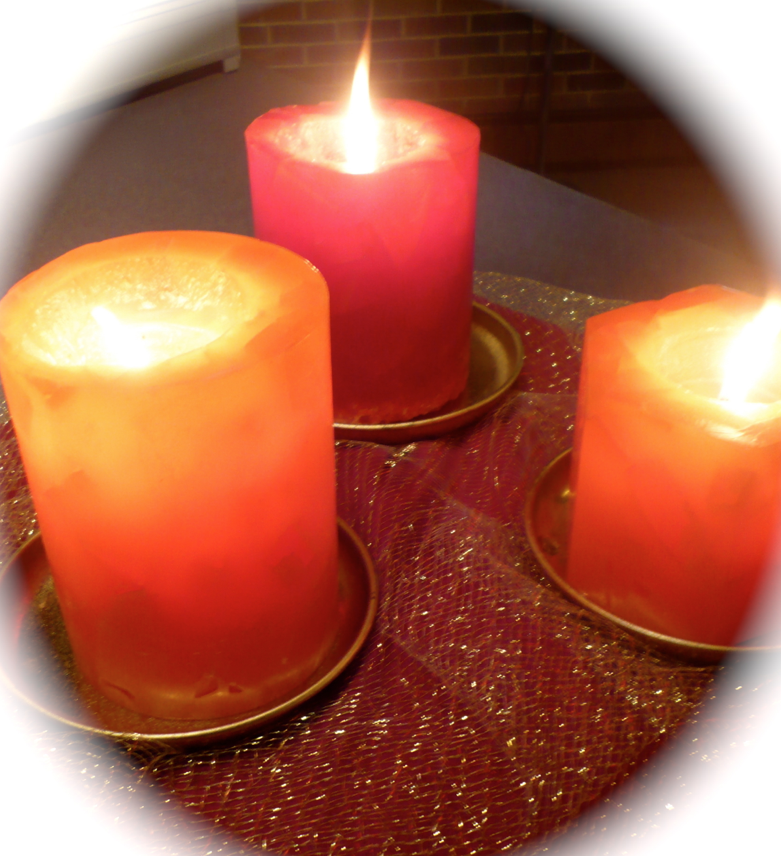 Add a comment
May 22, 2017
By Jane Bishop Halteman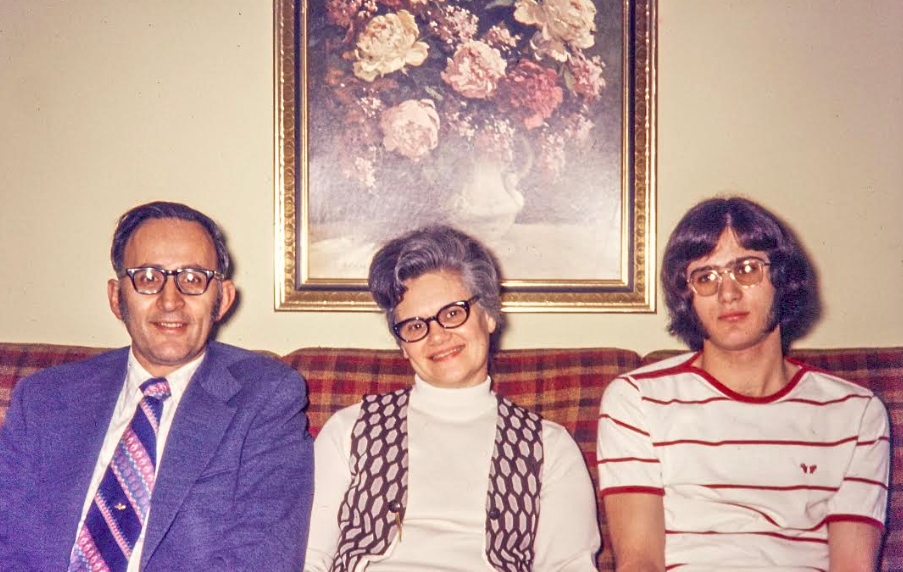 Photo by Dan Longenecker
Today, May 22, marks my youngest brother, Greg's, 61st birthday.  He celebrated his last earthly birthday 43 years ago just months before a single-car accident took his life on October 15, 1974, at 18 years of age.
By happy coincidence or divine intervention, just in time for us to observe Greg's birthday, KRMCer Fred sent me the above photo three days ago of my mom and dad and Greg in their home back in the early 1970s.  Fred's dad Dan served as pastor at my parents' church in eastern Pennsylvania from 1973-1978.  An elementary schooler at the time, Fred does not recall much about Greg, whom he had known only a short time before Greg's death.
On the evening of the crash just a mile or so from home, my parents had arrived back from visiting us and our six-month-old son in our new home in Upland, IN, where Jim had taken his first job as an economics professor at Taylor University.  Greg had helped us move in July with baby Matt, and we saw Greg again in August, when this family photo (below) was taken.  My apparently superstitious great grandmother reminded us after Greg's death that it is not uncommon for someone to die after a family photo is taken.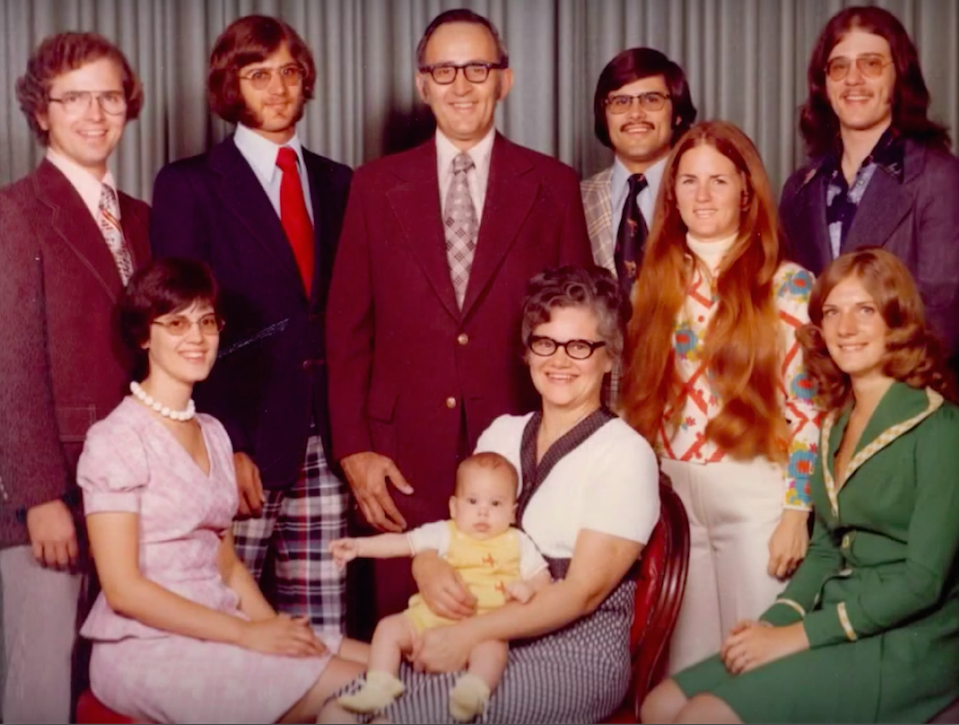 Mom and dad returned home to a police car waiting in their driveway.  As a nurse with ER experience, my mother knew instinctively that their son likely already was gone after the police confirmed with them the kind of car he was driving.  The shocking news reached us at midnight that evening, and we left the next morning for the long trip back to the distant suburbs of Philadelphia, stopping for a short time in central PA to visit briefly with our former small group in State College where we had spent the last five years. 
Greg's death came 12 years after another bereavement that numbed me to the possibility of experiencing new pain; almost no processing about the two consequential deaths took place for many years, but, after meeting a companion for the grief journey seven years ago, the unfolding of the first loss began, eventually sparking momentum to delve into unpacking the untended grief around my brother's death.
During a visit this past April to see mom and dad in their personal care unit at a Mennonite retirement community, brother Tom crossed paths, quite serendipitously, with a volunteer fireman who was an emergency responder at the scene of Greg's accident.
Now 75 years old and mayor of our small hometown, the fireman shared his memories of that night over lunch with me this past week; I could feel old grief beginning to green to gift and grace as he recounted how the fire department got a call on that fateful night from the county to a "rescue" operation, meaning there was a chance the victim might be alive.
The story our family had been told these many years mentioned a Catholic neighbor who reportedly heard the crash and went outside to where our brother lay on the ground, still breathing.  She stayed with him, the story goes, until his heart stopped beating.  In my mind, I see her tenderly holding his hand, but I can't vouch for whether or not that part is fact or wishful thinking.   
According to police reports, our brother had passed a car on wet streets and, on returning to his lane, apparently had been thrown off the highway.  These many years later, the mayor confirmed that, yes, Greg appeared to have flown out of the car (before seat belts were required) landing on his back, at which point the car flipped upside down on top of him.  At 33 years old then, the mayor recalls thinking, "Greg is so young; this can't be."  Noting that this was his first experience with the death of one so young, the former fireman also remembered compassionately that "he looked so peaceful," a gift for family to hear so many years later.
After I told him a tiny bit about the grief work I've been doing the last seven years, the mayor shared about losing his own dad at 16 while they were playing ball together, losing his first wife to breast cancer when she was 42, and now standing strong by his daughter as she confronts breast cancer at 49.  I was struck by his willingness to be vulnerable with a near-stranger, though not surprised since we had shared stories of personal pain with one another.
We certainly didn't call our interaction over lunch that day communion, but it definitely was a kind of breaking bread together.  The mayor thinks he may know the neighbor woman who crossed the street to companion Greg in his last moments.  She is now in her early 80s, of sound mind, and still lives in the same house.  "I run into her now and again,"  he said.  "I'll ask her if she was there."   If she is the one who stood by our brother so graciously in those final moments, I will be in touch so that the green shoots of redemption might continue to yield gift and grace. 
My parents, brothers Tom and Dave, and I continue to celebrate Greg's birthday in gratitude for the 18 years of life given him, the all-too-brief time we shared together. We remember him well in a variety of ways...by excavating our own pain, by speaking of him and learning more about the accident which took him from us so suddenly, by sharing memories with others who knew him.  Mom and dad are forever grateful for the two years immediately after Greg's death during which his high school friends visited every Sunday night seeking companionship with each other and mom and dad in this loss.  
High school friend and band compatriot Eric told us again just this past weekend that he continues to jam with Greg's (and the band's) music from all those years ago.  Meeting Greg's high school friend Ted unexpectedly at church Sunday morning added another mystical moment to the birthday weekend, not to mention the fact that friends from so long ago in State College showed up as visitors at the same church Sunday where I was a guest and recalled that we returned in October 1974 on the way to my brother's funeral, without knowledge that today is his birthday or that I was preparing this post.  That all of these moments took place on Greg's birthday weekend are indeed sparks of light in this resurrection season!
Creation of this youtube video of memories of Greg a few years back became another redemptive mechanism for managing life after loss.  The video continues to reinforce the fact that our short time together was more than just a blip on the screen and reminds us of his quirky sense of humor as we see Greg posing in these old pictures with an icicle, breakfast cereal, a carrot, a chicken leg.  Only Greg... 
In what ways have you experienced gift and grace emerging from past personal pain?  How has the Divine led you to new landscapes in the midst of aches you once feared would devour you?   
Add a comment