Glimpses of Healing and Hope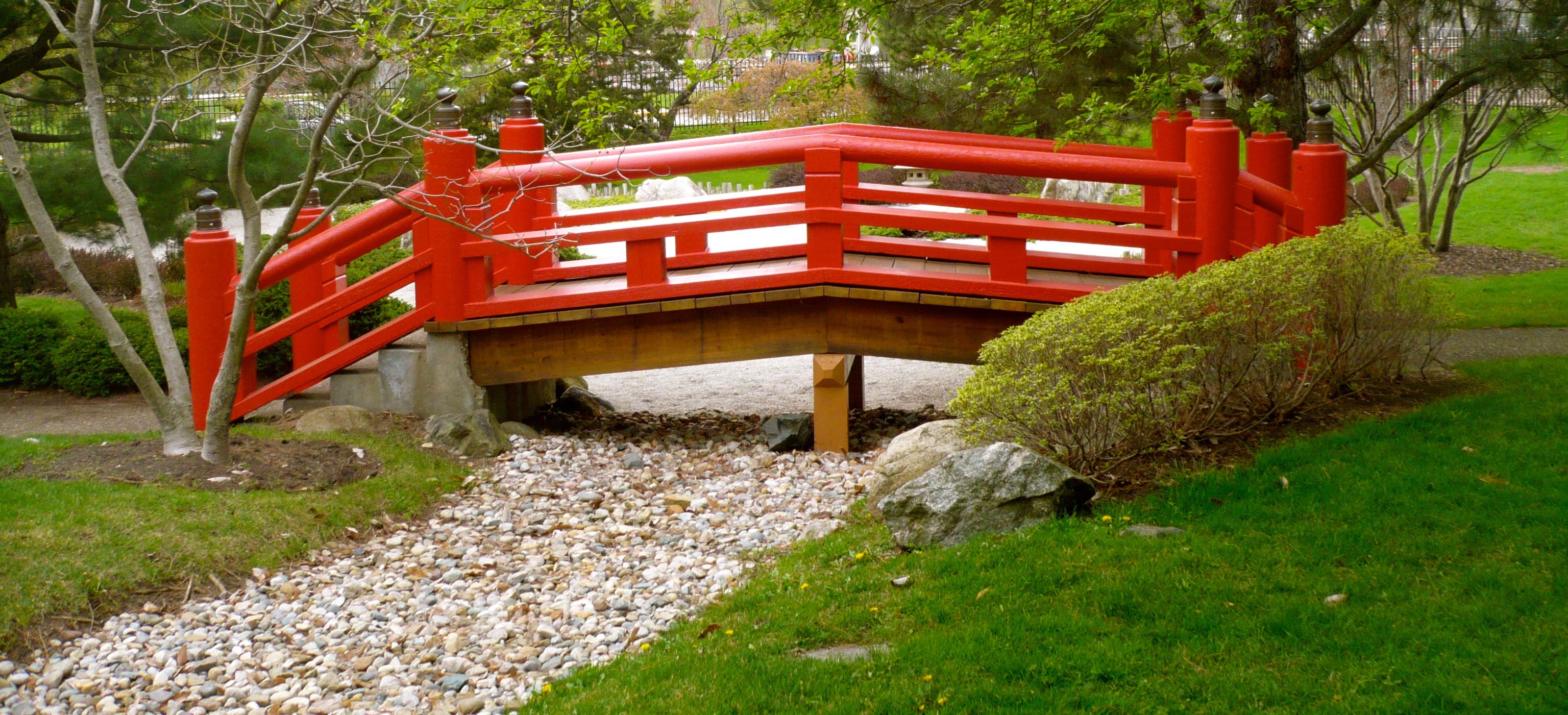 by LeeAndra Fouts
During this week's staff meeting, Pastor Janice led us through a devotional time highlighting the Sermon on the Plain featured in Luke 6:27-36. This is the famous "turn the other cheek" passage but the words just before that part captured my attention this time – "bless those who curse you."
The passage in the NKJV reads, "But I say to you who hear: Love your enemies, do good to those who hate you, bless those who curse you, and pray for those who spitefully use you. To him who strikes you on the one cheek, offer the other also. And from him who takes away your cloak, do not withhold your tunic either… But if you love those who love you, what credit is that to you? For even sinners love those who love them… But love your enemies, do good, and lend, hoping for nothing in return; and your reward will be great, and you will be sons of the Most High. For He is kind to the unthankful and evil. Therefore be merciful, just as your Father also is merciful."
As we read the passage several times, I thought over and over again about the word "bless." What does that mean exactly? To me, it is a positive action, a purposeful acting out of a plan, that requires more from me than simply being good or loving everyone. It is one thing to stay still and silent while someone's curses, literal or figurative, are raining down upon you but it is quite another to speak into the situation with a blessing and good word for that person.
I began to visualize something in my mind and jotted it down in my notes before I forgot. I've shared the picture with you (despite its elementary-school level of artistry!) in hopes that it may help you, too, the next time you hear this passage or find yourself knee-deep in someone else's negative words and bad attitude. I always find it so much easier to remember something when I can see it in my mind.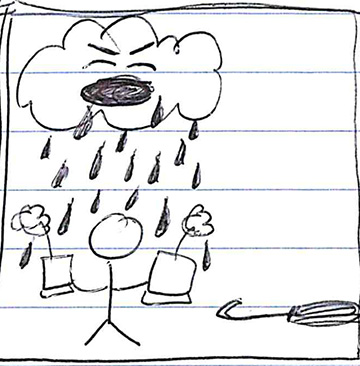 When we face any type of storm in Life, it's our natural instinct to protect ourselves from it, to grab a poncho or umbrella or hunker down in a safe space, and wait for it to pass. What if we didn't step out of the rain, though, but into it? What if we allowed ourselves to feel the harsh cold rain on our skin knowing that all storms pass soon enough? What if we decided to embrace the storm because we saw the positive effects it could have in the middle of the terrible cause that it is? What if we decided to open ourselves up to the possibility that a temporary shake-up might cause a permanent steadfastness to grow within us?
I looked up the Hebrew word for "bless" after our meeting and discovered the Hebrew word is "barah" which means "to kneel." Yes, exactly – to bless someone who curses you is to kneel down, to give up your power and become vulnerable to theirs, in the midst of their storm of lies and say, "I still believe you are a good person.  I still believe something good will come from this. I still believe in love and truth and hope."
From the outside, blessing someone who curses you may seem weak or stupid. People may wonder if you have lost your mind. In a way you have --- leading with your heart, instead of your head, is exactly what Jesus did, and He was the strongest Man who ever lived. Blessing those who curse you is understanding the wisdom in pausing, reflecting, and praying as you seek to understand others and how God may use this situation for good. We could all use a few moments in our chaotic lives to pause and reflect and pray… especially in the midst of a storm.
Add a comment
March 29, Kinshasa, DR Congo
(On the occasion of a reception held at the home of Pastor François Tshidimu in honor of Nancy Myers's visit and the receipt from KRMC of funds to purchase land for a school)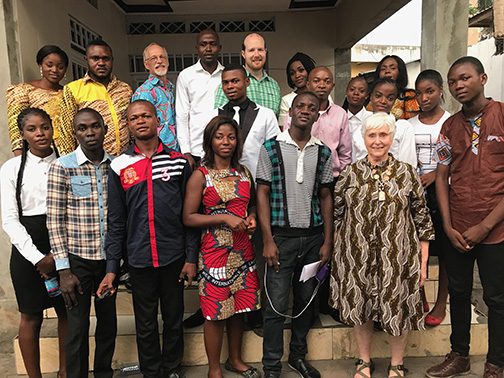 First and foremost, permit us to thank the Lord our God, the master of time and circumstance, for having permitted the encounter of this day. We welcome everyone.
We the youth of Bondeko Mennonite Church met on March 27, 2018 to reflect on the future of young Mennonites in general and of Bondeko in particular.
In addition to the fact that youth represent the future, we believe that youth are the key to the present, a measure of the survival and continuation of the Mennonite community in Congo and at Bondeko. Therefore it is necessary for us to be trained and organized.
Our discussions centered around the promotion, projects, and formation of youth in our congregation. We concluded the following:
·         We, the youth of Bondeko, express our profound gratitude to Pastor François Tshidimu Mukendi, head of the congregation, for his determination to see the youth flourish, and also for having facilitated today's encounter.
·         We thank Madame Nancy Myers for her love and generosity toward our church and her involvement in the success of our projects.
·         We thank her also for the establishment of the partnership with Kern Road Mennonite Church through which we received scholarships, permitting the youth of Bondeko to make their way through high school and university.
·         We are profoundly grateful also to Kern Road Mennonite Church for financing the purchase of land that will permit the construction of the first private Mennonite school in Congo, which will contribute to the formation of the youth not only of Bondeko but also of the whole country.
·         We solicit a church-to-church partnership with the youth of Kern Road Mennonite Church with the aim of sharing experiences.
We address our warmest greetings to the whole congregation of Kern Road Mennonite Church. May the peace of the Savior be with you. Thank you.
Ignace Tshitoka, President of Bondeko Youth, and Francis Kabanza
Add a comment
by Nancy Myers
In the adult literacy teacher–training workshop the week after Easter in Mbuji Mayi, DR Congo, was an eccentric woman. Marie-Claire didn't seem to care much about her appearance. Her hair went every which way. Her clothes were a bit grubby. She peered over wire-rimmed glasses. She crossed her legs. One day she showed up in a baseball cap.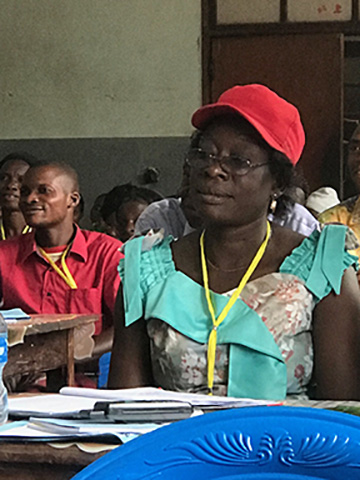 Marie-Claire also had a terrible, honking cough that punctuated even the rafter-raising hymn-singing that charged up the energy at the beginning of each day.
Perhaps I was the only one to be bothered by Marie-Claire's cough. On the first day, the woman who was provincial head of one of the two Mennonite groups represented in this training nominated Marie-Claire for the position of Village Chief, a sort of ombudsman for the training. Marie-Claire was a member of the other, and often rival, group. When she was elected by a large majority she kissed her nominator almost on the lips. I cringed but the other woman did not.
Marie-Claire took her position seriously and often came forward to whisper something to my friend Hélène José sitting next to me who was hosting the training. I tried to keep my distance but was not always successful. I was horrified when she coughed into her hand and then picked up a crying baby. By the end of the week my throat was tightening up a bit and I started chewing Airborne tablets to ward off any viruses that Marie-Claire might have spread around.
Marie-Claire was also among the most enthusiastic of the 60 would-be teachers. That is saying a lot because the energy in the class was high. She was not the most gifted but she was unafraid of making mistakes and kept trying to get the method right.
In fact, Marie-Claire had already started a literacy class six weeks earlier. Hélène José, who was trained a year ago, had introduced her to the method and given her some books and Mare-Claire had rounded up students. She brought half a dozen of them to class one day. But she knew she needed more training and she was thrilled to be getting it.
I heard of other teachers who had been trained in previous workshops and were training assistants on their own. One teacher who was trained last year in Kinshasa, a young man named Justice, not only teaches three separate literacy classes in the Bondeko church building, KRMC's sister congregation, but also hopes to train other teachers in all five Mennonite congregations in the Massina district. When he can find the time.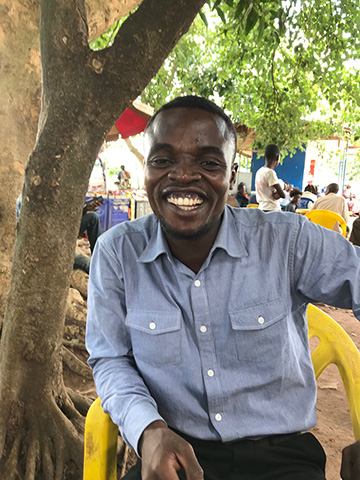 Teaching people to read in Congo is an idea whose time has more than come. The harvest is ripe and the reapers are few. In modern parlance, the idea is going viral— as viral as Marie-Claire's cough.
In his morning homilies, the Mbuji Mayi workshop chaplain compared Congo's illiteracy problem to the dry bones in Ezekiel's vision. He said the people learning to read would be like the blind man in John 9: they wouldn't care why they had been helped, or who their teachers were; they would only rejoice in their newfound wholeness.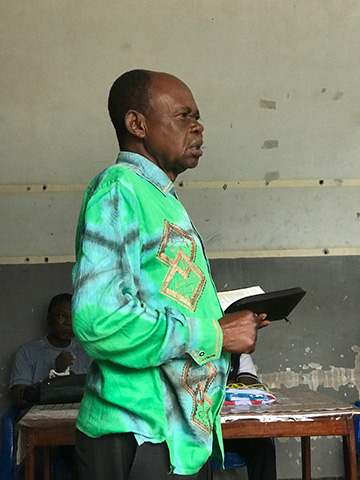 The joy of new readers is contagious, as those working in Kinshasa and Kikwit who have started teaching in the last year testify. They say the students bring their friends to class. Their enthusiasm and success, in turn, reward the teachers; the energy flows on.
Another day the chaplain referred directly to the viral nature of the good news in Paul's second letter to Timothy, chapter 2: "The things you have heard me say in the presence of many witnesses entrust to reliable people who will also be qualified to teach others." He encouraged the new teachers not only to find learners but also to develop other teachers. And indeed, this is happening.
I did come home with a cough. I don't know if I caught it from Marie-Claire but if so, it was worth it. I feel privileged to participate in the good news of this project.
What ignites your joy? What good news is spreading among us?
Nancy Myers, a KRMC member, is overseeing the Congo Literacy Project as a volunteer on behalf of Africa Inter Mennonite Mission, a partnership with the women of Congo's three Anabaptist denominations. For more about this project see Nancy's blog at www.thepracticalmystic.org.
Add a comment