Glimpses of Healing and Hope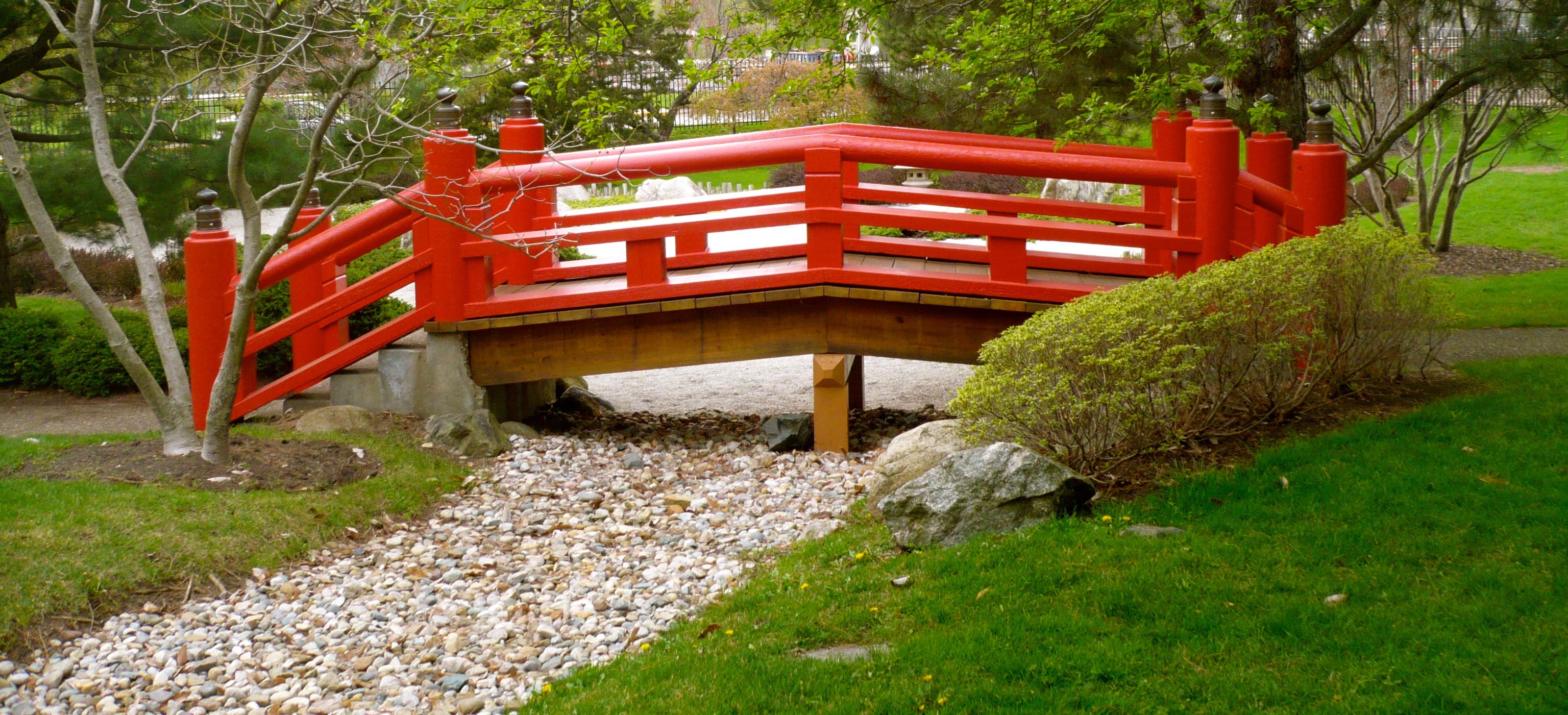 by Danile Martens

John 20: 1-18
I have been thinking about this resurrection story lately in terms of the flow of life.  I read it now thinking that Jesus was not so much saying "Don't touch me," as "Don't prevent me, don't hold on to what I was to you before. Something new is happening."
If change is the essence of life, something which I am learning to accept as true, then we must welcome, we must allow change, not only in ourselves but in those others who are put into our lives. Jesus as the chosen one had something new to be and do and the grief of Mary Magdalene could not alter that work.  Nonetheless, Jesus lovingly meets her in her need and then points her to her new role. She will not be provider and support  in the same ways. Her past that changed from so-called harlot and demon-possessed woman to disciple was now going to change again to witness of resurrection to Peter and John who would lead the church that came after. Holding on to her identity as the follower of and one who loved an itinerant preacher was not her future, no more than it was Jesus' destiny to remain that preacher.
And yet it is a beautiful story of love and grief and despair turned to joy that we all may resonate with at some point.  When our daughter was diagnosed with a melanoma we knew that grief.  I didn't know how to accept the possibility of her death even though I had already walked that path of death with others and knew that despair was not its ultimate ending.  I could not imagine the flame of her lovely and loving life snuffed so prematurely.  My faith in Love hung on only by a thread of humility and by the support and love of family and friends.  We were reprieved that time, differently than Mary, but I fully identified with that rending, uncomprehending sorrow.
We remain human creatures bound to time and an impermanence we regret even as life spills us continuously forward into the new. This is our gift and our sorrow, to remember the loved, familiar past while being drawn (pushed?) into an unknown future, given by our loving creator that, in time, itself becomes precious.  This is our faith. This is Life.
Add a comment
by Pastor Janice Sutter
Are you ready to go deeper?
 
This is one of the exciting things about being part of a church community: sensing the Spirit prompting someone to go deeper in their faith.
 
I've heard this and seen this in numerous ways among us in just the last few weeks. I've seen it among people of a wide variety of ages and life situations. Yet, it seems to be the same Spirit prompting each to go deeper in their faith experience, to go deeper in their commitment to God.
 
And each responds in his or her own way, choosing something that will help them go deeper with God:
deciding to try fasting as a spiritual discipline she has never tried before
committing to read through the Bible this year
praying at a specific time each day
planning to be baptized
responding to a new sense of God's call to take action in face of injustice
deciding to deliberately seek and keep open to the new way in which God's Spirit seems to be leading
paying attention to dreams as a way God speaks
forming a spiritual friendship, in which two people go beyond a surface relationship in talking with and praying for each other
Sometimes God calls us to take the next step and go deeper in our faith. Maybe God is prompting you to that kind of commitment right now. It often helps to tell someone about the prompting and commitment as a way to hold oneself accountable in taking action.
 
And something we can count on even more than our friends, is the steady and sure action of God in our lives. God's Spirit is the One who prompts us to go deeper. And God is also the One who gives us the strength and fuel to do this.
 
Are you ready to go deeper?
 
I had been reading, thinking and praying, in preparation for writing this note. Finally, that question about "going deeper" came into my mind. I began to write. Later, when I walked into the church building, LeeAndra greeted me. In the course of conversation, she told me she was excited about a new release of a familiar song, "Ocean (Where Feet May Fail)". I listened to the song and smiled as I heard these lyrics:
 
Take me deeper than my feet could ever wander
And my faith will be made stronger
In the presence of my Savior
           
Lyrics by Joel Houston/Matt Crocker/Salomon Lighthelm
Add a comment
by Vic Myers
Over the past year Kern Road Mennonite saved significant amounts of electricity.  See the figures below.  Compared to 2016 we used 10% fewer kilowatt-hours, kWh, and purchased 15% fewer kWh.   Our solar panels account for the difference.  Some of these savings resulted from a milder summer requiring less AC, but also, we are beginning to see noticeable reductions following the conversion of our exterior lights to LED's in September.  In addition, our solar panels produced 7.4% more output in 2017 compared to 2016.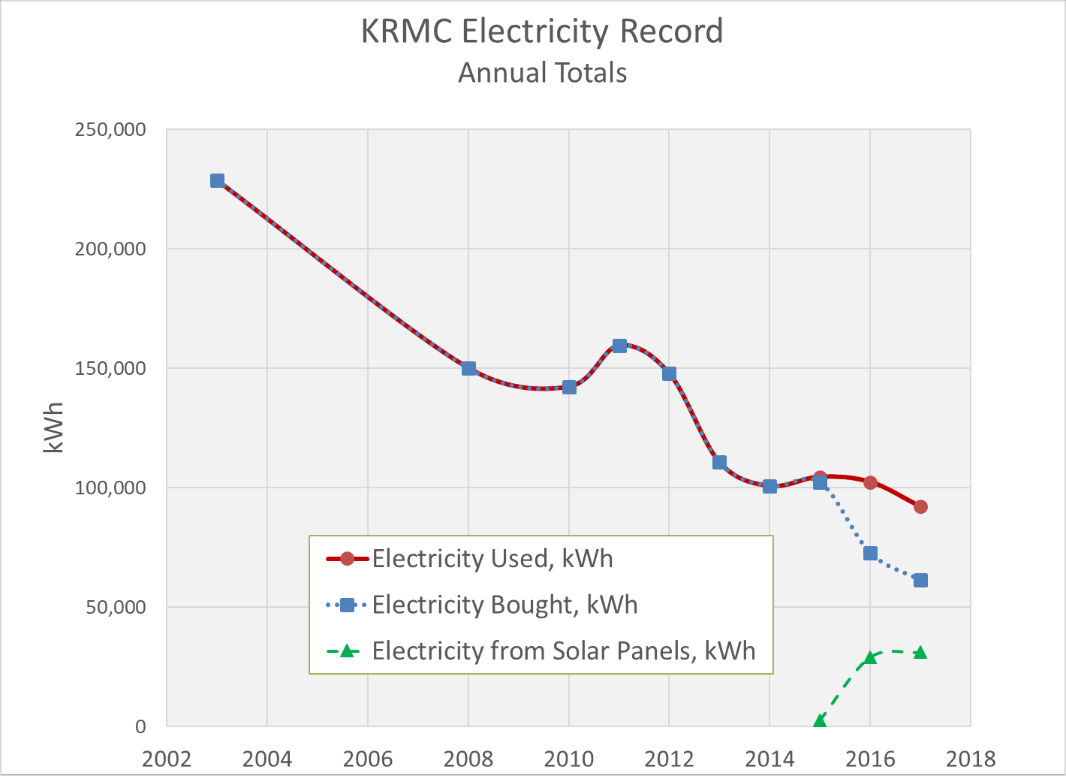 The cumulative effects of our efforts over the past decade and longer really add up.  Since 2011 electricity purchased has dropped from 159,500 kWh to 61,280 kWh, a 62% decrease!  Unfortunately, our cost savings since 2012, although very good, are less impressive at 36%.  We have our electric utility, Indiana Michigan Power, to blame for that.  In fact, last year electricity costs went up despite our purchasing 15% less electricity.  On the bright side, without our solar panels our electricity costs are estimated to have been $2,742 higher, 51%, in 2017 alone, assuming the same price rate for the additional purchases.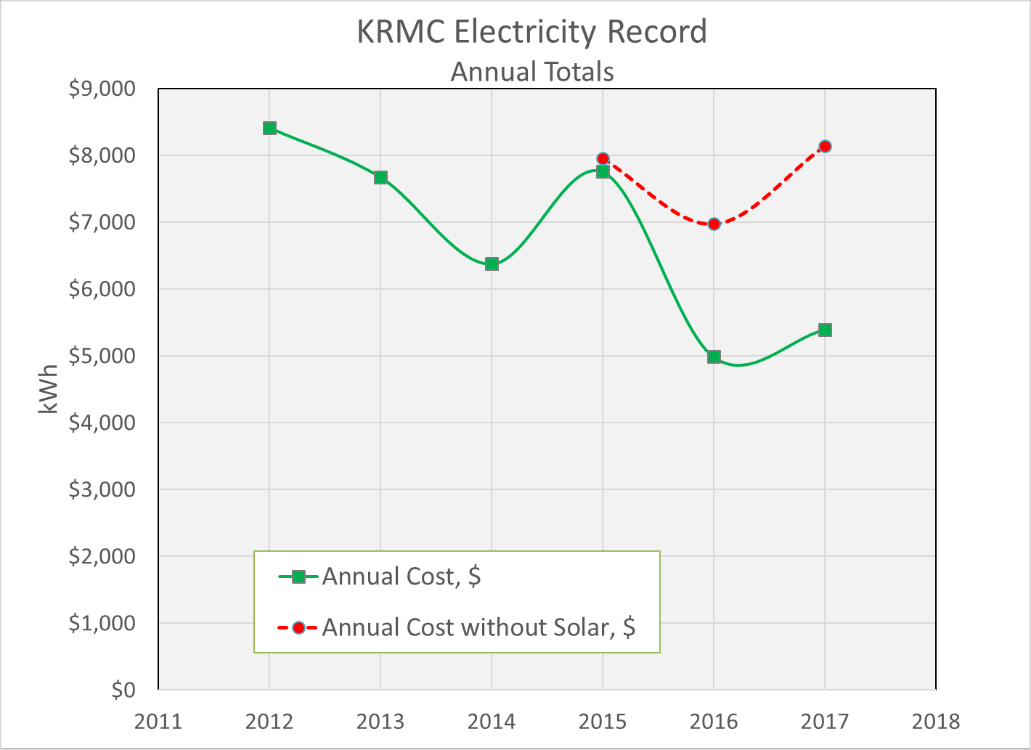 We are grateful for the cost savings, but also take satisfaction knowing that we are having a significant impact on atmospheric carbon, which in turn helps to safeguard our climate.  Our solar-clad roof also presents a visible symbol to the local community of our commitment.  This fall Solarize Northern Indiana (in which Margie Pfeil and I participated) assisted 74 households, a church, and a local business in going solar, with 21 more installations scheduled for 2018.  24 of these solar projects are in the South Bend area.  Without the prior work done and example set by Kern Road Mennonite, this effort undoubtedly would not have moved forward as quickly as it did.
Add a comment
The monthly Men and Word group has been reading through the book of Galatians. We've noted Paul's intense frustration with the churches of Galatia. His observation seems to be that in the midst of the "present evil age," these Galatian churches are somehow struggling to stay the course of faith.  They have found it hard to live into the adventure and opportunity, the freedom and promise that living daily in the Spirit of Christ can bring. Are they not aware of Paul's story and the way Jesus turned Paul's life upside down on the road to Damascus? Have they not seen the amazing things that happened, the miracles and healings, which took place as Jesus' followers chose to live guided by his Spirit?    
 
During this season of Lenten worship at Kern Road, our theme has been covenant: the promises of God. Last week was Noah. This week is Abraham. God promises Abraham offspring at 99 years old.  How about that for adventure and opportunity? God remains connected, and Abraham's offspring are many.  God fulfills his promise to Abraham.
 
Paul, in his letter to the Galatians, declares that brothers and sisters living alive in the Spirit of Christ in the Galatian churches are, like Abraham's son Isaac, children of promise. They are born of Sarah into freedom and aliveness in Christ.  They are part of a new creation. They can live into the adventure and opportunity even in what Paul refers to as the "present evil age."
 
I've had a number of conversations recently with discouraged people. Some are struggling with difficult health challenges, conflictual relationships, or life transitions.  Still others are finding it depressing to live in this present age -- in our country's polarizing political woes, gun violence, immigration policies, work pressures – and yes, some are discouraged by changes in the church, not only or specifically at Kern Road, but across the Christian church. Underlying the discouragement seems to be a fear --- where am I or where is our world headed and what can we do about it?   
 
I just started reading a book called "Canoeing the Mountains" by Tod Bolsinger.  Its focus is the changing church in the midst of the culture. It talks about being open to reframing our orientation as people of faith and as leaders during these present times. Much of its counsel reminds me of Paul's words in Galatians and the promises of God. He challenges us to stay the course, which I take to mean staying connected to the Spirit of Christ and Christ's call to live into God's promise or dream for a new heaven and earth, and journeying into an unknown future as adventure and opportunity.
 
A number of years ago the congregation participated in a visioning process to identify the strengths and needs of the congregation. Now, after several staff transitions, numerous new attenders, and negotiating a new structure, it seems like a good time again to listen for God in our midst.  What does it mean for us to stay the course, to affirm the promises of God, to live in freedom and continue to be light and hope in the midst of our region in this present age of change?  What does it mean to open ourselves again to join together in adventure and opportunity in response to the Spirit of Christ moving in new ways at Kern Road?  May this season of Lent be a time to personally ponder the ways of Christ in your heart so that each of us might experience the kind of freedom in Christ that Paul experienced even in the midst of this "present evil age."      
Note: This note from Pastor Dave Sutter originally appeared in the February 2018 edition of Kernels, our church's monthly electronic newsletter.
Add a comment