Glimpses of Healing and Hope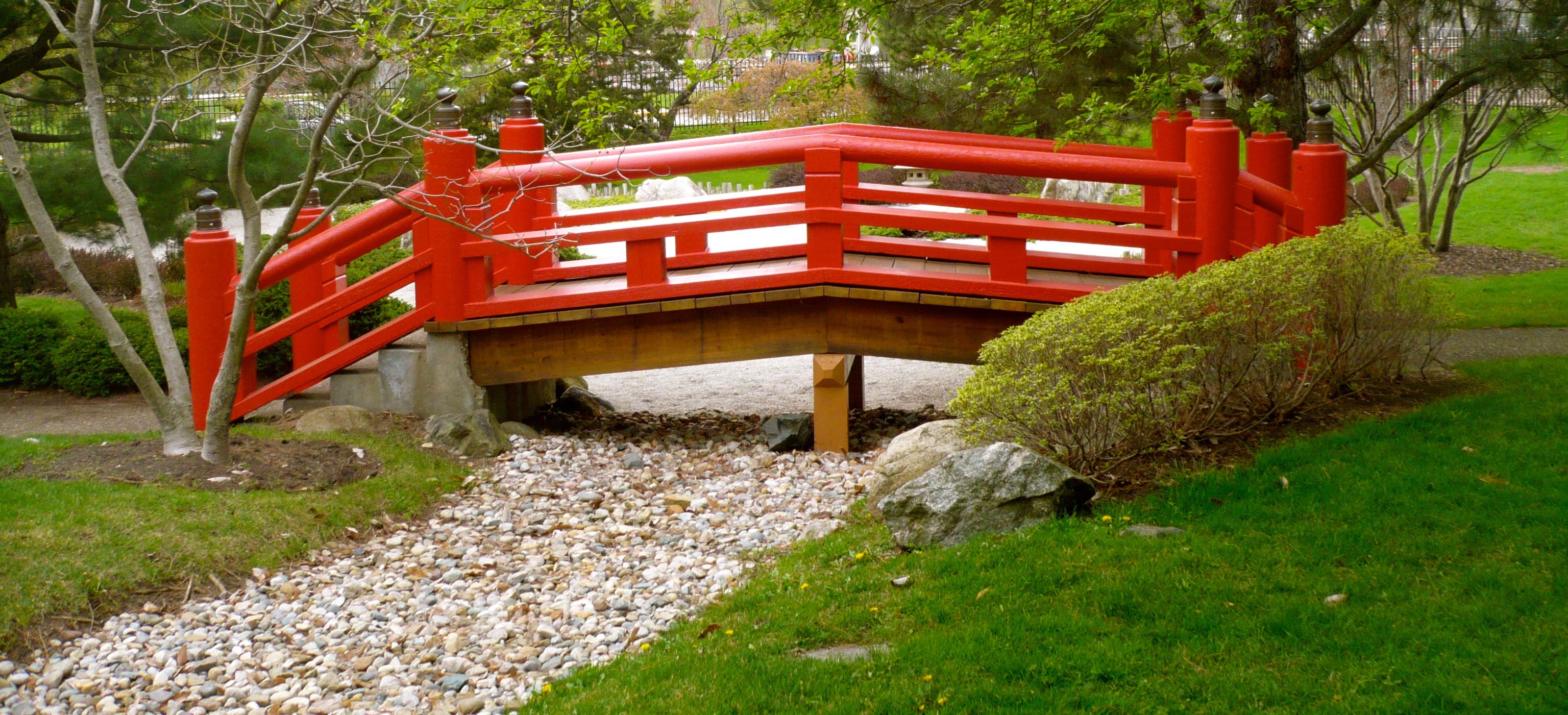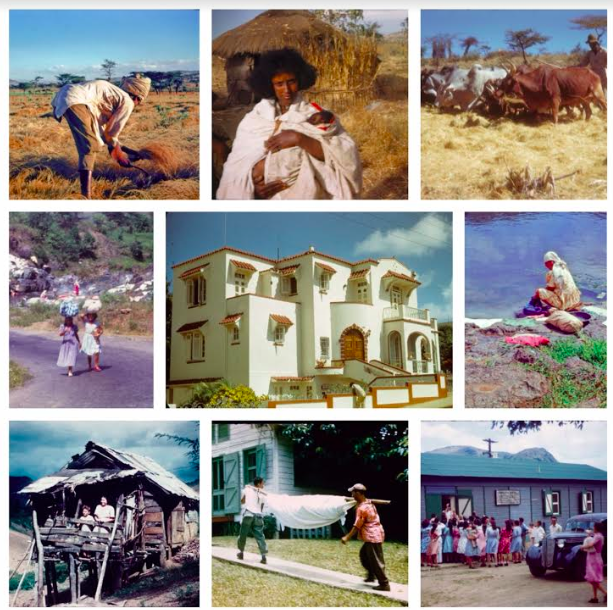 A selection of Tom's photos reclaimed from missionary slides taken in the 1940s-50s in Ethiopia (top row) and Puerto Rico
August 7, 2017
By Jane Bishop Halteman
Editor's note:  Many thanks to KRMCer Tom who prepared precisely written notes to share his story about this project of reclamation and preservation.  You can find his full telling here.  I have condensed the complete version to become this week's Glimpses of Healing and Hope blog post.  Viewed through the eyes of one visiting 93- and 96-year-old parents this week, I know how important it is to reclaim and preserve old memories. 
Nearly a dozen years ago Tom began scanning his missionary parents' slides depicting their experiences in Nazareth, Ethiopia, between 1948 and 1950 and Puerto Rico for six years between 1952 and 1961.
By the time the family moved to Elkhart after their second return from Puerto Rico, Tom's dad had accumulated approximately 500 slides, random selections of which he would project from time to time for the family before his children began college, got married, and had their own children.
When Tom realized the nieces and nephews were growing up with no visual impressions of their parents' and grandparents' missionary experiences, he bought a scanner, which he expected to sell on Ebay eventually, and made DVDs of the old slides for each child.  Influenced then, he speculates now, by his job as a Notre Dame employee in the Hesburgh Library's department responsible for online information, he put about 100 slides on Flickr.
"Something totally unexpected happened" as a result of lodging the slides on Flickr, Tom says. "I started getting comments saying how great the photos were, how glad people were to see them. One email, from an archivist at the Luis Muñoz Marín Foundation in San Juan, caught my attention: 'You have very nice images that would greatly contribute to our collection. The quality of your material exceeds what is commonly available.'"
Tom remembers that he soon began checking in with other Goshen area missionaries who had spent time in Puerto Rico.  Deciding not to sell the scanner after all, he contacted the other missionaries, many of whom agreed to let him scan their slides. As he observed the growing interest in the color mid-20th century photos to which he had access, Tom realized he had "stumbled onto something significant."  
He recalls that "once I had called all the people I knew who had been missionaries in Puerto Rico, I had to find another way to get slides to scan. I discovered that many slide collections contained group photos, some of which had names written on the cardboard slide mounts. I was able to find phone numbers on the internet for some of the people in those group photos. I did lots of cold calling and am grateful that so many people mailed their slides to someone they didn't know."
As a librarian, Tom says he "thought of the project in terms of the basic functions of a library:
·     identify the information that should be in the library (selection)
·     obtain materials with that information (acquisition)
·     organize the information and provide access to it (cataloging)
·     ensure availability of the materials over time (preservation)
I found myself doing all of that in the photo project."
Tom explains why he chose the mid-1960s as the cutoff point as he selected photos for scanning and preserving. "Before the mid-1960s, one could see glimpses of a pre-modern world in the photos—farmers plowing with oxen, women doing laundry in rivers, thatched huts. Very few people in those places had cameras then, especially outside the big cities, so photos taken in the interior at that time are relatively rare. After the mid-1960s one starts to see superhighways and McDonalds, and many more people had cameras. This of course varies by country—Puerto Rico modernized much sooner than the Congo, for example," he notes.
You will get a better idea of the content of the photos in the collage above by visiting this link where Tom shared these pictures and a few more to give blog readers an idea of the kinds of memories this project has reclaimed and preserved. (You can see viewer responses by tapping each photo and scrolling down.)  
Tom's public Flickr account, where he uploads fewer than 10% of the slides he scans, attracts viewers from all over the world, in some cases Tom says, viewers who "have been able to provide much more information about the photos than I could. One viewer provided names and histories of members of Emperor Haile Selassie's court seen in a photo of the Emperor at a public event. Another viewer provided the serial number, place, and date of manufacture of a steam-powered train shown in a photo, its owners and years of sale, and where and when it was scrapped."  
One appreciative viewer said:  "I just stumbled upon your Flickr collection of old photos from Puerto Rico; I had to catch my breath.  I have clicked on just a few, but I can't begin to tell you how deeply moved I am by them. It is as if the Puerto Rico of my childhood has come to life. It's impossible to begin to thank you." The site now typically logs between 2,000 and 5,000 views daily. Recently total views reached 13,000,000.  
Tom has received requests to use the photos in textbooks, magazine articles, books, TV shows, and exhibits, he reports. "In one instance, photos from the collection were used as part of a case on land use argued in the Puerto Rico Supreme Court. In another, someone told me they worked with Puerto Ricans with Alzheimers, using the photos from the collection to bring back memories of their childhood. Both were uses of the photos I would never have anticipated," he said.
"As I approach 12 years of scanning, I'm grateful that a series of seemingly random life experiences and mostly uninformed choices on my part have given me a project that I enjoy, that benefits others, that has let me connect with people around the world," Tom says about the project. 
Worshiping in their retirement community congregation yesterday with my parents, both in wheelchairs for the first time in my experience, I couldn't help but think back to the growing up years they provided for me and my brothers so long ago.  Hearing music like Ivory Palaces and Count Your Many Blessings, (though the congregation of my childhood did not clap along to the latter), I recalled the vigor and vibrancy of their young parenting era, chronicled so well in photos and slides my dad began taking as far back as his and mom's courtship.
I have scanned many of those old prints and preserved them in videos which bring happy moments of recollection or new learning as we celebrate a steady stream of family birthdays and anniversaries every year, as newcomers join the family and look back with us so that we might all move forward together in productive ways.
How have you attempted to reclaim and preserve parts of the past that make today and tomorrow more accessible for yourself and others?  Much gratitude to Tom for today's story and the quiet reminder that chronicling life for ourselves and generations to come is a fruitful endeavor!
Add a comment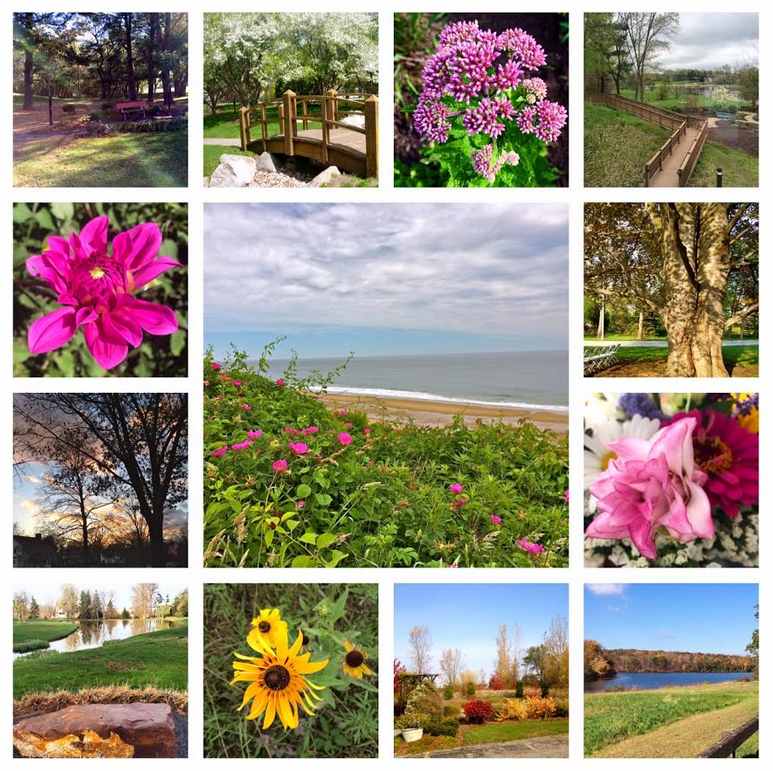 Have you experienced sacred space or thin places in nature?
July 31, 2017
By Jane Bishop Halteman
Themes from Kern Road's current intergenerational formation class entitled Worshiping God through Creation have taken me back to my first brush with Celtic spirituality in late 2000 after delivering daughter Megan to Belfast for a nine-month stint with Mennonite Mission Network.
Reading all that I could get my hands on about Celtic spirituality back then after a stimulating 10 days in Northern Ireland, I devoured books including Michael Mitton's The Soul of Celtic Spirituality, with some familiar chapter headings like The Preeminence of the Bible, The Celtic Commitment of Community, and The Mission of Evangelism along side the unfamiliar Love of God's Creation. I was astounded to learn from J. Philip Newell's Listening for the Heartbeat of God that the author  could identify Celtic spirituality roots in the New Testament in the mysticism of St. John the Evangelist.  
Later I would become aware of Margaret Silf's Sacred Spaces which delves into the spiritual insights to be learned from such sacred spaces as hilltops, wells, and groves/springs. I found it all utterly fascinating and unlike anything I had learned in my growing up years.  Always a lover of nature, I had feared as a youngster the Pelagian heresy of loving creation too much; it was comforting to learn so many years later about the Celtic inclination to love the Creator through appreciation of the Divine's creation.   
The jacket of Sacred Spaces notes that "the Celts believed that the visible and invisible worlds, the material and the spiritual, were one.  For them, certain places were sacred—places where the divide between visible and invisible was very thin, where the presence of the spiritual was almost palpable.  They revered such 'thin places' as 'sacred space.'"
A Spirituality & Practice book review notes that "a thin place could be a conversation, a dream, a room, a tree, a dawn, a shore, a dance, a person, a scientific lab, a Sabbath, a Eucharist," according to Samir Selmanovic, a self-described Muslim Atheist Jewish Christian and author of It's Really All about God.
"Once," Selmanovic reports, "while I was teaching a class at a Christian theological seminary in Michigan, a young woman raised her hand to describe the experience that led her to faith. Years ago, in her room, while working on her computer, she turned to reach for a book, and it happened. She smelled God. That's what she said. You could almost hear the rest of us in the classroom thinking, 'Oh, please. It is embarrassing characters like this that tarnish the reputation of Christianity as a respectable religion. Let's talk about something sane and real.' But she was sane and real, lucid like the bright icy Michigan day outside of the walls of the Andrews University classroom. At her thin place, she caught a scent of God, and her life took a turn."
In Selmanovic's words, "Thin places are stopping places where we, for at least a moment, step into what lies beyond the doorway of the world limited to our five senses. These experiences confirm our hopes and bind us to our beliefs. Two worlds become one."
Our hilltop experiences, which Silf suggests function as our summits of vision, "expose us to a burst of creative energy capable of fueling the next stage of our onward journey," but these experiences also "demand of us that we move on, that we walk back down to the valleys of our daily lives, there to live in the power and live out the vision of what we have seen and known at the summit." 
Wells can be pools of possibility or places to be boarded up, according to Silf, who also says that "these wells of our lives may be the very places from which we draw living water." She goes on to state that wells "enable us to draw life-giving water from the depths of the earth.  Our experience goes 'down' as well as 'up.' Down to the depths of pain and darkness as well as up to the hilltop summits of energy and vision."
Silf speaks about groves/springs, another of her named sacred spaces, as circles of hospitality: "The gift of our sacred groves is to bind us together into human communities, large and small, and, just as towns and villages evolve around a source of water, or other resources essential to life, so our personal groves evolve around a 'spring.'"
She explains the spring like this: "Spring water is given to us gratuitously.  It bubbles up from the depths of the earth without our doing and supplies energy and life without our asking.  It trickles, uninvited, from cracks in the hard rock of our experience.  It takes us by surprise, appearing out of nowhere to refresh and encourage us."
I am certain the connection I feel to Celtic spirituality and practitioners' ability to see God in nature has led to my mindfulness practice of using photography to become more aware of God in God's creation. Check this Glimpses of Healing and Hope post from last summer for more on contemplative photography. The vision of Celtic spirituality to embrace nature as powerful imagery for the faith journey resonates with me, too, as I have experienced not only the bubbling spring water of which Silf speaks, but also the wells of living water and the summits that fuel the next stage of the journey.
Where have you discovered sacred space or thin places in creation?  Even from your armchair, you might imagine yourself along a rocky Irish coastline with boisterous waves crashing nearby.  Take a moment to let the cares of the day float out to sea as you express gratitude for today's gifts and open yourself to listening for the voice of the Divine in the beauty of nature that surrounds you.
Add a comment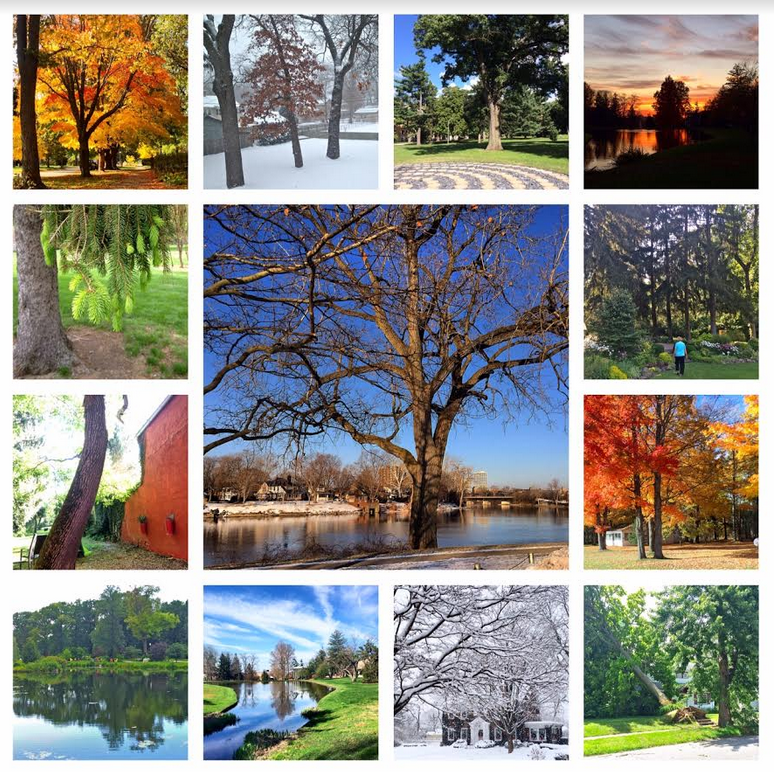 Trees of many sizes and varieties in all seasons
July 24, 2017
By Jane Bishop Halteman
Yesterday Nancy took her turn to share during Kern Road's Worshiping God through Creation formation hour.  Speaking about "Learning to love the urban forest" since moving with her husband from their wooded lot in rural Michigan to South Bend, she drew for us a portrait of her growing up years on a farm with parents who cared about trees.   
The farm, she said, was not a wooded property, but her parents planted trees.  She and each of her brothers all had their own special tree; hers was a weeping willow with a place to hide inside—her own sanctuary.
In her 'Sister Tree' blog post from January 12, 2012, Nancy says this about her first encounter with a specific tree after noticing a grove of trees 'calling' to her on the five-acre Michigan property: "In  particular, there was a circle of trees that stood next to the path on the downslope farthest from the house. One of the trees was dead, several were maples, and two others were common American hackberrys. One day as I was walking the path this circle seemed to invite me in, and so I stepped into it. As soon as I did that, one of the hackberrys showed itself to be the 'leader' of the circle. I stepped over to it, placed my hands on it, and felt a strong surge of peace and happiness that went directly to my gut." 
Nancy continued her practice of visiting the tree: "When I was feeling down, distracted, distressed, I would visit Sister Tree and feel better," she said on Sunday, describing the tree in a blog post "as a prayer companion, a meditation preparer, an energy field that somehow connects with me."
Upon visiting Sister Tree for the first time after starting the practice of centering prayer (see her description of this spiritual discipline here), Nancy noticed something different on her first visit to the tree in several months.  Writing in a December 3, 2012, post called 'Centering Prayer Meets Tree,' she explained that "what happened that afternoon at the tree was too powerful to ignore. The sense of peace was so strong that it vibrated in my core. The interval between distracting thoughts was so long it was as if the thought-manufacturing part of my mind did not exist. My earlier irritation not only dropped away; it receded so far that it seemed as if I would never feel that way again. After 20 minutes I walked back to the house elated and refreshed."
Explaining that much research has been done on how spending time in forests, particularly old forests, enhances well being, Nancy referenced Peter Wohlleben's book, The Hidden Life of Trees, as one parents and grandparents should read to their grandchildren.
Publishers' Weekly nonfiction review promises that "this fascinating book will intrigue readers who love a walk through the woods. Wohlleben, who worked for the German forestry commission for 20 years and now manages a beech forest in Germany, has gathered research from scientists around the world examining how trees communicate and interact with one another. They do so using a variety of methods, including the secretion of scents and sound vibrations to warn neighboring plants of potential attacks by insects and hungry herbivores, drought, and other dangers." 
According to this HuffPost blog, "The message at the core of the book is that each tree is not an individual, standing alone against the ravages of nature. In fact, the forest functions better as a community. Older trees look after young ones, groups of trees will try to rejuvenate stumps, and predators are repelled by the release of toxins and electrical signals to other trees through the forest network of fungi that they are near." 
A Quartz article published in the fall of 2016 says that "the tonic of the wilderness was Henry David Thoreau's classic prescription for civilization and its discontents, offered in the 1854 essay Walden: Or, Life in the Woods. Now there's scientific evidence supporting eco-therapy. The Japanese practice of forest bathing is proven to lower heart rate and blood pressure, reduce stress hormone production, boost the immune system, and improve overall feelings of wellbeing." 
This excerpt from LiveMint offers more information from this intriguing book, and you'll find a Public Radio International interview with the author here.
When I think back on my own life with trees, I remember sitting frequently on the grass in the back yard as a child close to a medium-sized, young oak, feeling connected to the Earth with the sun beating down on my then-black hair. 
Now, many years later, our retirement home came six years ago with a circle of four ancient backyard oaks, perhaps up to 150-200 years old, according to a landscaper friend's estimate.  I imagine the trees may have once served as sacred space to Native Americans, a sacredness that still permeates the place with a sense of peace and tranquility.   
"The more we know about these other aspects of nature, the more we experience our own place in nature" as part of creation, Nancy reminded us.  Take the opportunity this week to connect with trees and other aspects of the Divine's handiwork.  If you are interested to learn more about Nancy's adventures in her new urban forest, check out this link to her post entitled 'Tending the Urban Forest.' 
Add a comment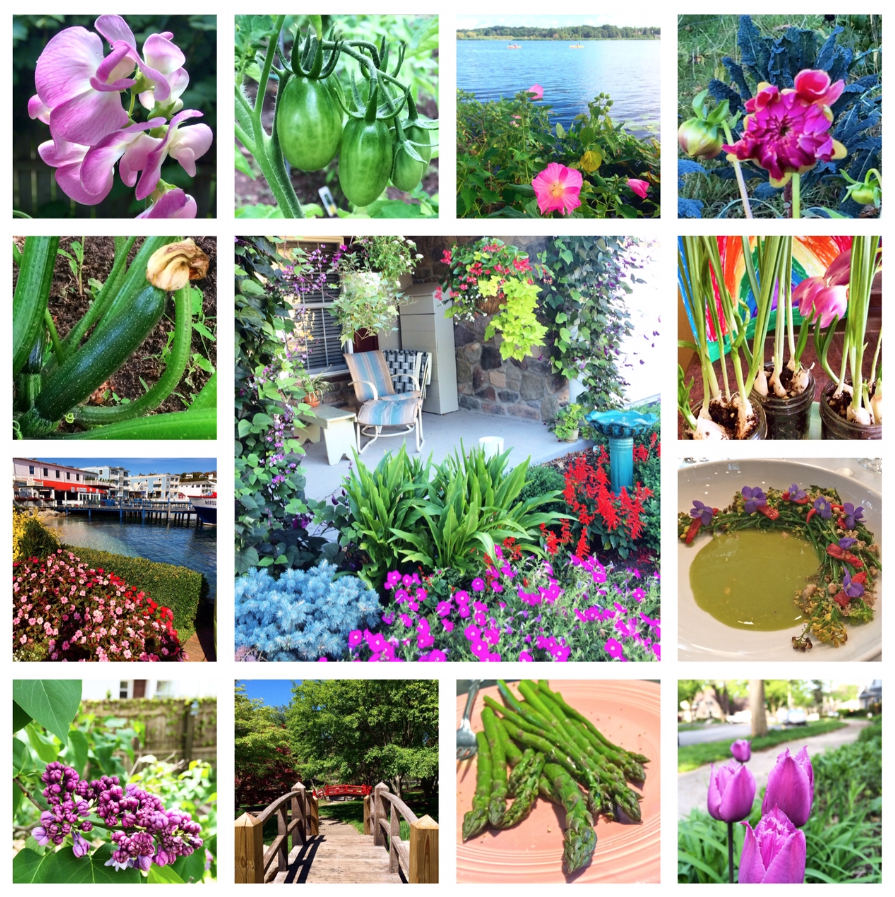 Creation's color pallet in its full glory
July 17, 2017
By Jane Bishop Halteman
Don shared during Sunday's formation hour about nature's impact on his growing up years, most of which were spent on a farm.  At three, he began hanging his tiny glasses on nearby spyrea bushes and once pulled out the family radishes, thinking he was eradicating weeds! 
As a career landscape architect, he said he experienced client delight on spending time in refurbished outdoor living areas and coming to appreciate new plantings. Even today Don and Marceil (and family and friends with whom they share the space generously) enjoy their cabin at Grandpa's Woods where they spend time close to nature surrounded by birds, flowers, and their garden.
His involvement in creating Mishawaka's 1.3-acre Japanese strolling garden, Shiojiri Niwa, (see parks district brochure here…be sure to scroll down to second page) also has given him an appreciation for how other cultures represent nature. "The Japanese have taken their love of growing things and their realization of humanity's union with nature and refined them in the beauty of their gardens. The purpose of a Japanese garden is to present natural forms and to create a tranquil beauty that leads the visitor from everyday life to a calm, serene, reflective communion with nature," according to the City of Mishawaka's website.
Don invited class participants to share how they have experienced the Divine in nature, eliciting stories from Mark about hand-sewing wild flower seed on his property, from another Don who watches the seasons unfold on regular walks in a nearby woods, from Elaine whose backyard patio inspires with a rotation of beautiful blooming flowers, from Lane about lessons learned from nature upon extracting weeds and unwanted mulberry trees.
Nature's extravagant beauty proclaims itself not only in our gardens, but also in our kitchens and ultimately on our tables.  Particularly at this time of year, we are wowed again and again at our South Bend Farmers' Market, by our local Community Supported Agriculture groups, and by our own gardens. If you do a Google search, you will find many sources that promise plants in the workplace and the home promote good cheer and raise spirits.  This article from the Florist Chronicles suggests that cut flowers banish a bad mood, feed compassion, chase anxiety, boost energy. 
We can immerse ourselves in lavish natural beauty portrayed by artists like Vincent Van Gogh in museums and books. Walking mazes and labyrinths, like the one at Saint Mary's College, provides a brush with the beauty of nature, as does visiting area gardens like Wellfield Botanic Garden in Elkhart or Fernwood Botanical Garden and Nature Preserve in Niles, MI.
My own colorful journey with nature has led to videos like this one about the St. Joe River and this one on meditating with the seasons. Taking photos featuring the beauty of creation has become a nearly daily spiritual discipline for me; I learn more about the Creator as I immerse myself in the Divine's creation. 
The photo collage above highlights zucchini and green tomatoes still in the garden and dishes made with garden vegetables; sweet peas, dahlias, tulips, and lilac from home gardens; the spectacular bridges at Shiojiri Niwa; a friend's sprouting green onions used as a centerpiece; Douglas, MI, and Mackinac Island waterfronts, and at the center, anchoring the photo, another friend's beautiful porch sanctuary surrounded by gorgeous summer foliage and flowers. 
Henry David Thoreau reportedly once said, "My profession is always to be alert, to find God in nature, to know God's lurking places, to attend to all the oratorios and the operas in nature," according to the Spirituality & Practice website which offers a Practicing Spirituality in Nature on-line retreat here.
Cathy Cummings Chisholm wrote this prayer for inclusion in her book Landscapes of the Heart:
Thank you for pauses placed unexpectedly in my path,
            for moments of rest
            for times of stillness
            for plots of growth
            for ever-welcoming arms and
            the companionship of silence.
You set before me an empty chair of respite.
You invite me to your garden.
Help me to accept the invitation to be at peace.
Teach me that I need not wait so long or resist so stiffly
            the yearning to sit and rest
            in a chair under a tree by a garden.
In what ways have you experienced nature's ability to companion, comfort, de-stress, encourage, motivate, refresh, renew? If nature has awed you, delighted you, inspired you, reinvigorated you, you have seen the Divine! 
Add a comment