Glimpses of Healing and Hope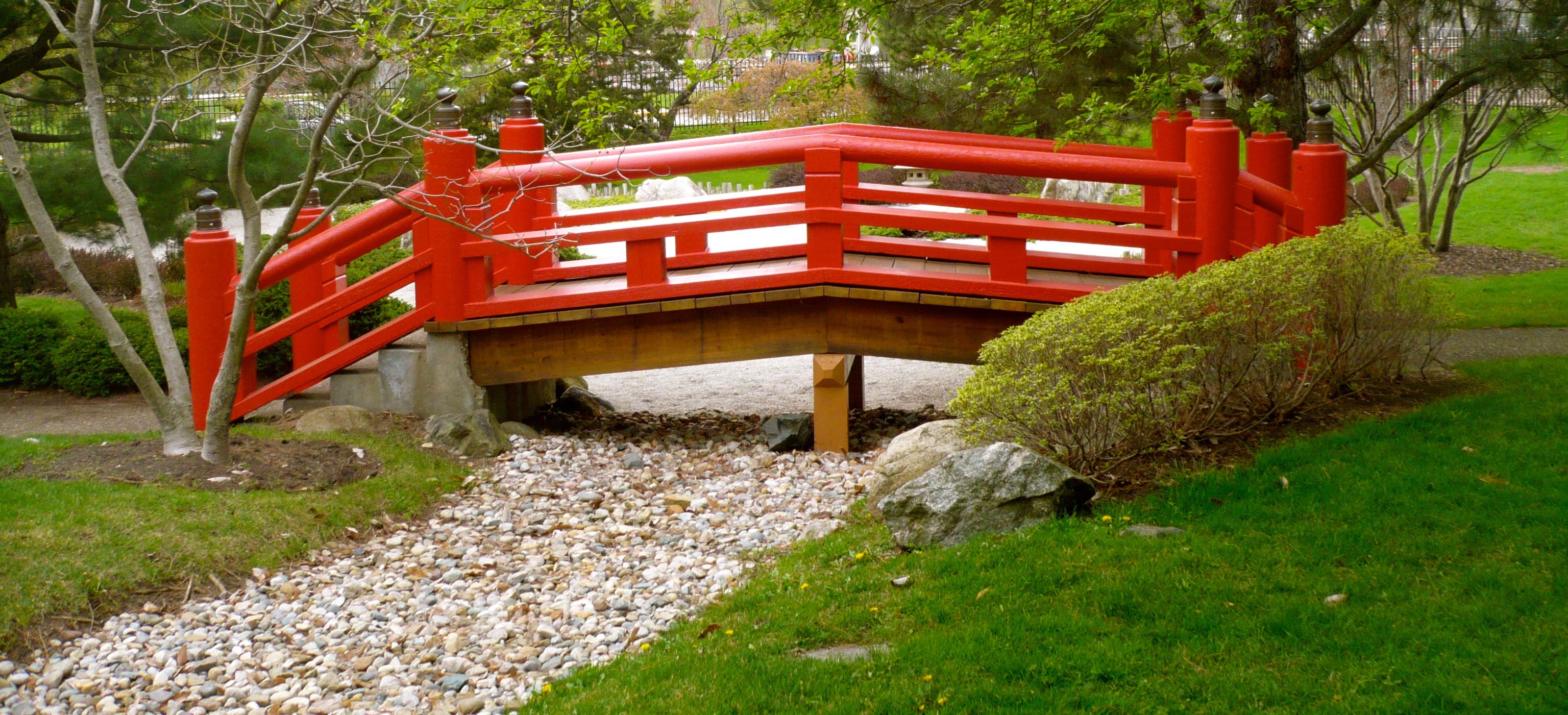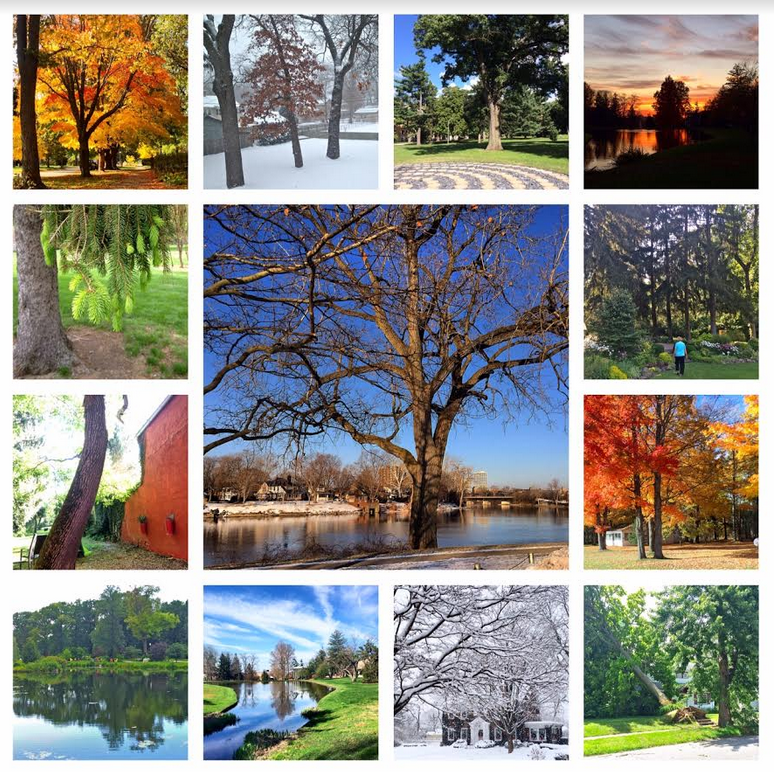 Trees of many sizes and varieties in all seasons
July 24, 2017
By Jane Bishop Halteman
Yesterday Nancy took her turn to share during Kern Road's Worshiping God through Creation formation hour.  Speaking about "Learning to love the urban forest" since moving with her husband from their wooded lot in rural Michigan to South Bend, she drew for us a portrait of her growing up years on a farm with parents who cared about trees.   
The farm, she said, was not a wooded property, but her parents planted trees.  She and each of her brothers all had their own special tree; hers was a weeping willow with a place to hide inside—her own sanctuary.
In her 'Sister Tree' blog post from January 12, 2012, Nancy says this about her first encounter with a specific tree after noticing a grove of trees 'calling' to her on the five-acre Michigan property: "In  particular, there was a circle of trees that stood next to the path on the downslope farthest from the house. One of the trees was dead, several were maples, and two others were common American hackberrys. One day as I was walking the path this circle seemed to invite me in, and so I stepped into it. As soon as I did that, one of the hackberrys showed itself to be the 'leader' of the circle. I stepped over to it, placed my hands on it, and felt a strong surge of peace and happiness that went directly to my gut." 
Nancy continued her practice of visiting the tree: "When I was feeling down, distracted, distressed, I would visit Sister Tree and feel better," she said on Sunday, describing the tree in a blog post "as a prayer companion, a meditation preparer, an energy field that somehow connects with me."
Upon visiting Sister Tree for the first time after starting the practice of centering prayer (see her description of this spiritual discipline here), Nancy noticed something different on her first visit to the tree in several months.  Writing in a December 3, 2012, post called 'Centering Prayer Meets Tree,' she explained that "what happened that afternoon at the tree was too powerful to ignore. The sense of peace was so strong that it vibrated in my core. The interval between distracting thoughts was so long it was as if the thought-manufacturing part of my mind did not exist. My earlier irritation not only dropped away; it receded so far that it seemed as if I would never feel that way again. After 20 minutes I walked back to the house elated and refreshed."
Explaining that much research has been done on how spending time in forests, particularly old forests, enhances well being, Nancy referenced Peter Wohlleben's book, The Hidden Life of Trees, as one parents and grandparents should read to their grandchildren.
Publishers' Weekly nonfiction review promises that "this fascinating book will intrigue readers who love a walk through the woods. Wohlleben, who worked for the German forestry commission for 20 years and now manages a beech forest in Germany, has gathered research from scientists around the world examining how trees communicate and interact with one another. They do so using a variety of methods, including the secretion of scents and sound vibrations to warn neighboring plants of potential attacks by insects and hungry herbivores, drought, and other dangers." 
According to this HuffPost blog, "The message at the core of the book is that each tree is not an individual, standing alone against the ravages of nature. In fact, the forest functions better as a community. Older trees look after young ones, groups of trees will try to rejuvenate stumps, and predators are repelled by the release of toxins and electrical signals to other trees through the forest network of fungi that they are near." 
A Quartz article published in the fall of 2016 says that "the tonic of the wilderness was Henry David Thoreau's classic prescription for civilization and its discontents, offered in the 1854 essay Walden: Or, Life in the Woods. Now there's scientific evidence supporting eco-therapy. The Japanese practice of forest bathing is proven to lower heart rate and blood pressure, reduce stress hormone production, boost the immune system, and improve overall feelings of wellbeing." 
This excerpt from LiveMint offers more information from this intriguing book, and you'll find a Public Radio International interview with the author here.
When I think back on my own life with trees, I remember sitting frequently on the grass in the back yard as a child close to a medium-sized, young oak, feeling connected to the Earth with the sun beating down on my then-black hair. 
Now, many years later, our retirement home came six years ago with a circle of four ancient backyard oaks, perhaps up to 150-200 years old, according to a landscaper friend's estimate.  I imagine the trees may have once served as sacred space to Native Americans, a sacredness that still permeates the place with a sense of peace and tranquility.   
"The more we know about these other aspects of nature, the more we experience our own place in nature" as part of creation, Nancy reminded us.  Take the opportunity this week to connect with trees and other aspects of the Divine's handiwork.  If you are interested to learn more about Nancy's adventures in her new urban forest, check out this link to her post entitled 'Tending the Urban Forest.' 
Add a comment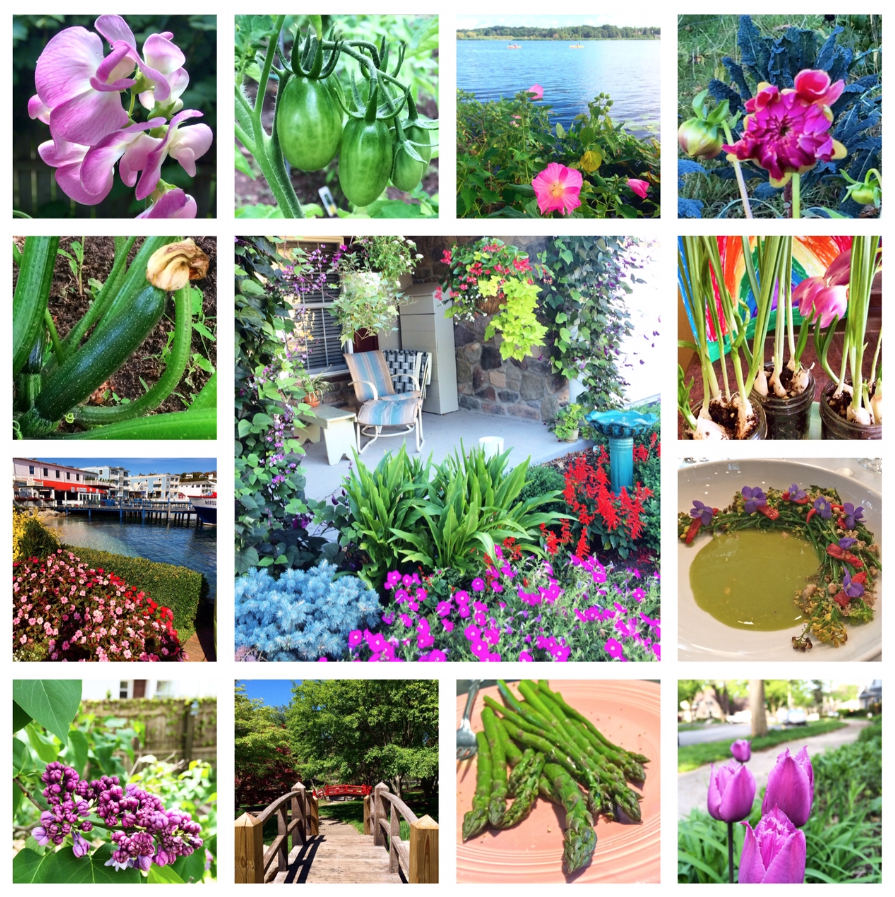 Creation's color pallet in its full glory
July 17, 2017
By Jane Bishop Halteman
Don shared during Sunday's formation hour about nature's impact on his growing up years, most of which were spent on a farm.  At three, he began hanging his tiny glasses on nearby spyrea bushes and once pulled out the family radishes, thinking he was eradicating weeds! 
As a career landscape architect, he said he experienced client delight on spending time in refurbished outdoor living areas and coming to appreciate new plantings. Even today Don and Marceil (and family and friends with whom they share the space generously) enjoy their cabin at Grandpa's Woods where they spend time close to nature surrounded by birds, flowers, and their garden.
His involvement in creating Mishawaka's 1.3-acre Japanese strolling garden, Shiojiri Niwa, (see parks district brochure here…be sure to scroll down to second page) also has given him an appreciation for how other cultures represent nature. "The Japanese have taken their love of growing things and their realization of humanity's union with nature and refined them in the beauty of their gardens. The purpose of a Japanese garden is to present natural forms and to create a tranquil beauty that leads the visitor from everyday life to a calm, serene, reflective communion with nature," according to the City of Mishawaka's website.
Don invited class participants to share how they have experienced the Divine in nature, eliciting stories from Mark about hand-sewing wild flower seed on his property, from another Don who watches the seasons unfold on regular walks in a nearby woods, from Elaine whose backyard patio inspires with a rotation of beautiful blooming flowers, from Lane about lessons learned from nature upon extracting weeds and unwanted mulberry trees.
Nature's extravagant beauty proclaims itself not only in our gardens, but also in our kitchens and ultimately on our tables.  Particularly at this time of year, we are wowed again and again at our South Bend Farmers' Market, by our local Community Supported Agriculture groups, and by our own gardens. If you do a Google search, you will find many sources that promise plants in the workplace and the home promote good cheer and raise spirits.  This article from the Florist Chronicles suggests that cut flowers banish a bad mood, feed compassion, chase anxiety, boost energy. 
We can immerse ourselves in lavish natural beauty portrayed by artists like Vincent Van Gogh in museums and books. Walking mazes and labyrinths, like the one at Saint Mary's College, provides a brush with the beauty of nature, as does visiting area gardens like Wellfield Botanic Garden in Elkhart or Fernwood Botanical Garden and Nature Preserve in Niles, MI.
My own colorful journey with nature has led to videos like this one about the St. Joe River and this one on meditating with the seasons. Taking photos featuring the beauty of creation has become a nearly daily spiritual discipline for me; I learn more about the Creator as I immerse myself in the Divine's creation. 
The photo collage above highlights zucchini and green tomatoes still in the garden and dishes made with garden vegetables; sweet peas, dahlias, tulips, and lilac from home gardens; the spectacular bridges at Shiojiri Niwa; a friend's sprouting green onions used as a centerpiece; Douglas, MI, and Mackinac Island waterfronts, and at the center, anchoring the photo, another friend's beautiful porch sanctuary surrounded by gorgeous summer foliage and flowers. 
Henry David Thoreau reportedly once said, "My profession is always to be alert, to find God in nature, to know God's lurking places, to attend to all the oratorios and the operas in nature," according to the Spirituality & Practice website which offers a Practicing Spirituality in Nature on-line retreat here.
Cathy Cummings Chisholm wrote this prayer for inclusion in her book Landscapes of the Heart:
Thank you for pauses placed unexpectedly in my path,
            for moments of rest
            for times of stillness
            for plots of growth
            for ever-welcoming arms and
            the companionship of silence.
You set before me an empty chair of respite.
You invite me to your garden.
Help me to accept the invitation to be at peace.
Teach me that I need not wait so long or resist so stiffly
            the yearning to sit and rest
            in a chair under a tree by a garden.
In what ways have you experienced nature's ability to companion, comfort, de-stress, encourage, motivate, refresh, renew? If nature has awed you, delighted you, inspired you, reinvigorated you, you have seen the Divine! 
Add a comment

July 10, 2017
By:  Jane Bishop Halteman
Six Kern Road high school youth, their sponsors Lane and Cathy, and three congregational delegates, Dave, Jim, and Vicki, plus Mark and Judy, attended Mennonite Church USA convention July 4-8 in Orlando.
Some of the 13 KRMC attendees will share their responses to MennoCon17 next week during Sunday worship.  In the meantime, a summary of what took place at the event follows, based on daily convention newsletters and reports from denominational news outlets.
A what-to-expect-first-day-of-convention briefing advised attendees that Mennonite Women USA and Mennonite Men would host a prayer walk to kick off Orlando 2017 Tuesday evening, July 4. "Take this opportunity to start convention with a relaxing time of walking and praying. Join us as we bless convention, the city of Orlando, and Mennonite Church USA."
Convention music, prayer, ritual, conversation, and speakers explored the theme Love Is a Verb. The convention newsletter, Orlando Squeeze, posted Tuesday, Wednesday, Thursday, and Friday recaps of events here, including Servant Project highlights, a story celebrating 100 years of Mennonite Women USA, and an article about an inclusive worship service honoring victims of the 2016 shooting at the Pulse nightclub in Orlando, among many other reports. The official 96-page program book, offering youth and adult seminar topics, at-a-glance daily calendars, featured speakers, and special events, appears here. 
Speaking in the Thursday morning adult worship service, best-selling New York Times author and popular blogger Rachel Held Evans suggested that "responding in love isn't about being nice or respectable, but is instead a matter of turning over tables: creating homes for refugees, bringing casseroles, marching with Black Lives Matter, and planting gardens in 'urban deserts,'" according to a Mennonite World Review (MWR) article.
MWR also reported that "Mennonite Church USA delegates on July 6 overwhelmingly passed a resolution on Israel-Palestine, confessing 'our own complicity in this web of violence, injustice and suffering' and vowing 'concrete steps to address these wrongs.'"
Noting that "at the first business session of the denominational convention, the statement received 98 percent support, with 10 dissenting votes in a delegate body of about 550," MWR said "the resolution opposes the Israeli military occupation while taking a stand against anti-Semitism and affirming the need to build stronger relationships with Jewish communities."
Cathy shared this in her #MennoCon17 Snapshots with a Youth Pastor blog post:  "My thought, my hope, my prayer in the middle of the night is to find the most challenging, radical workshops available, workshops that will push us and encourage us to be what we're trying to be."
KRMCer Kait, who attended the youth convention and, like Cathy, was invited to submit a convention blog post, referenced convention as "a place where people of all different ages, races, and walks of life come together to celebrate the one thing they all have in common. Orlando 2017 is my first convention and it has changed me in more ways than one. Before coming, my youth group leader explained how special convention was. He taught us how to appreciate the massive amount of people who would be coming together to worship and discuss important issues. It was the church coming together as one. It was decision-making and the making of history. It was family. Our family."
AMBS student Julia blogged here about her convention experience attending Ted & Co.'s play, Discovery: A Comic Lament, written by fellow seminarian Alison Brookins. "I was excited to go because of a class I had taken in June about the Trail of Death, the 1838 removal of the Potawatomie Indians from Northern Indiana to Kansas. My class spent a week traveling this route, mostly in vehicles, and learning about how the land was stolen in order that white settlers could move in. Mennonite settlers were some of the first ones to move in to take the land."
Julia added that she sees significance in the fact that the play took place on "the first day of convention. The Doctrine of Discovery gives a glimpse of a history, including a Mennonite history, that is not pretty as it tells the story of a theology that gave privilege to whites at the expense, the genocide, of Native Americans. By beginning convention with this acknowledgement, the Mennonite church is making a statement. They are making a statement that church is more than worship; it is about doing life together, which means being in relationship with all of creation around us. It is about acknowledging past and present harm in order that reconciliation can occur and God's shalom may prevail. 
A gathering to imagine an Anabaptist future for Mennonite Church USA called Future Church Summit also took place during the Orlando convention.  According to materials on the MCUSA website, "the Future Church Summit was designed to be a generative, open space for denomination-wide conversation—to dream together, reset priorities, and engage one another in answering the question: How will we follow Jesus as Anabaptists in the 21st century?"
MWR's report of the summit states that "participants (all 550 delegates, plus more than 100 others) shared a list of laments, which included painful patterns of splits and divisions, racism and failure to embrace racial diversity, lack of acceptance of LGBTQ people, and a declining emphasis on the Holy Spirit and spiritual growth."
The MWR story further notes that 1,254 affirmations were filed "for being a Jesus-centered community, offering a witness for peace in times of turmoil, striving to be a racially and culturally diverse church, nonconformity and simple living, speaking truth."
A Future Church Summit Outcomes report is available online.
We look forward to hearing personal reflections next week from KRMÇers who attended the Orlando convention. 
Add a comment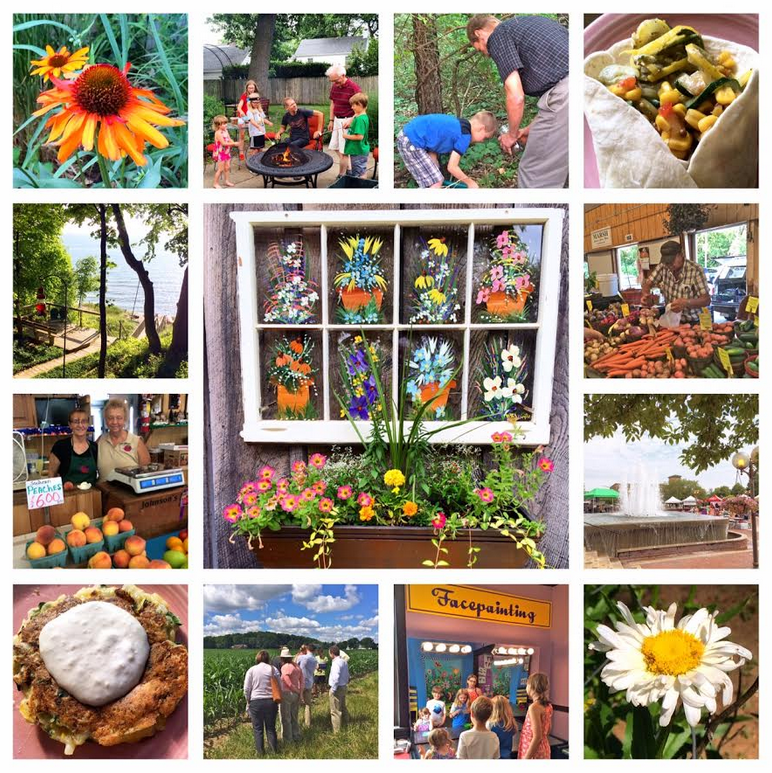 July 3, 2017
By:  Jane Bishop Halteman
When national leaders continue to disappoint and the world around us looks to be in steady decline, what makes your heart sing despite less than desirable circumstances?
I resonate this week with Parker Palmer's assessment of the July 4 national holiday we will observe tomorrow.  "On one hand, I celebrate all that is good about the U.S. and its people. On the other hand, I grieve the fundamental, perhaps even fatal flaws in our democracy that have been revealed by the diseased presidency and politics from which we now suffer," Palmer says in his July 2 Facebook post.
Before I read Palmer's musings, however, last week's tweet torrent threatened to drown me in despair, and I began practicing the spiritual discipline of noticing what brings joy even when the national/world situation seems grim. 
My first response was to compose a photo collage of what has energized me these last few weeks…in addition to the documentation of warm memories, I take great delight in making photos the best they can be. This week's individual photos reveal that nature and family activate my happy places, so the South Bend Farmers' Market, our own garden, and Matt and Jen's new CSA, offered lots of fresh produce last week to create tasty summer dishes, which I love to photograph as well as eat.  My once- or twice-daily visits to monitor blossoms on our property provide Instagram and Facebook connections via photos to other nature lovers. Bodies of water, like Lake Michigan and our own Saint Joe River, always lift my spirits.
Weekly visits with family fuel my obsession to document and chronicle the growing-up years of the grandkids.  Spending quality time with them at the library or Menno-Hof or the Saint Joe, MI, splash pad or Curious Kids' Museum or roasting marshmallows around our backyard brazier make lasting memories for all of us.
Learning with fellow KRMCers about soil during our intergenerational nature-related formation hour last Sunday presented another happy moment and photo opportunity as we gathered evidence to substantiate sharings from this blog post about Kingdom teachings from soil.    
Connections, even to folks I do not know in person, make my heart sing.  A Facebook friend whom I have not met except by phone walked me through upgrading security settings when she noticed my profile had been cloned last week.  An Instagrammer I follow who claims color as her "superpower" brings me joy every day with her vivid posts, profiling her love of life in London.  I treasure these interactions, especially when it feels like the world is collapsing in on itself and other countries' trust in US leadership is falling to new lows, according to a recent Pew Research Center poll.
Whenever I can, I attend South Bend's Fridays by the Fountain in front of the Morris Performing Arts Center.  This past week's band did not disappoint, particularly after I noticed an aging gentleman (way beyond my years anyway) dancing by himself to Proud Mary.  He wandered off when that number ended, but couldn't resist hanging around a while longer for These Boots Are Made for Walking.
Sitting on a ledge in the shade, sheltered from the hot sun, I watched happy human interactions unfold before me as a child and two older women took seats on the steps nearby.  The child's apple rolled away, and I imagined it might get tossed.  Happily, one of the grandmas poured her own carbonated beverage over the apple and returned it to the child.  The other grandma dipped her scarf in the nearby fountain to clean the child's face after sandwich bites.
Folks nearby enjoyed the two-year-old's rollicking movement to Some Kind of Wonderful and Sweet Home Alabama (which the band changed to Chicago for the occasion) and her happy leaping down the stairs, jumping proudly from the last step to the ground.  She warmed to her audience's cheers and put on a magnificent show for us; the woman on the ledge next to me commented out loud that it was such a relief to be away from the political fray for a moment.
Watching the many ethnicities and age groups (from infants in wraps and slings to octogenarians on walkers and canes) enjoying one another on their lunch breaks at Fridays by the Fountain functioned as an antidote to overdosing on the goings-on in Washington, DC. Kids blowing bubbles and families frolicking in the fountain mist, the kind word of a stranger, even the appearance of the Martin's food truck added to the ambiance that raised my sinking spirits that day.
Where have you glimpsed the Divine in simple human interaction?   
Add a comment