Glimpses of Healing and Hope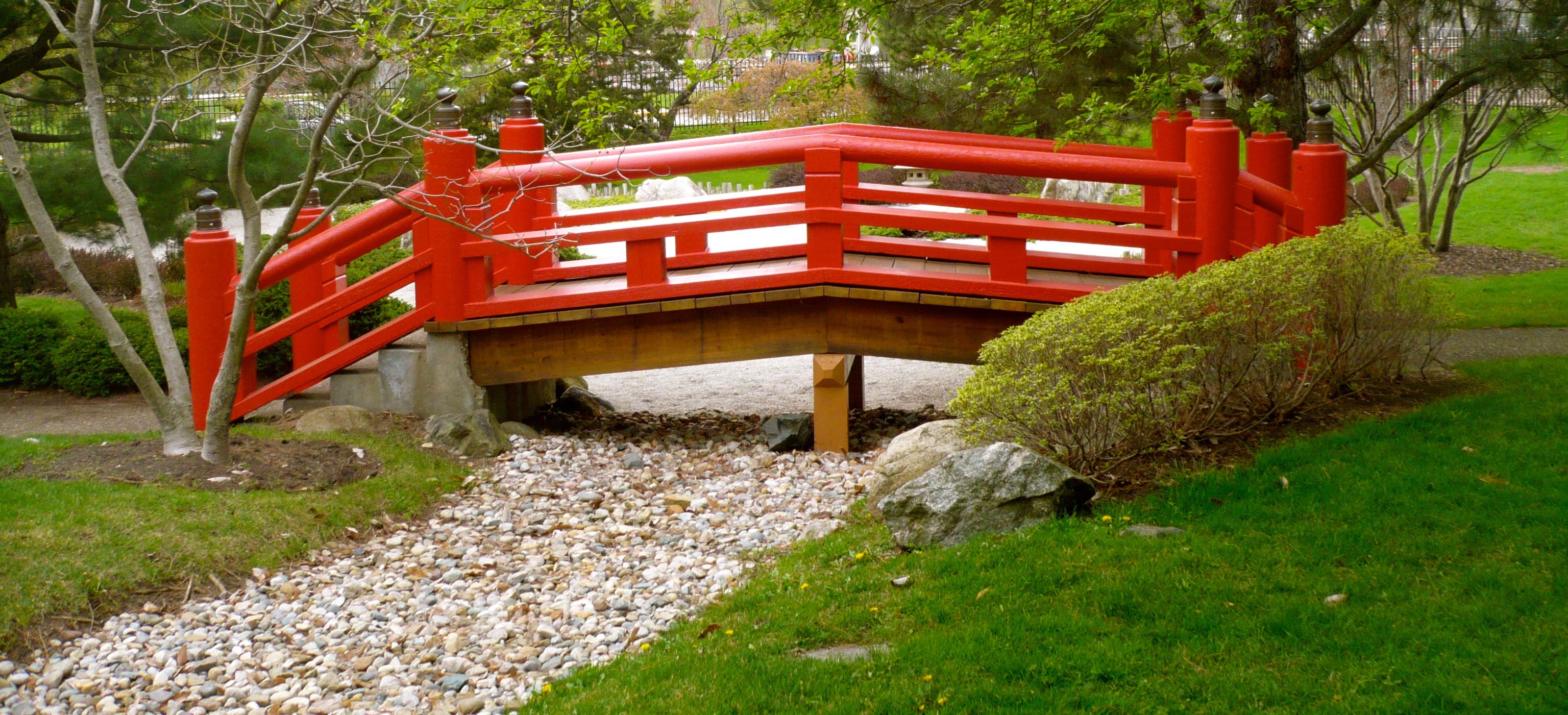 January 30, 2017
By:  Jane Bishop Halteman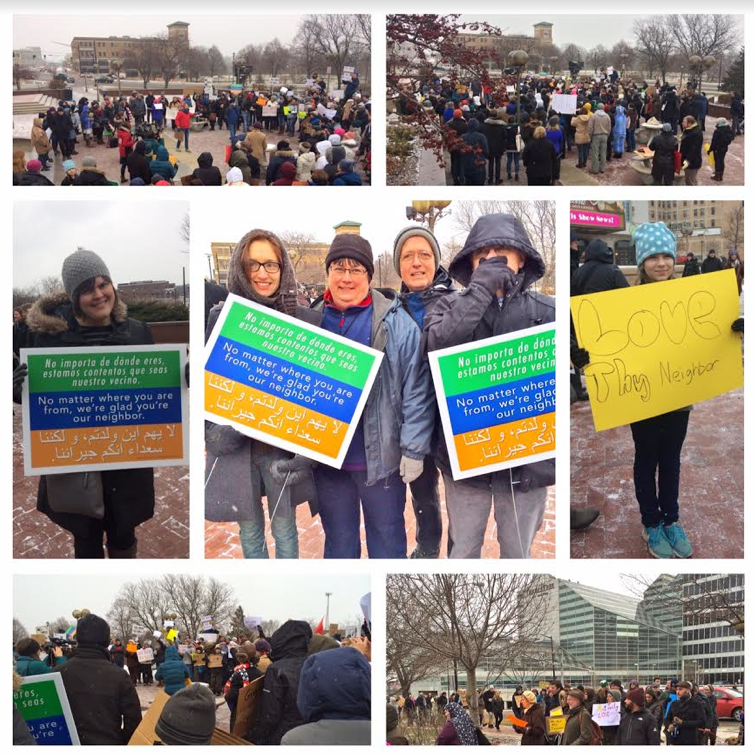 Kern Roaders participate in South Bend No Ban No Wall rally
It was cold and snowy, but that didn't deter at least 11 KRMCers (and possibly more) from making time to participate in the last-minute "No Ban No Wall" rally Sunday afternoon in front of the Morris Performing Arts Center in downtown South Bend.  With prompts to attend from Janna on the congregation's Facebook page and our faithful daughter, we made it out the door on the heels of our return from a small group gathering.  Armed with our "We're Glad You're Our Neighbors" sign, we trotted briskly around the Morris block, spotting family and friends and a diverse group of others speaking their collective mind about the "No Ban No Wall" agenda.
Only a week has passed since five KRMC women attended the Women's March on Washington, which was good preparation for local events yesterday and more to come, we presume, but so much already has changed in just a week since the presidential transition that it's somewhat difficult to recall back to the euphoria we experienced immediately after the march. 
Prior to the event, Janna reported that "I am going in order to facilitate a formational experience for my daughters. I want them to understand themselves as Anabaptist Christian women worthy of respect and capable of caring for others.  Janna and Amara, eight, and Addie, six, picked up Janna's mother in Ohio, and connected with her sister, aunts, and cousins in DC.
"As a part of our being there, we also were in active dialogue with other members of the family as to why we participated and how we engaged with the variety of positions represented at the march, which was an extraordinary demonstration of what it means to say no to hate in creative, celebratory, positive ways," Janna noted.
Becky, who went with her two sisters, said she "came away from the weekend inspired to go beyond a mere involvement in a march to actually carry on the spirit of the march by taking whatever constructive action I can.  Already today (Monday a week ago), I've called Sen. Todd Young's office to register my opposition to Betsy DeVos as secretary of education.  Same call goes to Joe Donnelly tomorrow.  On Wednesday, I'll be calling Rep. Jackie Walorski asking her to save Obamacare, or at any rate, not to end it before something similar is in place.
"I was exhilarated to see rest stops in Ohio filled with women, many wearing pussy hats," Becky continued.  "I wear my pussy hat proudly and call it by that name.  I knitted seven of them, including ones worn by my daughter and two granddaughters who marched in St. Louis.  We had the same experience coming back through Ohio.  Women honked and waved at sight of our hats or perhaps were tipped off by the Obama/Biden sticker on my minivan," Becky observed.
Danile explained that she is "pleased that the definition of the word 'pussy' has been successfully transformed by a sea of cat-eared, hand-knitted pink hats."   She said she thoroughly enjoyed the weekend and indicated that she "was excited by those who showed up to express their resistance to a leader who is seemingly incapable of introspection, self criticism, curiosity, and compassion.  I enjoyed being with my traveling companions and hosts, and in the capital city for a weekend.  I was lifted by the generosity of spirit of the (hundreds of) thousands at the march and the many we met on the way there and back.  I loved the creativity of so many signs, their wit and incisiveness, and hope. I am energized to work against discrimination, exploitation, and greed.  I plan to collaborate with the many local movements to prevent the erosion of good things accomplished in our country, state, and community." 
Brenda, too, shared that she "was energized by the solidarity of concern about this administration regardless of specific agenda and excited by the warm positive effect of so many passionate people; however, I was also met with backlash on social media and from a few coworkers about my decision to attend. I came away with hope that a large swath of people of all stripes with varying agendas have awakened from apathy to believe it is essential that we speak up. I truly feel motivated to more active political involvement in a way I have not before. That is my responsibility." 
Prone to anxiety about elevators, subways, and crowds, I could have succumbed to my fears and stayed away from the march; in fact, when pastor Janice reached out to Janna, Danile, Becky, Brenda, and me because she knew we were all traveling to DC, I answered:  "Thanks for sharing with the congregation, Janice, and for the prayers of the people.  I find myself a bit anxious about the travel, the crowds, the potential risks, bathroom options, etc., so will greatly appreciate you all remembering us…" 
Much to my astonishment, the good vibes of the marchers and the prayers of the people made manageable the anxieties I had feared battling on this daunting excursion.  My desire to witness the Washington gathering as a self-care mechanism, to fulfill a need to experience solidarity with folks who still care about the earth and all its inhabitants as we stand at the threshold of a strange new world that threatens not to take care of the least of these, apparently overtook the fear.  I would like to be wrong about the changes I fear in Washington, but, in the meantime, I found it necessary to walk in solidarity with the marginalized on every front.    
Most of the KRMC women who participated in the DC march reported dissonance with some of the signs and speaker sentiments expressed there, but, as Brenda said for all of us, "I do not feel responsible for the varying views and level of respect vs. anger expressed at the march; I believe participating was a positive, if imperfect, journey."
After filing her post-march report, Brenda offered this inspirational addendum about attending a meeting with co-workers:  "A member of the group started the meeting by asking me to share about my experiences in DC. I was totally unprepared to do that, recognizing that people were present who had radically different political views than I. What I ended up saying spontaneously was much more conciliatory, reaching across the divide, than I would have expected to come out of my mouth a week earlier. I explained why I embraced the pink pussy hats, though reluctantly at first, but also acknowledged why they could be seen as offensive. I shared my belief that many people were present, young people in particular, who had never been politically engaged before, and, regardless of which way they might choose to vote, they will now see the importance of being empowered.
"It felt really important to me, transformational, that this amazing experience not be seen as offensive or hateful to people who might view it differently," Brenda concluded.
Becky's comment that "I hope there's room for the angry among us to sit at the table with those who advocate a quiet approach," resonates with me.  I, too, hope we can listen well to each other as a new political climate continues to unfold before us.  I trust our congregation will find ways to resist authentically new government mandates that are not in keeping with our understanding of the Gospel. 
Add a comment
January 23, 2017
By:  Jane Bishop Halteman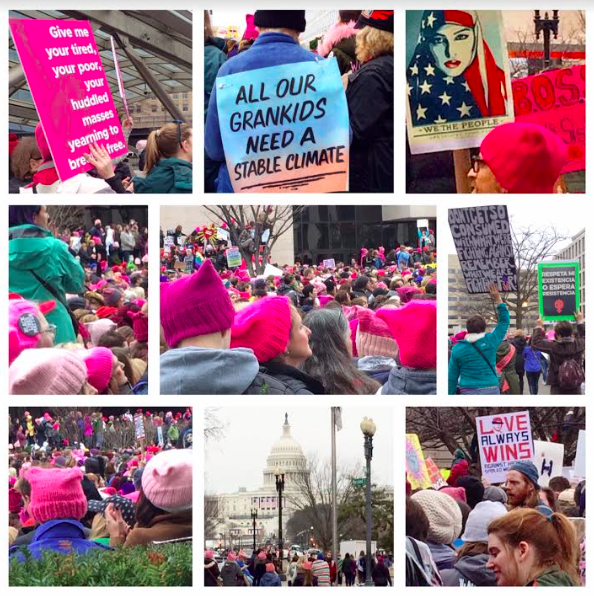 I was hopeful I would have stories to tell you about Mennonites singing at the Women's March on Washington, but, truth be told, my sister-in-law and I, who traveled together by train from Philadelphia to DC Friday afternoon and arrived home Sunday evening, never saw another Mennonite as far as we know!
The Associated Press estimated a crowd of approximately 500,000 and "a Metro official said that more than a million rail trips were taken Saturday, the second-highest day in its history after Barack Obama's first inauguration in 2009," according to The New York Times, so it's not surprising that we ran across no familiar faces, including the other women from Kern Road, whom I expect will log reports on their experiences for next week's post.
The two of us will not soon forget the massive, jostling, but very orderly crowds, Saturday's overcrowded Metro, our restroom run back to the hotel (because the mobs obscured any view of the temporary facilities), the fact that we could find no place but our hotel to eat after the march.  
We will not soon forget the passion of speakers Gloria Steinem, Michael Moore, Ashley Judd, and many more.  We will not soon forget the young family we met making signs in our hotel Friday night as they prepared to march with their disabled daughter on behalf of all those with disabilities.  We will not soon forget those in wheelchairs and strollers, using knee rollers and walkers, pushing baby carriages and grocery carts. 
We will not soon forget the silver-haired Japanese woman we talked to as we left Union Station Sunday afternoon.  She told us that, at her age, she did not expect to be marching again for the rights of the marginalized, something she's been doing since the 60s.  The Japanese are not prone to confrontation, she told us, but they have marched for two causes over the years: this one and against nuclear war. 
We will not soon forget the women, men, and children who gathered from all across the country, who spent time and money to assemble peacefully on behalf of "justice and equity for all."  They marched for many reasons as illustrated by the array of signs they carried:  to stop white silence, to manage global warming, to unite against hate, to promise we will never go back, to announce love always wins, to declare themselves proud to be Muslims, to assert that our grandkids need a stable climate, to affirm that Black lives matter, to proclaim that our daughters are still watching, to acknowledge that we're glad you're our neighbor, to suggest we make diversity great again, to remind us that when others go low we go high.
We will not soon forget the compassionate marchers who assisted us as we climbed through a thick hedge when we needed to escape the masses, the immediate attention others gave the woman who dropped to the ground as we were passing, the accommodation offered those walking the opposite direction of the majority, the easy conversations we struck up with sister/brother participants in restaurants and on the Metro.  For whatever reason any of us chose to participate, it seemed we felt a solidarity with this enormous throng of fellow Americans.
March co-founders Breanna Butler and Evvie Harmon called the response overwhelming, pointing out that the movement has become global as nearly 200 cities were signed on to participate in Saturday's march.  Here's how the founders envisioned the march's impact:  "In the spirit of democracy and honoring the champions of human rights, dignity, and justice who have come before us, we join in diversity to show our presence in numbers too great to ignore. The Women's March on Washington will send a bold message to our new administration on their first day in office, and to the world that women's rights are human rights. We stand together, recognizing that defending the most marginalized among us is defending all of us.
"We support the advocacy and resistance movements that reflect our multiple and intersecting identities. We call on all defenders of human rights to join us. This march is the first step towards unifying our communities, grounded in new relationships, to create change from the grassroots level up. We will not rest until women have parity and equity at all levels of leadership in society. We work peacefully while recognizing there is no true peace without justice and equity for all." 
As people of faith, how do we respond to these needs and concerns, Sojourners asks?  "We respond the way Jesus did."  Check out this link for recommendations about not sitting out this one.  The Mennonite published this opinion piece about why the author planned to participate in Saturday's event:  "The Women's March on Washington is a reclamation of voice. This unification of women is about creating solidarity: showing up and speaking up. We are marching because we have endured in silence for too long. We are marching because we cannot be complacent, instead, we must displace ourselves from comfort. We are marching because in the coming years, we must be the church: we must be present in suffering, we must be raw in our grief, and we must actively seek the upside-down kingdom," says Hanna Heishman.
How will we at Kern Road "be present in suffering, raw in our grief, and actively seeking the upside-down kingdom?"  Now is the time to begin to prepare for these undertakings.  I look forward to sharing next week KRMC women's responses to their march experiences.
For a more comprehensive picture of women's marches here at home and around the world, see this series of photos.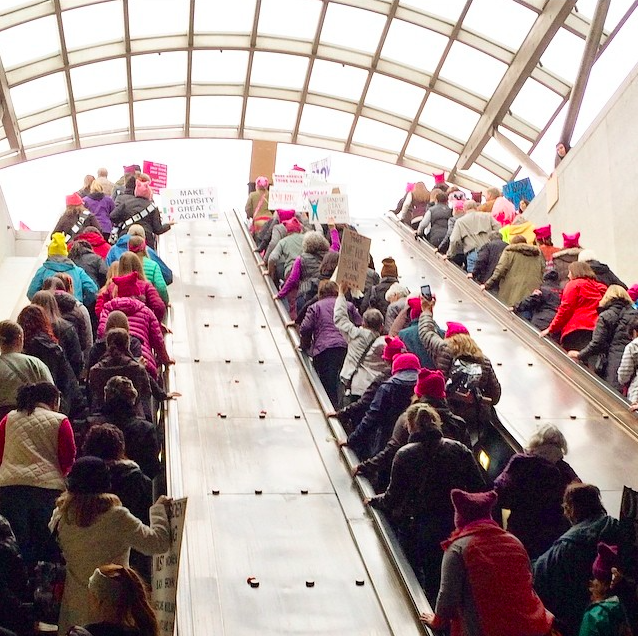 Onward and upward as the work continues (Metro escalator at L'Enfant Plaza, Washington DC)
Add a comment
January 16, 2017
By:  Jane Bishop Halteman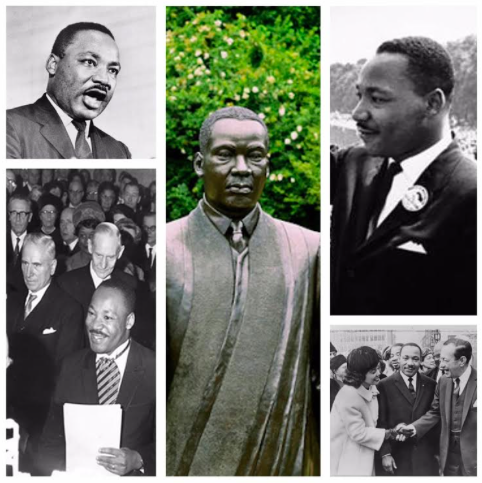 Today is Martin Luther King (MLK) Day; last year I wrote this blog post which appeared 12 months ago here at Glimpses of Healing and Hope.  Now, a year later, we find ourselves just days away from a presidential transition, which many of us fear threatens to marginalize further the already anxious minorities living in our country.
"What are we to do with the discomfort we feel in these circumstances," reporter Chuck Todd asked civil rights leader Rep. John Lewis of Georgia late last week as the country approached another MLK Day.  Noting that we have to organize and continue to speak out, Lewis said, "It is painful to see our country come to where it is today" and reported he shares our out-going president's concern about the state of our democracy.  "Mobiize…you cannot sit on the sidelines," Lewis warned.  "You've got to be engaged.  We must continue to come together, be hopeful, optimistic."
Adding that the "scars and stains of racism are still deeply embedded in American society," Lewis admonished that "we cannot sweep them under some rug.  We must not be silent."
Given the present distress in the nation, Lewis acknowledged that it will be an out-of-the-ordinary MLK Day celebration.  What would Martin Luther King say to address the present dissention in the nation? host Todd asked.  He would say, "Never give up, never become bitter, " Lewis responded. 
According to a Los Angeles Times article, "Lewis was the youngest speaker at the 1963 March on Washington, by then already a central figure in the efforts of African Americans to secure civil rights. For years, he was repeatedly arrested and beaten at Southern protests.
"In 1965, during the celebrated 'Bloody Sunday' march at the Edmund Pettus bridge in Selma, AL, Lewis was clubbed so severely that he suffered a skull fracture. He recovered and led other protests, and 30 years ago he was elected to Congress," the Times reported.
In 2011, President Obama awarded Lewis the Presidential Medal of Freedom, the nation's highest civilian honor, the Times said.  
As a reminder to the new administration that we hope justice will prevail on all fronts, a number of women from KRMC plan to walk in the Washington DC Women's March this coming Saturday, the day following the inauguration.  Brenda says this about why she is participating:  "I am attending the march with my 'mothers, sisters, daughters.' Literally my sister is flying from Seattle and my daughter is taking the bus from Durham, NC. I am marching because this is not politics as usual. This is not left leaning vs. right leaning. The incoming administration has promised and said things that are abhorrent and frightening. 
"As a mother, I want my daughter to know the rhetoric (we've heard in the run-up to the election) about women and minorities is not acceptable," Brenda adds.  "As a social worker I want the president-elect to know that mocking disabled people happens all the time but should never come from the most powerful person in this country. As a health care worker I want the POTUS to recognize that hundreds of people in my town alone have access to health and mental health care because of the Affordable Care Act (ACA).
"As a citizen of this beautiful complicated world, I support all efforts to sustain it. I forcefully support the press, whether you agree with them or not, as an essential arm of democracy. I want to remind us that we are ALL immigrants in this land. And I want to exercise my right to protest peacefully for all the people the Jesus of the gospel embraced," Brenda concludes.
Danile, who will be traveling with Brenda, explains why she is going to the march:  "Benjamin Franklin, when asked after the constitutional convention,  'Well, doctor, is it a monarchy or a republic?' answered, 'A republic, if you can keep it.'  I am going to Washington DC for the Women's March because I want to say, 'We are here to keep our republic.'  Any degree of democratic rule is difficult to put into place, and it is a tragedy to continue to allow this country, however flawed, to move backward on human rights, the chance for a decent life, community welfare, hospitality, and so many things that seem threatened.  I want Donald Trump to see how many people care about keeping the Republic."
To follow what's going on at the march, check out the Facebook page of Mennonites at the Women's March on Washington.  Look for more here next week from Danile, Brenda, myself, and Becky and Janna and daughters, who reportedly also will participate.  We would all appreciate your remembering us in this endeavor.  For more information about the DC march and other  "sister" marches around the country which will take place on Saturday, read this Huffington Post article.
Add a comment
January 8, 2017
By:  Jane Bishop Halteman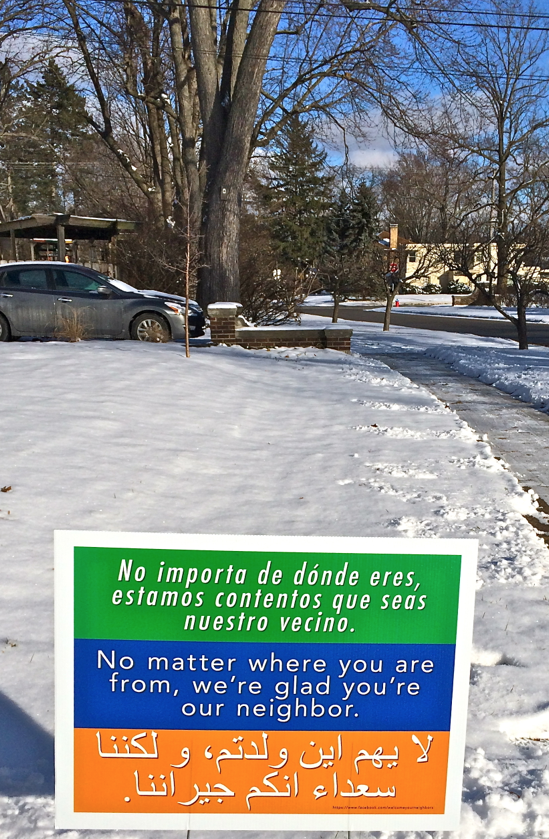 The sign pictured above, now available for $10 at Kern Road Mennonite Church ($9 covers printing charge and $1 goes to our KRMC Immigration Ministry), began as a black and white, hand-lettered version at Immanuel Mennonite Church (IMC) in Harrisonburg, VA, according to a story written by Steve Carpenter which appeared in The Mennonite back in September 2016.
"When the Democratic and Republican primaries were just beginning," Carpenter reported, "my congregation decided to put up a sign proclaiming our shared value of welcoming foreigners….It reads, 'No matter where you are from, we're glad you're our neighbor' in three languages: English, Spanish and Arabic. IMC's neighbors speak many languages, but primarily one of these three. Pastor Matthew Bucher said, 'I hope that the sign is a marker to the community. And, I hope that folks leaving IMC after a service are reminded of who we are to be.'" 
The story proliferated quickly with a variety of local details but the same basic content featuring folks eager to welcome their neighbors despite widespread political rhetoric to the contrary…this one at Lancaster Online mentions friends our Ten Thousand Villages' volunteers will know from their connections with the Bunyaad Rug Room.  
An NPR story which aired December 9 reported that the sign carries a "message of tolerance and welcome" and this Petworth neighborhood blog in the Washington DC area shared with readers how to get their own signs.
This story in the Huffington Post calls the sign "a sign of the times" and explains "why this welcoming sign is popping up in yards across the country." The Huffington Post article further explained that "a PDF of the sign is available to print for free on the (founding) church's website. The church has also started a Facebook page called "Welcome Your Neighbors" where you can contact others who have made the sign and place orders."  Mennonite World Review's article about the sign, published December 27, reveals the sign's migration to Canada and our own nearby Goshen.
We at KRMC are grateful to Barbara for taking the initiative to make signs available to us in South Bend and, through us, to others beyond our town who see our signs and want to share them in their own neighborhoods.  Our pastors reminded us during yesterday's worship service that "light came into the world in the midst of dark times."  These signs are just one of the places I see the light spreading around us…where else do you see warmth and light and welcome?
It was a lovely serendipity, another burst of light, this weekend to find this link when a friend posted a four-part harmony version of My Soul Cries Out from Laurelville's Music and Worship Hymn Sing 2017.  The words of the chorus voice this promise:  "My heart shall sing of the day you bring.  Let the fires of your justice burn.  Wipe away all tears, for the dawn draws near, and the world is about to turn!"  May we participate in the world's turning.
Add a comment