Glimpses of Healing and Hope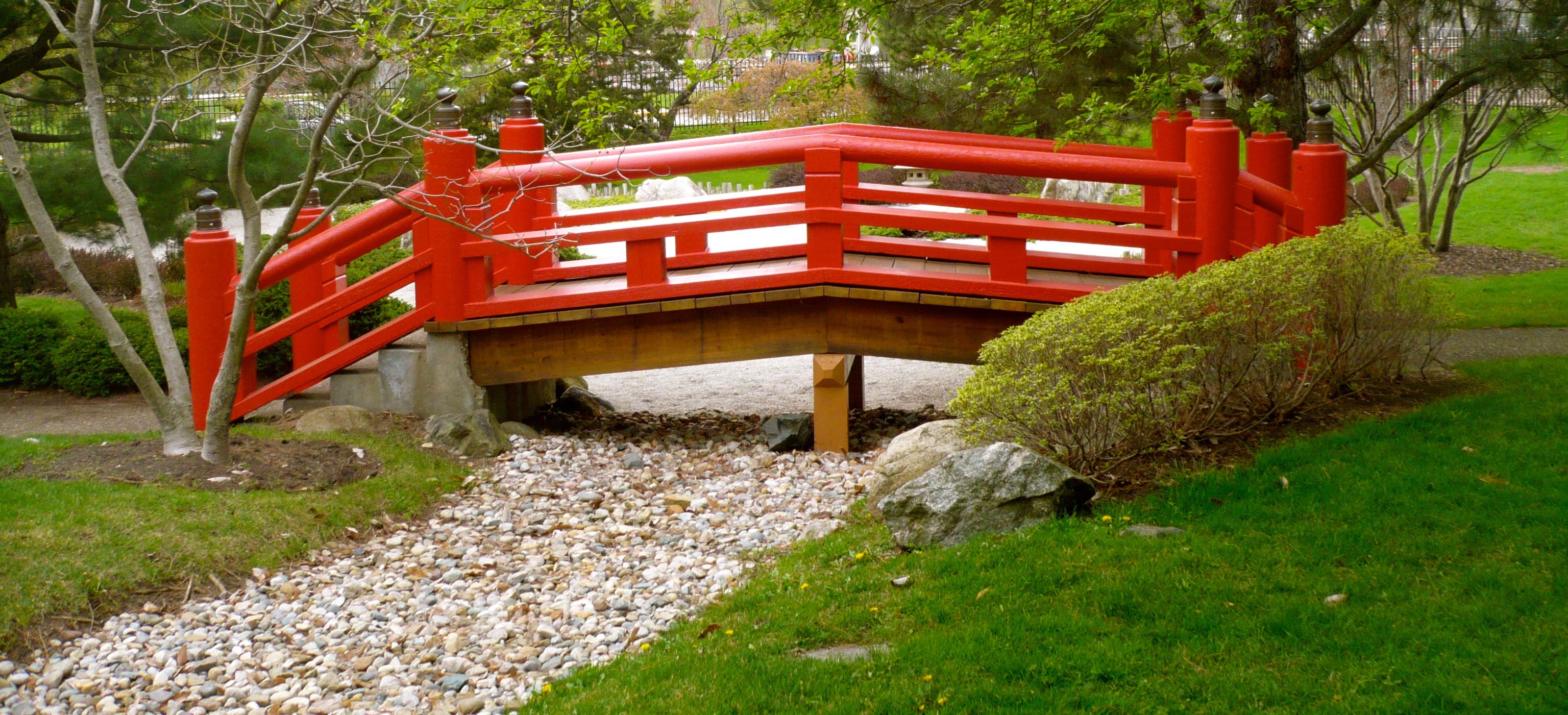 March 20, 2017
By:  Jane Bishop Halteman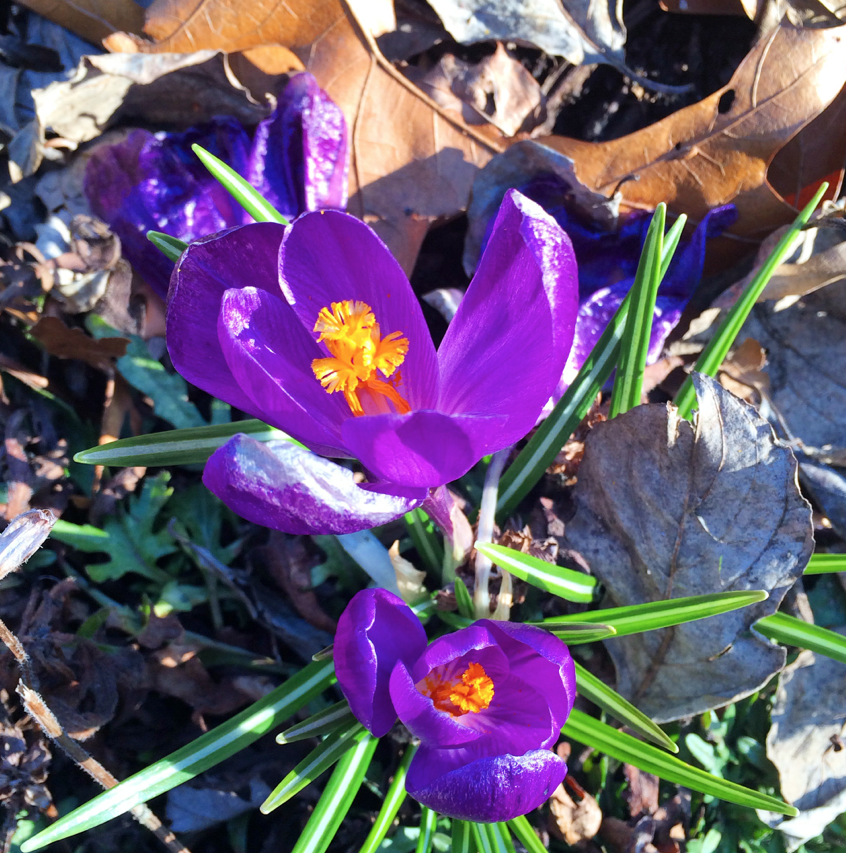 We look to spring to make all things new; in our part of the world, we anticipate the muddy soil drying out and eventually turning green, cloudy skies becoming blue again, birds who flew south for the winter returning.  Even our wintery spirits seem to lift as the sun shines longer and brighter, and evidence mounts that the earth is beginning another new cycle of growth. 
Macrina Wiederkehr, in her book The Circle of Life co-authored with Joyce Rupp, suggests that spring is a good time to "meditate on the return of life.  How are we, like the buds of the earth, opening to God and to others?  What secrets buried deep in the soil of our soul are being revealed to us?  How is the gospel of springtime unfolding for us?  What is the great blossoming in us?"
Like my embattled crocuses, who finally decided yesterday that it was safe to bloom after emerging from the ground two weeks ago, our wintered-over souls take new courage as days lengthen and signs of new life appear from amidst the left-over debris of last year's dried-out stalks and withered flowers.  The surviving crocuses, somewhat the worse for wear having weathered more winter since they poked through the ground, are blooming brightly but not without tatters and tears. They remind us that new life, new flowerings will follow pain, despair, failure, trauma. 
Many spring blossoms unfurled this past weekend for KRMCers who live in the western area group.  Not only did we welcome Vic and Nancy, who started their move Saturday from Buchanan, MI, to South Bend's Near Northwest Neighborhood (NNN), but some of us represented Kern Road Saturday night in a neighborhood choir festival hosted by the NNN, and others of us and the wider KRMC family watched four of our area group members compete Saturday/Sunday in the St. Joe Valley table tennis open.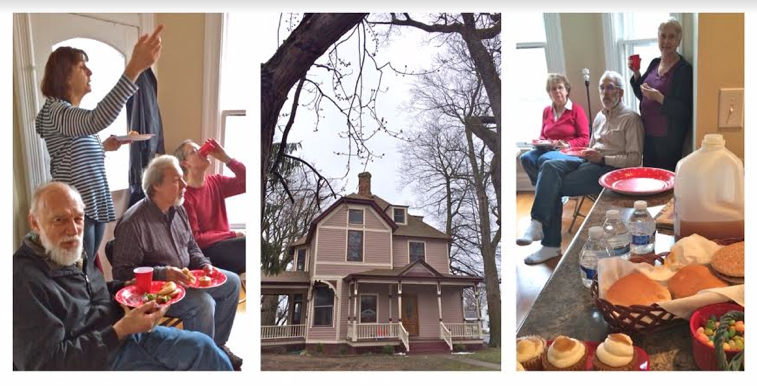 The community pitches in to help Vic and Nancy move to the Near Northwest Neighborhood
Members of their former area group and small group and other KRMCers helped move boxes out of Vic and Nancy's Buchanan house, and several of us from their new area group welcomed the movers and home owners with lunch and offered more pairs of hands to cart boxes inside. I love Nancy's desire to foster a drop-in culture at their South Bend home.  Her February 8 blog post at The Practical Mystic says this:  "The room that really captured my imagination on this fourth look at the Pink Lady was the dining room. It is big. Before, I just thought, that is a really big dining room. Yesterday I began picturing our table in it with all the extra boards. People dining around it or learning English around it or writing letters to Congress around it. The dining room is big enough to be a neighborhood hub in itself."  That blossoming hub is another sign of spring!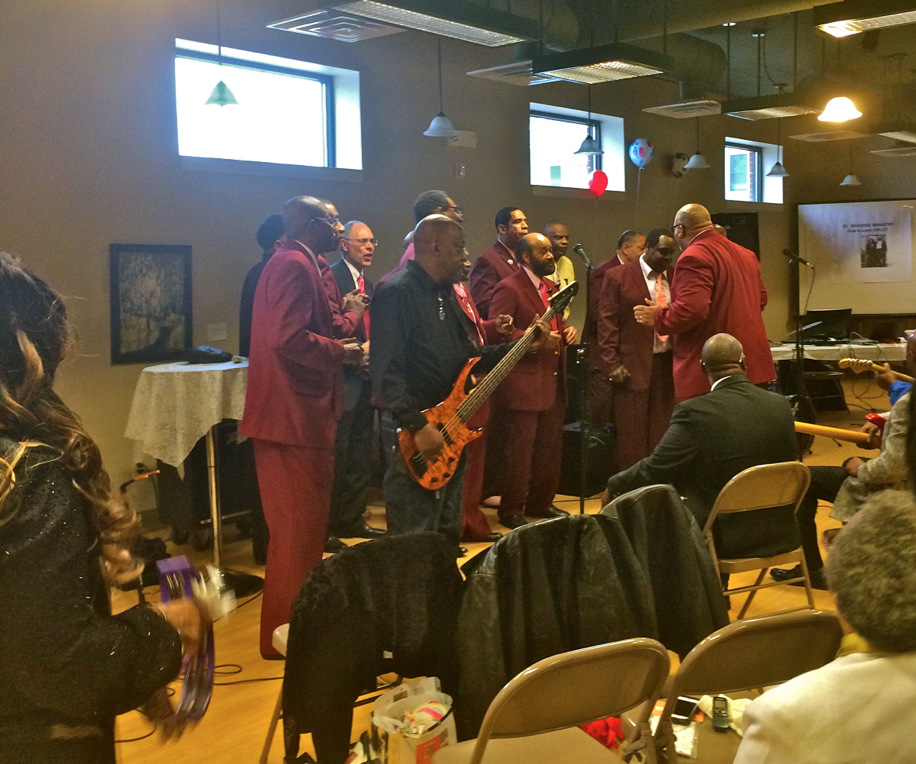 Andre sings with neighborhood choir
Andre and Brenda recruited about 15 KRMCers to sing Saturday night at the neighborhood choir festival, sponsored by a Black men's choir in which Andre participates.  Many thanks to him for responding to the invitation to include our pick-up choir in this cross-cultural opportunity, where we connected with other people of faith in the neighborhood...yet another springtime blossoming for our KRMC family.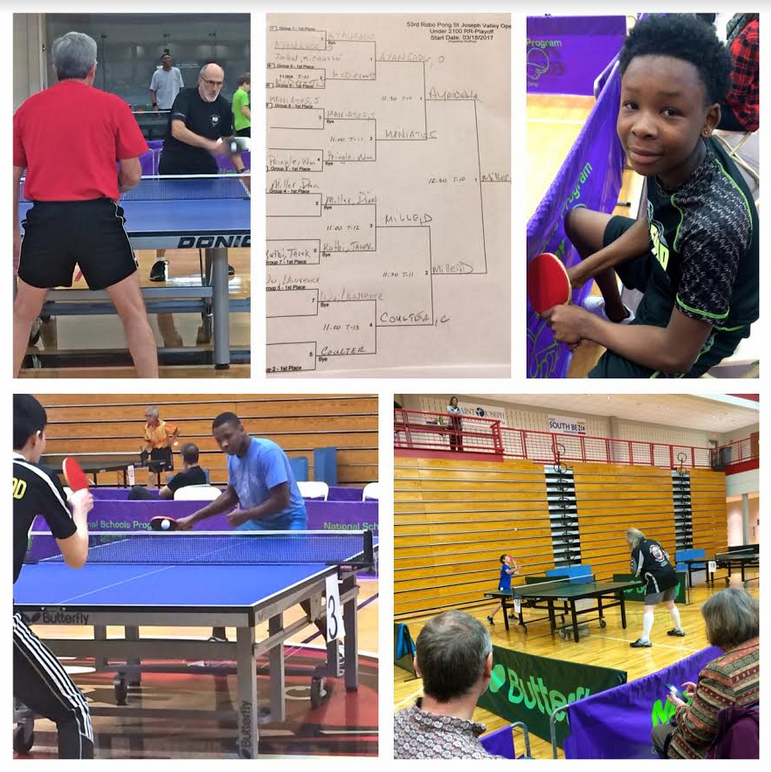 Phil, Dion's win (under 2100 RR-playoff), Dionta takes a break, Dion, Marty (with Andre and Barbara) 
During our sharing time at the conclusion of our Lent 3 worship service Sunday, a KRMCer offered that, for him, "hearing stories at the table tennis open revealed another dimension of our church at work."  Spectators shared the excitement of players Phil, Dion, Dionta, and Marty, rejoicing with them in their victories and feeling the pain of tough losses.   Learning more about each other as individuals represents spring blossoming. 
In what way might you turn deepening connections inside and/or outside the community into a worthwhile Lenten practice?  Today is the first day of another spring; how will you allow spring into your life this Lenten season?  Consider these spiritual exercises from Spirituality & Practice for your celebrations of the start of spring this week. 
Add a comment
March 13, 2017
By:  Jane Bishop Halteman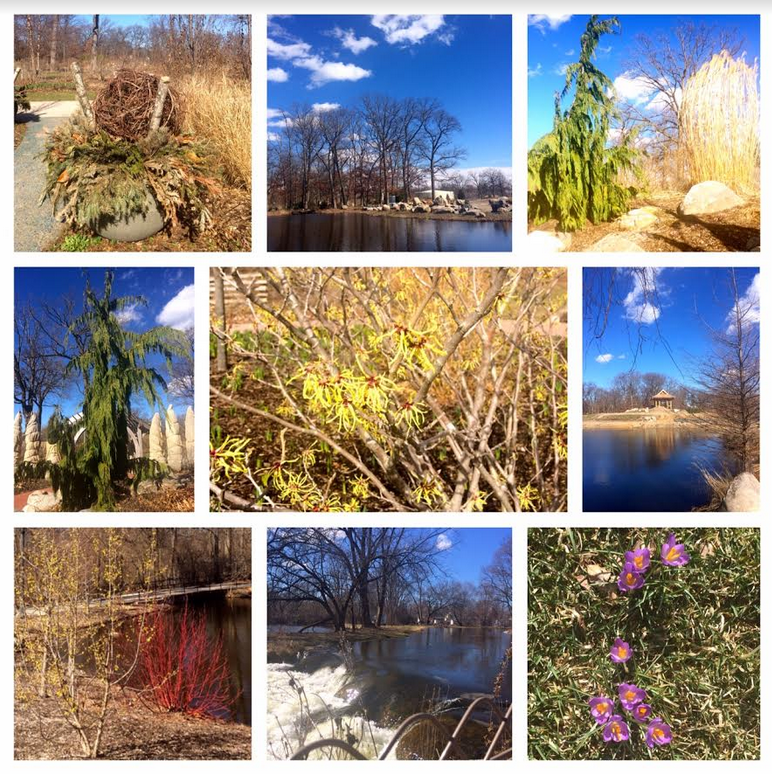 'There is no end to things that can awaken our wonder'
(Wellfield Botanic Gardens showing signs of spring last week)
As people of faith, we trust that the Divine, the great Mystery, is present with us in our wondering.  In response to an invitation from worship planners that I share on wonder during the Lent 2 service Sunday, I did a lot of wondering last week about whether I should address wonder the noun, as in awe and wonder, or wonder the verb as in "I wonder why that happened to me, to us, to our country, to the world."  I came up with this amalgam of the ways wonder has impacted me over the years.
When I was very young, my wondering and sometimes wandering mind, of its own volition, it seemed, tended toward negative wonderings based on some of the things I was taught as a child…I was preoccupied with questions like "would I be good enough to go to heaven," "would the second coming take place before I was old enough to get married or have children," "would someone close to me die prematurely?"  None of these wonderings brought me to a place of happiness, and I became an anxious child.  Eventually I wondered how I would continue to navigate my life when my boyfriend died in a truck accident after my sophomore year of high school and again after my 18-year-old brother died in a car crash when I was 28.
The births of our two children in the 1970s brought good wonder, as in awe, to my life and, in the mid-90s, when I first began to receive spiritual direction, I became acquainted with authors who taught me more about the positive side of wonder.  Flora Slossen Wuellner's writing revealed that tended wounds can become sources of new life and the channel of healing for others:  that fear when healed becomes compassion, that destructive anger becomes a passion for justice and righteousness, that perfectionism becomes joyous power to build and create.
Other amazing writers, like Jan Richardson, offered wondrous new learnings including the observation that each "moment holds the possibility of encountering the sacred.  Waking, eating, reading the paper, working, playing, talking, doing laundry, doing dishes, doing errands, doing nothing"…all of these interactions invite us to wonder how God is with us and who God becomes for us.
In my older age, positive wonder comes much more easily with four grandchildren now on the scene who open the door to delight in many age-appropriate ways as they learn and grow.  Nature has taken on a robust capacity to offer seasonal awe and wonder.  My love of writing and photography continues to accelerate in these retirement years.  I am awed by the privilege of journeying with directees and sharing community with family and friends.     
As G.K. Chesterton suggests, "At the back of our brains, so to speak, there (is) a forgotten blaze or burst of astonishment at our own existence. The object of the artistic and spirited life (is) to dig for this submerged sunrise of wonder." 
For more on wonder as a spiritual practice, I searched the Spirituality & Practice website, where authors Frederic and Mary Ann Brussat note that "wonder begins in the senses, comes alive in the imagination, and flourishes in adoration of the Divine….There is no end to the things that can awaken our wonder, from the majesty of the night sky to the smell of lilacs in the spring to the turning of the leaves in the fall. And it is all right here, a feast of epiphanies and astonishments in the daily round of our spiritual lives."
In its review of The Zen of Seeing (Seeing/Drawing a Meditation) by Frederick Franck, the website points out that "where there is revelation, explanation becomes superfluous. Curiosity is dissolved into wonder."
The site also offers this Mark Nepo book excerpt from The One Life We're Given on the practice of cultivating wonder and this link to an excerpt from Robert C. Fuller's Wonder from Emotion to Spirituality.  Nepo suggests that "our challenge is not to choose between the fragility and strength of life but to cultivate our wonder by holding both in our heart. Life is fragile and unbreakable. We teeter and we soar; often at the same time. Wonder helps us find the indestructible part of the thread."
Fuller says this: "We can efficiently go through life without delighting in experiences of wonder. Many people do. But it must also be emphasized that no other emotion so effectively induces us to pause, admire, and open our hearts and minds. No other emotion so readily kindles a reverence for life."
How might you further develop the practice of wonder as a spiritual discipline this Lenten season?  Consider your past experiences of wonder and how they have changed you.  Determine the places in your life most likely to arouse wonder and resolve to spend time in those places this Lenten season. 
Add a comment
March 6, 2017
By:  Jane Bishop Halteman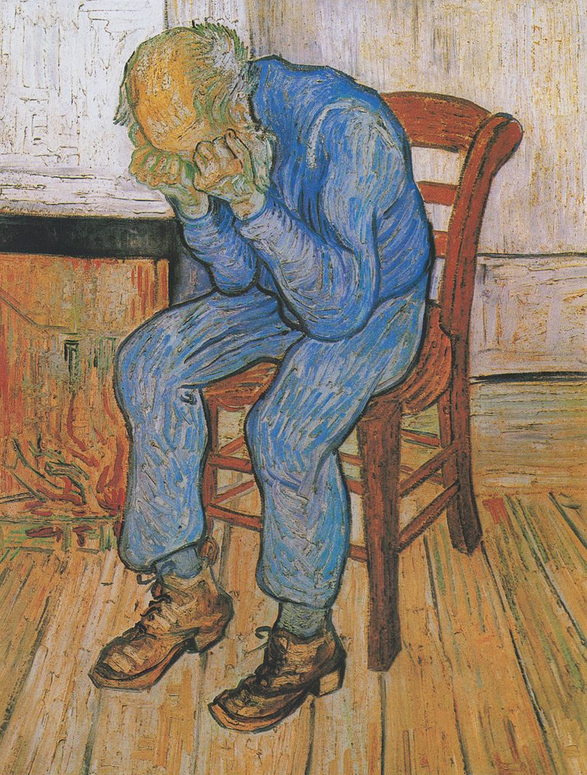 Vincent van Gogh's At Eternity's Gate, 1890, oil on canvas
"During Lent," says Christine Valters Paintner in a Patheos piece published in 2011, "my practice will be truth-telling. I will inhabit my places of grief, the sorrows I have resisted up until now, and allow my unspoken lament to rise up in me like fire. I will turn off the endless noise and chatter that distract me from those places where my heart has hardened. I will be in solidarity with those who have no voice and listen for their silent groans. I will trust along with our spiritual ancestors who wrote and sang the Psalms in the assembly, that when I go to the rawest, most vulnerable places, my soul is then transformed...."
According to Valters Paintner, "Each one of us carries grief, sorrow that perhaps has gone unexpressed or been stifled or numbed. Each of us has been touched by pain and suffering at some time. Yet we live in a culture that tells us to move on, to get over it, or to shop or drink our way through sorrow."  
Listening to the fourth movement of Tchaikovsky's Symphony No. 6 in B minor Tuesday night at a Goshen College Performing Arts Series concert featuring the National Symphony Orchestra of Ukraine, I found myself lost in an intense crush of palatable pain and grief. 
I knew little to nothing about this work and and its fourth movement prior to hearing it last week; when I googled it for more information, I was aware only that no music had ever moved me to such deep sadness in the way this piece did, so I was not surprised to discover that one listener called it "tragically and achingly beautiful."
Perhaps the ability to recognize that beautiful but tragic ache requires that one has experienced some aspect of grief in life, as, of course, most of us have.  In my case, I learned to manage, even stifle, a largely hidden sadness for many years, one brought on by the death of my boyfriend the summer after my sophomore year of high school and further compounded 12 years later by the death of my 18-year-old brother. 
In the same way that the Tchaikovsky movement demands that we pay attention to our own griefs and losses, Vincent van Gogh's At Eternity's Gate allows us to surface private pain. Contrary to what we have sometimes been taught about van Gogh, Kathleen Powers Erickson writes in her book At Eternity's Gate that "belief in a 'life beyond the grave' is central to one of van Gogh's first accomplished lithographs, At Eternity's Gate. Executed at The Hague in 1882, it depicts an old man seated by a fire, his head buried in his hands. Near the end of his life van Gogh recreated this image in oil (see above), while recuperating in the asylum at St. Rémy. Bent over with his fists clenched against a face hidden in utter frustration, the subject appears engulfed in grief. Certainly, the work would convey an image of total despair had it not been for the English title van Gogh gave it, At Eternity's Gate. It demonstrates that even in his deepest moments of sorrow and pain, van Gogh clung to a faith in God and eternity, which he tried to express in his work."
Erickson goes on to say that van Gogh's Starry Night (see below), painted in 1889, "is a visionary masterpiece, recounting the story of van Gogh's ultimate triumph over suffering, and exalting his desire for a mystical union with the Divine," as suggested by "the cypress, which shoots up into the firmament like a giant flame." The painting, she says, "reveals that he did not close the door on religious faith," rather on organized religion as illustrated by the darkened church building. The work also depicts "the triumph of the mystic's communion with God through nature."
Valters Paintner suggests these practices to help create what she calls intentional space for grief:  Make room for others to share their sorrows. Ask friends about their recent losses and listen well to their stories. Consider the ways you may unknowingly perpetuate the world's pain.  Speak your lament in public, perhaps via opinion pages. Write your own prayer of lament inspired by the Psalms. Practice truth-telling by refusing to say that all is well if it is not. 
Whether our sorrow is personal or grows from the aches and pains so present in our own country and the world today, may we find ways to care for our private grief this Lenten season so that we might listen for the silent groans of those who have no voice.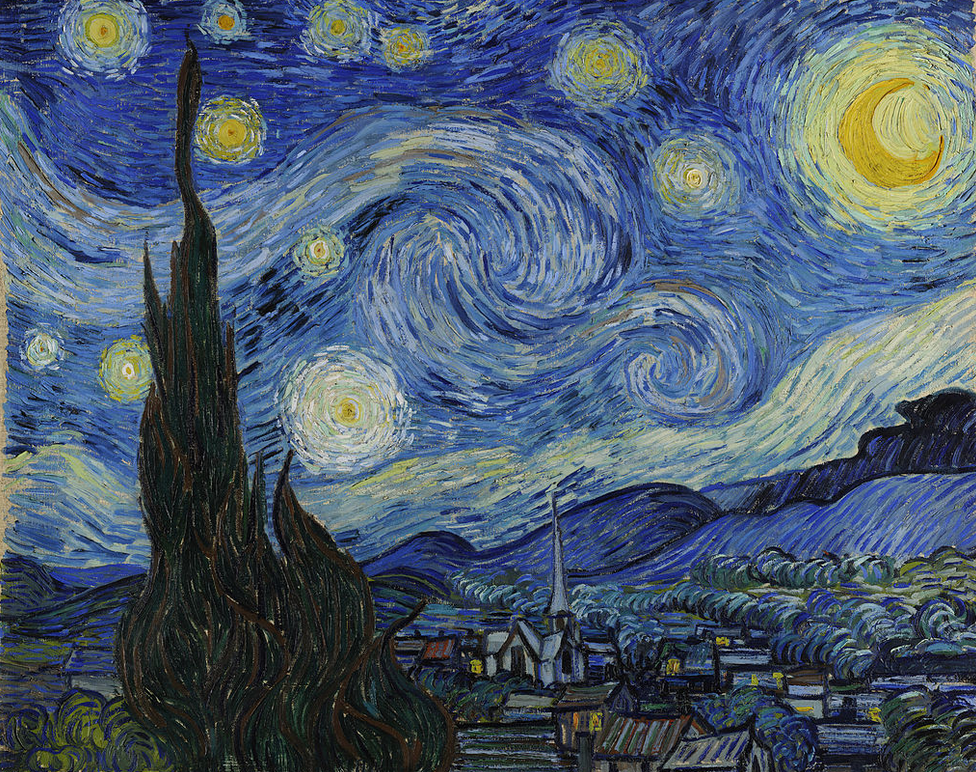 Vincent van Gogh's Starry Night, 1889, oil on canvas
Add a comment
February 27, 2017
By:  Jane Bishop Halteman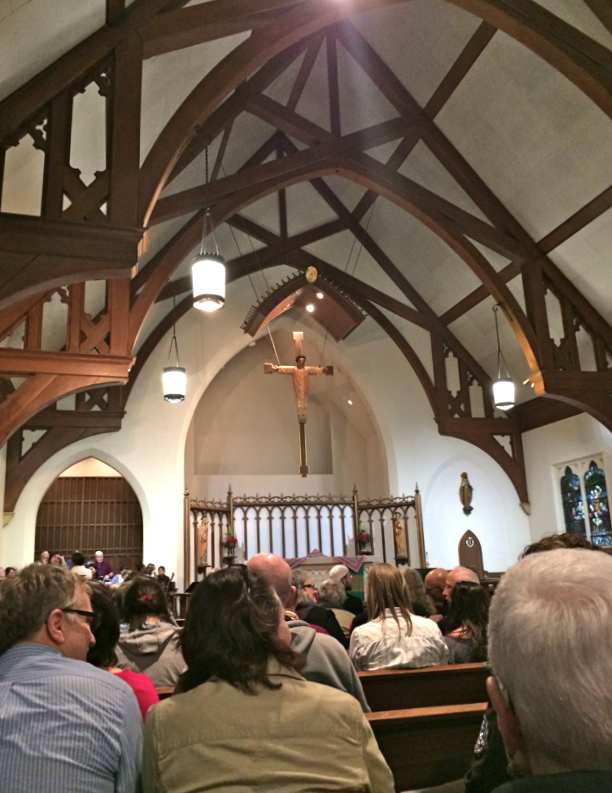 Interfaith prayer service for compassion and justice for migrants, immigrants, and refugees 
Every year about this time, we encounter the "what are you doing for Lent?" question.  As a long-time advocate of "adding in" opportunity to create more space for God in our lives as opposed to "giving up" during Lent, I liked what I read last week in this blogpost by a spiritual director friend of mine.
June's post explains that "the word 'Lent' comes from Old English, meaning 'spring' or 'lengthen' as in the lengthening of the days.  This is not the image of a spring of pleasant warmth but an image of change—of transformation, of conversion.  In the lengthening brightness from Ash Wednesday to Holy Thursday—our Lenten spring—we are called to offer our brokenness to God. In offering our own brokenness we can then offer the world's brokenness to God."
Several other readings caught my attention as well.  This one speaks of 19 things to give up for Lent that aren't chocolate.  The list includes fear, the need to please, envy, impatience, a sense of entitlement.  I expect giving up the tendency toward any of these habits would help create space for the Divine to carry on with the work of personal transformation. 
Back in 2015 Pope Francis suggested that "even more than candy or alcohol, we (might) fast from indifference towards others" as he spoke of the approaching season of Lent and what people might consider giving up:  "Describing this phenomenon he calls the globalization of indifference, Francis writes that 'whenever our interior life becomes caught up in its own interests and concerns, there is no longer room for others, no place for the poor. God's voice is no longer heard, the quiet joy of his love is no longer felt, and the desire to do good fades.' He continues that, 'We end up being incapable of feeling compassion at the outcry of the poor, weeping for other people's pain, and feeling a need to help them, as though all this were someone else's responsibility and not our own.'"
I often look to Parker Palmer for wisdom; he rarely disappoints.  This past week, just in time for us to put into practice our Lenten disciplines, he offered a Naomi Shihab Nye poem entitled Shoulders to urge all of us toward helping the marginalized:  "Whatever one's politics may be, people of good will must not forget that many of our fellow citizens and their children are feeling increasingly vulnerable, insecure, and threatened."
Speaking of Hispanic and Muslim children, African American children, and Jewish children who have been made fearful in recent weeks for one reason or another, Palmer urges us "for at least a moment, not to turn this into a debate between those who voted for X and those who voted for Y. Too often, that kind of talk gives us a cheap excuse for ignoring the suffering of our brothers and sisters and their children….Let's do whatever we can to befriend and defend the victims of ignorance, hatred, and anger."
Actions to befriend and defend took center stage in South Bend this past week as approximately 300 persons gathered Monday night at The Episcopal Cathedral of St. James for an interfaith prayer service for compassion and justice for migrants, immigrants, and refugees.  As he welcomed the crowd, our mayor spoke of the example of "unity through diversity" that participants represented.  "All of us need to have a sense of home," he said.  "My hope is that greater South Bend will continue to call out hope for all."  Another of my favorite take-aways from this invigorating evening together:  "Teach us to rejoice in the diversity; transform us all into your holy body. Teach us to give thanks for what we have by sharing it with those in need."
Kern Road took befriending and defending to another level Sunday (February 26) as our Global Partnership and Immigration Committees hosted a fundraiser potluck to help those among us attempting to bring family members to safety, whether they be orphaned grandnephews from Kenya or our Mexican friend's daughter, who is seeking asylum in our country.  See details on the Kenyan story in this 2016 Glimpses of Healing and Hope post.
Here's an abbreviated version of what KRMCer Sarah said in a Facebook post about the fundraiser:  "Today, as I stood and counted the people at church (in my usher capacity), it made me smile to see the diversity. We have been speaking about Holy Spirit the last several weeks, and I have pondered how welcoming the people of Kern Road are. Our God works in mysterious ways and has led people to Kern Road who had never even heard about Mennonites. I watched the joy on our new friends' faces as we introduced ourselves.  I am proud that our church family is standing by the values of our mission statement and walking alongside the refugees and immigrants of this time."
For more on Lent and Ash Wednesday, follow this link to last year's Glimpses of Healing and Hope reflections on Peter Bruegel the Elder's painting of The Fight Between Carnival and Lent.  If you are looking to involve yourself in a Lenten study, consider these Spirituality & Practice e-courses on The Transformation of Suffering:  A Lenten Journey or Becoming Truly Human.  Kern Road's Ash Wednesday service will begin at 7 p.m. in the chapel.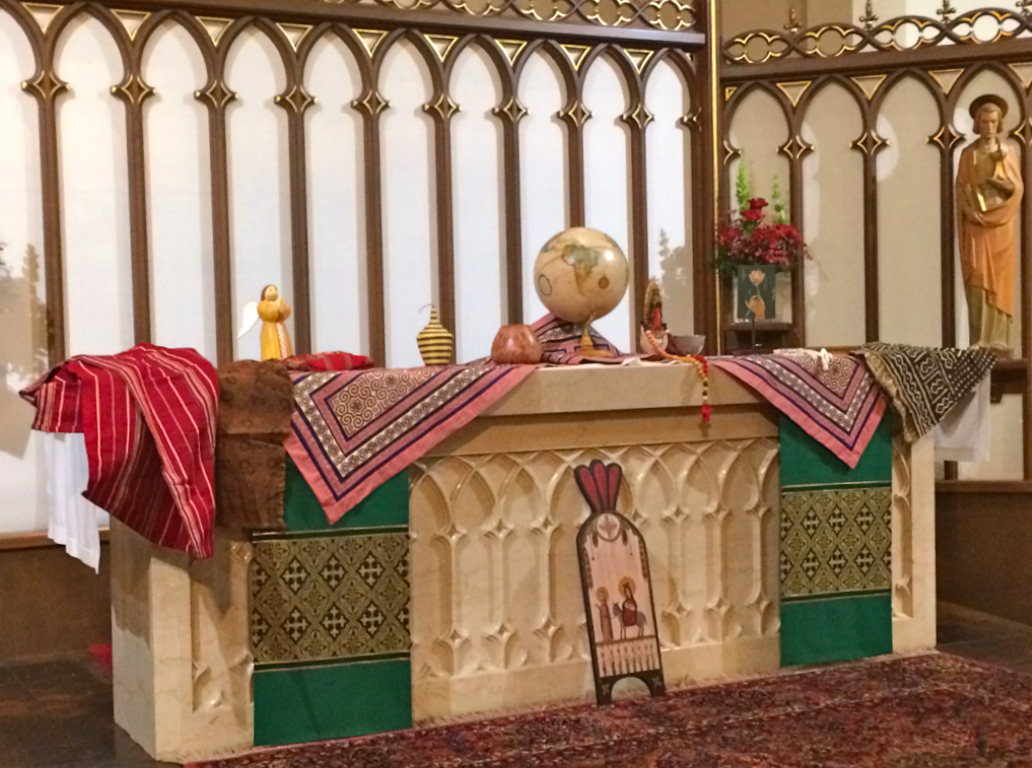 Artifacts representing participants' unity through diversity at The Episcopal Cathedral of St. James
Add a comment