Glimpses of Healing and Hope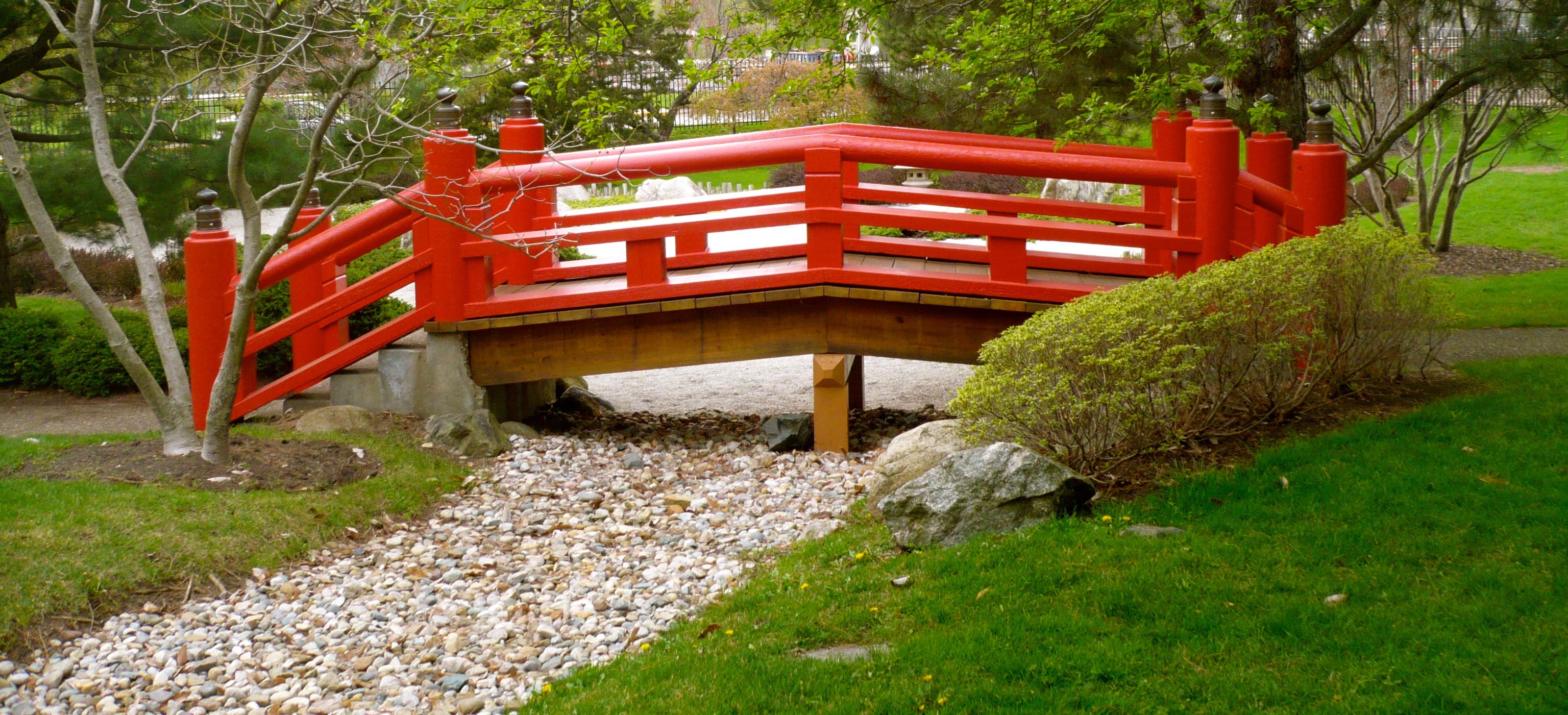 November 13, 2017
By Jane Bishop Halteman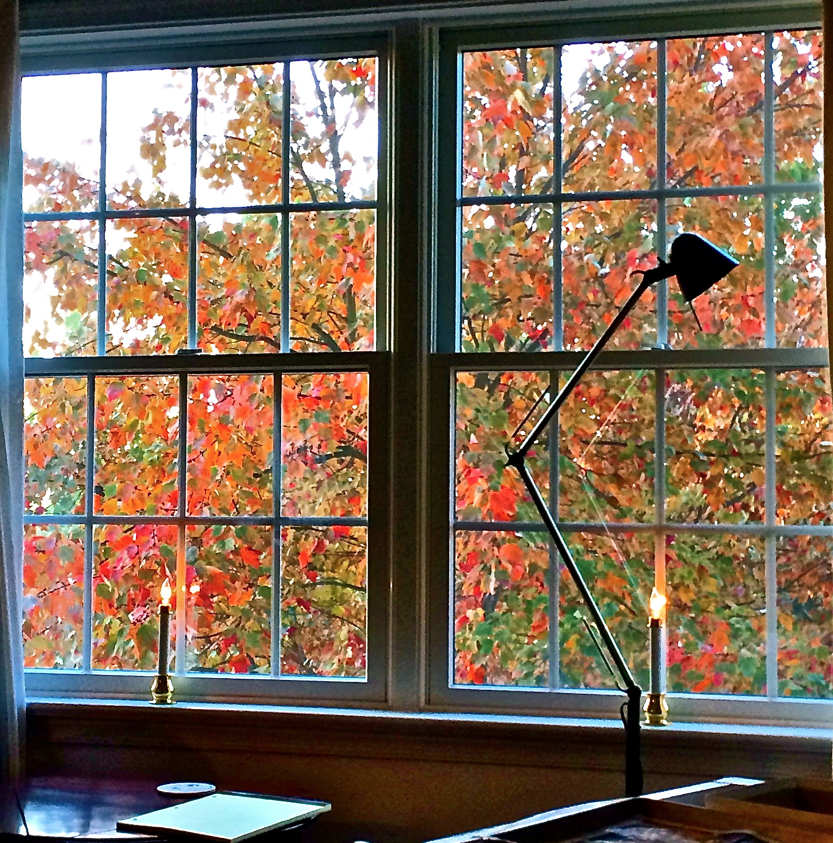 Transitioning from this life to the next
Pastor Janice spoke two Sundays ago, as we observed All Saints Day at Kern Road, of the recent loss of her aunt. In the last year of walking with her father's sister before her death, Janice said she saw her aunt give up possessions and her apartment, her strength and independence. 
Whether our sorrow at the loss of loved ones manifests as "crying, weeping, wailing, silence, pondering, wondering," Janice suggested "our grief means that our love is strong, not that we don't trust God." Of those who have gone before us, she said, "We honor them because we love them, we miss them; ordinary things become extraordinary because they remind us of those we love…smells, sights, sounds we shared."
Though my 96-year-old father had fractured his hip a week earlier in a fall, I could not have known that I would be looking back on Janice's words of wisdom so soon, as I left church after that All Saints worship service for the drive to eastern PA. Daddy had eaten a hearty meal of pureed food soon after surgery that morning to repair his hip, according to my mother and brother who visited him, but, by the following day when I arrived, my dad did not recognize any of us. 
I had not waited with a loved one seemingly in the act of dying since I was 12 years old, when my great grandfather passed away at his home on the fainting couch as my mom and I and my six-year-old brother visited. This time I waited again with my mom, who carried on with grace, caressing the forehead of her partner of 72 years while the room filled and emptied as med techs from my mother and father's personal care apartment, a long-time friend of mine, some of my parents' church friends, women who lovingly serve meals in the personal care dining room, nursing and hospice staff floated in and out to the tune of Daddy's slightly labored breathing and a CD of old hymns playing quietly on a boom box in the background. 
Mom and I wondered, quietly to ourselves and aloud to my dad, who would greet him on the other side of this transition…might it be his son Greg, who died 43 years ago, or his parents, or some of his father's large family of aunts and uncles and cousins who would welcome him at the close of his nearly 97 years here on earth?  Whatever one believes about the past, present, or future, these passages are difficult, perhaps most difficult for those who do not easily imagine a life after this one, where the joys of reuniting with family and friends suggest memories of failing bodies, failing minds, and the general absurdities of life could melt away.
"Death is disorienting," a good friend texted, and so it was, in a new way each time we passed another milestone: upon first learning Daddy had broken his right hip, realizing he likely had had a stroke after surgery, discovering he no longer recognized us, watching him begin hospice, seeing him propped up in the sunshine in a wheel chair, being there as he took his last breath (which we recognized as his last breath only because another never came), IDing him for the undertaker, seeing his obit at the funeral home's website, viewing a photo of the newspaper death notice.
My two brothers and I are grateful for cousins who helped transport our mother to the hospital to see our father in our absence the week after his fall; for medical personnel who took care of our father and supported us in our exploration of what to do next; for social workers from inside and outside our family who helped us comprehend hospice and when to begin using it; for retirement community caregivers, other staff, administrators, residents who lovingly inquired about our parents and lifted us up in the midst of a difficult time; for the hospice nurse who visited on Sunday to pray with my mom and my dad and me; for the gift of pre-paid funeral arrangements made nearly two years ago and the minimal funeral home follow-up necessary in the moment of loss; for local PA friends who made visits to our mother on occasion, some with flowers and another with a Ten Thousand Villages "strength" stone.
And what helped us carry on in the short run? Chuckling together with family and friends and caregivers, not only at Daddy's foibles but at all the ways he made us laugh, brought comfort. Debriefing nightly and eating ground cherry pie with the local friend who housed me was invaluable. As the one of my dad's three children most likely to post on social media photos and shout-outs for accompaniment on the journey of waiting together, I took consolation from my Facebook friends, including a high school classmate who reminded me of Daddy's living on through his children, grandchildren, and great grandchildren. I loved the many-colored heart emoticons and expressions of caring left by friends and family and acquaintances.
A friend from Jim's earliest days of teaching college in Upland, IN, wrote:  "Oddly, it seems to me, one of my favorite memories was being with my father when he passed. I hope you will have the same experience. Our love to you and your family during this difficult time." Countless family and friends wished us peace and blessing, love and prayers, light and strength, grace, hugs, and the comfort of memories.  One shared that he was leaning my way, another that she was crying with us, yet another said, "May God hold you all in your grief and breathe comfort and joy over you." I am grateful for each and every sentiment that came our way.   
My mother's youngest sister fondly recalled via email the pastel pink, blue, yellow, and green glass tea set my dad gave her when she was a child.  My uncle happily agreed to share at an early December service a tribute to my father, with whom he worked as a research chemist in the early years of their professional lives. 
When I arrived back home, the KRMC senior breakfast folks offered a warm space Thursday morning to share semi-publicly for the first time about my dad's death, more KRMCers spoke condolences and came along side on the journey of loss Sunday morning, some with heartfelt hugs and tears in their eyes. Another invited me next weekend to hear a performance of Brahms' Requiem, a wonderful piece I have sung several times but never in the midst of personal loss.  It opens with these words,  "Blessed are those who mourn." 
The Open Fifths and Notable Women provided solace through their Saturday night concert at Goshen College, where songs like Abide with Me (which I already had chosen to be included at my dad's memorial service), along with Wanting Memories, Will the Circle Be Unbroken, and Angel Band opened the floodgates and spoke to my personal grief in myriad ways. 
How we confront crisis and find comfort will look different for each of us…combing through old photos, writing, listening to good music, and connecting with family and friends console me. How have you accompanied others on the grief journey?  How would you want to be accompanied?
Add a comment
October 30, 2017
By Jane Bishop Halteman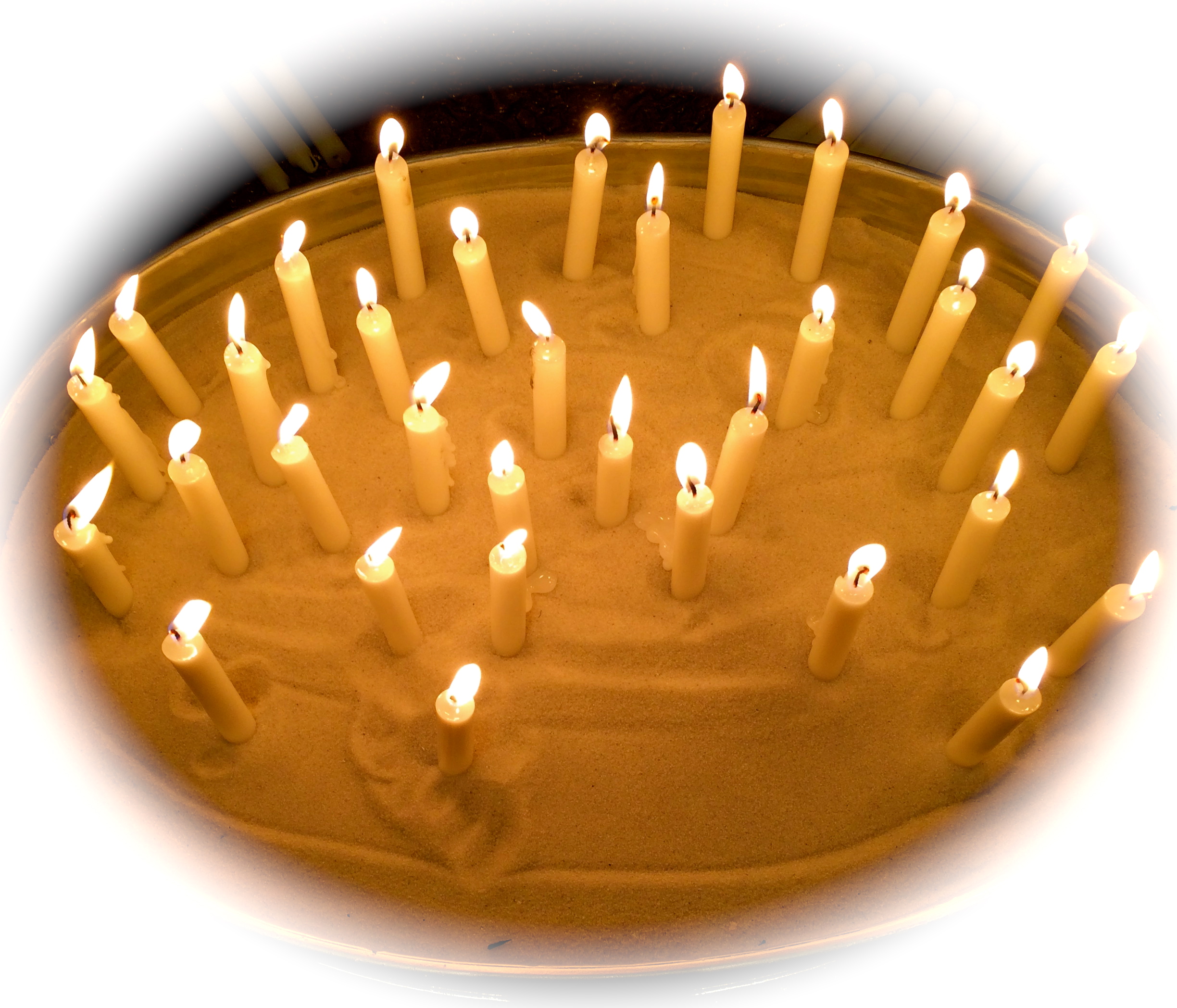 Lighting candles for those we have loved and lost...
Last year's blog post for All Saints'  Day began like this: "How do you keep alive the memory of those lost to you, sometimes much too soon, sometimes after long, meaningful connections?  When do you take time to recall those who have gone before you…perhaps on their birthdays or the days of their deaths?  All Saints' Day, observed on November 1 on the liturgical calendar of the church year, offers another occasion to reminisce about family and friends we have loved and lost."
Twelve more months have passed; new input from my favorite spirituality writers and my own experiences add robust material to a burgeoning file on All Saints' Day and coming to terms with new ways of interacting with those we have loved and lost. I am intrigued by the questions Jan Richardson raised in her keynote address at the Leadership Conference of Women Religious in Orlando this past August.  "When absence erupts in our lives, how do we call upon the presence of love that goes deeper than our loss? How do we open ourselves anew to the presence that endures far, far beyond death?"
Speaking of the recent loss of her husband of several years, Richardson explained to her listeners, "I will tell you there have been nights when the only prayer I could muster has been to simply listen to the beating of the heart inside me and to trust that Gary's heart was in mine and mine was still in his, and that both our hearts are held in the heart of God, who encompasses us, and holds us, and is present to us in a love beyond imagining."
Richardson went on to make this fascinating observation: "The mystery in all this is that when our hearts break, they can become bigger.  If we can stay with the sorrow and, more important, if we can stay with the love that goes deeper even than the sorrow, that is more fierce than our fiercest grief, our hearts become more open than we ever imagined they could."
Claiming in no way to understand her meaning completely, I remain awash in memories of a few weeks back, memories of two young men long gone from this physical world who resurfaced unexpectedly in new ways this month. Just days before observing the 43rd anniversary of the death of my 18-year-old brother on October 15, his best friend from high school sent me a series of journal entries made during their senior year. Shedding light on my brother's jams with his band in my parents' basement followed by my mom's lasagne for supper, summer double dates, Dairy Queen runs, college farewells, and finally the pain of my brother's death and memorial service, the notes gave me a window into the life of the brother I did not get to know during his growing up years from eight to 18 while I was off to college, getting married, and occupied as a young reporter and eventually with our first child.
On the heels of reading those intriguing journal entries, I discovered more good news from another friend, the younger brother of my boyfriend who died just after I turned 16 the summer following our sophomore year of high school; my friend had just learned from their sister that their long-deceased brother planted a tiny weeping willow not long before his death. Seeing that flourishing tree these 55 years later was both astounding and grounding.  Who might have imagined that more about this one, who left us so long ago, could be unearthed even yet?
It is my hope that all who suffer losses would find ways to be in touch with those they have loved and lost. My spiritual director's comment when I shared these stories gives me continued hope: "It's almost like these two souls are aware of your openness to continue to experience them in a variety of ways." Another pastor friend commented: these stories "remind me of the need to honor the dead and be open to what they bring to life." I understand that these experiences are not something everyone seeks; neither will science validate or verify such occurrences. And events like these do not become available at our beck and call; we do well to notice them when they cross our paths. I find them sustaining.
Richardson's sharing with leaders of congregations of Catholic women religious in the United States further noted that "grief is not something that we can figure out; it's not a problem to be solved with intellect and reasoning, or with platitudes. When we are sorrowing, when our losses have pushed us to that painful wall, the invitation is to be present, to let ourselves lean, just lean against that wall and press our ears against that wall until we can sense and hear and know something of those presences that abide, that continue, that linger on the other side—those presences that live. To lean against that wall until we can hear their beating hearts—those hearts that continue to beat on the other side of that wall—that, as it turns out, might not be a wall at all; might not even be a veil. It might be something more like a threshold that we will never fully cross in this life, but across which something can still happen: a conversation, a communion."
Here's another good word from Joan Chittister about All Saints' Day: "This feast was introduced to show us the kind of people we ought to be imitating if we ourselves wanted to live life well. Death did not silence them. Who are your saints now? Who are the people you look back on with respect and awe? Live in a way that the memory of you lives on in the people left behind."
May you find thresholds of conversation and communion with lost loved ones during this season of All Saints' Day observance and beyond as you seek what those now gone continue to bring to life and as you live in a way that others will remember well when you are gone. 
Add a comment
October 23, 2017
By Jane Bishop Halteman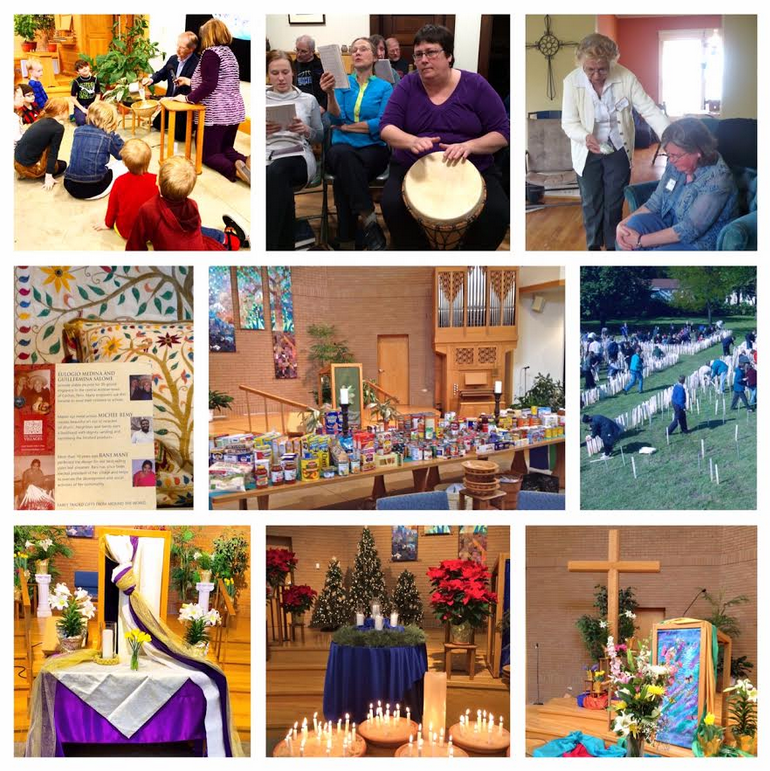 The evangelical tradition focuses on the proclamation of good news, missional outreach, and the centrality of Scripture
As guest preacher Sunday, KRMCer Josh shared from his growing-up experience in the evangelical tradition, one of the six streams of faith Kern Roaders have learned about in our current worship series. 
Recognized by Streams of Living Water author Richard Foster as the Word-centered life, a life founded on the living Word of God, the written Word of God, and the proclaimed Word of God, "The evangelical tradition is comprised of three great themes: first, and foremost, the faithful proclamation of the gospel; second, the centrality of Scripture as a faithful repository of the gospel; and third, the confessional witness of the early Christian community as a faithful interpretation of the gospel," Foster goes on to say at the Renovare website.  
Josh began his sermon by mentioning three things that the evangelical tradition is not…it is not limited to individual, personal salvation; it is not about just a literal reading of scripture, and it is not only about winning souls for Jesus, he said.
The gospel has to do with the proclamation of good news, according to Josh, though somehow in some places, the evangelical tradition has become a message of individual salvation with an emphasis on getting into heaven…a narrow view, he said, adding that the good news is more about liberation from oppression or captivity or blindness, usually aimed at the poor, the marginalized, the downtrodden.
The good news has many dimensions, he noted, including the individual dimension to be sure, but also political and economic dimensions by which a kingdom/community might be freed from systems of injustice and concerns in the here and now, as well as the future.
A literal view of scripture may bring with it a presumption, Josh said, that lends itself to black and white beliefs. "Jesus shows us how to read Scripture with an eye to new possibilities of understanding," he offered. Jesus, rather than Scripture itself, is the absolute authority. "We have to read the Scripture individually and communally through the lens of Christ with the aid of the Spirit," he suggested, pointing out that "words take on added nuance as the Spirit intercedes.  A rigid view of Scripture can lead to divisions over essentials and nonessentials." 
Noting that Jesus responded to both physical and spiritual needs, Josh said that the evangelical tradition's emphasis on missionary activity may sometimes leave physical needs unmet.  Noting that Jesus' healings sometimes led to relief from fever or to standing up and praising, Josh explained that conversion can come in a variety of ways, both physical and spiritual.
The good news, he said, is about liberation, about a deep and rich exploration of Scripture, and about responding to the needs of others…the evangelical tradition is, indeed, an important stream in Christian history.
The Renovare site poses it this way:  "As I think about the divinity and humanity of Scripture, I am challenged by this question: What if, instead of reading the Bible, I let it read me? What if I focused less on getting all the way through the Bible each year and more on allowing the good news about life in the Kingdom to get all the way through me, to soak down deep, saturating my soul? (Then) I discover the best news of all. Jesus is alive, immediate, present, and available to teach us how to enjoy life in his kingdom, here and now."
Referencing the evangelical tradition as the "Word-Centered Life " or "Living the life-giving message," the Renovare site says the "tradition encompasses much more than simply converting people. The evangel–the 'good news'–is God's great message to humanity: that all can be redeemed and restored to its intended design. This is the message embodied in Jesus himself, rooted in the word of God, and ultimately expressed through the lives of those who follow Christ. It is a living tale of grace spoken in and through word and action."
Some of the words and actions Kern has participated in include (top row of above photo collage) teaching our children, singing and praising, retreating and praying; (second row) outreach via our Ten Thousand Villages store, local food pantry collection, 2001 response to 9/11 (at a suburban Chicago church); and (third row) our worship visuals proclaiming Christmas and Easter good news. How have you been part of circulating the good news? 
Add a comment
October 16, 2017
By Jane Bishop Halteman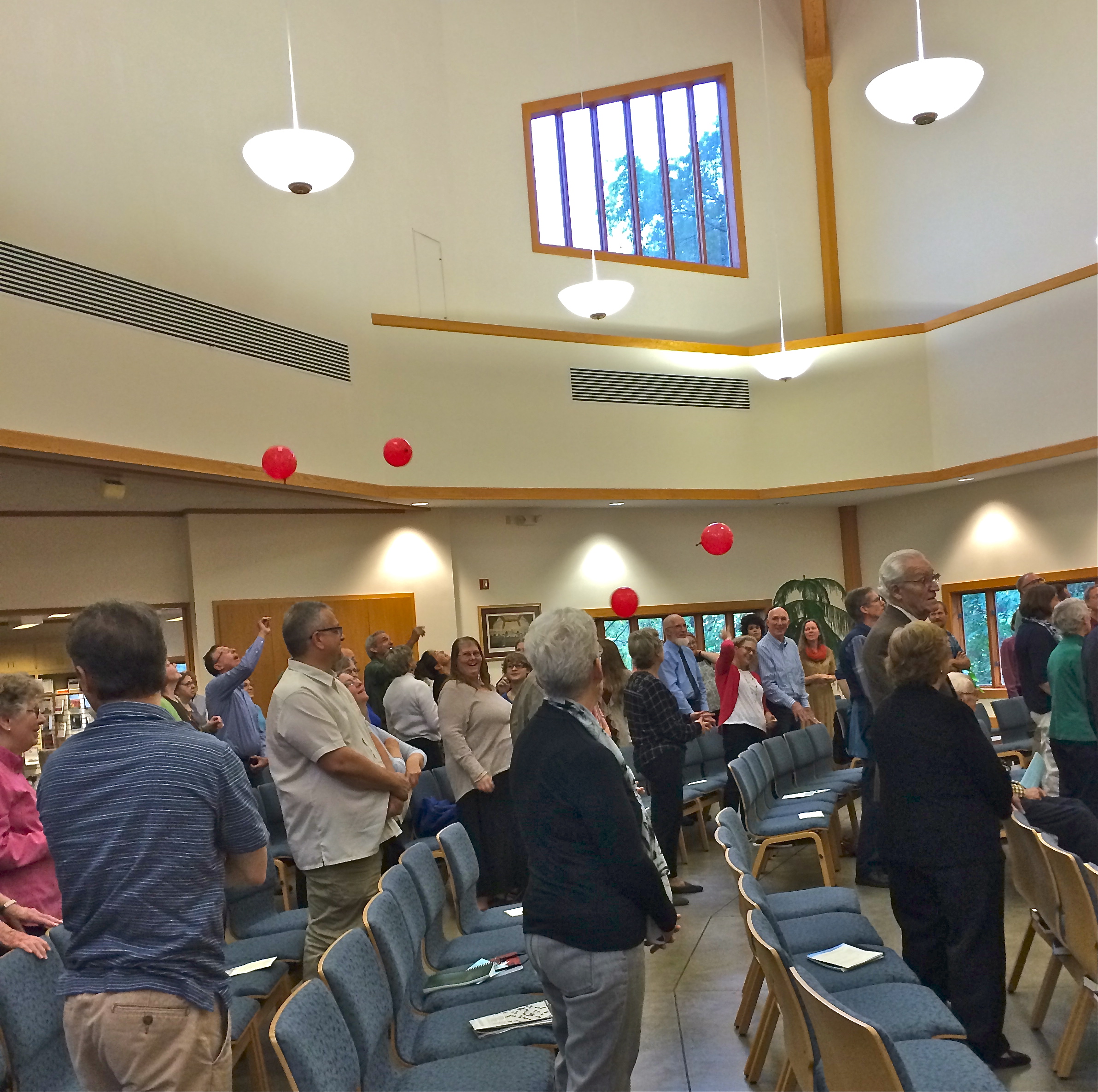 Raising our hands to catch the balloon fire as we sing 'Let the fire fall' 
Today's blog post highlights the charismatic stream, the fourth tradition in Kern Road's Six Streams of Spirituality worship series.  To date, we've featured the contemplative way, the holiness stream, and the incarnational tradition, with a week off from the series for a Project 606 commentary last Monday while I was out of town, missing the service which featured the social justice stream and, appropriately, the 25-year-celebration of KRMC's Ten Thousand Villages store.  
Streams of Living Water author Richard Foster's Renovare website reminds us that "the charismatic tradition focuses on the power of God's Spirit moving in and through us. Just as a car requires fuel to run, and our bodies require food for survival, so our souls rely upon the Spirit of God for spiritual energy. Through the Spirit, we are able to do more than we could on our own steam, and these abilities not only remind us of God's presence, but equip us to build up our communities in love."
The Renovare site further explains that "Jesus lived and moved in the power of the Spirit. This Spirit is manifested in so many ways—the wisdom of his teachings, his ability to see to the heart of individuals, his insight into the very dynamics of good and evil. People have wondered where Jesus got his ideas and his convictions; he was filled with the Spirit of God in which he put his full trust."
Of this tradition Foster says in his Streams book, "Frankly, there are no 'noncharismatic Christians'….the Christian life is by definition a life in and through the Spirit."
"What a gift the Holy Spirit is," Pastor Janice exclaimed, recalling Jesus' explanation to his disciples: "I have to go away, but God will be present to you through the Spirit when I am gone." This is what the charismatic stream helps us to know…the life and truth and fruit of the Spirit, she added.
The obvious strengths of the tradition, according to the Renovare site, are "an ongoing correction to our impulse to domesticate God," a continuing challenge to spiritual growth, and "empowering for witness and service." The stream's "perils include the danger of trivialization, when we focus on the signs and wonders rather than on the Spirit's project; the gifts are not an end in themselves, but a means to build the kingdom," the Renovare writings warn.
As we sang the John Michael Talbot song Let the Fire Fall for our hymn of response, Janice and a helper rained down red balloons on us, which we took turns keeping afloat as they came our way (see photo above). Andrew reminded us during sharing time following the song that it has been said that being moved to laughter and tears on the same day marks a good day; noting that he was moved to tears at memories of singing this song in his youth, Andrew added that a belly laugh followed the tears as he watched Jim kick one of the red balloons to loft it as it settled in our midst!   
My personal experience of charismatic worship is limited.  I remember a short-lived phase of yearning for the freedom to raise my hands in joyful song, but no one around me was so inclined and the desire faded.  One friend, who told me two years ago that he prays in tongues, shared that those prayers rise in response to a sunset or some other thing of beauty...a mode of praise or thanksgiving for him. Reluctant to ask about this prayer expression at first, when I finally mustered up the courage, he guessed, "And you want to hear it?"
I was curious, of course, but would not have made that request.  He prayed a short paragraph of fluent syllables that I did not understand, but I intuited warmth and care and asked if he could translate what he had prayed. "No," not really, he answered, but his assumption was that what he had voiced had something to do with gratitude for the knowledge that we are God's beloved children.  That response melted away for me a long-standing childhood prejudice. 
As we look at each of these six traditions individually but begin to connect the dots of our own experiences representing all of the traditions, I find articles like this one from Carl McColman intriguing. "It is perfectly possible for a devout, practicing Christian to be contemplative without any experience of charismatic gifts. And it's just as possible to be a charismatic Christian without any sense of being called into the deep silence of contemplation," McColman says.
"But in my experience, many people drink from both wells. Maybe at different seasons of their lives, depending on their needs and the specifics of God's call in their life. It's also possible that a Christian enjoy both the restful silence of contemplation and the exuberant joyfulness of charismatic worship as complementary dimensions of one faith in the Triune God," McColman concludes.
As we learn more about each of these streams of faith, what mix emerges in your own experience? May we become equipped to take in both the restful silence and the exuberant joy along with bits and pieces of the other four traditions!
Add a comment