Glimpses of Healing and Hope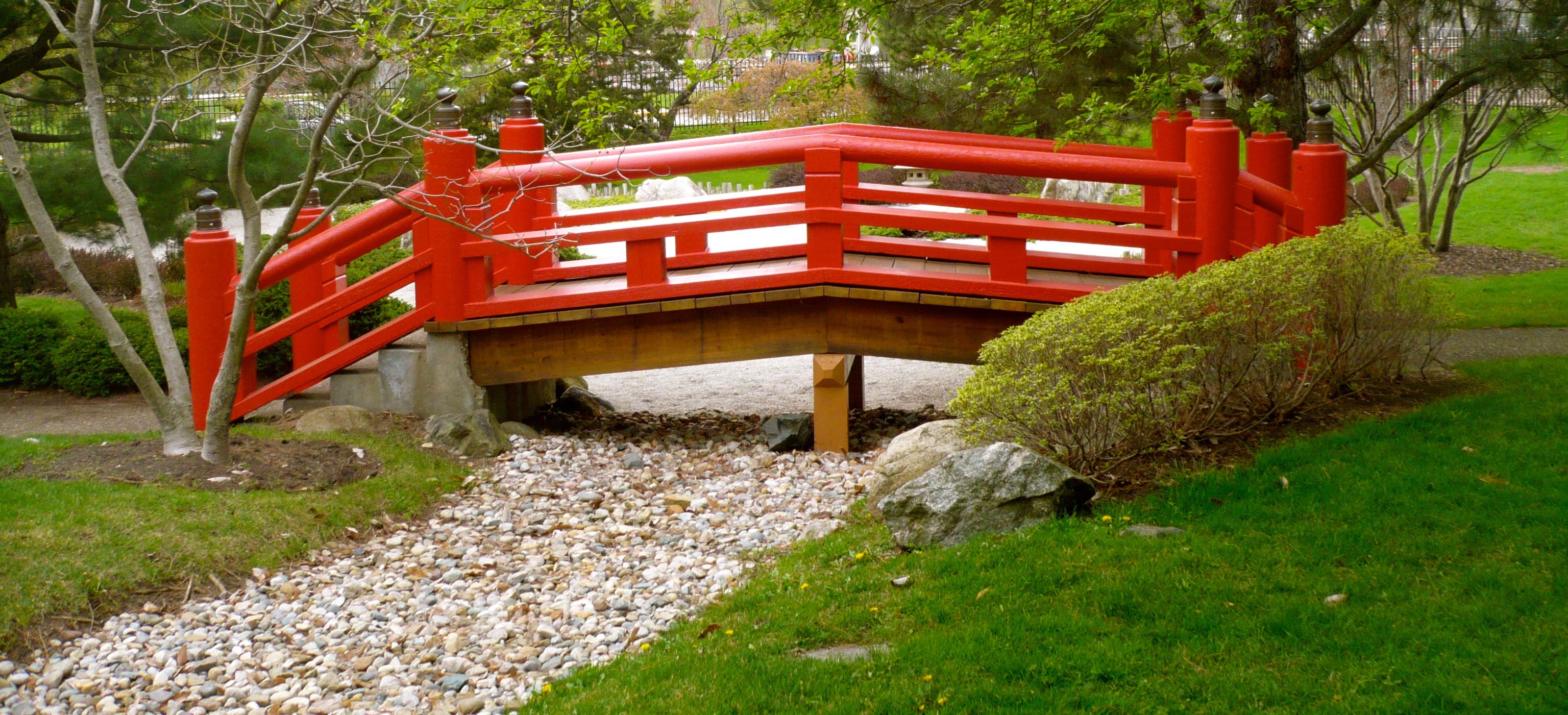 by: Jane Bishop Halteman
February 22, 2016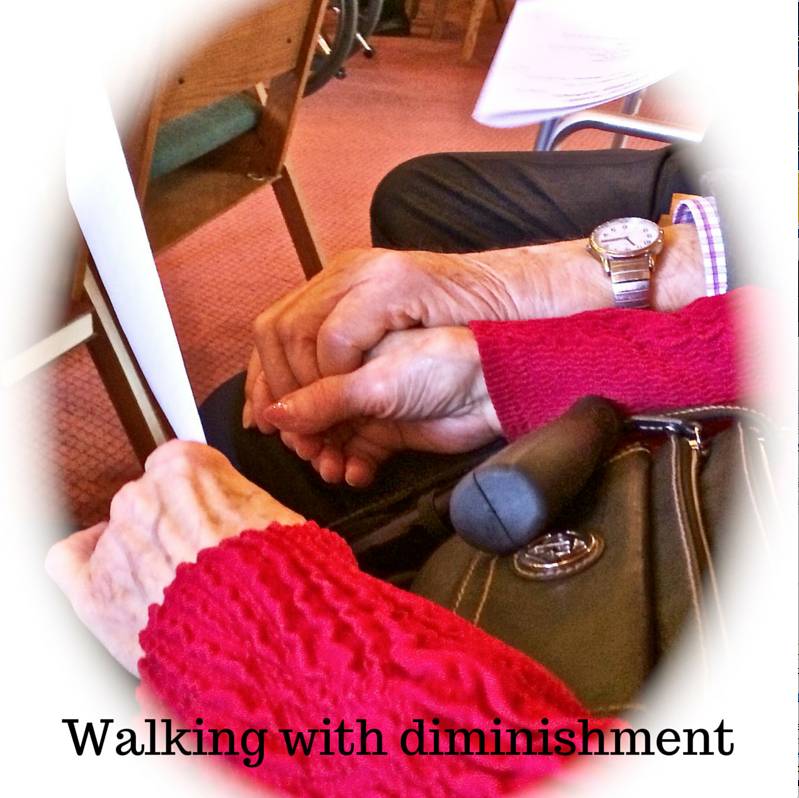 Every time I spend a week to 10 days with my parents in their retirement community, I am struck by the gradual (and sometimes greater than gradual) diminishment I notice in many of the people who live there. 
I have known some of the residents a very long time, others just the dozen or so years that my parents have resided in the community's independent living facilities, and still others less than the year since mom and dad relocated to a personal care apartment.
On this trip my mother and I visited a friend who moved to the community's dementia unit after her husband's recent death.  We chatted amicably with her until a woman who called herself a "lost child" wandered into the room.  One of the hazards of living in that space, according to my mom's friend, is uninvited guests who arrive with no idea of where they belong.  I helped the lost one find an aide who settled her into the game room.  Her eyes pleading for assistance, the lost woman repeated, "I don't know you," over and over again as I took her hand and led her down the hall.
The many walkers and canes and wheelchairs on the premises remind me that mobility declines in old age, as do hearing and eyesight; accompanying these diminishments, of course, is less independence.  By the time I leave the retirement community for the return trip home, I have become more aware of my own minor physical limitations, but I also notice that, in spite of their diminishments, these residents continue to carry on as best they can, though many with assistance of one variety or another. 
Some still play games together and attend concerts and worship services on campus, perhaps do their own laundry and ironing or walk the halls for exercise.  My mother insists on stripping and remaking their bed weekly with my father's help rather than allowing staff to do it for them.  She has agreed to let others launder their sheets and towels, but she will not give up washing their clothing as long as she is able.
I have not lived, for an extended period of time, near my mother since she gradually has become nearly blind with macular degeneration in the last number of years.  The way she carries herself with a certain self-assurance and confidence continues to belie the difficulty she has seeing; those who do not know her condition likely will not notice in a casual exchange.
But I am aware that my mother can no longer differentiate between the identical pairs of pants she wears, without a safety pin hinged to the "Sunday" pair.  I know that she has given up writing in her daily diary because her magnifying headgear no longer enlarges her penmanship sufficiently.  I observe that she now needs daddy's assistance to pour their daily dose of apple cider vinegar. 
Mom and dad live with other kinds of diminishments, too.  They have given up their car and pared down their belongings to fit a very small space.  They have turned over management of finances to my brother and tax preparation to Jim.  They eat every meal in the personal care dining hall, and staff persons bring their meds as often as needed.
To accommodate mom and dad, I take responsibility to speak clearly and loudly as necessary, to clasp and unclasp mom's jewelry, to be an extension of their eyes and ears, to speak on their behalf with staff, to walk at their pace, to run errands and replenish supplies.  My frequent trips to their retirement community give me opportunity to listen well when I am approached by residents in the halls.  More than once I have heard sad stories from those who have no one else to tell.  I am impressed by the three husbands I watch feed their invalid wives several times a day, wives who can no longer interact in any way except to take in nourishment silently, spoonful by spoonful.
Back in October, I sat in on a retirement community worship service focused on blind Bartimaeus, who called out to Jesus from his place by the side of the road.  "Are we as older persons also by the side of the road, persons whose limitations define who we are?  We are more than old," the pastor assured his listeners.  "We are the sons and daughters of God, and we have a place in God's family.  Even though our backs are bent, we lean forward to see Jesus.  May we hear his question anew…what would you have me to do for you?"
By now I have stayed often enough and long enough in the community to know that, even with diminishment, some of the residents continue to cross-country ski, cane chairs, teach Bible studies, lead worship, push other residents' wheelchairs (which my parents did until about a year ago), sing in choirs and display their art in local shows, cashier in the gift shop, visit with and shop for those who can no longer get out and about easily. 
While physical diminishment or loss may not yet be the companion of most of us at KRMC, all of us likely have confronted some sort of decline or depletion which asks us to adjust to changes we do not welcome.  How might we travel the Lenten journey in a meaningful way with these impoverishments?  How can we take better notice of those around us engaged in the stuff of decline and diminishment, whatever variety it may be?  What green shoots of redemption do we notice in the midst of diminishments?
Ann Weems' poem "Lent" from her book of poetry Kneeling in Jerusalem invites us to journey throughout Lent, hand in hand with all our diminishments while reaching for Jesus' robe...
Lent is a time to take the time
            to let the power of our faith story take hold of us.
A time to let the events
            get up and walk around in us,
a time to intensify
            our living unto Christ,
a time to hover over
            the thoughts of our hearts,
a time to place our feet in the streets of Jerusalem
            or to walk along the sea and listen to his word,
a time to touch his robe
            and feel the healing surge through us,
a time to ponder and a time to wonder…
Lent is a time to allow a fresh new taste of God!
Add a comment
February 15, 2016
by: Jane Bishop Halteman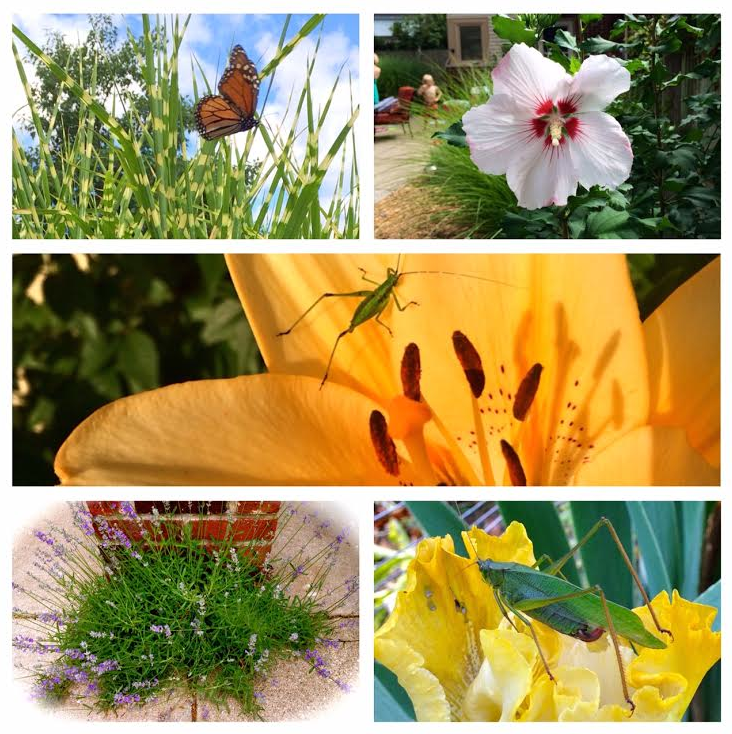 Friends and directees sometimes share with me their soul stories of "cracked doors."  I didn't coin that phrase, but I like it and am borrowing it from a sermon I heard preached last week on Transfiguration Sunday at Dock Woods, the retirement community where my parents live in Lansdale, PA.
As he prepared worshippers for Lent, Ray Hurst, director of pastoral care and service at Living Branches Community, shared that he's been silent about the transfiguration story during his nearly 30 years as a pastor.  "Jesus didn't talk about this experience, the disciples didn't talk about it.  What do we do with an experience that doesn't fit our categories?" he asked. 
Identifying the Luke 9:28-36 passage as "an intensely private moment between Jesus and God" when Moses and Elijah joined Jesus on the Mount of Transfiguration, Hurst described these kinds of out-of-the-ordinary occurrences as ones which "move us toward what is ahead.  'I'm going to be with you as you take the journey to Jerusalem' is what God is saying to Jesus in the transfiguration story," Hurst said he imagines.
Not claiming for a moment to understand exactly what is going on in this passage, Hurst suggested that we find ourselves exquisitely fascinated when we see unexpected glimpses of God revealed in unusual ways in our own lives, like light glimmering from behind "cracked doors."  (The bulletin cover that morning revealed light streaming into a dark room from double doors slightly ajar.) 
Citing similar Biblical examples including Moses and the burning bush, Jacob's dream about the ladder, Job and the voice in the whirlwind—"stories about God's palpable presence among us," Hurst hastened to add that, while "God is not an absent landlord," God cannot be coaxed into appearing on command and refuses to be boxed in by our extraordinary moments.
Acknowledging that it is easy to get wrapped up in the euphoria of the mountaintop experience when we do get a glimpse of what's beyond the cracked doors, he reminded us that "God's presence is constantly on the move."  We can't make God show up, nor can we capture a snapshot of these astonishing moments in order to remain on the mountain beyond the moment.  These amazing places, though perhaps gift to us for special times in our lives, are not the places God remains, he added.
We are tempted to worship the mountaintop experiences by returning to those snapshots to recreate the moment.  "Jesus is the light in the cracked doors…God is not contained in these moments, but we can follow Jesus' example to learn more about what God is up to!" Hurst ended last Sunday's service with a blessing that went something like this:  May God go with us through this season of Lent and cause us to see the cracked doors in our midst.
"People fast, pray, retreat, go on pilgrimages to encounter God, to find something to root their lives in as they discover themselves facing the tragedies and injustices of life."  So how do we make sense of cracked door stories, either our own experiences or friends' recountings of incidents that seemingly cannot be explained…these moments that come our way unexpectedly through no doing of our own? Such moments are life-changing for those who experience them, as the transfiguration must have been for the disciples who probably never forgot what happened to them that day on the mountain. 
Experiences like these embolden us, buoy us up for the journey, remind us that we are not alone, create bonds with others serious about the pilgrimage, and, when we find ourselves in arid places on the road, these stories come to mind to reassure us that the Divine goes ahead of us, comes along behind, and shores us up from all sides while we are on the way. 
Authentic mountaintop experiences, the ones that are illuminated from behind cracked doors, transform us.  What changes do you see unfolding around you, within you this Lenten season?
Add a comment
February 8, 2016
by: Jane Bishop Halteman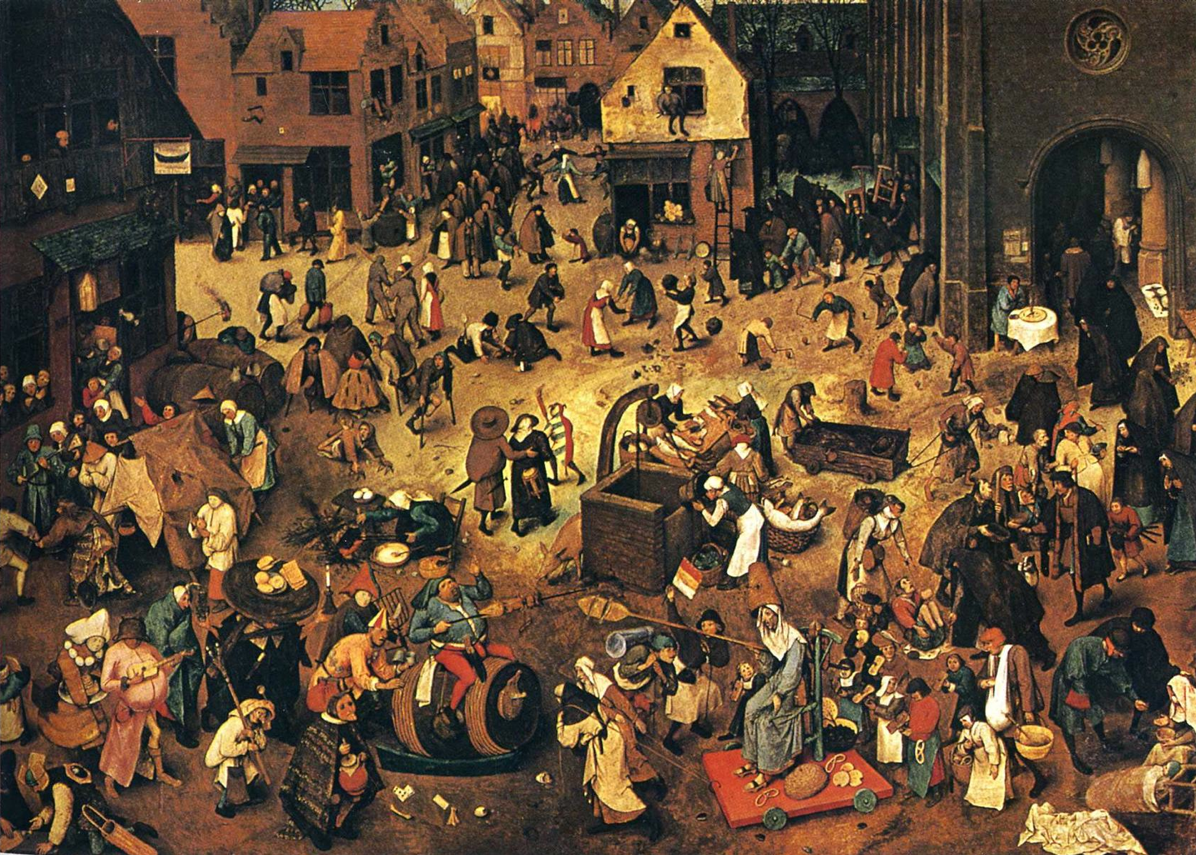 Pieter Bruegel the Elder's The Fight Between Carnival and Lent (1569), oil on wood, Kunsthistorisches Museum, Vienna
Ash Wednesday marks the beginning of Lent this week.  As a long-time lover of classical art and the Old Masters, I spent many hours in years gone by browsing city art museums in eastern and western Europe while Jim and his students visited financial institutions.
I quickly became very fond of the work of Pieter Bruegel the Elder, particularly his detailed genre paintings packed with the busy goings-on of typical Flemish life scenes and situations.  Much of his work is not religious, but The Fight Between Carnival and Lent, which I have not seen in person, depicts a Shrove Tuesday battle featuring 200 townspeople.  We consider Bruegel's painting this week as Christians around the world are about to begin the annual 40-day observance of Lent. 
Back in 1569 when he created this work with oil on wood, the period of Lent presumed preparation for the miracle of Easter, the time of annual communion, which had to be prefaced by penitence and a new rhythm, with deprivations to begin on Ash Wednesday.  Carnival marked the last day to eat fat and meat before Lent's arrival; this painting brings to life the tension between typical behaviors and the more restrained ways of being during the self-reflective period of Lenten fasting.
Bruegel painted at the height of the Protestant Reformation, a time of great religious unrest, when old customs were beginning to crumble.  While Protestant reformers criticized the traditional Catholic ways, religious leaders on both sides disparaged the spirit of Carnival:  Catholics disliked Carnival's parodies of church ritual, while Protestants disapproved of the excesses of Carnival and its Pagan origins, according to art historian Andrew Graham-Dixon.
The artist portrays that moment in the liturgical year "when the last feast of winter must give way to Lenten fasting," with the left half of the painting representing over-indulgence and excess (Carnival), while the right half symbolizes self-denial and sobriety (Lent).  Merriment is under way on the left side of the painting, where a tavern hosts a festive parade, while worshippers marked with ashes leave the church in the upper right corner.  The church's statues are already veiled for the season of Lent and a priest hears confession, even as a woman spring cleans her exterior windows nearby, signaling the changes that take place in Lent.
In the central front portion of the painting, a mock battle plays out between an obese man (Carnival) straddling a barrel and an emaciated nun (Lent) wearing a beehive on her head (symbolizing the church).  Waffles and pancakes, sausages and meats appear on the Carnival side, while figures on the Lent side carry simpler foods like pretzels, breads, and fish.  Fancy costumes and masks are evident on the Carnival side; Lenten figures are dressed more ordinarily.  
"Bruegel's view of the customs that he so vividly recreated is hard to establish, although there is a clue perhaps in the elevated perspective from which he has chosen to look down on the scene. I suspect his attitude to popular faith and festivity may have been one of amused but affectionate detachment—touched, too, by nostalgia for a world that was disappearing even as he painted it," Graham-Dixon observes.
One art historian suggests that "the fat Lord of the Carnival astride the barrel is intended to represent the Protestants, the melancholy, lean figure the Catholics.  Bruegel is caricaturing both equally harshly."
Another art historian notes that our eyes are "drawn to the well in the center. A woman there catches her reflection in the water. It's a moment of stillness and clarity in this busy scene. The well is evocative of Baptism. The woman invites us to self-examination just as Lent invites us all back to the font to become more fully who we are in Christ." 
How do you observe Lent?  While our culture tends to think of this period as a time of deprivation, many have come to regard it recently as a time to add a thoughtful discipline to usual routines.  The camera heightens my powers of observation and awareness; this year it will become my faithful companion to document my personal understanding of photo-a-day words suggested as Lenten practice at The Upper Room's Alive Now website. 
Christine Sine offers this thoughtful reflection on creating sacred space for Lent, and here's a link to Sine's Mustard Seed Associates' Lenten reflections.  You'll find Carol Janus' article on giving up plastic for Lent at this Center for a New American Dream blog post.  Check them out and come up with your own authentic adaptation of what will make Lent a meaningful season of the liturgical year for you. 
What will you do to prepare for the celebration of Easter during this 40-day countdown?  (The official 40 days starts on Ash Wednesday and does not include Sundays between now and Easter.)
Add a comment
February 1, 2016
by: Jane Bishop Halteman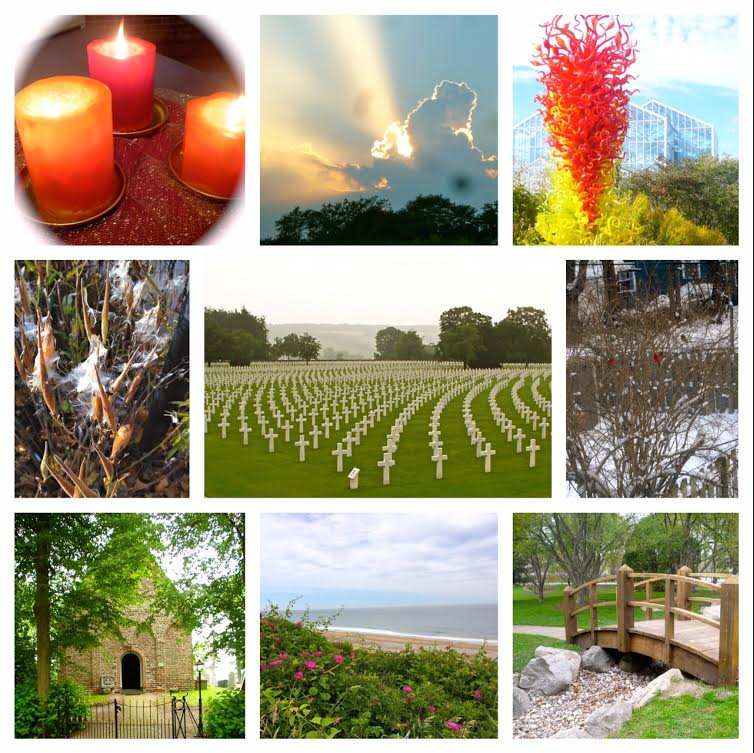 More than 10 years ago, I read an inspiring book about finding God in the silence.  W. Paul Jones' Teaching the Dead Bird to Sing, which I devoured in my down time on a trip to Europe with Jim's business/econ students, illustrated in a powerful way "both the terror and the exhilarating freedom that come with profound solitude."
The silence that so threatened him at first gradually became "a garment of healing" for Jones as he embarked on an adventure of self-discovery, recognizing in time that his capacity for thinking far outshone his capacity for feeling.  The plunge into silence ultimately illuminated for him the "elaborate, even skillful, intellectual defenses" he had  established to keep feelings at bay. 
The experience of reading about self-discovery and finding God in the silence, even as I was immersed in a whirlwind trip through five countries in three weeks, impressed upon me a serious fascination with the impact of silence on one's faith journey.  I have made it a practice ever since to collect quotes about silence as spiritual discipline, quotes which speak eloquently and persuasively to my personal experience.
"When we make a place for silence, we make room for ourselves. This is simple. And it is radical. A room set apart for silence becomes a sanctuary—a place for breath, for refreshment, for challenge, and for healing. It is helpful to keep the space plain and simple: a few cushions, a rug….Simplicity allows the senses to rest from stimulation," says Gunilla Norris in Meditation Practice and Mindful Living.
"Silence is often referred to in terms of space: the immensity inside, the cave of the heart, the oasis of quiet, the inner sanctuary, the interior castle, the sacred center where God dwells. For centuries, people have used this practice (of silence) as a resting and renewal stop on the spiritual journey. It provides a way to periodically withdraw from the world," according to Frederic and Mary Ann Brussat on the Spirituality and Practice website.
Thomas Merton (quoted in Thomas Merton:  Essential Writings edited by Christine M. Bochen) says this about silence:  "Silence has many dimensions. It can be a regression and an escape, a loss of self, or it can be presence, awareness, unification, self-discovery. Negative silence blurs and confuses our identity, and we lapse into daydreams or diffuse anxieties. Positive silence pulls us together and makes us realize who we are, who we might be, and the distance between these two."
In her book Silence: How to Find Inner Peace in a Busy World, Christina Feldman discovers that "silence is a teacher; within it we learn some of the deepest lessons of our lives—about aloneness and intimacy, joy and sorrow, conflict and peace. When we speak less to the world and everything in it, we bring a silence in which we can listen to the story of life, other people, and our own heart."  How do these sentiments resonate with you?
"The moments of silence we encounter are benedictions, blessings that echo in our hearts. They invite us to be still, to listen deeply, and to be present in this world," says Feldman.  "The glimpses of silence we encounter in the world are potent intimations of the inner stillness possible for each of us. The glimpses of silence we meet remind us of a way of being in which we are deeply touched by the mystery and grandeur of life. In the midst of silence we remember what it feels like to be truly alive, receptive, and sensitive. Silence, we come to understand, is the language of the heart."  Can you recall times when you have experienced silence as the language of the heart?
If you want to investigate the power of silence for yourself, find ways to integrate it into your day.  Start small by making time to spend a minute or two of quiet before or after a meal, as you fall asleep at night, upon waking in the morning, as you perform your exercise rituals.  Keep a personal log or journal of the glimpses of healing and hope you notice as you deepen your practice of silence.
Should you discover that the discipline of silence intrigues you, make space at home to engage in stillness or find a place in your community where silence is expected, permitted, or at least tolerated.  Create a sanctuary of silence for yourself near a cemetery, in a public garden, by a body of water, under a tree or starry sky, on a bench near a piece of great art in a quiet museum corner.  Share your story with others who have found the practice of silence a valuable way to enhance their faith journey. 
Add a comment