Glimpses of Healing and Hope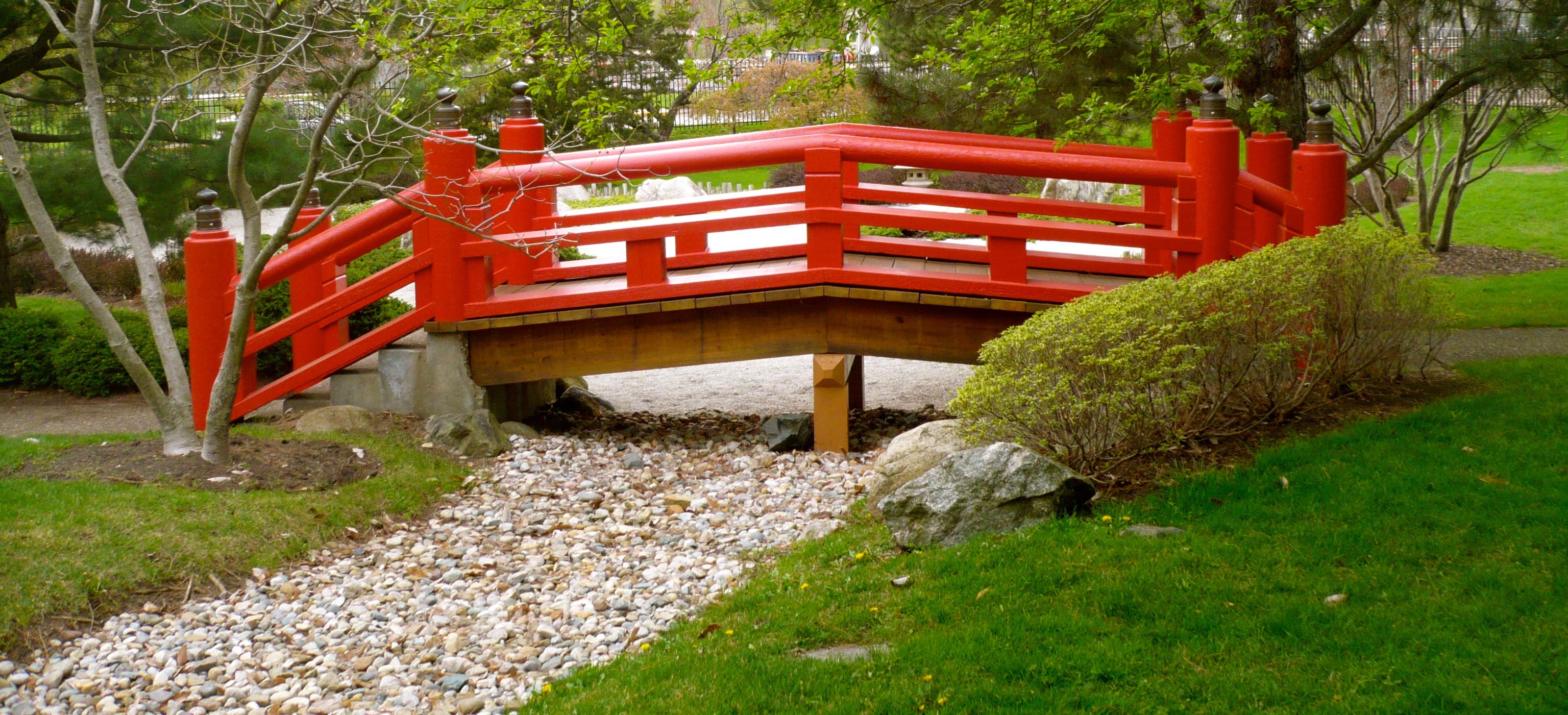 by Nancy Myers
Before you tie up your summer plans for 2020, think about signing up for the trip of a lifetime to the Democratic Republic of Congo, as part of KRMC's "Bondeko Bonding" delegation.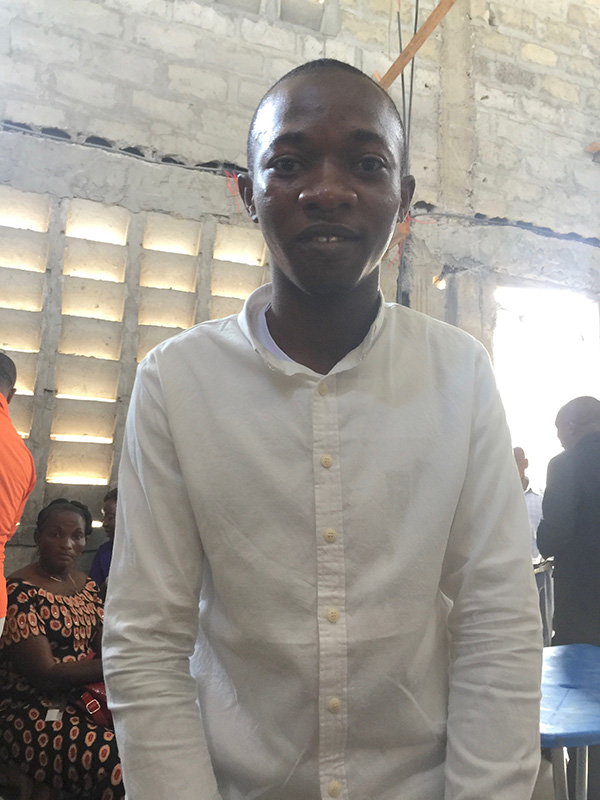 Francis Kabanza, secretary of Bondeko's youth group, would like to meet you. He is a recent university graduate in geology and speaks English.
When: July or August 2020
What: 10 days of work, worship, and cultural immersion with members of our sister congregation, Bondeko Mennonite Church, Kinshasa
Who: 4–8 hardy souls from KRMC, including (we hope) one pastor, one videographer, and one tour leader
This will be no ordinary tourism, though you will see some exotic sights. There are hints of a boat trip up the Congo River. And people-watching in Kinshasa is as good as anywhere on the planet.
This will be no ordinary service trip, though you may be called upon to do some good, hard physical labor. Bondeko's school-building project is on hold right now as they finish construction on their church building. By next summer they hope to be putting up the walls of "Menno Simons Academy." While some of us may help with construction, it will be in the spirit of partnership more than benevolence.
This will be no ordinary adventure, though it will require an adventuresome spirit. Ready for a yellow fever vaccination? A 24-hour journey by air in economy class? Being ferried by skilled and daring drivers through traffic jams in one of the world's largest and poorest capitals? All this is in order to experience full force the dynamism, warmth, energy and joy that is Africa, and to strengthen the special relations we have with members of one small church in the heart of one of Kinshasa's poorest sections. Music will likely be an important part of this visit. It may include:
• Two Sundays, one at Bondeko and one with a joint service of Mennonite churches in Kinshasa that would include numerous choirs. You may participate in both rehearsed and impromptu African-style worship music. 

• Several days construction work on the school, with members of Bondeko.

• One day trip outside the city.

• Visits in the city to adult-literacy classes, homes, fabric shops, craft markets, etc.

• Simple but comfortable accommodations in a Protestant hostel.

Costs are likely to be $3500–$4000 per person, to be provided by church support, special fundraising, and individual contributions. The principal qualifications for participation in this trip are goodwill and strong desire. We do not want to exclude anyone because of finances.
Are you intrigued? Come to an informational brown bag lunch after church November 17, no commitment required. If you can't make it to this meeting but would like more information, please contact one of us.
Global Partnership Committee
Nancy Myers, Cal King, Gail Weaver, John Martens, Andrew Tucker, Paul Herr
Add a comment
As we mentioned in a previous blog, one of our hopes for our facility in the years to come is as a home for organizations that provide regular meetings, events, conferences, or retreats that need a big physical space with all the amenities at an affordable price for their members. With that in mind, we have partnered with LOGMichiana, a local organization dedicated to bringing the love of God to high school students in the area, and are working on a renovation of our basement to that end. The shower project has met some obstacles and delays but we have overcome them all and are on pace to complete this project before the first LOG weekend in this facility which is scheduled for November 8-10, 2019.
Our Administration team, and especially our Ministry Team Lead Van, has really taken this project and made it work within our time & budget constraints. LOGMichiana's Executive Director, Terry, as well as the rest of the LOG organization and its alumni have provided us with the finances and some hands-on help. KRMC's people, especially Harold, have put in many many hours of planning, demolition, and construction to turn an old storage room into a fully-functioning four-stall shower room with all new plumbing, venting, electricity, and dividing walls. 
With just a few weeks to go, things are really shaping up. We are currently waiting on more electricity & drywall.
It's hard to tell in the dark, we know, but this is the fourth shower, separated by a door to the hallway, and then three more showers.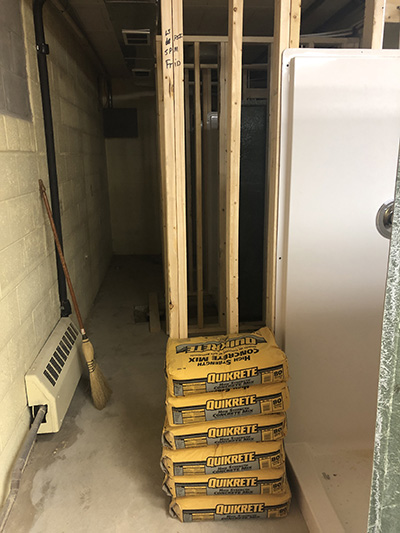 Here are the other three showers: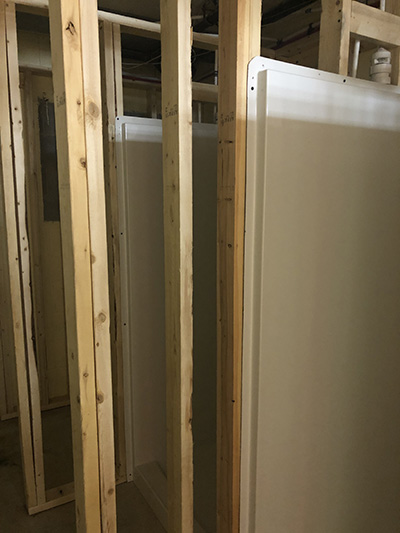 Here's what the plumbing for the showers looks like so far: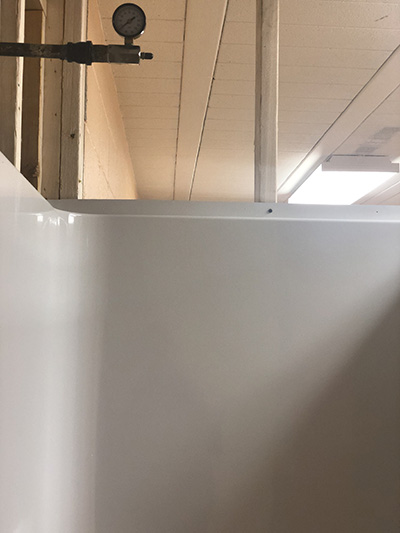 We're excited to see this project come to a close so LOG (and other organizations like it) can really feel at home here at Kern Road Mennonite Church. We'll be sure to post pictures when the work is completely done.
Add a comment
by Vicki Smucker
This past Tuesday was a bit disorienting for me. There wasn't anything on the calendar, but I seemed to be missing something.  There was just a shadow following me that day.
Of course, I knew the reason for this.  Tuesday is the day that, for the past 30 years, has been the day I spent volunteering at the front desk of the Center for the Homeless.  This was the first Tuesday of my "retirement" from my volunteer job that I wasn't traveling.
The Center for the Homeless has been part of my life since I first moved to South Bend in 1988.  At that point it was still in the planning stages.  The old Gilbert's Men's Store on South Michigan had been purchased, but no steps had been made to repurpose the building. However, The United Religious Community of St. Joseph County was putting out the word that the day was coming when volunteers would be needed to help as the Center opened.  I heard about it from the service committee announcement at church and it piqued my interest.  The work and population would fit with the work and training I'd had in social work and vocational rehabilitation.  It would also give me a way to engage with my new community.
The Center opened much sooner than anyone expected.  A fire in a transient hotel made a large number of people homeless overnight.  The Center opened without furniture or a kitchen.  The community scrambled to pull together beds and meals for a group of people suffering loss and trauma with nowhere else to turn.  This was a show of compassion and generosity that drew me in.  This was something of which I wanted to be a part!
I became one of a small group of volunteers who chose to work on a regular basis manning the front desk.  There were only a couple of paid people at the time, so the place was staffed by volunteers.  That's probably where I came to my understanding of  volunteering.  If I didn't show up to answer phones and do intakes on new guests, there was no one answering phones and doing intakes.  If I couldn't cover my shift, I would find a replacement by switching with another volunteer.  The seriousness with which we volunteers took our commitment to the Center is the kind of commitment most people make to their daily jobs: you showed up; you stayed with it.
I enjoyed showing up.  I gained so much in staying with it. 
You only get one life.  My life is good—a loving Christian upbringing, a wonderful husband and family, a good education, good health, a nurturing church community, and financial stability.  If I live in a community of people just like me, then I have a certain picture of the world.  I have a certain understanding of life and of people.  It's a little skewed.  Maybe a lot skewed. 
I learned about a different kind of life from the people at the Center.  Every day there I met people who have challenges I'll never face.  Not just the challenge of homelessness, but the causes of it.  How would it be to need to survive in a world where you had to face it all alone, or with a mental or physical illness that you couldn't afford to treat, or with no education or skills, or with insurmountable debt, or addiction, or a prison record, or crippling grief, or just plain poverty and hopelessness?
There are personal stories of tragedy that touched me deeply.  I won't forget the woman who came to the Center years ago, weighed down with grief and the responsibility of caring for her children after the drive-by shooting in which her husband was killed.  She got well and started a day-care center in her home when she moved out.  She came back for a time because a rent increase forced her out of her house.  I also won't forget the family who left their home in Gary,  IN because it was getting too dangerous to live in their neighborhood.  Their 18 year old son chose to stay behind.  He was killed in a gang shooting two weeks later.  And I won't forget the man whose parents abused him and told him he'd never amount to anything.  That legacy follows him.  He finds nothing worth living for.  He has debilitating depression and has tried suicide on several occasions.  I won't forget these moving stories which expand my understanding of life and of people. 
I've known some people at the Center for nearly 30 years.  They're friends.  I know their children and, in some cases, grandchildren.  I've been treated to meals in the homes of former guests.  I've received gifts from meager resources.  I've been amazed by their generosity and resilience. Their acceptance of me is a true blessing.
I've also been dismissed by some people.  Maybe they see me as too different, too privileged.  I understand this.  It's always a good reminder—I am privileged.  That reminder makes me work harder to understand the chasm that can exist between us…and work harder to overcome it.  I'm reminded to be intentional in my interactions with people, because a careless remark or action can be taken as a purposeful insult or prejudice.  I'm reminded to be humble, to take criticism, and try to make something good of it.
I'll miss the people who I've met at the Center.  I'll miss the occasional phone call from a former guest who calls on a Tuesday because he knows I'll be at the Center and he just wants to hear a friendly voice and catch up.  I'll miss the "old timer" who stops by the Center to know if I  remember him and to let me know that he's doing well.  I'll miss the new guest who asks if I know who she is and is delighted when I recall she lived there with her mother many years ago. 
I've learned a lot through my volunteering, but two things stand out.  First of all, by the most important measures, volunteering has given me far more than I've given it.  Secondly, the effects of showing kindness may not be immediately knowable, but should never be underestimated. Sometimes it works miracles.
Add a comment
by Pastor Dave Sutter
Hidden Valley is the destination of a one-mile loop trail in Joshua Tree National Park in southern California. Back in the 1800's of white American expansion in the West, the valley was said to have been a popular spot for rustlers to hide their cattle -- thus the name "hidden valley." The valley is nearly totally enclosed from the outside world with walls of rock. The rock surrounds a pristine watering hole where herds could find shelter and drink.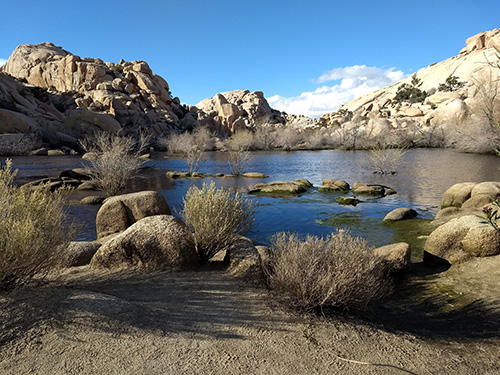 As one hikes the trail back to Hidden Valley today, the National Park Service has placed markers describing the many ways in which the varied plants and animals have adapted and changed over the years enabling them to survive the extremes of the environment: sun, cold, drought, and wind, finding ways to borrow and contribute one to the other as need arose. At the conclusion of the trail is a sign with a poem written by Robinson Jeffers. The sign highlights the co-existence of varied species of plants, animals, and humans in the valley and the delicate balance they have achieved over time as they have adapted to the needs of the environment.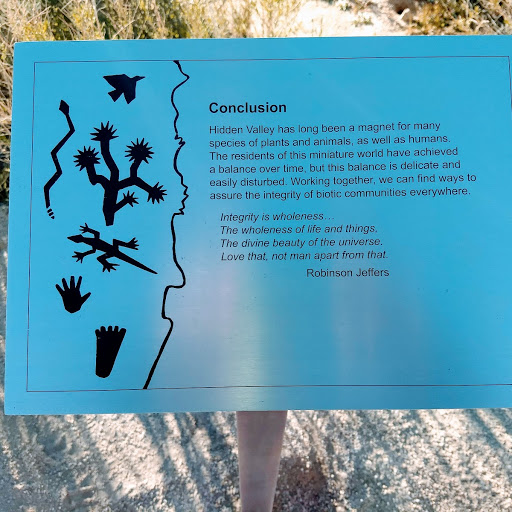 The poem highlights something even bigger:
Integrity is wholeness…
The wholeness of life and things,
The divine beauty of the universe,
Love that, not man apart from that.
If it is true that, in Christ, God is bringing together all things and that God is uniting all things in Christ, perhaps the Hidden Valley is a foretaste of the new heavens and earth God is creating. In the midst of God's love for the earth and God's love for humans, we are linked one to the other. 
May we continue to seek our call and our connection to God and to all of God's creation. May we learn and grow and adapt that we might coexist together in love and affirm all that Christ has invited us to experience in God and in the Spirit.  
Add a comment