Glimpses of Healing and Hope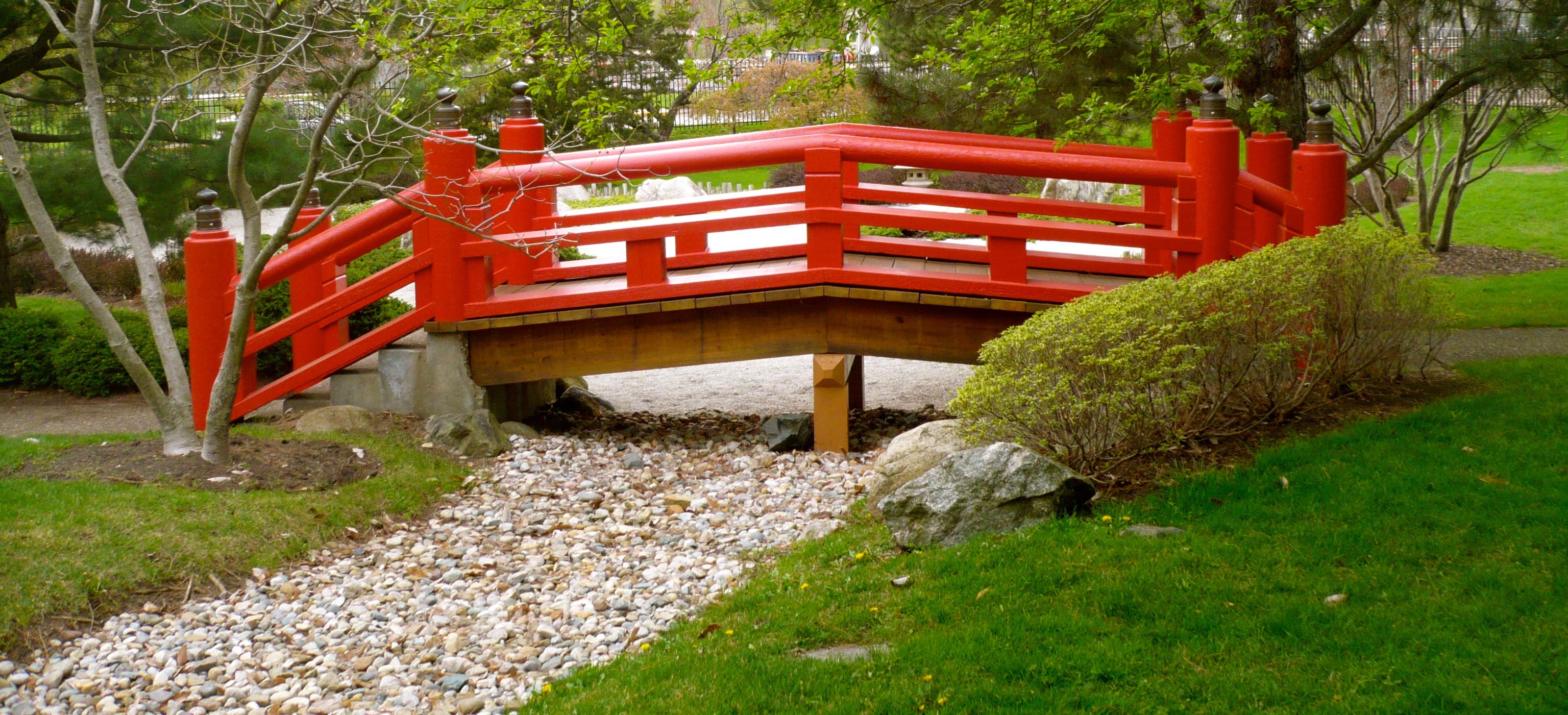 by Pastor Dave Sutter
Hidden Valley is the destination of a one-mile loop trail in Joshua Tree National Park in southern California. Back in the 1800's of white American expansion in the West, the valley was said to have been a popular spot for rustlers to hide their cattle -- thus the name "hidden valley." The valley is nearly totally enclosed from the outside world with walls of rock. The rock surrounds a pristine watering hole where herds could find shelter and drink.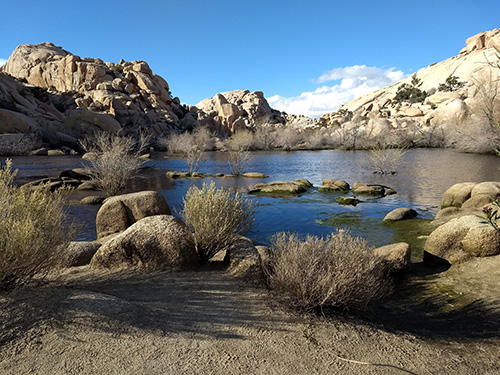 As one hikes the trail back to Hidden Valley today, the National Park Service has placed markers describing the many ways in which the varied plants and animals have adapted and changed over the years enabling them to survive the extremes of the environment: sun, cold, drought, and wind, finding ways to borrow and contribute one to the other as need arose. At the conclusion of the trail is a sign with a poem written by Robinson Jeffers. The sign highlights the co-existence of varied species of plants, animals, and humans in the valley and the delicate balance they have achieved over time as they have adapted to the needs of the environment.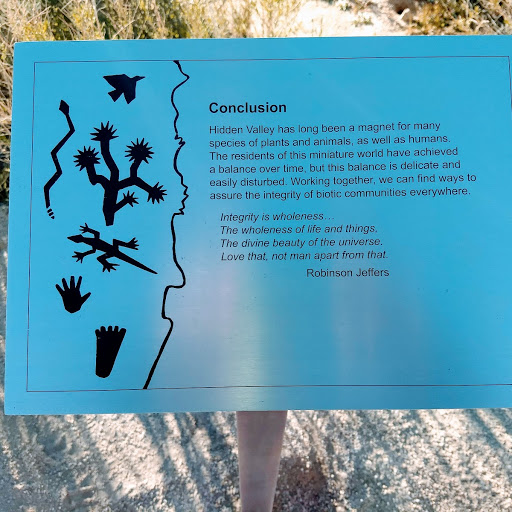 The poem highlights something even bigger:
Integrity is wholeness…
The wholeness of life and things,
The divine beauty of the universe,
Love that, not man apart from that.
If it is true that, in Christ, God is bringing together all things and that God is uniting all things in Christ, perhaps the Hidden Valley is a foretaste of the new heavens and earth God is creating. In the midst of God's love for the earth and God's love for humans, we are linked one to the other. 
May we continue to seek our call and our connection to God and to all of God's creation. May we learn and grow and adapt that we might coexist together in love and affirm all that Christ has invited us to experience in God and in the Spirit.  
Add a comment
Over the last several years, our congregation has wanted to focus on reaching out to other local organizations to offer the use of our facility for their meetings and events. We want to be a good neighbor within the greater South Bend-Mishawaka neighborhood, and what better way than by providing physical space to those groups and clubs without a permanent home in this neighborhood?
One of these long-term partnerships is with LOGMichiana, a non-denominational senior high youth program that has been serving Michiana for over 20 years, and we couldn't be more excited about this opportunity! The LOG (Love of God) program was planted here in the mid-1990s by Reverend Terry McBride and since then has served more than 1792 youth and held 102 weekend-long events. The program focuses heavily on relationship-building and building a community of like-minded teenage believers (or wonderers). After someone participates in a weekend, they can choose to come back and work on the leadership team that will run the next season's weekends. Leadership teams meet weekly during the fall and spring, with guidance and supervision from adult advisers (who are often alumni of the program), to pray, fellowship, and work on their assigned weekend and its assorted talks and tasks. 
Many former and current KRMCers have attended or worked with the LOG program over the years so it seemed like a natural fit when LOG was looking for a permanent space to host their weekends. We are currently working on creating a shower room in the basement to make the LOG experience better and in hopes that other organizations who will use this facility in the future will also find it helpful. This shower renovation will be done just in time for the November 2019 weekends which will be the first time LOG will be hosting a regular weekend retreat in our facility. 
We'll keep this space updated with our renovation progress as well as more news about LOG and other future partnerships. Keep us and LOGMichiana in your prayers as we strive to live out God's dream for our community!
Add a comment
by Pastor Jen Shenk
It was a random picture I snapped with my phone
the last day of summer vacation,
the day before a new school year.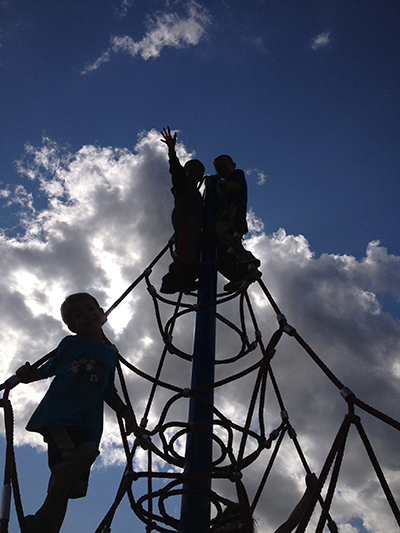 The August air hung heavy and hot
with white puffy clouds set against a
brilliant blue sky.

All three boys climbed up on a spider web
going higher
higher
higher
until they were each stretched to their limit.

I watched them
suspended on cables woven together, connected,
their silhouettes standing out from the sky beyond.

Now, today,
I watched them leave for school.
Releasing them into this vast, open world.

I cannot go with them.
It will be their own journey to climb
to struggle
to stretch to their limits.

But they will not be alone.
They will be undergirded and supported by a vast network
of a spider web of their own:
   Teachers who know school isn't just about test scores
   Classmates who share a smile and end up becoming a friend
   Grandparents who celebrate new beginnings and growing up
   Friends, cousins, pastors, family, babysitters, neighbors,
   The list extends in a beautiful and complex network of connection.

They will climb while I watch.
I will see them get to the top and
I will feel joy right alongside them
when they conquer fears and get stronger,
holding onto their web for support when they need it.


A web of support that
stretches when necessary
yet is stronger than steel.
So delicate it's barely visible
unless the light catches it just right.


Calm and believing,
I will give thanks for the infinite number of threads
that connect them to me,
to each other,
and to others all around.
I will give thanks
that I am not the only lifeline they know.
I will feel grateful for the sturdy and tender web
set against a vast open sky
that will give them strength to climb
higher,
higher,
and higher still.
*                           *                           *                           *                           *
I wrote the above poem six years ago, but I'm struck by how timely it still is even today. And while it's obviously written from the perspective of kids going to school, I think it can apply to all sorts of transitions, new beginnings, and growth.
As I reflect on our summer series of scattering seeds, and how each one of us has Divine DNA (aka. God's Spirit) planted within us from the moment we are created, I think the Divine Intention is that-- ultimately--  we bear fruit. However, it's almost impossible to bear fruit unless we are connected. We need to stay connected to God through spiritual disciplines like prayer, reading the Bible, and regular worship. And we need to foster connections to one another-- being in real relationships where honesty, grace, love and forgiveness are abundant.
Who is in your web of support? My prayer is that our congregation can be a strong part of this web that supports, undergirds, encourages and equips you for what God is calling you to do.
May you know strength, peace, and joy as you grow in faith-- climbing, stretching, and leaning on God and others in the journey!
"Remain in me, as I also remain in you. No branch can bear fruit by itself; it must remain in the vine. Neither can you bear fruit unless you remain in me. I am the vine; you are the branches. If you remain in me and I in you, you will bear much fruit; apart from me you can do nothing."  (John 15:4,5)
Add a comment
10 of our high school students as well as 5 adult sponsors and 3 delegates recently attended MennoCon'19 -- the biannual national convention of the Mennonite Church USA. Their actual words and reflections and experiences will be available soon as a podcast but in the meantime, you can look through the archives of MC USA's articles & photos from the last week to get a taste (yes, I had to do it -- this will make more sense once you see what the name of the archive is!) of what happened and how it impacted Mennonite people around the nation (and world).
We believe this is such a powerful experience that we spend the year prior to the convention hosting fundraisers and selling/auctioning items to raise enough money for every youth in the church who wants to attend to have the opportunity to do so. This year we partnered with another local Mennonite church to charter a bus to Kansas City, and that turned out to be a great experience for our youth as well. 
Our church's Congregational Principles and Practices, in part, read as follows: "Welcome and celebrate the gathering of God's diverse people in our church and community (intercultural, intergenerational, and interchurch)." and "Nurture authentic relationships with God and one another in Christian community so that we might stretch and grow in Christ individually and collectively." We believe that attendance at MC USA's convention is a great way for us to live out both of these practices and principles in a meaningful tangible way.
Add a comment