Glimpses of Healing and Hope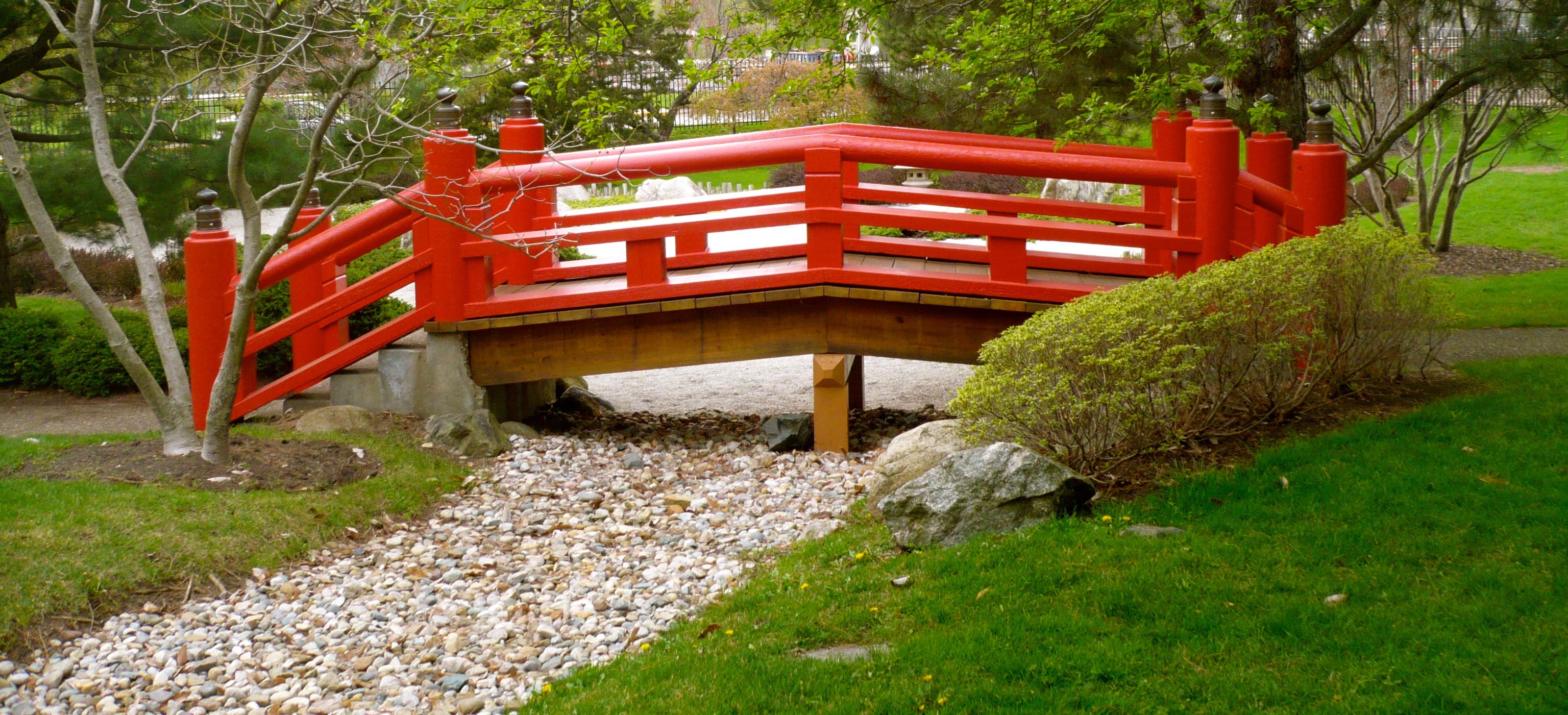 by Pastor Dave Sutter
Almost all of the local schools are out. The weather is warmer. The pools are open. When I was growing up, like most kids, I looked forward to the summer. I could ride my bike to play basketball with my friends, participate in the summer reading program at the library, go to church camp for a week, and play summer baseball. Once a week I got to mow. And sometimes, on one special day in the summer, we'd get to go Wrigley Field to see the Cubs. With each of these came new adventure: new sights, relationships, and experiences. Summer is a great time for adventure.    
This year, ten KRMC youth and four sponsors are heading to Harlan, KY to be a part of SWAP (Sharing With Appalachian People).  Notice that it isn't "Service" With Appalachian People.  Mennonite Central Committee, the sponsors of the program, emphasizes this.  Groups like ours aren't to swoop in to "do service" but rather "share" with people in their homes, in their territory.  For us, it will be an adventure in being vulnerable, hearing people's stories on their turf, listening and learning and sharing.  Of course, part of the adventure, too, will be in being together as a group, traveling to and from KY together, getting to know each other for a week in a way we haven't before.       
But there are lots of other opportunities for adventure this summer, too, happening in and around  Kern Road: opportunities for new sights, relationships and experiences.  Be sure to read all of Kernels, including the ministry updates, to find out what's been and will be happening at Kern Road.  And don't forget to check out the weekly KRMC Reminders and announcement sheets, too, so you keep up with people and happenings. 
Our summer worship will invite us to reflect on the fruit of the Spirit that is born in our lives when we are empowered by and live attentively to the Spirit of Christ.  Come to worship God and to seek to listen for and live in the Spirit of Christ. During the second hour each Sunday, there will be opportunities for creativity, service, food, music, play, fellowship, and celebration. The Formation Team is planning intergenerational adventure times each week with the theme "Connecting to God through…"   
Also in Kernels, note the new attenders connecting with our congregation, and introduce yourself.  These are new relationships ripe for adventure and worthwhile experiences. New people bring diverse gifts and personalities, traditions, and backgrounds that enliven the body of Christ. If we missed including you, and you've been with us awhile, please let us know.  We'd like to highlight you and your household in the next issue.
Sometime during the summer a new church yard sign and exterior dove will be installed.  A new sign has been talked about as a need for over ten years, maybe fifteen. This one will have a digital component.  It will take some getting used to and some experimentation. Our hope is to use it in a way that fits who we are as a faith community. Beyond these events, there will be opportunities for fellowship and learning whenever we meet in each other's homes, in parks, on the trails, and in the fellowship hall and parking lot sharing summer adventures together. 
May God be with us this summer as we play, learn, worship, fellowship, and serve.
Add a comment
by LeeAndra Fouts
During this week's staff meeting, Pastor Janice led us through a devotional time highlighting the Sermon on the Plain featured in Luke 6:27-36. This is the famous "turn the other cheek" passage but the words just before that part captured my attention this time – "bless those who curse you."
The passage in the NKJV reads, "But I say to you who hear: Love your enemies, do good to those who hate you, bless those who curse you, and pray for those who spitefully use you. To him who strikes you on the one cheek, offer the other also. And from him who takes away your cloak, do not withhold your tunic either… But if you love those who love you, what credit is that to you? For even sinners love those who love them… But love your enemies, do good, and lend, hoping for nothing in return; and your reward will be great, and you will be sons of the Most High. For He is kind to the unthankful and evil. Therefore be merciful, just as your Father also is merciful."
As we read the passage several times, I thought over and over again about the word "bless." What does that mean exactly? To me, it is a positive action, a purposeful acting out of a plan, that requires more from me than simply being good or loving everyone. It is one thing to stay still and silent while someone's curses, literal or figurative, are raining down upon you but it is quite another to speak into the situation with a blessing and good word for that person.
I began to visualize something in my mind and jotted it down in my notes before I forgot. I've shared the picture with you (despite its elementary-school level of artistry!) in hopes that it may help you, too, the next time you hear this passage or find yourself knee-deep in someone else's negative words and bad attitude. I always find it so much easier to remember something when I can see it in my mind.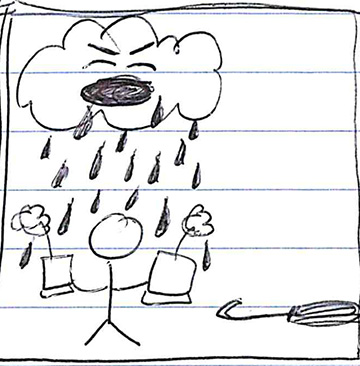 When we face any type of storm in Life, it's our natural instinct to protect ourselves from it, to grab a poncho or umbrella or hunker down in a safe space, and wait for it to pass. What if we didn't step out of the rain, though, but into it? What if we allowed ourselves to feel the harsh cold rain on our skin knowing that all storms pass soon enough? What if we decided to embrace the storm because we saw the positive effects it could have in the middle of the terrible cause that it is? What if we decided to open ourselves up to the possibility that a temporary shake-up might cause a permanent steadfastness to grow within us?
I looked up the Hebrew word for "bless" after our meeting and discovered the Hebrew word is "barah" which means "to kneel." Yes, exactly – to bless someone who curses you is to kneel down, to give up your power and become vulnerable to theirs, in the midst of their storm of lies and say, "I still believe you are a good person.  I still believe something good will come from this. I still believe in love and truth and hope."
From the outside, blessing someone who curses you may seem weak or stupid. People may wonder if you have lost your mind. In a way you have --- leading with your heart, instead of your head, is exactly what Jesus did, and He was the strongest Man who ever lived. Blessing those who curse you is understanding the wisdom in pausing, reflecting, and praying as you seek to understand others and how God may use this situation for good. We could all use a few moments in our chaotic lives to pause and reflect and pray… especially in the midst of a storm.
Add a comment
March 29, Kinshasa, DR Congo
(On the occasion of a reception held at the home of Pastor François Tshidimu in honor of Nancy Myers's visit and the receipt from KRMC of funds to purchase land for a school)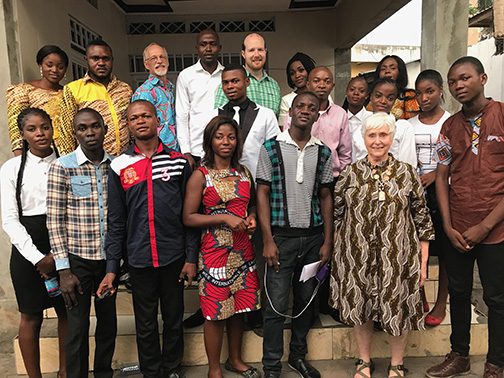 First and foremost, permit us to thank the Lord our God, the master of time and circumstance, for having permitted the encounter of this day. We welcome everyone.
We the youth of Bondeko Mennonite Church met on March 27, 2018 to reflect on the future of young Mennonites in general and of Bondeko in particular.
In addition to the fact that youth represent the future, we believe that youth are the key to the present, a measure of the survival and continuation of the Mennonite community in Congo and at Bondeko. Therefore it is necessary for us to be trained and organized.
Our discussions centered around the promotion, projects, and formation of youth in our congregation. We concluded the following:
·         We, the youth of Bondeko, express our profound gratitude to Pastor François Tshidimu Mukendi, head of the congregation, for his determination to see the youth flourish, and also for having facilitated today's encounter.
·         We thank Madame Nancy Myers for her love and generosity toward our church and her involvement in the success of our projects.
·         We thank her also for the establishment of the partnership with Kern Road Mennonite Church through which we received scholarships, permitting the youth of Bondeko to make their way through high school and university.
·         We are profoundly grateful also to Kern Road Mennonite Church for financing the purchase of land that will permit the construction of the first private Mennonite school in Congo, which will contribute to the formation of the youth not only of Bondeko but also of the whole country.
·         We solicit a church-to-church partnership with the youth of Kern Road Mennonite Church with the aim of sharing experiences.
We address our warmest greetings to the whole congregation of Kern Road Mennonite Church. May the peace of the Savior be with you. Thank you.
Ignace Tshitoka, President of Bondeko Youth, and Francis Kabanza
Add a comment