Glimpses of Healing and Hope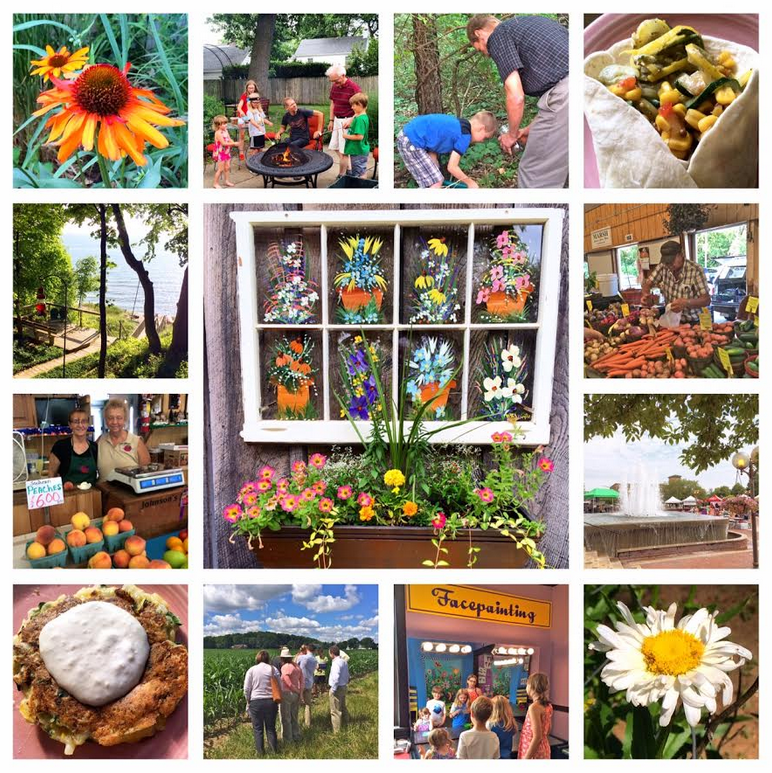 July 3, 2017
By:  Jane Bishop Halteman
When national leaders continue to disappoint and the world around us looks to be in steady decline, what makes your heart sing despite less than desirable circumstances?
I resonate this week with Parker Palmer's assessment of the July 4 national holiday we will observe tomorrow.  "On one hand, I celebrate all that is good about the U.S. and its people. On the other hand, I grieve the fundamental, perhaps even fatal flaws in our democracy that have been revealed by the diseased presidency and politics from which we now suffer," Palmer says in his July 2 Facebook post.
Before I read Palmer's musings, however, last week's tweet torrent threatened to drown me in despair, and I began practicing the spiritual discipline of noticing what brings joy even when the national/world situation seems grim. 
My first response was to compose a photo collage of what has energized me these last few weeks…in addition to the documentation of warm memories, I take great delight in making photos the best they can be. This week's individual photos reveal that nature and family activate my happy places, so the South Bend Farmers' Market, our own garden, and Matt and Jen's new CSA, offered lots of fresh produce last week to create tasty summer dishes, which I love to photograph as well as eat.  My once- or twice-daily visits to monitor blossoms on our property provide Instagram and Facebook connections via photos to other nature lovers. Bodies of water, like Lake Michigan and our own Saint Joe River, always lift my spirits.
Weekly visits with family fuel my obsession to document and chronicle the growing-up years of the grandkids.  Spending quality time with them at the library or Menno-Hof or the Saint Joe, MI, splash pad or Curious Kids' Museum or roasting marshmallows around our backyard brazier make lasting memories for all of us.
Learning with fellow KRMCers about soil during our intergenerational nature-related formation hour last Sunday presented another happy moment and photo opportunity as we gathered evidence to substantiate sharings from this blog post about Kingdom teachings from soil.    
Connections, even to folks I do not know in person, make my heart sing.  A Facebook friend whom I have not met except by phone walked me through upgrading security settings when she noticed my profile had been cloned last week.  An Instagrammer I follow who claims color as her "superpower" brings me joy every day with her vivid posts, profiling her love of life in London.  I treasure these interactions, especially when it feels like the world is collapsing in on itself and other countries' trust in US leadership is falling to new lows, according to a recent Pew Research Center poll.
Whenever I can, I attend South Bend's Fridays by the Fountain in front of the Morris Performing Arts Center.  This past week's band did not disappoint, particularly after I noticed an aging gentleman (way beyond my years anyway) dancing by himself to Proud Mary.  He wandered off when that number ended, but couldn't resist hanging around a while longer for These Boots Are Made for Walking.
Sitting on a ledge in the shade, sheltered from the hot sun, I watched happy human interactions unfold before me as a child and two older women took seats on the steps nearby.  The child's apple rolled away, and I imagined it might get tossed.  Happily, one of the grandmas poured her own carbonated beverage over the apple and returned it to the child.  The other grandma dipped her scarf in the nearby fountain to clean the child's face after sandwich bites.
Folks nearby enjoyed the two-year-old's rollicking movement to Some Kind of Wonderful and Sweet Home Alabama (which the band changed to Chicago for the occasion) and her happy leaping down the stairs, jumping proudly from the last step to the ground.  She warmed to her audience's cheers and put on a magnificent show for us; the woman on the ledge next to me commented out loud that it was such a relief to be away from the political fray for a moment.
Watching the many ethnicities and age groups (from infants in wraps and slings to octogenarians on walkers and canes) enjoying one another on their lunch breaks at Fridays by the Fountain functioned as an antidote to overdosing on the goings-on in Washington, DC. Kids blowing bubbles and families frolicking in the fountain mist, the kind word of a stranger, even the appearance of the Martin's food truck added to the ambiance that raised my sinking spirits that day.
Where have you glimpsed the Divine in simple human interaction?