Glimpses of Healing and Hope
Healing and hope in the neighborhood
May 2, 2016
by: Jane Bishop Halteman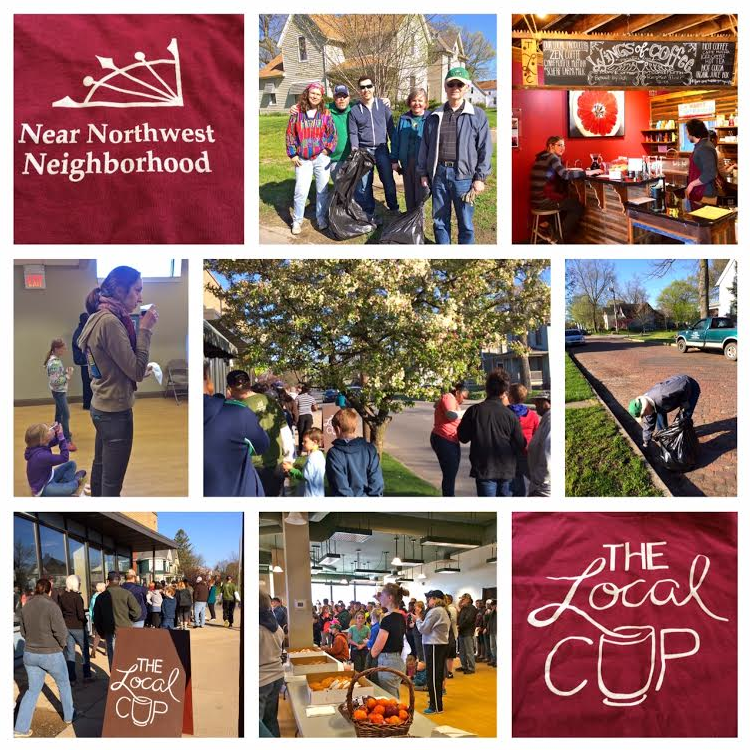 Minutes away from the Notre Dame campus and downtown South Bend, the city's Near Northwest Neighborhood (NNN) is home to more than 25 KRMCers who are part of the congregation's west area group. 
Reportedly one of the most active neighborhood organizations in the city, the NNN "is an organization of citizens dedicated to the preservation and revitalization of the neighborhood. We focus on preserving the neighborhood's beautiful homes and providing affordable housing, while empowering neighbors to become active participants in strengthening this historic, diverse area," the neighborhood website reveals.
Bounded by the St. Joseph River on its northeastern edge, the neighborhood boasts a rich history dating back to the late 1600s with the discovery of the river and the creation of the portage trail, a major trade route used by French explorers and Native Americans, according to the website. 
KRMCer Elaine Schmucker, who arrived in the neighborhood in 1978, explains that home prices were a major part of how she and Phil decided where to settle in South Bend:  "The price was right and we liked all the features of the house. Our jobs at Hope Rescue and Saint Joseph Hospital were close by."
The Schmuckers found their "community of Catholic charismatic people with good values and lots of children" a great place to live.  Their two daughters "always had ready playmates, and many a game of capture the flag was played around this block. One neighbor remains from that group of people; she is a good and valued friend and challenges me in my spiritual life. We have had block parties, progressives, carry-ins; we are friendly and neighborly on this block. It has been a good place to live."
Elaine, who serves as a block captain for the neighborhood's annual adopt-a-block cleanup, says, "Our current neighbors, Bill and Judy, rent their home; Bill wants to buy it because he has such good neighbors!  We talk over the back fence, share and care for each other." 
KRMCer Cathy Stoner loves the neighborhood for these reasons:  "I'm thinking about the concepts of knowing and being known in the neighborhood. I feel like we've prioritized meeting and getting to know our neighbors since moving here 20 years ago. The rewards for this effort have been great."
Cathy, who fixes bikes for folks in the neighborhood and monitors her family's backyard basketball court when it is open to neighborhood kids several times a week, reports that "it's a great feeling to walk around among homes where we know the people and they know us; same goes for the basketball court," where she often provides snacks for the players.
She says she loves "recognizing a couple of kids in every group I pass on the street and being greeted in turn by name. I am aware of the mutual pleasure in recognizing one another every time I encounter someone I know in my neighborhood. And I realize that the intentionality behind this pleasure is key to its enjoyment. In other words, we've been doing the work and now it's paying off in all kinds of ways," she continues.
"The young people who play on our court enjoy a sense of being recognized as good kids their neighbors are glad to know…never mind that they sometimes make me lose my temper, as any kid knows how to do! And I like having my name called out on the street when I see my friends," Cathy reports.
"These relationships make life rich, and I think people visiting or moving into the neighborhood are inspired by the way we all try to know our neighbors. There's plenty more we can do to break down barriers that separate us, but in the meantime, we're off to a good start," according to Cathy.  She and her husband Andre have raised their four children, two of whom remain at home, in the neighborhood. 
NNN sponsors a variety of activities and events, including The Local Cup, a volunteer-run, pay-it-forward coffee shop where KRMCer Barbara Devereaux works as a Sunday afternoon barista.  The Local Cup is open Saturdays from 9 to 12 and Sundays from 2 to 4 at 1009 Portage in the NNN building. Neighbors of all ages gather for coffee, tea, cocoa, home baked goods, and friendly fellowship in this space that describes itself as "building community, gratitude, and generosity in the process of supporting local producers."  The Local Cup will host a grand opening reception Thursday, May 5, from 5 to 7 p.m. Mayor Pete Buttigieg is scheduled to appear at the 5:15 ribbon cutting ceremony.
Some 200 neighbors, including10 KRMCers from the western area group (most of whom live in the NNN), helped Saturday, April 23, with the neighborhood's 14th annual adopt-a-block cleanup.  For the third consecutive year, each block in the neighborhood was adopted, according to a local news report of the event which takes place annually in connection with Earth Day activities.
While city neighborhoods are not likely to describe themselves as living into the resurrection, I have witnessed KRMCers and many other area residents doing that very thing in the Near Northwest Neighborhood!  How does your involvement in your neighborhood reflect resurrection living?  As warmer weather continues to coax neighbors outdoors at this time of year, watch this week for ways you might interact with those who live nearby…maybe an over-the-fence garden chat, an invitation to tea in the backyard, or a friendly exchange with dog-walkers passing by your front yard.