Glimpses of Healing and Hope
February 20, 2017
By:  Jane Bishop Halteman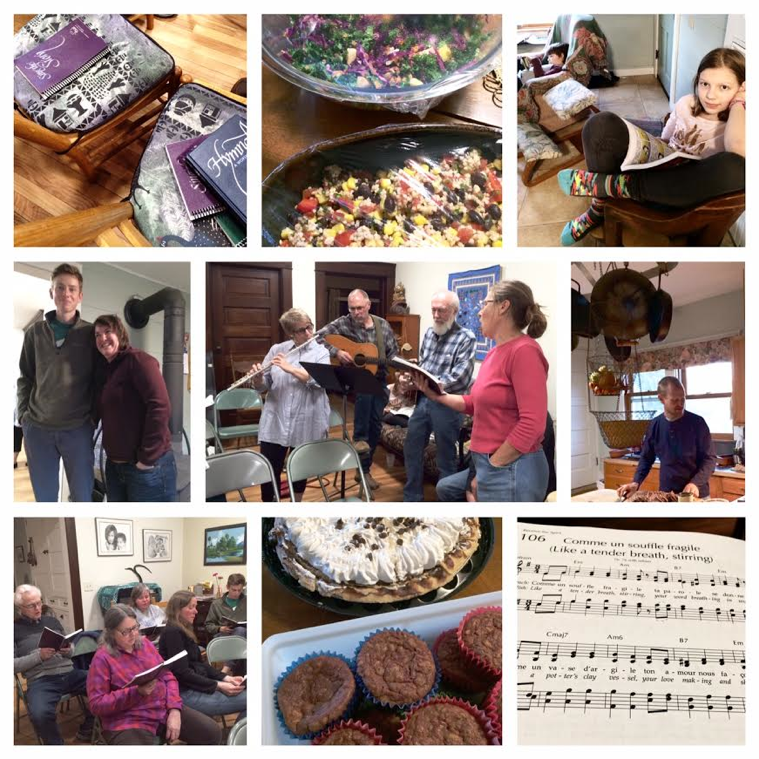 Restoration Farm hosts potluck/hymn sing…"like a tender breath stirring"
KRMCers indulged in fun Saturday night at John and Danile's Restoration Farm hymn sing, where those gathered sang together, ate together, conversed together, played together.  In the midst of the singing, they took turns filling their plates with stew, fruit and vegetable salads, pasta, chocolate covered strawberries, puddings, and pies while children played outdoors near the bonfire and grazing livestock in the unusually warm February weather.  
An eight-year-old who opted to be outside during much of the sing had fun chasing "trolls" around the fire and learning from host John about the evening star Venus which showed up brilliantly, along with the constellation Orion, in the dark sky away from city lights.  His older sister discovered (and named) various cats roaming the property.
"This will be the third year for the hymn sing," Danile said in advance of the event. "I originally did it for my 60th birthday celebration, and we had organized chaos with 60-some people. I have a friend who does this every year and that's how I got the idea. Though there is food out to eat and people do other things, bonfire, conversation, I am pretty serious about singing, so we concentrate on that. It is a good time that people comment on enjoying. We are not tying it to my birthday anymore and it fits in with the vision of Restoration Farm to facilitate community, work, prayer, and fun."
Those of us who showed up this weekend were invited to choose songs from three congregational hymnbooks.  Our selections offered insights into why we might have decided to participate:  I bind my heart this tide (#411 in Hymnal A Worship Book), God of many names (#77 in Hymnal A Worship Book), On Jordan's stormy banks I stand (#610 in Hymnal A Worship Book), Like a tender breath, stirring (#106 in Sing the Story).
Because it was suppertime, we also sang several evening songs…something we don't get to do a lot in our regular worship services, one participant said.  He selected number #551 in Hymnal A Worship Book…In the stillness of the evening, perhaps more honest, he suggested, about the nature of some of our days as it references "defeats looming large" and "pieces lying broken."
As many seek out refueling and refreshment stations in these strenuous days, I'm paying attention to the choices they are making to further ground themselves. Several KRMC families are moving to be closer to already established communities within the congregation.  (See Nancy's story here.) Others are availing themselves of communal educational opportunities at establishments like the Local Cup in the Near Northwest Neighborhood.  Some chose to be on hand for the recent public opening of the new chapel at The Catholic Worker's Our Lady of the Road day shelter.  
A number of persons indicated during worship yesterday that they will be attending an interfaith service of prayer tonight (Monday) for compassion and justice for migrants, immigrants, and refugees.  Hosted by St. James Episcopal Cathedral, the event is sponsored by 28 churches and faith-based organizations including KRMC.    
Hopeful green shoots already are sprouting in the congregation in response to local and worldwide needs:  the new Beginning English formation hour class which launched yesterday for non-English speakers under Cal's leadership, the above-budget potluck fundraiser slated for Sunday, February 26, by our Immigration and Global Partnership Committees, and the ongoing collection for refugee relief kits to be distributed by Mennonite Central Committee.  Relief kit materials can be delivered to Kern Road Mennonite Church Tuesday through Friday during office hours or to Ten Thousand Villages in Mishawaka during store hours.
Some of us, like myself, made attending Restoration Farm's hymn sing/potluck a priority for the communal connection. I particularly enjoyed the sustaining refrains of Like a tender breath, stirring:  "Like a tender breath, stirring, your word breathing in us, like a potter's clay vessel, your love making and shaping."  Singing it with two rooms full of people definitely maximized the refueling and helped to fortify hope.  
Jan Richardson's words about hope (from her 2017 Women's Christmas Retreat) sustain me as well.  "Hope starts small, even as a seed in the womb, but it feeds on outrageous possibilities.  It beckons us to step out with the belief that the action we take will not only bear fruit but that in taking it, we have already made a difference in the world.  God invites us to open to God's radical leading, to step out with sometimes inexplicable faith, trusting that we will find sustenance." 
"Where does your hope begin?" Richardson asks. "Where does hope live in you…how do you notice it in your body?  When has someone shown up in a way that enabled you to hope in something that seemed impossible?"
Richardson offers this blessing for hope:
"Guardian of the seasons,
keeper of every time,
tune us so to your rhythms
that we may know
the occasion for stillness
and the moment for action.
May we be so prepared
so aware
so awakened
in our waiting
that when you prompt us
into motion,
our hands may be your hands
and our purposes
your own." 
May her blessing continue to come to life in us as we restore ourselves for the sake of the other.