Glimpses of Healing and Hope
June 6, 2016
by:  Jane Bishop Halteman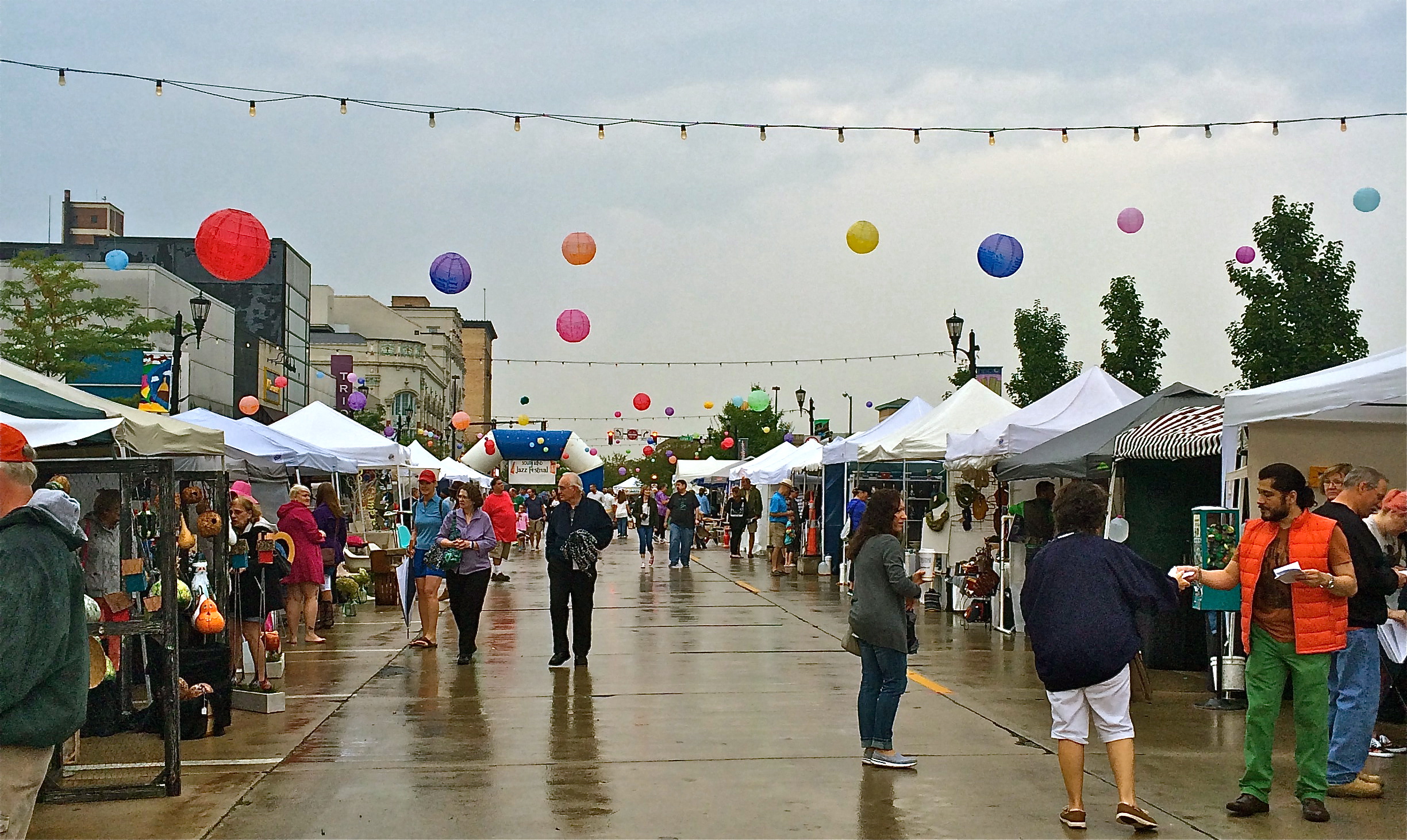 Even though summer doesn't actually begin for several more weeks, Memorial Day appears to open the season unofficially.  We've already had a taste of summer in South Bend this last week and the beauty of the season has manifested itself by providing things to do, people to see, places to go.   Why not grab a small group member, area group friends, someone you know well, someone you'd like to get to know better, or a newcomer and take in some of these local simple pleasures of the season!
Here are five things I love about summer in South Bend: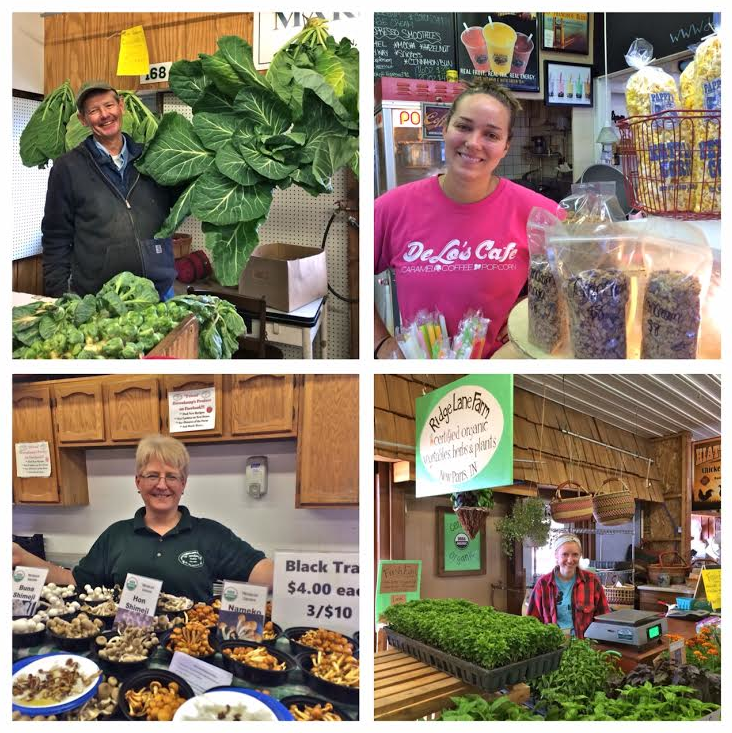 Visiting the South Bend Farmers' Market has delighted me since before I moved to town five years ago.  I appreciate the fact that it is open year-round, but the abundance of growing things fresh from the garden in late spring and summer is a sight to behold.  Packed with the vibrant energy of lots of people if you go late enough on Saturday morning, I also find it relaxing to roam leisurely the 96 stalls located in two houses on days that are less crowded (Tuesday, Thursday, Friday from 7 to 3 during the summer months), when I am able to take time to talk to my farmer/vendor friends, some of whom now call me by name. 
That's not only witness to how often I visit the market, but a testament as well to how important customers are to regular vendors.  As its webpage states, the market "is a place that allows you to form a personal relationship with the people who produce your food.  This vital connection strengthens the community by preserving a food industry based on family-owned farms and small-scale businesses."
The market is my go-to place for bananas at Johnson's Produce, maple syrup and weekly bouquets in season from two Lemler stalls, vegetable starts for our garden from The Glenn Vite Farm, as well as the vegetables from a number of stalls that we eat all summer long (and beyond) because we don't grow them ourselves.
I often stop for coffee from Ashley at DeLo's Cafe.  She remembers my preferences (except when I occasionally switch from hot to cold or change flavors) and recommends new things to try when I'm ready for a change.  I like learning how the weather is treating farmers Curt and Mark at Hetler Farms, where I buy beets and carrots all winter and supplement our own produce in the summer months.  Elaine of Hovenkamp's Produce makes my day with delectable mushrooms, scads of recipes, and a cheery presence on Saturdays.  Rachel at Ridge Lane Farm always has the organic potatoes I need for summer salads.   
Spending time at downtown festivals and seasonal events is a good choice if you don't mind crowds and go prepared for the elements.  The Leaper Park Art Fair is just around the corner June 18 and 19, going on as usual for the 49th year but with some traffic challenges this summer due to downtown road construction nearby.  (See info on how to avoid traveling issues here.) Art Beat is another fun Saturday event (August 20 this year), and Downtown South Bend Architectural Walking Tours look like a good bet for $2.  This season's remaining tours will take place on June 3, July 1, August 5, and September 2, according to this website, which offers reservation information.  If you've never done a First Fridays in South Bend, you might want to wander downtown for these special occasions, hosted from 5 to 9 every first Friday of the month.  More on those events can be found here.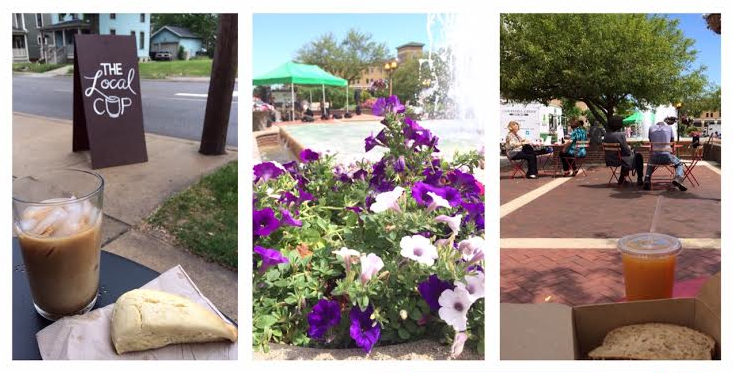 Lunching at Fridays by the Fountain or Red Table Plaza Concert Series is a fun way to go if you can be downtown over the noon hour.  The fountain series is a special treat for me because our daughter-in-law helped launch it 15 years ago while employed at the Morris Performing Arts Center.  The 2016 series began this past Friday and will continue through August 26.  This site offers details.  Mondays, Tuesdays, Wednesdays, and Thursdays through September, weather permitting, local musicians will play from 11:45 to 1:15 during the Red Table Plaza series at Studebaker Plaza on the southwest corner of Jefferson and Michigan.  Check this site for musician line-up and restaurants offering grab-and-go menu options for these events.  It was a pleasant surprise to find The Grateful Green Food Truck at this past week's event.  (If you are not already acquainted, check here to stay in touch with the truck's location from day to day.) And it's always fun this time of year to hang out with friends and neighbors at your local small business, like the Near Northwest Neighborhood's Local Cup.

Retreating by the Saint Joe River has been a favorite pastime of mine since our move to South Bend.  Find your own preferred spot close to home or on the other side of town, near a river walk feature or bike path, or visible from the outdoor veranda of your favorite local restaurant.  Don't forget to take time to view the River Lights, which come on half an hour before sunset and remain interactive (see this website for more information) until midnight.  Seitz Park, Colfax Bridge, Island Park, and Pier Park are reportedly the best spots for viewing the River Lights installation.  "Color splashes from two interactive light sculptures on either side of the river, amplifying the majestic cascade of water, joined with a third sculpture highlighting the exquisite 'Keeper of the Fire' statue, and symbolically uniting the two sides of the river," the website reports.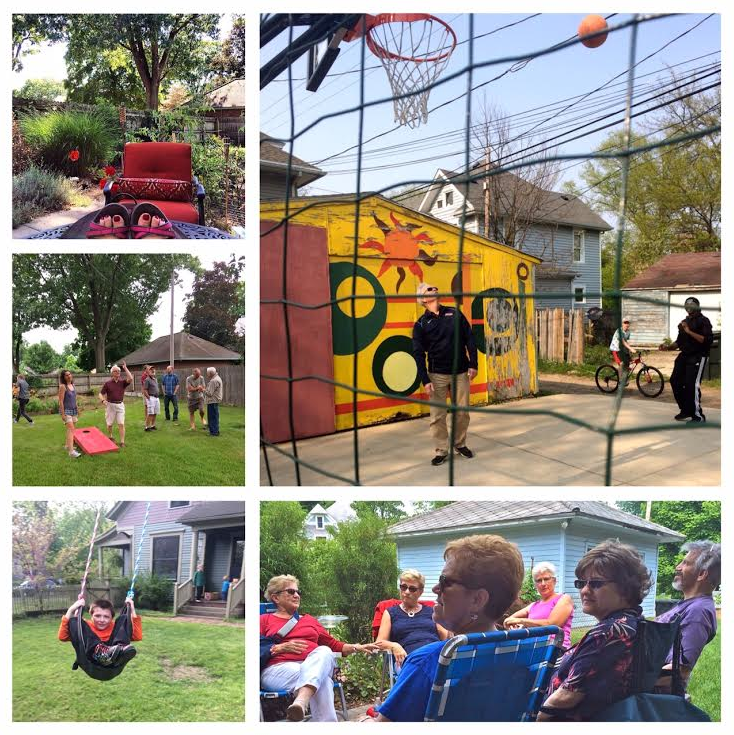 Enjoying back yard gatherings and personal solitude are highlights of the summer for me.  I love it when birthday parties, small group potlucks, even area group gatherings take place in our own yards.  We can enjoy the beauty of nature together, play outdoor games, and do messy art projects with the kids.  And it's great to find a quiet space at home to have a solitary morning coffee while watching birds build their nests or bees buzz their way through the garden.  Jenny Wren was singing the morning I caught the first rays of sunshine last week with coffee cup in hand.
This list of summer fun in the Bend is by no means exhaustive.  Branches of the St. Joseph County Public Library are a good place to spend lazy summer days, to find a change of scenery, to take the kids or grandkids to check out a new book or video.  You can't go wrong with free concerts on Sundays from 4 to 7 at the East Race/Seitz Park series or the Potawatomie Park series which typically is scheduled for Sunday evenings.  Google to find out who is performing and exact times.
Take time to notice where you see the hand of the Divine as you interact with others in these summer settings.  How do you observe your hunger and thirst for authentic spiritual vitality being filled by life's simple pleasures?