Glimpses of Healing and Hope
Hope in liminal spaces
May 9, 2016
by:  Jane Bishop Halteman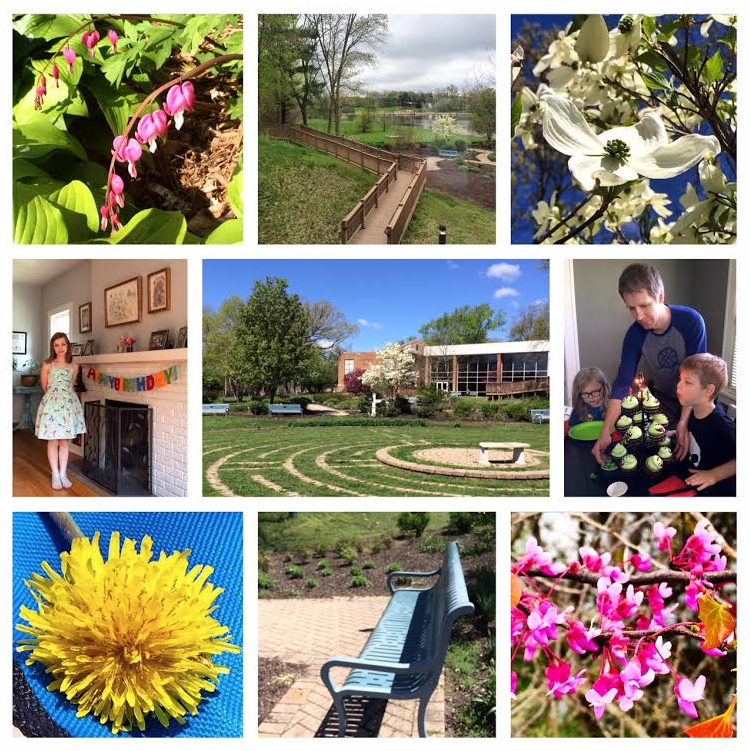 Living into the resurrection sometimes means waiting in liminal spaces, making transitions, understanding only that change will be coming without knowing exactly what, when, or where.
In the last several weeks, I've attended Goshen College's graduation, participated in a spiritual directors' retreat on the theme Abundant Life in Liminal Spaces, experienced my eldest grandchild turn 11 a few weeks after her brother turned 8, and participated in a 70th birthday party as a steady stream of my high school and college classmates move into their eighth decade this year.
Whether it be a birthday, graduation, or some other life milestone, transitions can be difficult.  Leaving your booster carseat behind at 8 or taking on middle school at 11 may seem like fun, but even those transitions don't come without shifts in behavior and some minor stresses.  College graduation is exciting, but there are downsides to entering the adult world; facing into one's eighth decade is no small thing. 
Liminal space is described as the place we find ourselves when we are betwixt and between, when we have left a familiar place for an as-yet-to-be-discerned situation.  A spiritual director colleague described that space at last week's retreat as the place a trapeze artist finds herself when she has let go of one point of connection and is on her way to the next…that split second when, in fact, she is suspended in mid-air, not holding on at all!
Folk-singer, songwriter Carrie Newcomer, a 1980 alum, delivered Goshen College's 118th commencement address Sunday, April 24.  Three KRMC students--Brian Sutter, Sarah Poisson-Osiro, and Jared Nussbaum--were among the graduating seniors, as was a nephew on Jim's side of the family.  Since graduation, the nephew has walked into a liminal space, heading with his van for an unknown job in an unknown place on the west coast. 
I'm not sure if he would call this an adventure or a liminal space, but I imagine it feels liminal to his mother, who had this to say upon his departure:  "'Let it go, my love, my truest, let it sail on silver wings. Life's a twinkling, that's for certain, but it's such a fine thing.' Can't get these lines from Carrie Newcomer out of my head this morning as I'm making coffee for a public program. My son launches today for the West Coast. A 22-year era ends and another begins."
Between the lines, we read the pangs a mother feels as she's waiting with the unknown for the next step of a son's journey.  Newcomer's rendition of that song, found here, promises that "we'll take up where we left off when we all meet again."  In the following stanza, the song goes on to proclaim that "I can't explain it. I couldn't if I tried, how the only things we carry 
are the things we hold inside." 
"Something of a celebrity in Quaker circles," according to On Being with Krista Tippett, the site which lodges the song, "Newcomer is best known for her story-songs that get at the raw and redemptive edges of human reality….A 'prairie mystic,' Newcomer writes and sings about the grittiness of hope and the ease of cynicism."
Newcomer, who grew up in Elkhart, said her mother was raised Catholic and her dad Methodist, though his roots were Mennonite/Amish.  While on Goshen College's Study Service Trimester, she encountered unprogrammed Quaker meetings in Costa Rica and discovered she was drawn to silence.  "My best language has always come out of the silence.  Music approaches the sacred through the wordless avenues of the heart," says Newcomer about her experience of the deep spiritual practice of song-writing. 
In preparation for her Goshen College commencement speech, her first such address, Newcomer said she asked herself, "What can I offer to a roomful of new graduates who are heading out in so many different directions?" and "What is it about my own story that might be of use or service to you?"
After googling what to include in a graduation address, Newcomer reported that "I clicked around for a while, but pretty quickly I stopped because I realized that I didn't want to talk to you about big concepts or abstract ideas. I wanted to focus on small things, human-size ideas that have made a real difference in my life and work, three things that have become important practices and practical guides…be true, be kind, and pay attention."
About being true:  "Being true is not a destination you arrive at and stop. Being true is an unfolding process, you keep checking in with your heart to see if your inner life is in harmony with your outer circumstances."  Upon college graduation, "Music was calling me; songwriting was for me what Parker J. Palmer calls 'the thing I could not, not do.' I had no idea what it would look like. I just knew I had to follow. I had to be true. And after all this time, I'm still following. And, I'm still checking in with my truest heart, and listening closely to what it has to say. I'm still refining my life and work, because of what my true heart tells me. You also have a true heart and a true guide. Breathe deep, and take time to listen—your true heart can be trusted. Keep asking, 'How can I bring more of who I am and what I love into my daily life?'"
As she spoke of being kind, to others as well as to one's own self, Newcomer said, "Try whenever you can to give yourself the same kindness and encouragement you would give a good friend. The practice of kindness is transformative—in our daily interactions with others, but also in how we befriend ourselves."
On paying attention, Newcomer observed:  "Be aware that if you are paying attention you'll see things. It's like you make this deal with the universe. I will be here and I will be present. And because of that you will be a different kind of person. You'll probably gasp at sunsets more often. You might weep at a song or sense something extraordinary in what appears to be absolutely ordinary. You might find yourself standing in the middle of the room grinning at something that no one else saw. You'll become the person in the airport who has an invisible sign on your forehead saying 'I love a good story' and people will sense this and sit next to you and tell you all kinds of marvelous things."
Her closing words were these:  "My dear graduates of 2016, you are the glorious next wave. You are shining like the sun. May you know the perfect danger of a beautiful life well lived."
What better words might be offered than these in whatever change or transition or liminal space life brings?  The 8- and 11- and 70-year-olds can all embrace those words for the next and likely unknown step in their lives.  What part of your life or the life of someone you are close to feels like a liminal space?  What might you offer yourself or another via the vehicles of being true, being kind, and paying attention?  Surely we could call these efforts resurrection living…
You can read Newcomer's entire commencement address here.