Glimpses of Healing and Hope
by: Jane Bishop Halteman
November 23, 2015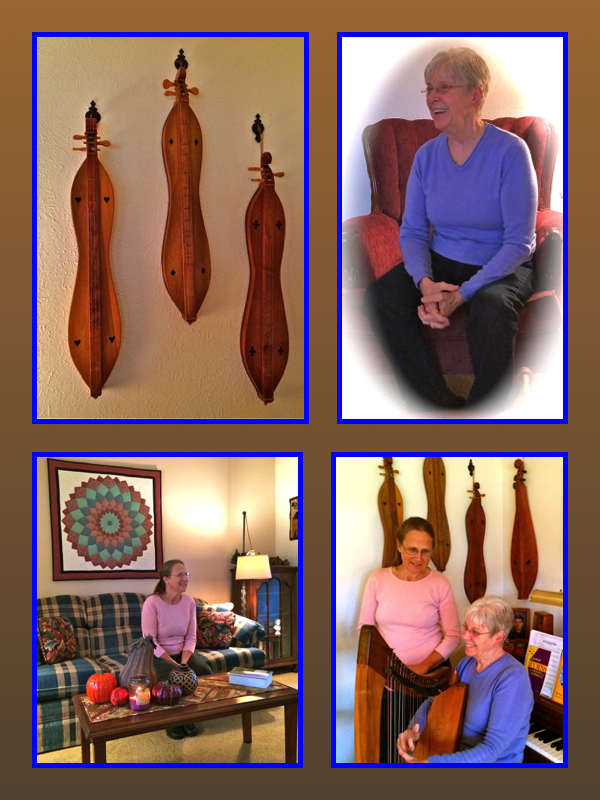 Nancy Flanagan and Danile Martens mesmerized worshippers with their transporting music a few weeks back.  Accompanied by Nancy's mountain dulcimer, their voices rose in beautiful harmony as they sang old Appalachian hymns, lofting some of us to another world and filling us with gratitude for the magnificent splendor of their gift to us.
How do we explain the deep emotion we feel when singers like Nancy and Danile lead our worship in music?  Authors Marlene Kropf and Kenneth Nafziger report in their book, Singing:  A Mennonite Voice, that "for Mennonites, the prompt for prayer is singing, and we pray best when we sing."
Kropf and Nafziger go on to make this observation:  "By culture, (many) Mennonites are a reserved, unexpressive people.  We are reluctant to reveal deep feelings.  We would rather show our love for others by building barns or feeding the hungry.  Yet our faith is profoundly important to us, and when we sing, we discover deep wells of desire for God's presence and love."
I expect our warm response to Nancy and Danile's offering of beautiful music has something to do with our innate understanding of the deep wells of desire these women feel for God's presence and love when they sing.  We also notice their profound enjoyment of singing together.
Nancy reports that she "grew up in Kentucky on the Scottish, English, and Irish folksongs that we had brought with us to America in the early 1600s.  My family has always been a singing family.  In the 1870s my great, great uncle began making some of the first mountain dulcimers; many consider him the father of mountain dulcimers."
Nancy was about 30 years old when she and her late husband Ron Eversole and their three children moved to Indiana, where she met Jack Frazier (always known as  "John" to her) the second year they lived here.  "We became best friends.  John was a dulcimer maker as was my husband, Ron, who made my family's traditional dulcimers.  When John heard me singing the old songs, he kind of tricked me into performing at a couple places.  I had never sung in public before. The next thing I knew, singing became a full-time profession." 
For about 35 years, Nancy averaged three to four programs a week at festivals, churches, civic clubs, schools, private parties; she recorded five albums during that period, one of which can be found in the KRMC library, she reports.
Three years after husband Ron's death in 1989, Nancy married Patrick and moved to Tennessee where she opened a store called Ballad Weaver in the Smoky Mountains.  "We sold all kinds of folk instruments, music, looms, spinning wheels, Scots-Irish gifts." Nancy and Patrick moved back to Indiana in 1997 as grandchildren began arriving. 
A few years later, Nancy began attending KRMC, where she met Danile.  They have been singing together more than 10 years, Nancy says, "mostly at Kern, but at a few festivals, private parties, Southfield Village.  My singing is so ingrained in me since I've been doing it all my life; Danile was able to capture that style and we just seemed to fit together."
Nancy, who says she typically learns songs and music by ear, has learned to read music over the years but claims still to "learn best by just listening.  Danile has a knack for following my timings and phrasings so easily.  I feel like we are one when we sing together.  It makes my heart soar when we are singing."
Danile reports a similar joy in singing together.  "I can't remember the first time we sang together, but I remember what we sang and how it felt," she says.  "We sang Bright Morning Stars and I Can Feel the Soft Winds Blowing, one of the songs that we did Sunday, November 1, at Kern.  I have always enjoyed Nancy's music because she sings for the music itself," Danile explains.
"You can see that Nancy loves it and puts herself into it. She embodies the way I feel about music and how I would like to sing, if a degree of self-consciousness didn't interfere.  Knowing that she loves the music helps me inhabit it as well.  I like to sing harmony, and watching Nancy helps me to be one with her in the music," Danile concludes.
Danile "grew up listening to my older sisters sing and then singing with the five of them in various conformations; we learned to sing together well by watching one another.  I know performers are not supposed to do that, but I feel that it makes better ensemble, and really, it helps me to be in the music with my fellow musicians rather than on my own before an audience."
According to Nancy, "Everything we do is probably in the style that I sing the old ballads.  I often choose the songs, likely ones I grew up with.  Danile is such a consummate musician that she easily picks up on what I do.  We seldom use music.  I usually give her the words, and if she doesn't know the melody, she just listens to me and adds the harmony.  I am so thankful that she came into my life.  I love, love, love singing with her.  I hope it shows whenever we do our music.  It always reminds me of the proverb, 'He who sings, prays twice.'"  
In terms of what they sing, Danile concurs:  "We usually choose from Nancy's vast and varied acquaintance.  We try songs and sing what feels right. I sing enough harmony to add interest to the music without confining it."
This week of Thanksgiving, I am grateful for these two women who lead us in worship from time to time with their beautiful music, always an encouragement to listeners wherever they may find themselves on the journey.  Each of us has something to give and each can be an encourager of another as our congregation continues to grow into fostering the development of grace, joy, and peace, so that God's healing and hope might flow through us to the world.