Glimpses of Healing and Hope
May 22, 2017
By Jane Bishop Halteman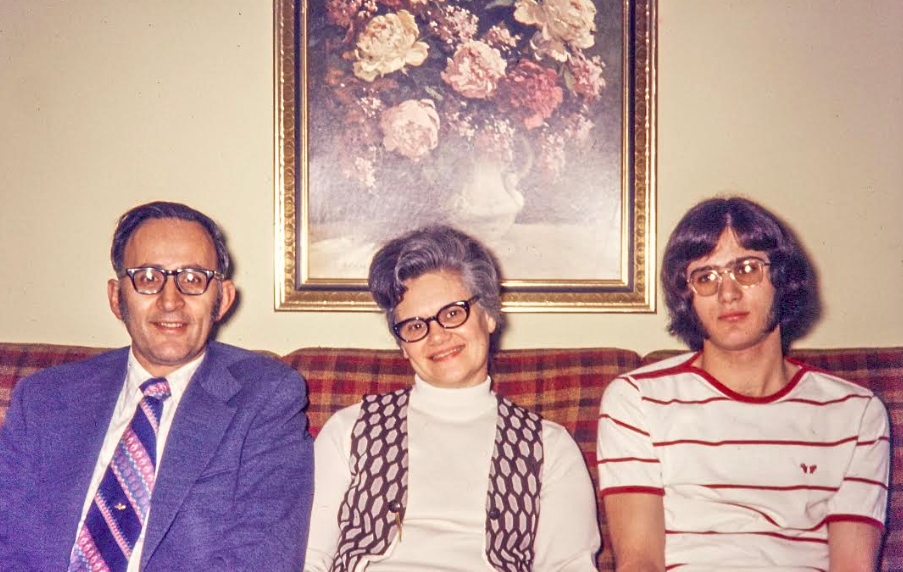 Photo by Dan Longenecker
Today, May 22, marks my youngest brother, Greg's, 61st birthday.  He celebrated his last earthly birthday 43 years ago just months before a single-car accident took his life on October 15, 1974, at 18 years of age.
By happy coincidence or divine intervention, just in time for us to observe Greg's birthday, KRMCer Fred sent me the above photo three days ago of my mom and dad and Greg in their home back in the early 1970s.  Fred's dad Dan served as pastor at my parents' church in eastern Pennsylvania from 1973-1978.  An elementary schooler at the time, Fred does not recall much about Greg, whom he had known only a short time before Greg's death.
On the evening of the crash just a mile or so from home, my parents had arrived back from visiting us and our six-month-old son in our new home in Upland, IN, where Jim had taken his first job as an economics professor at Taylor University.  Greg had helped us move in July with baby Matt, and we saw Greg again in August, when this family photo (below) was taken.  My apparently superstitious great grandmother reminded us after Greg's death that it is not uncommon for someone to die after a family photo is taken.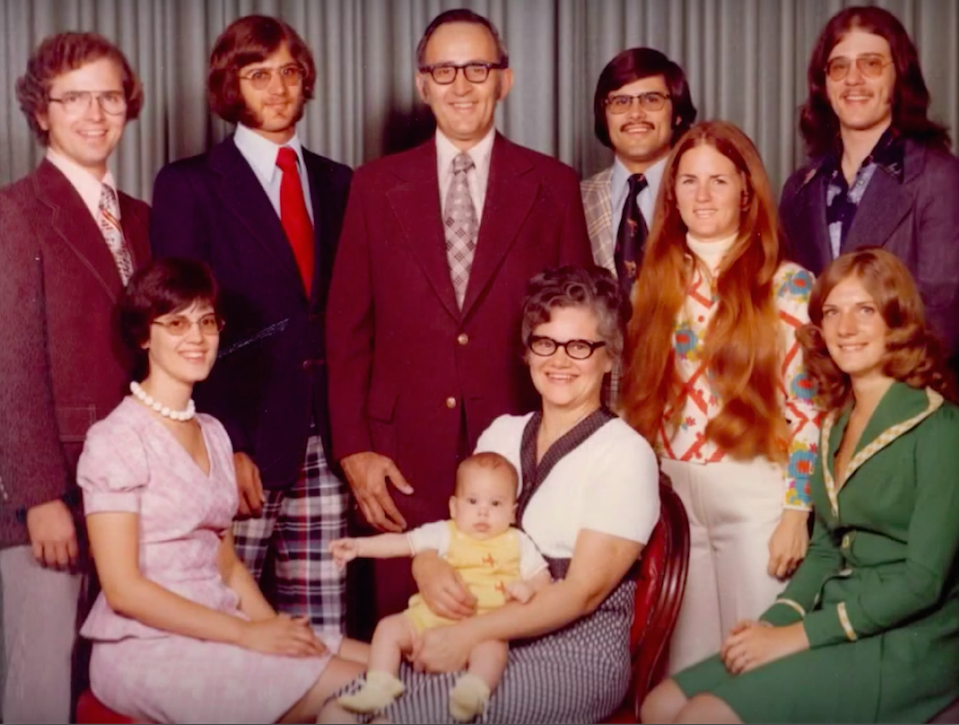 Mom and dad returned home to a police car waiting in their driveway.  As a nurse with ER experience, my mother knew instinctively that their son likely already was gone after the police confirmed with them the kind of car he was driving.  The shocking news reached us at midnight that evening, and we left the next morning for the long trip back to the distant suburbs of Philadelphia, stopping for a short time in central PA to visit briefly with our former small group in State College where we had spent the last five years. 
Greg's death came 12 years after another bereavement that numbed me to the possibility of experiencing new pain; almost no processing about the two consequential deaths took place for many years, but, after meeting a companion for the grief journey seven years ago, the unfolding of the first loss began, eventually sparking momentum to delve into unpacking the untended grief around my brother's death.
During a visit this past April to see mom and dad in their personal care unit at a Mennonite retirement community, brother Tom crossed paths, quite serendipitously, with a volunteer fireman who was an emergency responder at the scene of Greg's accident.
Now 75 years old and mayor of our small hometown, the fireman shared his memories of that night over lunch with me this past week; I could feel old grief beginning to green to gift and grace as he recounted how the fire department got a call on that fateful night from the county to a "rescue" operation, meaning there was a chance the victim might be alive.
The story our family had been told these many years mentioned a Catholic neighbor who reportedly heard the crash and went outside to where our brother lay on the ground, still breathing.  She stayed with him, the story goes, until his heart stopped beating.  In my mind, I see her tenderly holding his hand, but I can't vouch for whether or not that part is fact or wishful thinking.   
According to police reports, our brother had passed a car on wet streets and, on returning to his lane, apparently had been thrown off the highway.  These many years later, the mayor confirmed that, yes, Greg appeared to have flown out of the car (before seat belts were required) landing on his back, at which point the car flipped upside down on top of him.  At 33 years old then, the mayor recalls thinking, "Greg is so young; this can't be."  Noting that this was his first experience with the death of one so young, the former fireman also remembered compassionately that "he looked so peaceful," a gift for family to hear so many years later.
After I told him a tiny bit about the grief work I've been doing the last seven years, the mayor shared about losing his own dad at 16 while they were playing ball together, losing his first wife to breast cancer when she was 42, and now standing strong by his daughter as she confronts breast cancer at 49.  I was struck by his willingness to be vulnerable with a near-stranger, though not surprised since we had shared stories of personal pain with one another.
We certainly didn't call our interaction over lunch that day communion, but it definitely was a kind of breaking bread together.  The mayor thinks he may know the neighbor woman who crossed the street to companion Greg in his last moments.  She is now in her early 80s, of sound mind, and still lives in the same house.  "I run into her now and again,"  he said.  "I'll ask her if she was there."   If she is the one who stood by our brother so graciously in those final moments, I will be in touch so that the green shoots of redemption might continue to yield gift and grace. 
My parents, brothers Tom and Dave, and I continue to celebrate Greg's birthday in gratitude for the 18 years of life given him, the all-too-brief time we shared together. We remember him well in a variety of ways...by excavating our own pain, by speaking of him and learning more about the accident which took him from us so suddenly, by sharing memories with others who knew him.  Mom and dad are forever grateful for the two years immediately after Greg's death during which his high school friends visited every Sunday night seeking companionship with each other and mom and dad in this loss.  
High school friend and band compatriot Eric told us again just this past weekend that he continues to jam with Greg's (and the band's) music from all those years ago.  Meeting Greg's high school friend Ted unexpectedly at church Sunday morning added another mystical moment to the birthday weekend, not to mention the fact that friends from so long ago in State College showed up as visitors at the same church Sunday where I was a guest and recalled that we returned in October 1974 on the way to my brother's funeral, without knowledge that today is his birthday or that I was preparing this post.  That all of these moments took place on Greg's birthday weekend are indeed sparks of light in this resurrection season!
Creation of this youtube video of memories of Greg a few years back became another redemptive mechanism for managing life after loss.  The video continues to reinforce the fact that our short time together was more than just a blip on the screen and reminds us of his quirky sense of humor as we see Greg posing in these old pictures with an icicle, breakfast cereal, a carrot, a chicken leg.  Only Greg... 
In what ways have you experienced gift and grace emerging from past personal pain?  How has the Divine led you to new landscapes in the midst of aches you once feared would devour you?