Glimpses of Healing and Hope
May 8, 2017
By:  Jane Bishop Halteman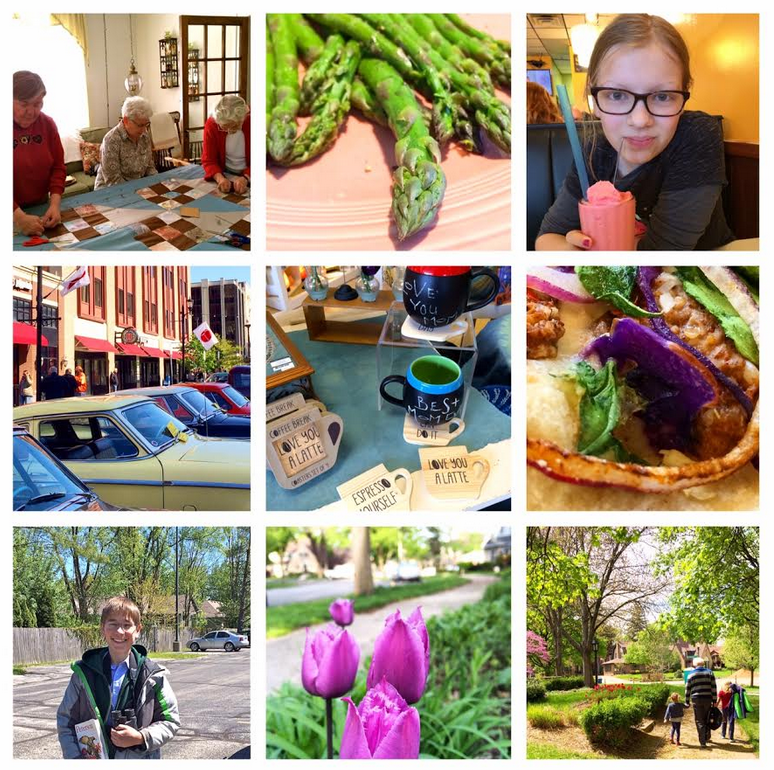 Life-giving encounters:  knotting comforters, observing spring, celebrating family milestones, tracking Studebakers, volunteering at Villages, birdwatching
Parker Palmer's What's an Angry Quaker to Do, posted at On Being March 29, escaped me until this past week, but managing anger seems a worthy topic during the season of Eastertide, particularly this season of Eastertide when many people of faith find themselves at political odds with friends and neighbors, perhaps family, or in particular the present administration.
Palmer's column opens like this:  "I'm a Quaker. I stand in a religious tradition that asks me to live by such values as community, equality, simplicity, and non-violence. As a result, I frequently find myself in deep oatmeal—especially when it comes to politics, where I seem to have an anger management problem. Not long ago, a friend with whom I'd been having a heated political argument gave me a black t-shirt that says 'One Mean Quaker.'"
Asking if anger can find "a role to play in the life of someone who aspires to non-violence," Palmer says his response is different in three ways from those who "regard anger as a spiritual flaw to be eliminated."
He suggests that "whitewashing in the name of God doesn't improve the world—it discredits religion as yet another source of delusion." Secondly, he says, he has discovered that forgiveness "is not always mine to give."
And finally, he states that, while he is aware anger can harm the angry one, he has learned from three serious depressions that buried anger "poses more threats to my well being—and that of those around me—than anger expressed non-violently. Repressed anger is dangerous. Anger harnessed as an energy we can ride toward new life for all concerned is redemptive."
Palmer reports wanting to "redouble my efforts to help us renew our capacity for civic community and civil discourse. I want to ride the energy of anger toward work that brings citizens together in life-giving live encounters—knowing that if the reality of 'We the People' continues to fade into mist and myth, we'll lose our democracy."
What ways have you found to ride the energy of anger in the current political climate or some other situation where you recognize that anger might be debilitating if not directed in healthy ways?  Connections are important to me; I have recently broadened my connections to take on more responsibility to offer social media services to our own Ten Thousand Villages store along with other peace and justice efforts around town. 
Most weeks I find myself sufficiently "distracted" by family, church, and local activities so that pent-up anger is diffused positively by engaging in life-giving encounters.  This past week, as illustrated in the collage above, I enjoyed tying a few knots with Barbara and Elaine on a comforter Betty made for refugees, paying attention to spring vegetables and flowers and the general greening up of our part of the world, celebrating a family birthday, doing some social media posts for Villages, cruising four blocks of Studebakers in downtown South Bend, and learning some new birdwatching tips from Marty.
A number of people from our congregation gather the second Monday of each month (that's tonight at 6:30 if you are interested in joining them) "to talk about and take political action.  We meet regularly at Restoration Farm and anyone is welcome to come.  We update, encourage, share articles that are useful to read, attempt to take the pulse of the public and governance.  We also laugh a lot, good medicine these days," says Danile.
I hope to post more information next week on this KRMC group's due diligence with respect to informed citizen action; in the meantime, take a moment between now and then to listen to Home of the Brave (Immigrants and Pilgrims and Refugees), shared on Facebook this week by a friend.  The link features a new song by JD Martin (whom some of us knew as Jerry Derstine back in the day) and two other songwriters who, it appears, have found a useful way to manage post-election energy.