Glimpses of Healing and Hope
May 1, 2017
By:  Jane Bishop Halteman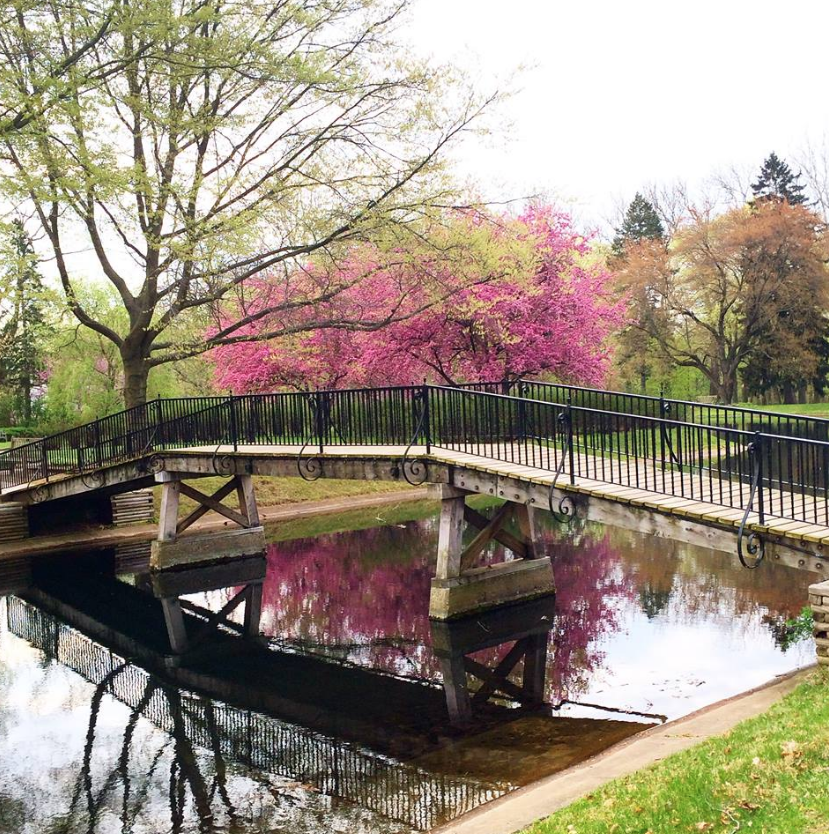 How a Saint Mary's College reflection photo created connection...
"People say, what is the sense of our small effort? They cannot see that we must lay one brick at a time, take one step at a time. A pebble cast into a pond causes ripples that spread in all directions. Each one of our thoughts, words, and deeds is like that. No one has a right to sit down and feel hopeless. There is too much work to do."
Finding this quote from Dorothy Day, Catholic social activist and co-founder of the Catholic Worker movement, reminded me this past week that it's too soon to quit during what feels like a tumultuous time in our country and our world.
Making connections in this season of resurrection is one way to revitalize flagging hope.  I made an interesting connection a few days ago via a photo challenge in which I participated during the month of April.  Hosted by Susannah Conway, who provides on-line photo prompts (suggestions to help participants find photo opportunities), this contemplative daily discipline reminds members to "use the challenge as a way to give yourself ten minutes to notice your surroundings and take a breath." 
With a series of prompts like 'serenity,' 'doorway,' and 'reflection,' contributor photos and journal entries offered a dose every day in April of profound day-brighteners and thoughtful sentiments about the ups and downs of the journey.  Two days after I posted the above photo in response to the 'reflection' prompt, I heard from Marian in Florida, who recognized Saint Mary's College as the place where her friend conducts a women's chorus:  "Beautiful, Jane!" she said.  "If you get the chance to hear the Saint Mary's chorus or South Bend Chamber Singers, do go! My friend directs some beautifully 'reflective' concerts with both choirs."
More on-line correspondence led to the awareness that both Marian as a musician and I as a journalist are involved in "writing" story.  I was intrigued by her understanding of prepping choral presentations as "writing" them and googled her name; what a delight to discover her TEDx talk entitled Transformative Listening. 
The introduction to her talk says this about her:  "As a choral conductor, Marian Dolan examines silences broken by stories told through song and the level of understanding and compassion we can achieve if we listen. These musical stories give us an opportunity to better the world by listening and allowing others to heal by sharing their stories."
The introduction further asserts that "Marian Dolan is a musician. When asked what she plays, she smiles and answers: people. She's a choral conductor, so her 'instrument' is literally a very human one. Together, a chorus and director are artistic storytellers, singing stories-in-song….Breaking boundaries to sing stories means being a bridge-builder of connection and community."
I urge you to watch Marian's TEDx talk, where you will find her sharing about the concert she named Voices of Courage (marking 10 years since 9/11) and the concert she called Finding a Voice (honoring women who chose to say 'no' to gender violence as they used lament to break their silence and move from hope to healing and eventual restoration).
She offers a clip from this performance of Senzenina and the amazing story of meeting Archbishop Desmond Tutu of South Africa while she was in her second year as a music professor in the theology school at Emory University.
She recalls Tutu's answer to another faculty member's question at a retreat where she first met the archbishop:  "When the painful stories were so overwhelming, what did you do?"  Referencing his experiences with Truth and Reconciliation Commission (TRC) hearings where victims of apartheid violence were invited to share their stories before the commission and perpetrators, Tutu responded:  "I sang…when my spirit could hold no more, I sang." 
Marian remembers that "he quietly started singing right there" with the gathered faculty on retreat, just as he had done in those TRC hearings.  Senzenina means "What have we done to deserve this?" and begs an answer to the much larger question "Why is this violence perpetrated on us?" she explains. 
"I've really sat with that greater insight in light of Tutu singing it in the TRC hearings, and of his musical invitation being responded to by all who are present... that after hearing these horrifically real, long-silenced, very personal stories of violence, for him to start the communal singing Senzenina is, to me, beyond powerful. I can't even begin to imagine the sound of that communal 'lament' in that room in that moment...of what it meant for all who were present to literally 'carry' the now-unsilenced story and lament therein."
As we continue the Eastertide journey of resurrection living, notice opportunities to engage in life-giving connections and transformative listening.  Who has helped you unveil more of your own journey stories? Who have you listened into revealing more of his or hers?  How are we becoming "bridge-builders of connection and community," perhaps actually helping to carry the pain of another?