Glimpses of Healing and Hope
November 13, 2017
By Jane Bishop Halteman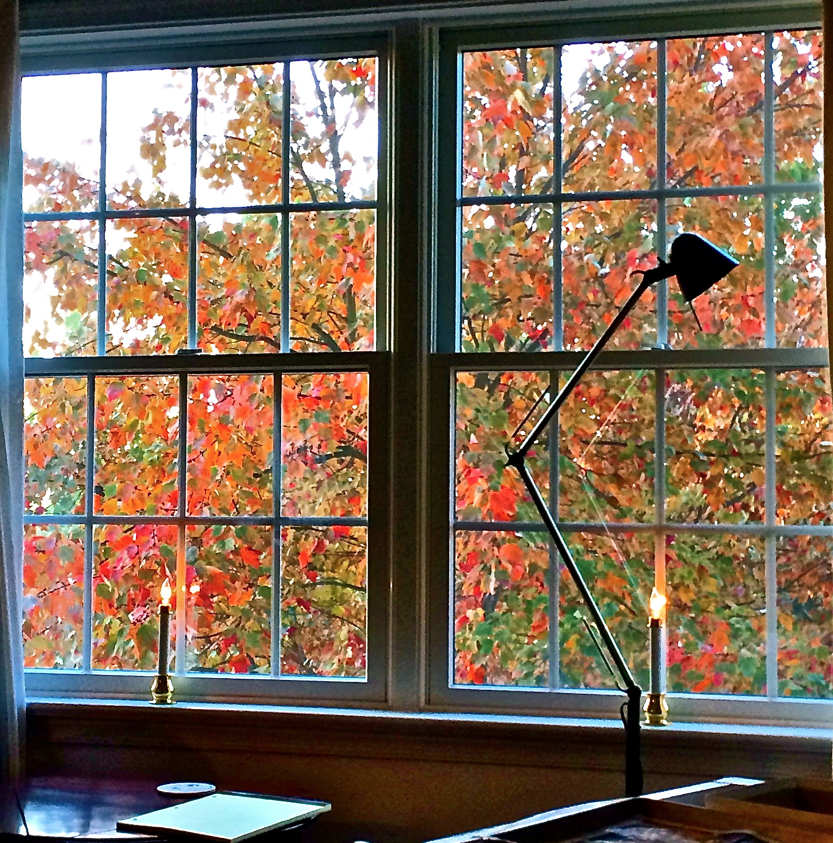 Transitioning from this life to the next
Pastor Janice spoke two Sundays ago, as we observed All Saints Day at Kern Road, of the recent loss of her aunt. In the last year of walking with her father's sister before her death, Janice said she saw her aunt give up possessions and her apartment, her strength and independence. 
Whether our sorrow at the loss of loved ones manifests as "crying, weeping, wailing, silence, pondering, wondering," Janice suggested "our grief means that our love is strong, not that we don't trust God." Of those who have gone before us, she said, "We honor them because we love them, we miss them; ordinary things become extraordinary because they remind us of those we love…smells, sights, sounds we shared."
Though my 96-year-old father had fractured his hip a week earlier in a fall, I could not have known that I would be looking back on Janice's words of wisdom so soon, as I left church after that All Saints worship service for the drive to eastern PA. Daddy had eaten a hearty meal of pureed food soon after surgery that morning to repair his hip, according to my mother and brother who visited him, but, by the following day when I arrived, my dad did not recognize any of us. 
I had not waited with a loved one seemingly in the act of dying since I was 12 years old, when my great grandfather passed away at his home on the fainting couch as my mom and I and my six-year-old brother visited. This time I waited again with my mom, who carried on with grace, caressing the forehead of her partner of 72 years while the room filled and emptied as med techs from my mother and father's personal care apartment, a long-time friend of mine, some of my parents' church friends, women who lovingly serve meals in the personal care dining room, nursing and hospice staff floated in and out to the tune of Daddy's slightly labored breathing and a CD of old hymns playing quietly on a boom box in the background. 
Mom and I wondered, quietly to ourselves and aloud to my dad, who would greet him on the other side of this transition…might it be his son Greg, who died 43 years ago, or his parents, or some of his father's large family of aunts and uncles and cousins who would welcome him at the close of his nearly 97 years here on earth?  Whatever one believes about the past, present, or future, these passages are difficult, perhaps most difficult for those who do not easily imagine a life after this one, where the joys of reuniting with family and friends suggest memories of failing bodies, failing minds, and the general absurdities of life could melt away.
"Death is disorienting," a good friend texted, and so it was, in a new way each time we passed another milestone: upon first learning Daddy had broken his right hip, realizing he likely had had a stroke after surgery, discovering he no longer recognized us, watching him begin hospice, seeing him propped up in the sunshine in a wheel chair, being there as he took his last breath (which we recognized as his last breath only because another never came), IDing him for the undertaker, seeing his obit at the funeral home's website, viewing a photo of the newspaper death notice.
My two brothers and I are grateful for cousins who helped transport our mother to the hospital to see our father in our absence the week after his fall; for medical personnel who took care of our father and supported us in our exploration of what to do next; for social workers from inside and outside our family who helped us comprehend hospice and when to begin using it; for retirement community caregivers, other staff, administrators, residents who lovingly inquired about our parents and lifted us up in the midst of a difficult time; for the hospice nurse who visited on Sunday to pray with my mom and my dad and me; for the gift of pre-paid funeral arrangements made nearly two years ago and the minimal funeral home follow-up necessary in the moment of loss; for local PA friends who made visits to our mother on occasion, some with flowers and another with a Ten Thousand Villages "strength" stone.
And what helped us carry on in the short run? Chuckling together with family and friends and caregivers, not only at Daddy's foibles but at all the ways he made us laugh, brought comfort. Debriefing nightly and eating ground cherry pie with the local friend who housed me was invaluable. As the one of my dad's three children most likely to post on social media photos and shout-outs for accompaniment on the journey of waiting together, I took consolation from my Facebook friends, including a high school classmate who reminded me of Daddy's living on through his children, grandchildren, and great grandchildren. I loved the many-colored heart emoticons and expressions of caring left by friends and family and acquaintances.
A friend from Jim's earliest days of teaching college in Upland, IN, wrote:  "Oddly, it seems to me, one of my favorite memories was being with my father when he passed. I hope you will have the same experience. Our love to you and your family during this difficult time." Countless family and friends wished us peace and blessing, love and prayers, light and strength, grace, hugs, and the comfort of memories.  One shared that he was leaning my way, another that she was crying with us, yet another said, "May God hold you all in your grief and breathe comfort and joy over you." I am grateful for each and every sentiment that came our way.   
My mother's youngest sister fondly recalled via email the pastel pink, blue, yellow, and green glass tea set my dad gave her when she was a child.  My uncle happily agreed to share at an early December service a tribute to my father, with whom he worked as a research chemist in the early years of their professional lives. 
When I arrived back home, the KRMC senior breakfast folks offered a warm space Thursday morning to share semi-publicly for the first time about my dad's death, more KRMCers spoke condolences and came along side on the journey of loss Sunday morning, some with heartfelt hugs and tears in their eyes. Another invited me next weekend to hear a performance of Brahms' Requiem, a wonderful piece I have sung several times but never in the midst of personal loss.  It opens with these words,  "Blessed are those who mourn." 
The Open Fifths and Notable Women provided solace through their Saturday night concert at Goshen College, where songs like Abide with Me (which I already had chosen to be included at my dad's memorial service), along with Wanting Memories, Will the Circle Be Unbroken, and Angel Band opened the floodgates and spoke to my personal grief in myriad ways. 
How we confront crisis and find comfort will look different for each of us…combing through old photos, writing, listening to good music, and connecting with family and friends console me. How have you accompanied others on the grief journey?  How would you want to be accompanied?