Glimpses of Healing and Hope
January 16, 2017
By:  Jane Bishop Halteman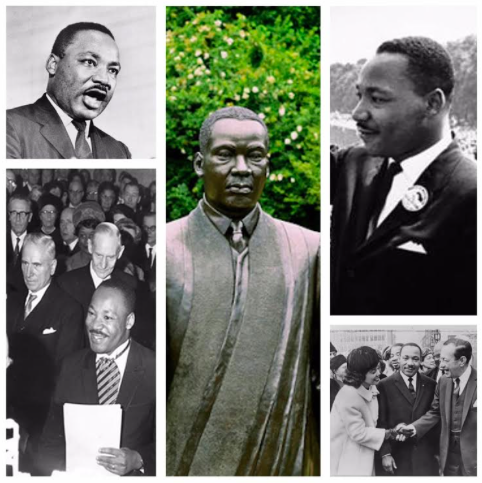 Today is Martin Luther King (MLK) Day; last year I wrote this blog post which appeared 12 months ago here at Glimpses of Healing and Hope.  Now, a year later, we find ourselves just days away from a presidential transition, which many of us fear threatens to marginalize further the already anxious minorities living in our country.
"What are we to do with the discomfort we feel in these circumstances," reporter Chuck Todd asked civil rights leader Rep. John Lewis of Georgia late last week as the country approached another MLK Day.  Noting that we have to organize and continue to speak out, Lewis said, "It is painful to see our country come to where it is today" and reported he shares our out-going president's concern about the state of our democracy.  "Mobiize…you cannot sit on the sidelines," Lewis warned.  "You've got to be engaged.  We must continue to come together, be hopeful, optimistic."
Adding that the "scars and stains of racism are still deeply embedded in American society," Lewis admonished that "we cannot sweep them under some rug.  We must not be silent."
Given the present distress in the nation, Lewis acknowledged that it will be an out-of-the-ordinary MLK Day celebration.  What would Martin Luther King say to address the present dissention in the nation? host Todd asked.  He would say, "Never give up, never become bitter, " Lewis responded. 
According to a Los Angeles Times article, "Lewis was the youngest speaker at the 1963 March on Washington, by then already a central figure in the efforts of African Americans to secure civil rights. For years, he was repeatedly arrested and beaten at Southern protests.
"In 1965, during the celebrated 'Bloody Sunday' march at the Edmund Pettus bridge in Selma, AL, Lewis was clubbed so severely that he suffered a skull fracture. He recovered and led other protests, and 30 years ago he was elected to Congress," the Times reported.
In 2011, President Obama awarded Lewis the Presidential Medal of Freedom, the nation's highest civilian honor, the Times said.  
As a reminder to the new administration that we hope justice will prevail on all fronts, a number of women from KRMC plan to walk in the Washington DC Women's March this coming Saturday, the day following the inauguration.  Brenda says this about why she is participating:  "I am attending the march with my 'mothers, sisters, daughters.' Literally my sister is flying from Seattle and my daughter is taking the bus from Durham, NC. I am marching because this is not politics as usual. This is not left leaning vs. right leaning. The incoming administration has promised and said things that are abhorrent and frightening. 
"As a mother, I want my daughter to know the rhetoric (we've heard in the run-up to the election) about women and minorities is not acceptable," Brenda adds.  "As a social worker I want the president-elect to know that mocking disabled people happens all the time but should never come from the most powerful person in this country. As a health care worker I want the POTUS to recognize that hundreds of people in my town alone have access to health and mental health care because of the Affordable Care Act (ACA).
"As a citizen of this beautiful complicated world, I support all efforts to sustain it. I forcefully support the press, whether you agree with them or not, as an essential arm of democracy. I want to remind us that we are ALL immigrants in this land. And I want to exercise my right to protest peacefully for all the people the Jesus of the gospel embraced," Brenda concludes.
Danile, who will be traveling with Brenda, explains why she is going to the march:  "Benjamin Franklin, when asked after the constitutional convention,  'Well, doctor, is it a monarchy or a republic?' answered, 'A republic, if you can keep it.'  I am going to Washington DC for the Women's March because I want to say, 'We are here to keep our republic.'  Any degree of democratic rule is difficult to put into place, and it is a tragedy to continue to allow this country, however flawed, to move backward on human rights, the chance for a decent life, community welfare, hospitality, and so many things that seem threatened.  I want Donald Trump to see how many people care about keeping the Republic."
To follow what's going on at the march, check out the Facebook page of Mennonites at the Women's March on Washington.  Look for more here next week from Danile, Brenda, myself, and Becky and Janna and daughters, who reportedly also will participate.  We would all appreciate your remembering us in this endeavor.  For more information about the DC march and other  "sister" marches around the country which will take place on Saturday, read this Huffington Post article.