Glimpses of Healing and Hope
July 25, 2016
by:  Jane Bishop Halteman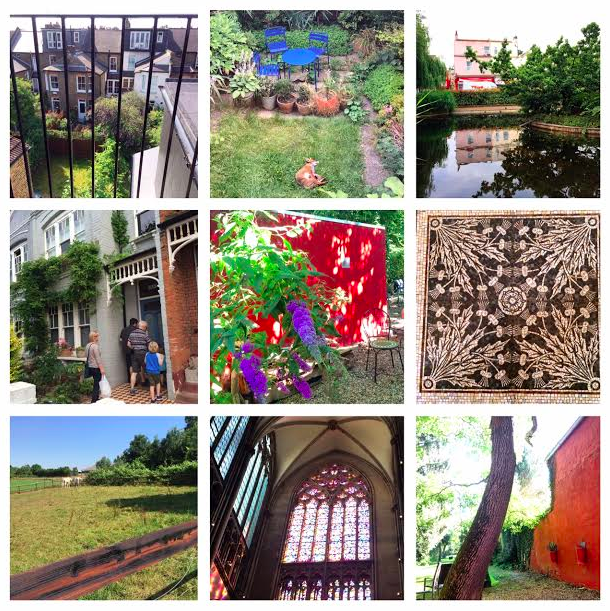 Photos from left to right and top to bottom:  London rooftops, back yard fox, pond reflections; London Airbnb, Bocholtz sun-dappling, Cologne cathedral floor tile;
Bocholtz morning light with horses, Cologne cathedral interior, Bocholtz barn 
As I was peering out our Airbnb bedroom window on arrival at our London site Thursday afternoon, the first thing that caught my attention was a fox sleeping in the back lawn.  To my unacquainted eyes, the creature at first appeared doggish, but I couldn't imagine that the homeowners would have left their dog behind in our care, especially during a very hot week on a continent unprepared for such high temperatures. 
Eventually we came to realize the animal was a fox and were surprised to discover she did not seem the least bit perturbed by our presence.   When we clattered around in the nearby kitchen, in fact, she looked at us lazily and returned to slumber, blending in seamlessly with our environs...she, seemingly out of her typical habitat, and we, for sure, out of ours.
Between naps she sauntered through a hole in the yard's fence to the next door yard and who knows where beyond.  The next evening, on an outing to a nearby cricket field with the grandkids and our daughter-in-law, we met a neighbor woman walking four dogs.  She mentioned that the foxes would likely show up at dusk, slinking around the edges of the field and blending in and out of the neighborhood effortlessly, making themselves quite at home in their nearby den, a mom and a dad and several kits who had apparently settled into the city over the years, though definitely not their natural habitat.
I found myself looking for the fox frequently...would she return for another break from the daily routine?  How did she manage to snooze lazily so close to us clambering around inside a house with which we were unfamiliar, stirring through kitchen drawers to find utensils and pots and pans, hoping to unearth the spice drawer and fresh recycling and garbage bags?  In spite of us, the creature seemed to come and go as she pleased with no thought to us or concern that our being so close just inside might affect her. 
After a great stay in Amsterdam (which you may have read about in last week's post), we moved on to Bocholtz, a quiet town in the Dutch province of Limburg, not far from the borders of Germany and Belgium.  Our converted ancient barn, just adjacent to our Airbnb host's home, offered spaces of dappled outdoor sunlight inviting lots of photo opportunities.  An hour's jaunt took us to the great Roman Catholic cathedral in Cologne, where work on the Gothic edifice began in 1248 and took more than 600 years to complete.  Steeped in European history and savoring the beauty of the massive structure and its contents, we found it tough to juxtapose our cultured days with the nightly antics taking place back home in Cleveland.  (Reading Nancy's blog post helped keep me calm and centered.) 
We traveled the Chunnel train from Brussels to St. Pancras, Central London railway station, before eagerly exploring our seven-level London rowhouse.  With only six to eight stairs between floors, the living room was situated at street level, with four levels of bedrooms above, and a kitchen level and basement below.  We had heard from Meg the morning of their arrival in London that her back had seized up after a day in Dublin, but we were not prepared for the fact that she would make it to her room and not leave it for more than two days except for painful trips to the bathroom.  Unexpectedly, she was thrown into the physically and emotionally uncomfortable position of severe pain in a country not her own.  Bit by bit she and we realized she would need to give up attending the Oxford conference she had come for, the sightseeing excursions with family to the London Eye and Tower of London.  Worst of all, she began to fear it would be impossible to return home with her family because the pain might preclude travel.
In the midst of it all, though, she managed to secure a doctor willing to make house calls at no charge on Saturday.  "Of course you don't pay. This is the National Health Service and you're our guest," he told her and then he apologized for the fact that 100 pills were going to cost £8.50.  The next day she contacted a sympathetic soul at British Airways who agreed, pending a doctor's signature, to move her family from a London to Dublin flight Wednesday coupled with a Dublin/Charlotte/O'Hare flight to a London/O'Hare flight Thursday, giving her an extra day to recover and result in just one cab and one direct flight, rather than three flights, a train, a bus, and a cab, she told her Facebook friends.  
Political shenanigans and physical crises aside, I looked to the fox for her ability to remain at peace in the sunny back yard even with the turmoil of 10 of us barging into her space unexpectedly.  The encouraging words of friends and family kept us afloat so far from home...I especially appreciated the energy worker and other wise women in my life who lifted us above what seemed like impending doom and these words from one, who said, "Stay well, Mother Jane."  I was grateful for Matt's navigational skills throughout the trip, Susan's gifts with food preparation and management, Jeff's attention to keeping the kids entertained, Jim's ability to mend the broken stuff...all the pieces that offered a semblance of normalcy even when life wasn't.  And I loved Matt's stab at flying higher than the storm with these photoshopped efforts to include Meg and me in the trip to the Tower of London!  
Where have you seen the hand of the Divine in the unexpected storms of life?