Glimpses of Healing and Hope
February 6, 2017
By: Jane Bishop Halteman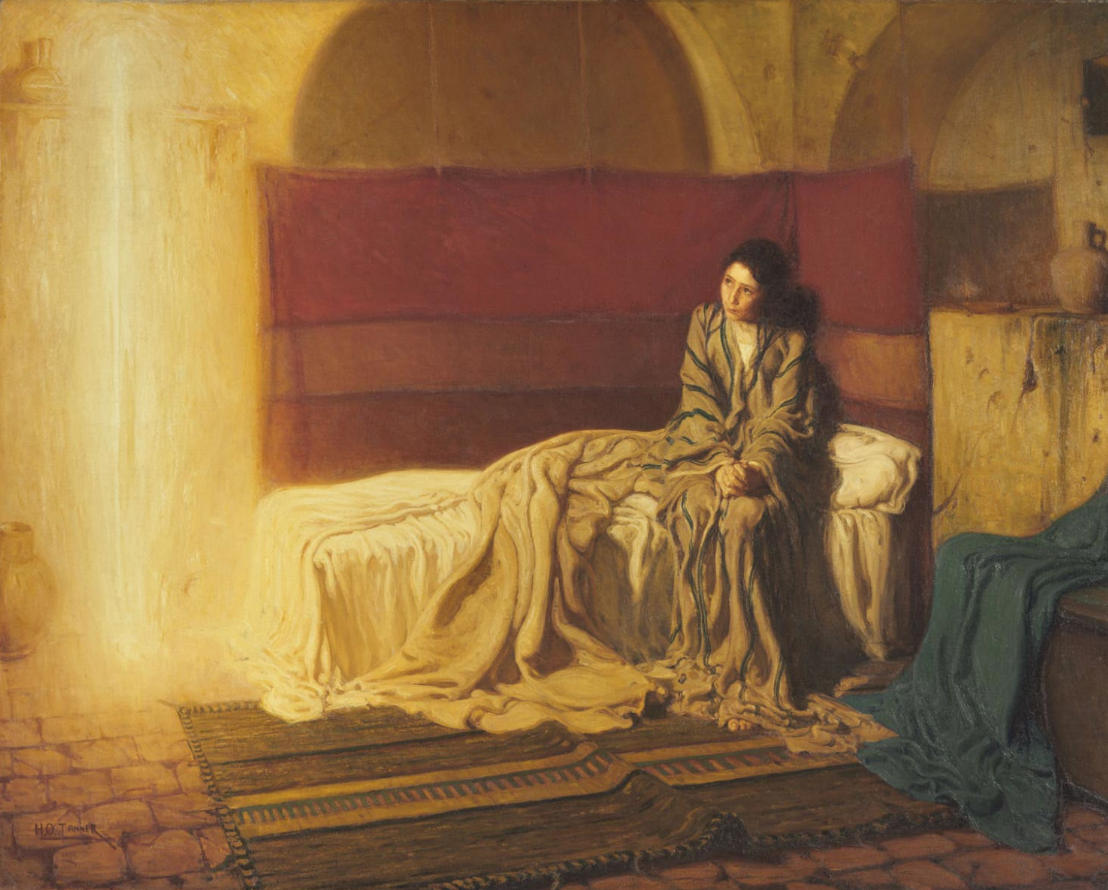 The Annunciation, oil on canvas by Henry Ossawa Tanner in 1898, from the collection of the Philadelphia Museum of Art
The adult formation class Sherry and I presently are co-leading describes itself this way: Visio Divina (divine seeing) involves praying with art.  Scripture illustrates that images are an important part of how God communicates.  As we sit in quiet contemplation with images from artwork, we trust we will be invited "to see deeply, beyond first and second impressions, below initial ideas, judgements, or understandings.  Visio Divina invites us to be seen, addressed, surprised, and transformed by God who is never limited or tied to any image, but speaks through them."  Come each week from wherever you find yourself, in your joy and contentment, your anxiety and uncertainty, your grief and sorrow, as we seek together to see God's work in the world and our lives at a contemplative pace.
We will be using images of Mary, some of the time…maybe all of the time, for these 11 weeks of gazing as we watch for how the Divine might speak through imagery.  We began the series Sunday a week ago with the image at the top of this post.   
According to a Philadelphia Museum of Art explanation, "Tanner painted The Annunciation soon after returning to Paris from a trip to Egypt and Palestine in 1897. The son of a minister in the African Methodist Episcopal Church, Tanner specialized in religious subjects, and wanted to experience the people, culture, architecture, and light of the Holy Land. Influenced by what he saw, Tanner created an unconventional image of the moment when the angel Gabriel announces to Mary that she will bear the Son of God. Mary is shown as an adolescent dressed in rumpled Middle Eastern peasant clothing, without a halo or other holy attributes. Gabriel appears only as a shaft of light. Tanner entered this painting in the 1898 Paris Salon exhibition, after which it was bought for the Philadelphia Museum of Art in 1899, making it his first work to enter an American museum."
With personal and public tensions running high as a new president transitions into the White House, the adult formation group offers one way to seek to manage anxieties and continue to look for glimpses of healing and hope.  As we consider the image before us, we notice a detail of the work that calls our attention, we notice what circumstances in our own lives may have caused us to be drawn to that detail of the image, and, finally, we notice to what the Divine may be inviting us as we consider a particular detail of the image in the context of the circumstances of our own lives.  
Like many others, I've been working really hard to stay afloat this last week…to keep my head above water as I search out glimpses of healing and hope in the deluge of what seems like bad news for people who care about the marginalized other, the earth, animals, the kinds of agenda many folks I know have sought, in gratitude, to maintain over the years.  In an effort to steer away from the onslaught (on the sound advice of my family), I decided to keep track of constructive ways to counter the effect such an assault of bad news can take on one's psyche.  
In the course of these last few weeks, it has become clear to me that some of us will resist from the forefront, while others will work quietly from the sidelines; some of us have conquered the skill of compartmentalization, while others do less well with that and may struggle for air when the going gets rough; some of us can manage the need to stay fully informed, while others quickly will move toward disorientation with information overload.
This Greenville Online article shares the story of how our own Amy, who moved last summer from South Bend and Kern Road to a teaching job at Furman University, helped organize a peaceful march at Greenville-Spartanburg International Airport in the wake of the recent executive order banning travel from seven countries.  "Jonason, a Greenville resident who is not affiliated with a political group, said she felt motivated by her Mennonite faith to organize the rally," according to the article.
"I'm a person of faith and I believe this country as well as my faith are founded on the idea of welcoming the stranger, welcoming immigrants," Amy said. "It's a history that I'd like to see continue. I think it's something that makes us great." 
Mary Schmich was one of my favorite Chicago Tribune columnists when I lived in the Chicago suburbs before moving to South Bend.  One of her recent columns recommends "Finding the good in all of this political ugliness, and praising it," which she does quite nicely right here. "If you keep looking, you see the good everywhere:  In the communities committed to making new American homes for refugees; in the lawyers offering their services for free; in people giving money to organizations that exist to help the vulnerable," Schmich says.
I also ran across a host of potentially helpful on-line sources from how to avoid being psychologically destroyed by your newsfeed to coping with intense fear and anxiety in the wake of presidential transition.  Sentiments similar to the latter are  posted here as well.
The weekly newsletter of small victories seems like a good email subscription; based on this article, which offers information about biblical lament, one might consider writing one's own lament regarding frustrations with the current workings of the US government.  And here, for good measure, is The Week's Good News Newsletter.  If you subscribe, you can look forward to finding this in your inbox weekly. 
This Huffington Post article, signed by more than 2,600 returned Peace Corps workers, suggests "we embrace our differences as strengths rather than weaknesses and urge our government and fellow citizens to join us in creating a robust, prosperous, diverse and equitable society of which we can all be proud."  
The responses of my Facebook friends to the present political climate offer insight as well.  One friend reported delight at seeing so many concerned citizens at a town hall meeting with her US senator, who spoke of "caring for all people....Keep calling for truth and accountability from Washington DC," the senator said.  Two other friends, clearly distressed with what is happening around them, say they are maintaining sanity by staying occupied, whether that be by doing more crossword puzzles, cataloguing library books, scanning tax documents, getting together with friends, being creative, searching for beauty, reading romance novels of no literary value, lighting a candle and sitting in prayer.
Another friend offered this source regarding talking to someone whose point of view differs from yours, originally from the Philadelphia Inquirer and now reprinted in the South Bend Tribune, as a glimpse of healing and hope.  What healing glimpses are sustaining you?  Where do you seek and find hope in today's world?  I've taken to posting a gratitude photo every day as part of the mindfulness practice #100happydays.  
And then there was the 84 Lumber Super Bowl Commercial, the Entire Journey, which I found on YouTube just this morning.  Go look for it, if you didn't already see it…it will both break your heart and give you a hopeful glimmer of what might be!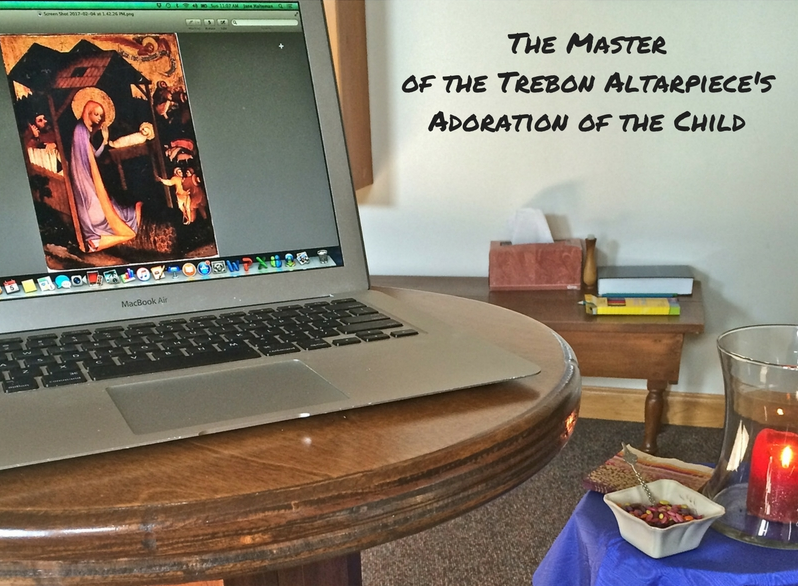 Visio Divina's second Sunday image