Glimpses of Healing and Hope
September 12, 2016
By:  Jane Bishop Halteman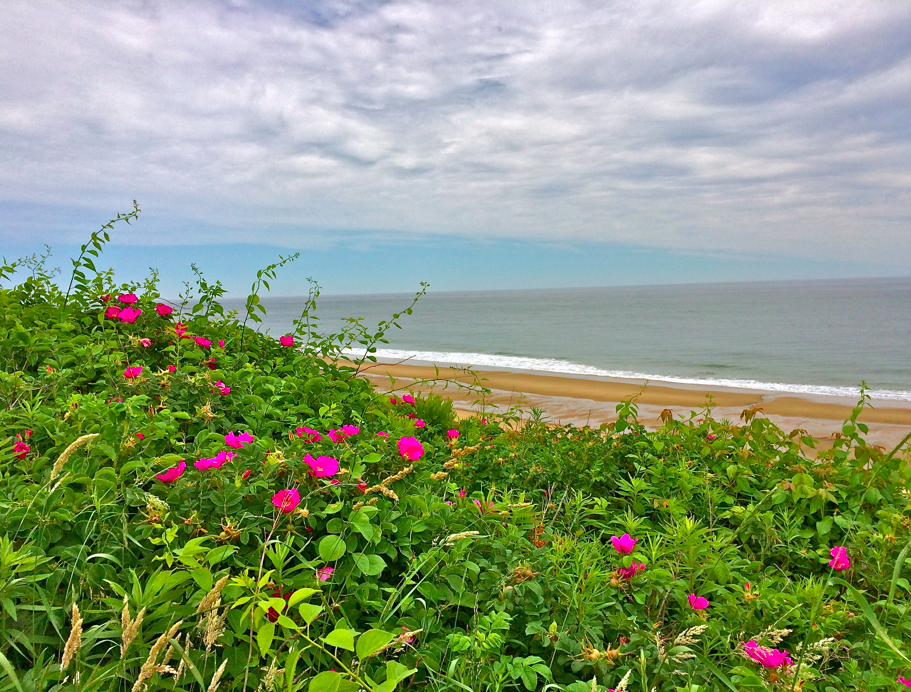 I enjoy reading Terry Hershey's Sabbath Moment blog when it surfaces on my Facebook feed.  Like Glimpses of Healing and Hope, Hershey's posts offer stories "to inspire and feed the soul."  His September 4 post describes two young children who enthusiastically craft a sand castle, only to have it washed away by rising tides.
After some tears, the youngsters surprise a bystander by grabbing each other's hands and running across the sand to build another castle.  "We all have high tides, and waves that take out sand castles in our lives (be they dreams or plans or expectations or even hope).  Observing the children, the bystander realizes that those who endure in life do so with a hand to hold.  The children found solace, renewal, and confidence in the sanctuary of connection—a place where they knew they were safe. And embraced."
Hershey suggests that "as long as I see only the misfortune and inconvenience, the flattened sand castle defines me.  I buy this label, this new version of reality."  On the flip side of the same coin, he proclaims this good news:  "These children were not undone by scarcity (or depletion or sadness). They went about their day as if sufficiency was their reality."
How might we participate in allowing sufficiency to become our reality even when depletion and sadness seem to threaten our very existence?  How can we become part of the support network for others when their sand castles are destroyed at high tide? 
I attended a meeting in eastern PA last week where I observed women, in particular, taking responsibility to become part of a support network for other women.  Women Empowering Women with MEDA (Mennonite Economic Development Association) provides an opportunity for women to learn about issues facing women in developing countries, according to a MEDA press release from March 2016 when the new group's chapters in Souderton and Lancaster, PA, were launched.
"Women in developing countries often face social and economic adversities beyond our comprehension, and yet have an amazing drive to rise above these barriers when given the opportunity to do so. After a recent all-women's trip to a MEDA project in Ethiopia, I noticed a phenomenal connection between the Ethiopian women and those on our trip. We shared a strong bond and there was mutual respect and understanding. The women on the trip have a vision to share these meaningful connections with others," says Ruth Leaman, regional director of resource development at MEDA and coordinator of the two new chapters.  Women Empowering Women with MEDA offers members opportunity to engage with projects in countries around the world, including Ghana, Ethiopia, Ukraine, Nicaragua, and Kenya.
Last week's meeting featured client stories from farmers in Ukraine, "where years of neglect under the former Soviet regime left the agricultural sector struggling."  Working with small farmers to improve their incomes, MEDA's Ukraine Horticulture Development Project helped "farmers learn modern technologies, increase productivity, and deliver premium quality greenhouse crops, berries, and table grapes to markets in which they have a competitive advantage."  The project established lead-farmer networks, developed to bridge the gap between small farmers and agribusinesses. To build small farmer competiveness, lead farmers also mentored small farmers toward improved methods of production.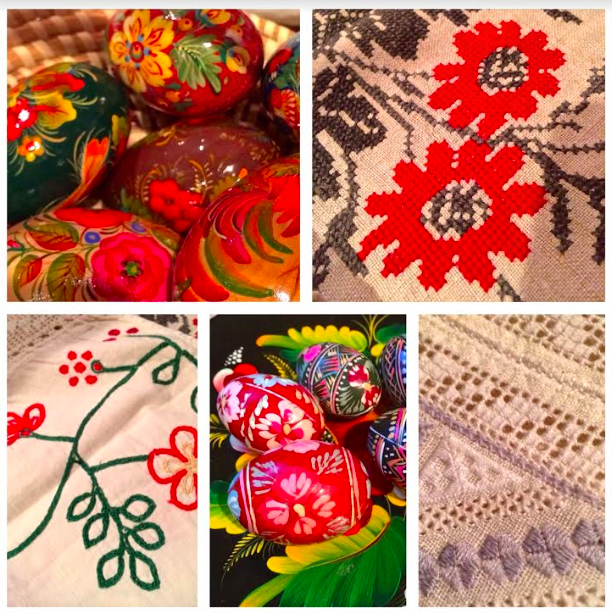 Their beautiful handwork reminds us of our sisters in the Ukraine
The event I attended closed with a prayer, during which the leader suggested we rise from our seats to form a circle.  We were encouraged to join hands and then to lock arms at the wrist and finally at the elbow.  Each instruction brought us closer together and strengthened the physical bond, offering one another connection and embrace in the same way MEDA's projects in the Ukraine support women farmers, and another graphic reminder of sand castles and high tides.  We also were reminded that MEDA's return to the Ukraine to help women farmers as agents of hope represents "a heart-warming circling back to a land that holds warm memories" in spite of persecution of those among us with names like Dyck, Janzen, and Yost.
Parker Palmer's photo of a latticework of supportive hands in this blog post at On Being's website is a powerful visual of connection and embrace.  The post discusses the spiritual odd couple of laughter and silence.  "On the surface, the two may seem to have little in common, but their kinship is soul-deep. Both make us vulnerable by penetrating our illusions and taking us closer to reality, grounding, renewing, and redeeming us as they do."  Read this article for more on how to "bear witness, so no one need suffer alone," another good example of offering connection and embrace as the sand castles of our lives become unmoored by rising tides.
Hershey's Sabbath Moment blog concluded with this mention of Mother Teresa's recent canonization, honoring her for her dedication to the poorest of the poor.  Pope Francis "recognized holiness in a woman who felt so abandoned by God that she was unable to pray and was convinced, despite her ever-present smile, that she was experiencing the tortures of hell.
"And yet, she went about her days as if sufficiency was her reality, even in the midst of flattened sand castles. Mother Teresa not only shared the material poverty of the poor but the spiritual poverty of those who feel unloved, unwanted, uncared for.
  Today St. Teresa of Calcutta reminds us that the people who do make it (the people who endure and carry on), are those with a hand to hold."
Whose hand are you holding?  Who is holding yours?