Get Email Alerts When New Posts Go Live!
Glimpses of Healing and Hope
January 8, 2017
By:  Jane Bishop Halteman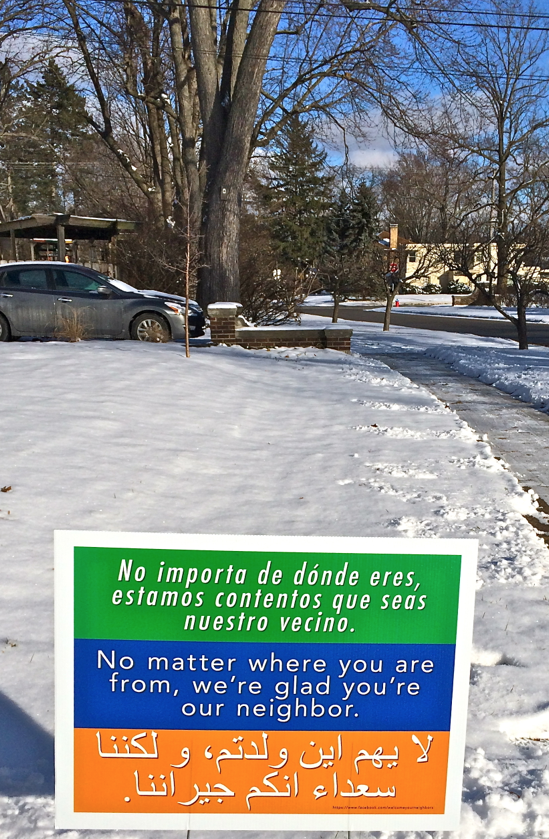 The sign pictured above, now available for $10 at Kern Road Mennonite Church ($9 covers printing charge and $1 goes to our KRMC Immigration Ministry), began as a black and white, hand-lettered version at Immanuel Mennonite Church (IMC) in Harrisonburg, VA, according to a story written by Steve Carpenter which appeared in The Mennonite back in September 2016.
"When the Democratic and Republican primaries were just beginning," Carpenter reported, "my congregation decided to put up a sign proclaiming our shared value of welcoming foreigners….It reads, 'No matter where you are from, we're glad you're our neighbor' in three languages: English, Spanish and Arabic. IMC's neighbors speak many languages, but primarily one of these three. Pastor Matthew Bucher said, 'I hope that the sign is a marker to the community. And, I hope that folks leaving IMC after a service are reminded of who we are to be.'" 
The story proliferated quickly with a variety of local details but the same basic content featuring folks eager to welcome their neighbors despite widespread political rhetoric to the contrary…this one at Lancaster Online mentions friends our Ten Thousand Villages' volunteers will know from their connections with the Bunyaad Rug Room.  
An NPR story which aired December 9 reported that the sign carries a "message of tolerance and welcome" and this Petworth neighborhood blog in the Washington DC area shared with readers how to get their own signs.
This story in the Huffington Post calls the sign "a sign of the times" and explains "why this welcoming sign is popping up in yards across the country." The Huffington Post article further explained that "a PDF of the sign is available to print for free on the (founding) church's website. The church has also started a Facebook page called "Welcome Your Neighbors" where you can contact others who have made the sign and place orders."  Mennonite World Review's article about the sign, published December 27, reveals the sign's migration to Canada and our own nearby Goshen.
We at KRMC are grateful to Barbara for taking the initiative to make signs available to us in South Bend and, through us, to others beyond our town who see our signs and want to share them in their own neighborhoods.  Our pastors reminded us during yesterday's worship service that "light came into the world in the midst of dark times."  These signs are just one of the places I see the light spreading around us…where else do you see warmth and light and welcome?
It was a lovely serendipity, another burst of light, this weekend to find this link when a friend posted a four-part harmony version of My Soul Cries Out from Laurelville's Music and Worship Hymn Sing 2017.  The words of the chorus voice this promise:  "My heart shall sing of the day you bring.  Let the fires of your justice burn.  Wipe away all tears, for the dawn draws near, and the world is about to turn!"  May we participate in the world's turning.