Glimpses of Healing and Hope
Glimpses of Healing and Hope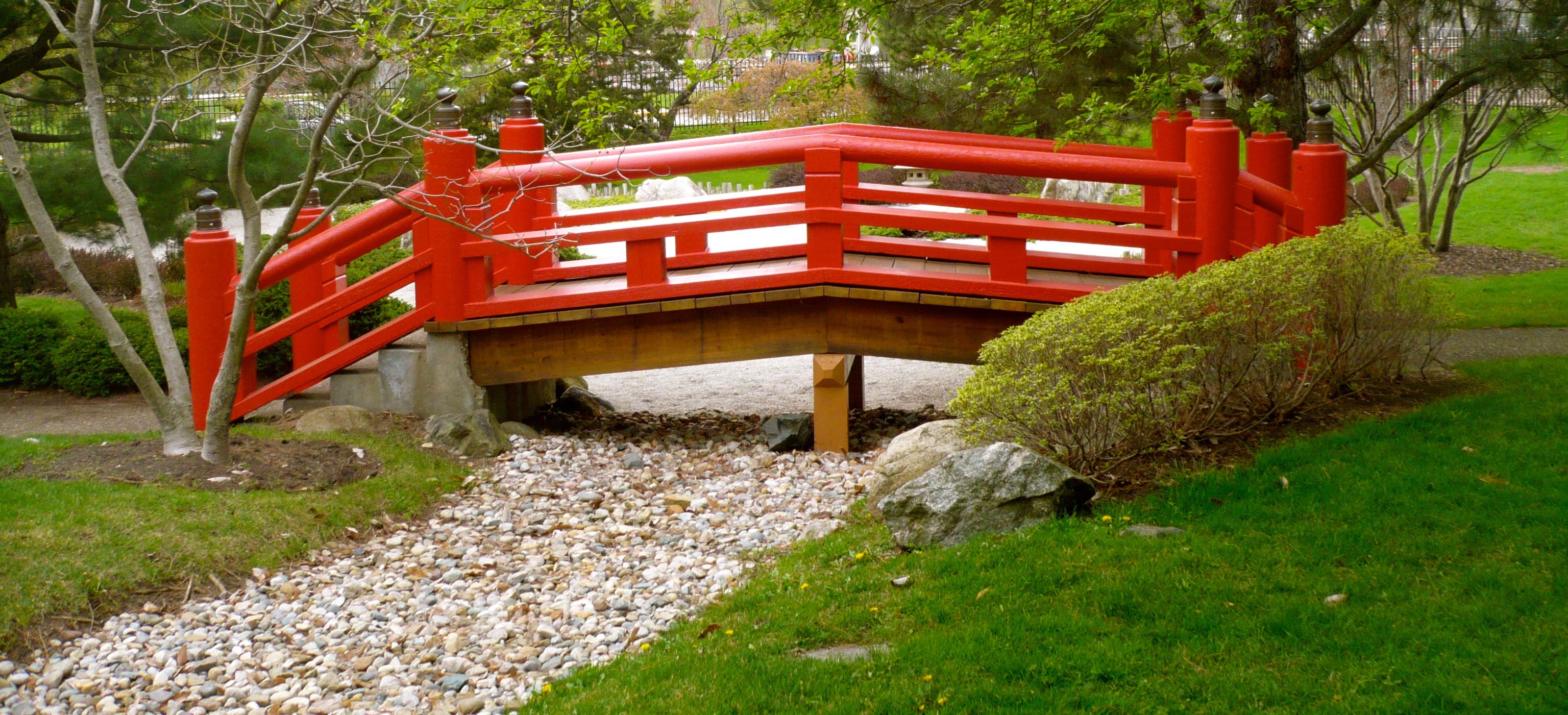 by: Jane Bishop Halteman
November 23, 2015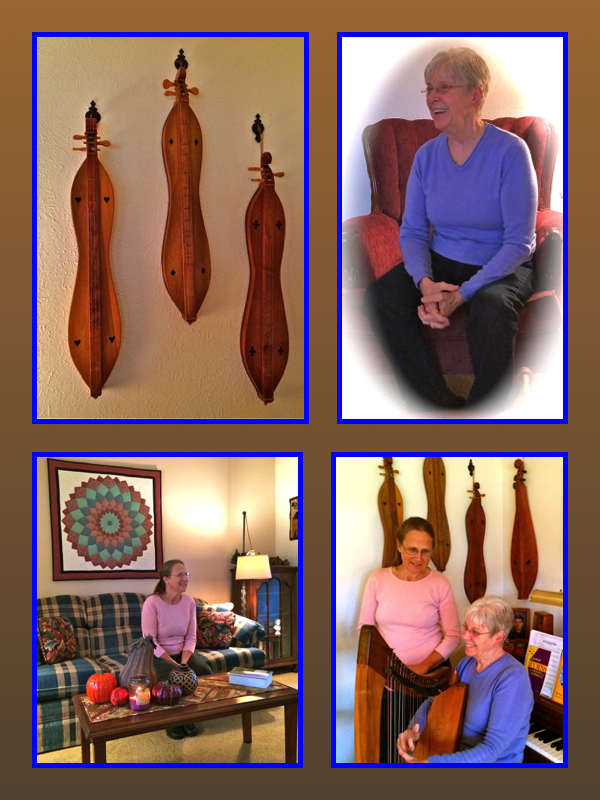 Nancy Flanagan and Danile Martens mesmerized worshippers with their transporting music a few weeks back.  Accompanied by Nancy's mountain dulcimer, their voices rose in beautiful harmony as they sang old Appalachian hymns, lofting some of us to another world and filling us with gratitude for the magnificent splendor of their gift to us.
How do we explain the deep emotion we feel when singers like Nancy and Danile lead our worship in music?  Authors Marlene Kropf and Kenneth Nafziger report in their book, Singing:  A Mennonite Voice, that "for Mennonites, the prompt for prayer is singing, and we pray best when we sing."
Kropf and Nafziger go on to make this observation:  "By culture, (many) Mennonites are a reserved, unexpressive people.  We are reluctant to reveal deep feelings.  We would rather show our love for others by building barns or feeding the hungry.  Yet our faith is profoundly important to us, and when we sing, we discover deep wells of desire for God's presence and love."
I expect our warm response to Nancy and Danile's offering of beautiful music has something to do with our innate understanding of the deep wells of desire these women feel for God's presence and love when they sing.  We also notice their profound enjoyment of singing together.
Nancy reports that she "grew up in Kentucky on the Scottish, English, and Irish folksongs that we had brought with us to America in the early 1600s.  My family has always been a singing family.  In the 1870s my great, great uncle began making some of the first mountain dulcimers; many consider him the father of mountain dulcimers."
Nancy was about 30 years old when she and her late husband Ron Eversole and their three children moved to Indiana, where she met Jack Frazier (always known as  "John" to her) the second year they lived here.  "We became best friends.  John was a dulcimer maker as was my husband, Ron, who made my family's traditional dulcimers.  When John heard me singing the old songs, he kind of tricked me into performing at a couple places.  I had never sung in public before. The next thing I knew, singing became a full-time profession." 
For about 35 years, Nancy averaged three to four programs a week at festivals, churches, civic clubs, schools, private parties; she recorded five albums during that period, one of which can be found in the KRMC library, she reports.
Three years after husband Ron's death in 1989, Nancy married Patrick and moved to Tennessee where she opened a store called Ballad Weaver in the Smoky Mountains.  "We sold all kinds of folk instruments, music, looms, spinning wheels, Scots-Irish gifts." Nancy and Patrick moved back to Indiana in 1997 as grandchildren began arriving. 
A few years later, Nancy began attending KRMC, where she met Danile.  They have been singing together more than 10 years, Nancy says, "mostly at Kern, but at a few festivals, private parties, Southfield Village.  My singing is so ingrained in me since I've been doing it all my life; Danile was able to capture that style and we just seemed to fit together."
Nancy, who says she typically learns songs and music by ear, has learned to read music over the years but claims still to "learn best by just listening.  Danile has a knack for following my timings and phrasings so easily.  I feel like we are one when we sing together.  It makes my heart soar when we are singing."
Danile reports a similar joy in singing together.  "I can't remember the first time we sang together, but I remember what we sang and how it felt," she says.  "We sang Bright Morning Stars and I Can Feel the Soft Winds Blowing, one of the songs that we did Sunday, November 1, at Kern.  I have always enjoyed Nancy's music because she sings for the music itself," Danile explains.
"You can see that Nancy loves it and puts herself into it. She embodies the way I feel about music and how I would like to sing, if a degree of self-consciousness didn't interfere.  Knowing that she loves the music helps me inhabit it as well.  I like to sing harmony, and watching Nancy helps me to be one with her in the music," Danile concludes.
Danile "grew up listening to my older sisters sing and then singing with the five of them in various conformations; we learned to sing together well by watching one another.  I know performers are not supposed to do that, but I feel that it makes better ensemble, and really, it helps me to be in the music with my fellow musicians rather than on my own before an audience."
According to Nancy, "Everything we do is probably in the style that I sing the old ballads.  I often choose the songs, likely ones I grew up with.  Danile is such a consummate musician that she easily picks up on what I do.  We seldom use music.  I usually give her the words, and if she doesn't know the melody, she just listens to me and adds the harmony.  I am so thankful that she came into my life.  I love, love, love singing with her.  I hope it shows whenever we do our music.  It always reminds me of the proverb, 'He who sings, prays twice.'"  
In terms of what they sing, Danile concurs:  "We usually choose from Nancy's vast and varied acquaintance.  We try songs and sing what feels right. I sing enough harmony to add interest to the music without confining it."
This week of Thanksgiving, I am grateful for these two women who lead us in worship from time to time with their beautiful music, always an encouragement to listeners wherever they may find themselves on the journey.  Each of us has something to give and each can be an encourager of another as our congregation continues to grow into fostering the development of grace, joy, and peace, so that God's healing and hope might flow through us to the world. 
Add a comment
by: Jane Bishop Halteman
November 16, 2015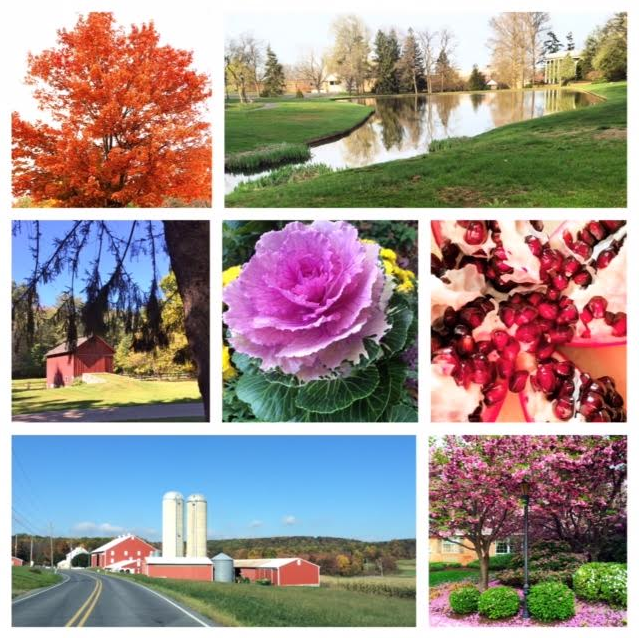 Have you ever noticed that beauty, whether it be found in nature or artwork, music or dance, food or the faces of people around you, offers rest for the weary?
A blog post I read last week by Brad Nelson says this about beauty:  "Experiencing beauty does something to restore the soul.  Regular exposure to beauty makes us feel alive, in part because beauty is what we were made for, and (in part because) 'beneath the broken surface of our lives' as Thomas Merton would say, beauty is a reflection of who we are and what the world is.  I know of no better word to describe what I sense in moments of beauty than the word wholeness."
Our encounters with beauty, Nelson postulates, propel us beyond a kind of momentary wholeness, to which beauty is able to restore us, toward a "renewed capacity to call forth the hidden loveliness of all things."
If you are intrigued at the thought of noticing beauty as a spiritual practice, Spirituality and Practice offers a journal exercise that suggests describing and reacting to a variety of beauties:  1) recall a beauty experienced in childhood, 2) a beauty experienced at school or work, 3) a beauty in nature, 4) a beauty in your home, 5) a surprising beauty, 6) something most people consider to be beautiful, 7) something few people consider to be beautiful.
At the close of your reflection on what you find beautiful, consider these words from Matthew Fox:  "Beauty saves. Beauty heals. Beauty motivates. Beauty unites. Beauty returns us to our origins, and here lies the ultimate act of saving, of healing, of overcoming dualism. Beauty allows us to forget the pain and dwell on the joy."—Matthew Fox in Original Blessing
"We all share beauty. It strikes us indiscriminately….There is no end to beauty for the person who is aware. Even the cracks between the sidewalk contain geometric patterns of amazing beauty. If we take pictures of them and blow up the photographs, we realize we walk on beauty every day, even when things seem ugly around us."—Matthew Fox in Creation Spirituality
In German the word "beautiful" is related to shining. A beautiful person is one whose inner brilliance permeates his/her entire being. What has been your most memorable encounter with a person who was shining?  How does this shining draw you to God?  How can you be part of the shining as you relate to those around you…here at KRMC, in your family, at work, in school settings, or wherever you find yourself?
Add a comment
by: Jane Bishop Halteman
November 9, 2015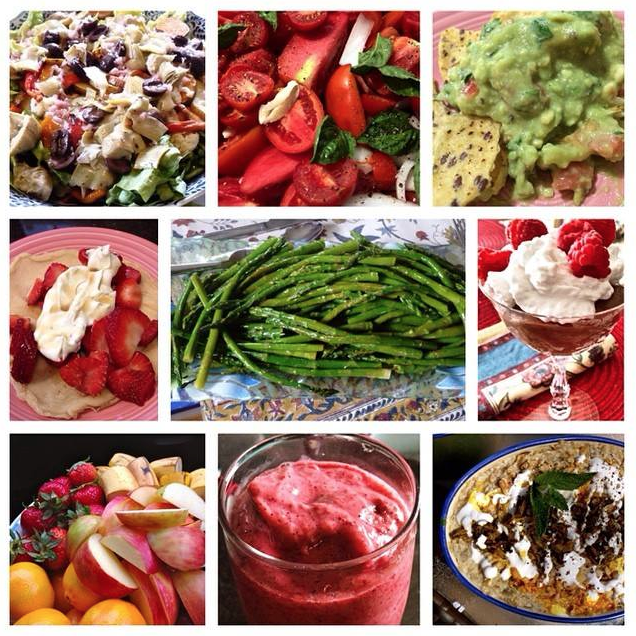 Oh, the memories that a cherished recipe box brings to mind!  I came into possession of my mother's recipes on my last trip to visit her and my dad in late October.
Though they moved in May to a personal care unit with no cooktop or oven, she wanted me to sort through the box with her one last time before turning it over to me.  So many diminishments accompany aging, but I hadn't previously given much thought to what it would feel like to give up a lifetime of food memories saved on hand-written cards with a mixture of clippings from magazines and newspapers and processed food boxes.
Though my own food preferences have evolved over the years and my mom's have changed as well, it was as a child that I learned about the beauty of warm table hospitality from her.  When her four children were young, she often planned a big Sunday noon meal, expecting to invite home from church a guest speaker and family or visitors on the spur of the moment. 
Peeled potatoes covered with water waited in a pot to begin boiling the second we got home.  A main dish baked in the oven while we were gone with timer set to start and finish at the right moment, and the fridge and kitchen countertops sat full of salads and desserts prepared the day before.  Frozen home-grown lima beans and corn took only minutes to cook, while dinner rolls heated up quickly in the oven after the main dish came out to rest before eating.
We regularly consumed canned pears and peaches from our own yard or local farmstands, applesauce prepared and frozen from our apple tree, grapes from our own vines, ground cherries from our garden, and my mom shared liberally with friends and relatives who joined us around the table. 
All my life family remembered each other, feted each other with good food.  There were the grand Christmas dinners when three generations gathered at Grammy Landis' house, where the table was well set with the seven sweets and seven sours in addition to the usual main course staples, plus pies, nut cake, and an elaborate fruit salad for dessert. 
Our maternal grandfather was a butcher, so we regularly ate his sausage and scrapple, and Grammy's shoofly, funny cake, hardtack, and fastnachts on Shrove Tuesday.   My dad's stepmother, who arrived on the scene when I was 9, introduced us to foods we hadn't eaten before like homemade Italian spaghetti and boiled lobster tail for special occasions like New Year's eve. 
Extended family visited during the holidays bearing baskets full of fruitcake, nuts, ribbon candy, and other exotica, and my dad's co-workers mailed the likes of cumquats and oranges from Florida.  Our mom kept neat records inside the kitchen cabinet doors listing the dozens of cookies she baked each Christmas.
Some gems I had lost track of over the years have re-emerged from the recipe box; I'm eager to revamp to my present-day eating habits the hot fruit compote, the layered bean dip, the corn fritters, the custard dessert.
When I shared with my spiritual director the story of the gift of receiving the recipe box, she reminded me of Jesus' words to the disciples at the Last Supper:  "Do this in remembrance of me."  As you share food with others, you are remembering your mother and the lessons of hospitality she lived out, my spiritual director suggested. 
Her observation delights me.  Even though the food I serve today is frequently quite different from what I grew up eating, gathering around the table reminds me of the warmth of home.  I want to extend our table to others. 
How have you carried on the ways you learned to welcome others?  Have you tailored the hospitality you experienced in your growing up years to your present lifestyle and interests?  Who can you invite to your table?
Add a comment
by: Jane Bishop Halteman
November 2, 2015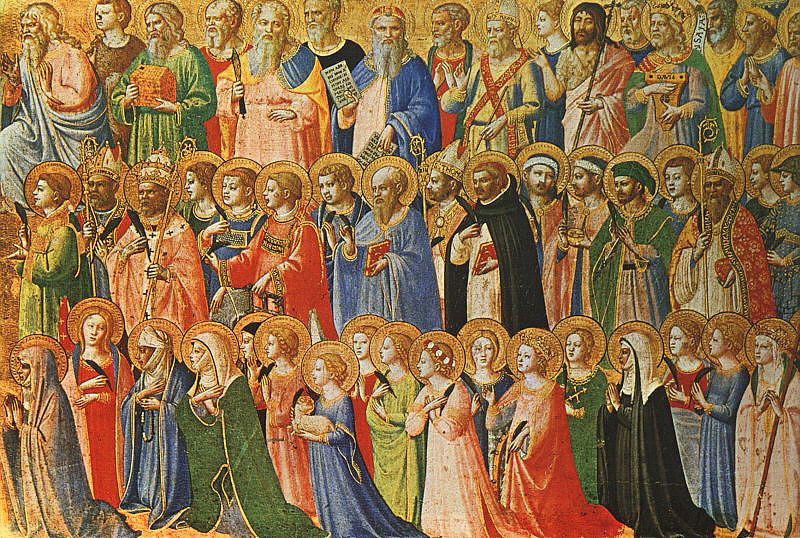 Fra Angelico's The Forerunners of Christ with Saints and Martyrs (about 1423-24), tempera on wood, National Gallery, London.
I didn't grow up celebrating All Saints Day, but, as someone who suffered grief and loss early in life, observing this day on November 1 became important to me in the middle 90s at my former church in the western suburbs of Chicago.  All Saints emphasis Sunday seemed a good day to remember those who had gone on before in the past, as well as to give thanks for those still among us who have mentored our own faith.
When I look back on my family of origin and church family who influenced me as a very young child, I remember grandmother Kate, who was a teacher and eagerly helped me and my younger brother memorize the 23rd Psalm before we turned six.  I recall Sunday School teachers and Bible school teachers who shared stories with us each class period, and church librarians who promoted good books. 
As a would-be writer back in the day, I was already fascinated as a youngster by Aunt Beth, who wrote for Words of Cheer, as well as authors like Katie Funk Wiebe, whose work appeared in a variety of Mennonite publications which arrived at our house on a regular basis, and artists like Jan Gleysteen, whose work was featured regularly in Christian Living magazine.
During my years as a young mother, I was attracted to the faith of slightly older women at church, the good-hearted wisdom of congregational saints who regularly reminded us that we could trust God's work in our midst, the contemplative spirituality of new pastors who arrived on the scene as our children began leaving for college.
Here at Kern Road, I was moved several weeks ago to witness fellow church members signing my grandson's new Bible, which he and other second graders received from the congregation during worship that day.  To see the children perusing their Bibles before they left the front of the sanctuary was heart-warming, and I watched several eagerly reading their messages from family and friends…this is, indeed, a good way to pass on the faith.
Some of my favorite liturgical words of thanksgiving and blessing grow out of All Saints' observances:  "We thank you for faithful people who have followed Jesus in every age.  May we be strengthened by their witness and supported by their unseen presence from the balcony of heaven, that we may run with perseverance the race that lies before us, and, by faith, follow in the footsteps of so great a cloud of witnesses."
I love the thought of letting All Saints liturgies play themselves out as we together hear spoken words like these:  "Let's join our voices with angels and archangels, with prophets, apostles, and martyrs, and with all the faithful of every time and place, who forever sing to the glory of your name, saying,  'Holy, holy, holy Lord, God of power and might, heaven and earth are full of your glory.'" 
Along with author Jan Richardson, I ask you…what stirs your memories in this season?  Who are the folks, living or dead, who linger close in these days?  How do your memories help inspire your path ahead?  How are you passing on the faith?
Add a comment